Create a Couched Embroidery Design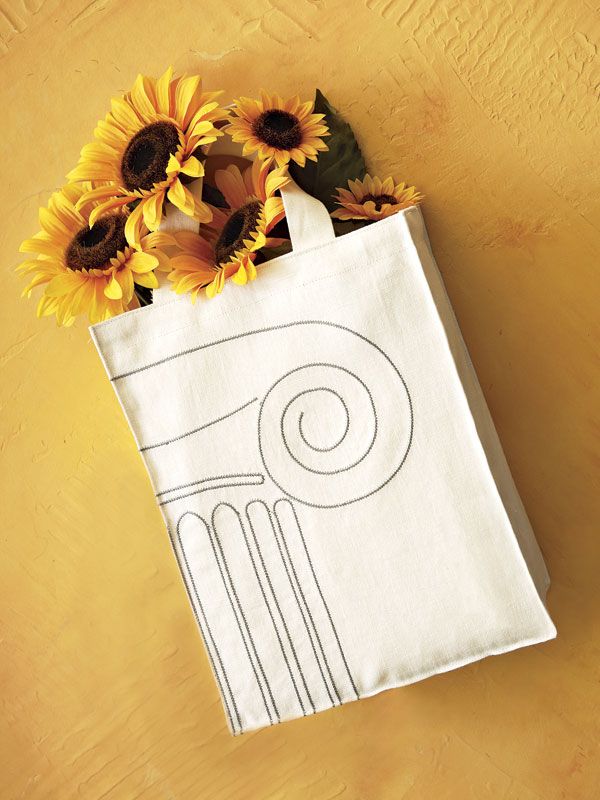 The classical lines of ancient architecture have inspired artists and designers for millennia. Take a simple sketch of ancient architecture that inspires you to your computer and digitize it to create a couched embroidery version for a summer satchel.
This embellishment can be embroidered in a snap when you start on the computer. A wide variety of effects can be achieved by manipulating simple built-in outline stitches. To create the appearance of a couched cord, two different stitches are digitized and then combined to stitch one over the other. The first stitch stands in for the "cord," which is then "couched" with a second pass of digitized zigzag stitching. You can make both stitch types by adjusting existing embroidery stitches.
For the look of cording, choose an outline stitch that you can manipulate to achieve a bold look. Most digitizing programs have a few to choose from, such as triple straight stitch or a stemstitch. I used the backstitch outline. This stitch is perfect for creating the look of cord because it's formed from a series of short straight stitches that overlap each other on a slight angle. I've chosen the maximum stitch density with the greatest percentage of overlap to mimic the look of a single thick cord. For the "couching" stitches, work with a satin stitch adjusted to form an open zigzag.
1. Import a JPEG or BMP of an outline motif to digitize. You can draw a design or copy an outline of an image that you want to embroider.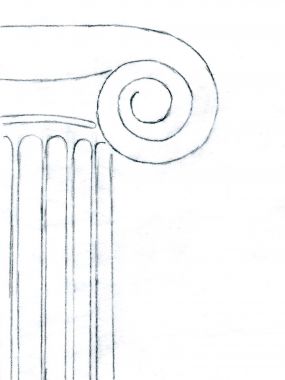 2. Digitize a cord. In embroidery software, choose a stitch, such as the backstitch, that can be manipulated to look
like a heavy cord. Digitize this stitch on all the lines.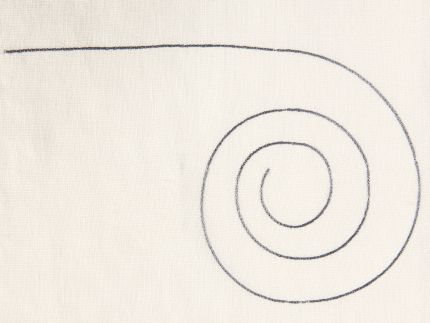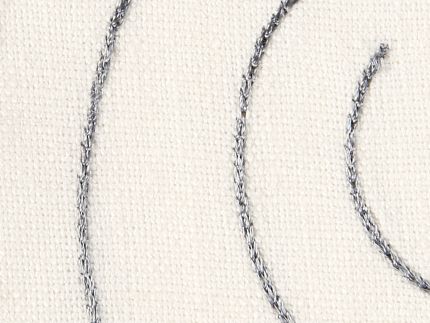 3. Digitize the couching stitches. Select the satin stitch outline tool. Adjust it to a lightweight density and a width that is slightly wider than the embroidered cord. Use this adjusted satin stitch when you digitize the couching stitches. During the digitizing process, you set the stitch order for future stitch-outs.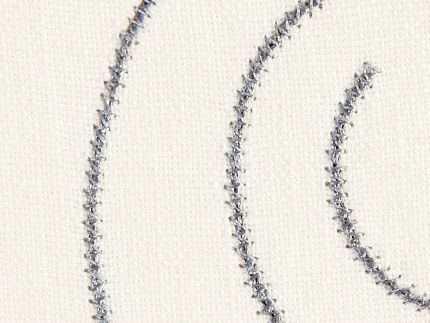 4. Embroider the couched cord design. Import the completed design to your embroidery machine. Select a decorative thread for the cord. I used tone-on-tone thread, but you can also use a thread color that slightly contrasts with the cord when you embroider the zigzag stitching. This design makes a handsome embellishment.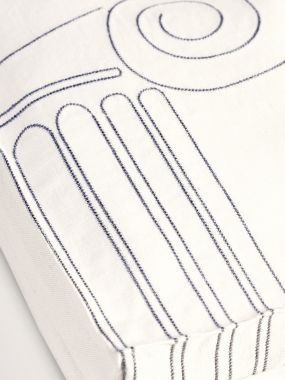 by Jennifer Stern-Hasemann