Recommended Embroidery Books for Technique and Inspiration
Beautiful volumes offer essential techniques, inspiration, and beyond.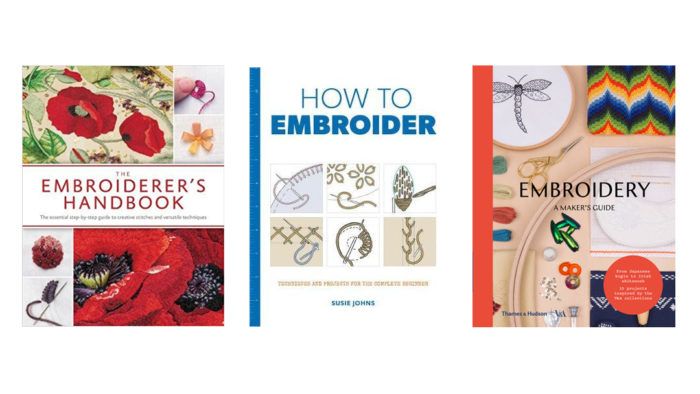 Embroidery books can be tricky to buy without seeing, especially for visual learners who want or need accurate illustrations to follow the instructions. Every reader has different preferences, and there are myriad books that cater to them. This list should help you find a book that's right for you.
How to Embroider: Techniques and Projects for the Complete Beginner by Susie Johns (GMC, 2015)
If you've ever wanted to start embroidering but didn't know where to begin, check out this book. It lays out everything for the beginner, including an extensive guide of tools and materials needed for any embroidery project. Each section teaches a single stitch or technique and offers a project featuring that technique. Stitches are shown in clear, numbered diagrams to demonstrate how needle and thread should be positioned. The patterns escalate on a scale of difficulty—from simple running stitches to cutwork. The book includes patterns and instructions, allowing a beginning embroiderer with basic tools to complete projects to satisfaction. Techniques include running stitch, outline stitches, chainstitch, blanket stitch, surface stitches, filling stitches, single stitches, couching, and cutwork.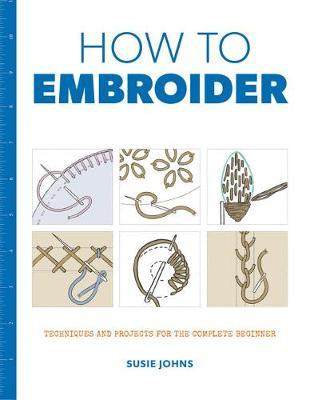 The Embroiderer's Handbook by Inspirations Studio (Country Bumpkin, 2017)
This guide does not include projects or patterns. Instead, The Embroiderer's Handbook takes the reader through what seems like every known embroidery stitch. It is organized alphabetically, starting with the Algerian eyelet stitch and ending with the wool rose stitch. With this in mind, the book takes care to build on the preceding stitches so that it works as a natural progression. For example, the section on the blanket stitch starts with a simple version, then gradually increases the difficulty until the stitch is almost unrecognizable, taking it from a simple line of stitches to a pinwheel or flower. The approach works well to educate new embroiderers without overwhelming them. The book also provides experienced embroiderers with stitch applications they might not have thought of.
Each stitch is accompanied by a clear, colored diagram showing steps and needle position. There are also photographs of the stitch in different applications next to the techniques, giving the reader a sense of how each stitch can be used and what it will look like on a larger scale. This clear, thorough book would work well for embroiderers of all skill levels.
(InspirationsStudios.com; $39.95)
Embroidery: A Maker's Guide by Victoria and Albert Museum (Thames and Hudson, 2018)
This book is notable for following embroidery traditions from ancient times to today. Each technique includes a description of its history, its use in different cultures, and its application with a project. There's even an entry on beetle wing embroidery. If you're looking for a book that teaches culture as well as stitches, this is the one for you. It explores such techniques as counted-thread and canvas work, freestyle embroidery, whitework, embellishments, and contemporary embroidery.
Embroidery: A Maker's Guide contains many beautiful photos of pieces and stitches, including a guide to stitches at the front of the book with numbered illustrations. Included projects range in difficulty to enable embroiderers of different skill levels to find something to make; however, there are few patterns simple enough for an embroiderer who is just starting out.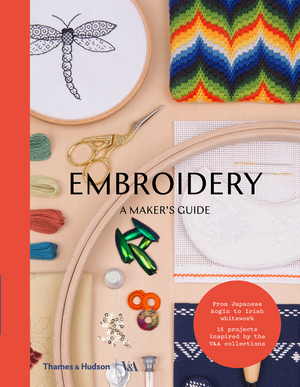 Embroidered Garden Flowers by Kazuko Aoki (Roost Books, 2017)
This truly beautiful book features clear, sharp photos that are bound to inspire embroiderers to push themselves to try new things. The first 47 pages are all photos of embroidered flowers, based on flowers the author has tended to herself or has a particular fondness for. There are 63 flower varieties in total. The back of the book contains instructions for where to use a stitch and what colors to use for each flower. It includes a guide to basic embroidery stitches and their uses within the book. Though this is a gorgeous book, it would be best for an intermediate to advanced embroiderer, since the stitches used are given only at the beginning of the guide. It would be difficult for a beginner to follow the patterns.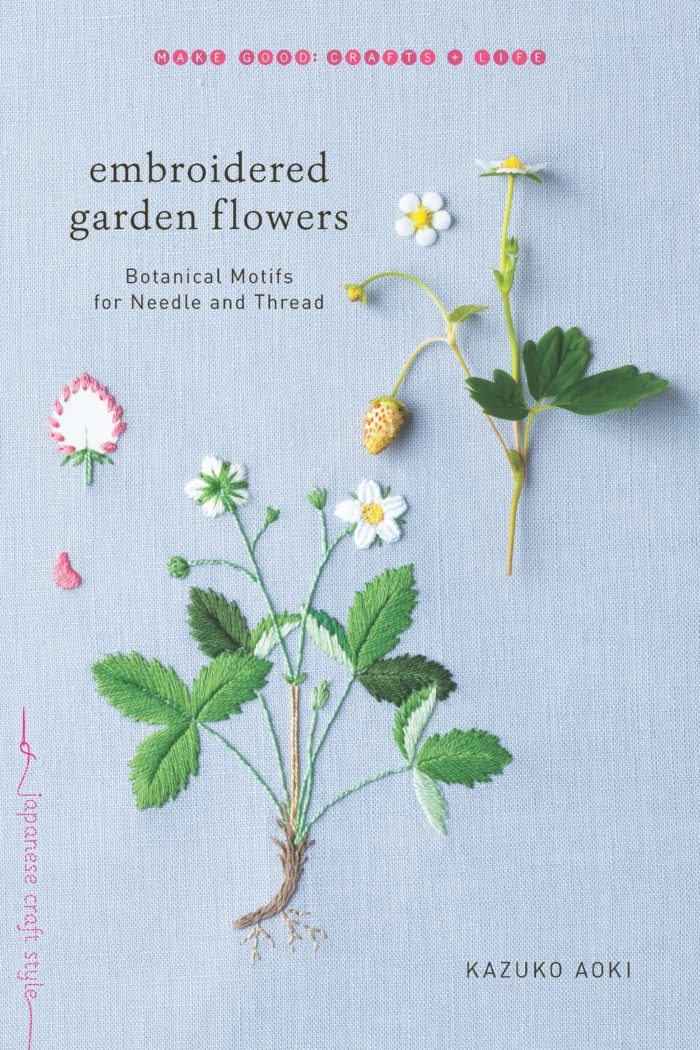 Royal School of Needlework: Book of Embroidery (Search Press, 2018)
You may have thought to yourself, "I love embroidery and wish I had one book that has everything I could need to know about major techniques." Look no further than this encyclopedic tome containing 400 pages and more than 2,000 photos and illustrations. It is a compilation of the eight books from the Essential Stitch Guide series published by the RSN, separated into its own in-depth sections. It is not just a republished version of old work, however. Each section has been reworked for clarity and integrated into the larger work. Techniques include crewelwork, canvaswork, blackwork, silk shading, goldwork, stumpwork, whitework, and bead embroidery. Each section describes a comprehensive history of the technique, necessary materials and tools, commonly used stitches, how to build a design, and suggestions for projects to help develop your skills. Step-by-step instructions include pictures for each step, making it easy to understand. The RSN: Book of Embroidery contains an additional section on mounting your finished work.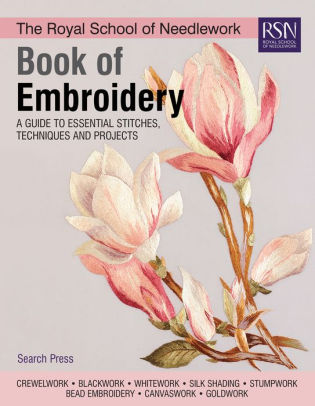 This list is by no means a complete guide to all the quality embroidery books. There are far more than we could mention in a single post. However, we believe these books are a great start to finding the perfect book for you.
---
In addition to this wonderful list of embroidery books, if you are looking for Great Sewing Books, we have a collection of our favorites!