Pattern Review: Atacac Sharewear No. 17 Shirt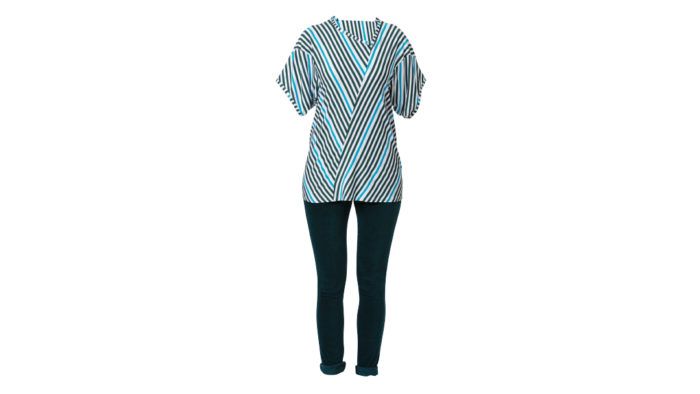 Atacac: Sharewear No. 17 /-shirt
This is a one-piece pattern for a top with an asymmetrical V-neckline and angled front seam, Y-shaped back seam, and sleeves that wrap from the back panel and are inset into the front armscye. Atacac offers patterns for free. The downloadable PDF is available in size 3 only, although sewers with CLO 3-D software can access all five sizes. There are no sewing instructions, yardage amounts, or supplies listed. A size 3 sample required 1-1⁄2 yards of 60-inch fabric. Most matching edges are labeled with letters. The front neckline and sleeve hems are finished with a narrow binding, and the back neckline has a cut-on facing. Our seamstress found this finishing awkward, as it left a gap between the facing and the binding at the back neckline. Drapey, light- to medium-weight knits work best with this design. A stripe plays up the unique construction.
(Sized 1–5 for busts 33–42.5 in.; size 3 for busts 38 in.)
—Tested by Ruthe Ploskunyak, Fairfield, Connecticut
Sewing Tip: To familiarize yourself with the sewing order, print a copy of the pattern illustration, cut out the shape, and begin butting edges to reveal the sewing sequence.
This review was originally published in Threads #201, Feb./Mar. 2019. Get the pattern here. Have you made this pattern? If so, be sure to share pictures in our Readers Closet gallery.
Illustrations by Steven Fleck.