Power-Assisted Cutting Tools for Sewing
Time-saving devices that relieve physical stress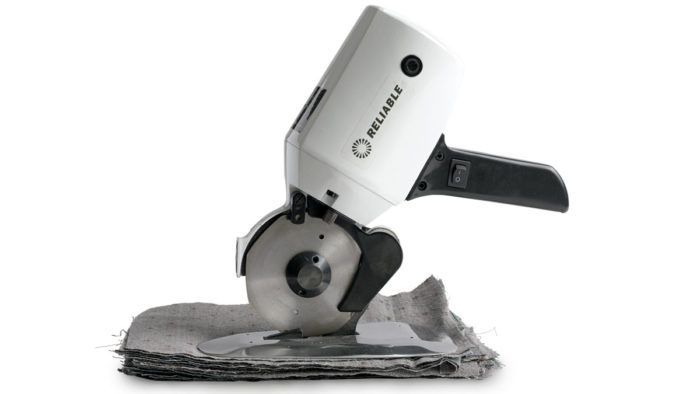 Of all the tasks you perform when making sewn projects, cutting causes the most physical strain. Over time, this task can aggravate or even cause osteoarthritis of the hands and wrists. Electric cutting tools relieve hand and wrist fatigue and speed up the cutting process. There are three major types of electric cutters available for fabric: shears, rotary cutters, and saws. For the home sewer, shears and rotary cutters are the most practical and easy to use. Electric saws are generally used only for large amounts of fabric in a manufacturing setting.
As with all cutting tools, those used for fabric should be reserved solely for fabric. Though they are capable of cutting through cardboard or plastic packaging, this may dull the blades over time. Electric shears stay sharp a long time if used carefully.
Electric cutters do have disadvantages. They are bulky compared to their traditional counterparts, and some are heavy to lift. They take practice to use with accuracy because they cut with much less effort than scissors or rotary cutters. If they have a power cord, you must take care to avoid cutting through the cord (ask me how I know). These powerful cutters are not appropriate for those who cannot safely use power tools. It is important to be mindful while cutting and to use finger guards where included. However, for some sewers, these disadvantages are outweighed by the benefits. I'll explain the differences between electric shears and rotary cutters, and consider their pros and cons.
Electric shears
Electric shears feature much shorter blades than their manual counterparts. The speedy blade motion compensates for the shorter cutting area. Electric shears are activated by squeezing a trigger with the index finger. Corded and cordless models are available.
Pros
Electric shears are relatively inexpensive and readily available…
Start your 14-day FREE trial to access this story.
Start your FREE trial today and get instant access to this article plus access to all Threads Insider content.
Start Your Free Trial
Already an Insider? Log in