Use Fabric Selvages to Trim and Finish Garments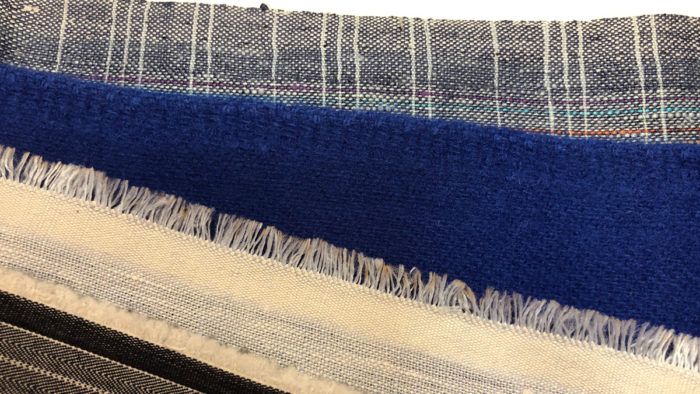 One of the easiest ways to add personality to a project is to use fabric selvages. They are ready-made coordinating trims or edge finishes just waiting to be used.
The selvage denim craze
If you happen to know a millennial, someone born in the 1980s or 1990s (I have two sons who fit the bill), you have probably become familiar or reacquainted with selvage denim. It has become popular again in the millennial quest for authenticity.
Once upon a time, all denim was the 32-inch-wide, heavy-duty stuff known as selvage or "self-edge" denim. When jeans became high fashion, and not just for work clothes, the more labor-intensive method of making selvage denim was abandoned for the quick-to-make, wider version that we are more familiar with these days. As with most fashions, selvage denim is having a resurgence. You can see it on cuffed jeans everywhere, for example.
A close-up of these cuffed denim jeans reveals the selvage along the outside seam allowances, but they are sometimes used on the inseams instead.
Selvages have many uses
While selvages may be a new thing again, those of us who sew have been familiar with them for as long as we have been building stashes, and not just on denim. Every fabric comes with its own version, and some of them are worth showing off.
As a stabilizer
Because one of the jobs of a selvage is to keep the edges of the fabric stable, they can be used for stabilizing in your sewing projects, as well. I often stitch a selvage into a shoulder seam to keep it from stretching out. But when I have really interesting edges, I like to find ways to show them off on the outside of my projects.
Start your 14-day FREE trial to access this story.
Start your FREE trial today and get instant access to this article plus access to all Threads Insider content.
Start Your Free Trial
Already an Insider? Log in