Design Challenge: 5 Ways to Upcycle Garments and Use Fabric Edges
Salvage and selvage inspirations range from casual to formal styles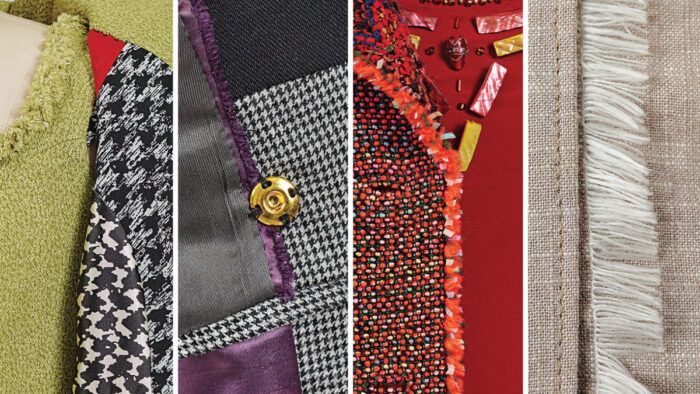 For Threads' 2021 challenge to the Association of Sewing and Design Professionals (ASDP), we invited members to create a garment or ensemble made of at least 25 percent materials from used clothing, paired with at least 36 inches of fabric selvage. Their brief was to design an outfit for a professional setting, whether in an office, in a high-definition video conference from home, or another work context. The entries we received covered the gamut from formal to casual officewear, reflecting today's many options for work environments.
The judging panel included the overall winner of our 2020 challenge, Pat Billups; guest judge Dr. Lalon Alexander, associate professor at the University of the Incarnate Word, San Antonio, Texas; and, from the Threads staff, Editorial Director Sarah McFarland and me, senior technical editor. We were thrilled with the creativity demonstrated by the designers, who reworked thrifted garments and back-of-the-closet orphan pieces, bringing new life to them with coordinating fabrics. Read on to see how they built selvage edges into their designs for decorative or functional purposes. You're sure to be inspired to update some of your own unworn garments.
Best Overall: Michelle Loggins
Reese McGillicuddy Green Dress Suit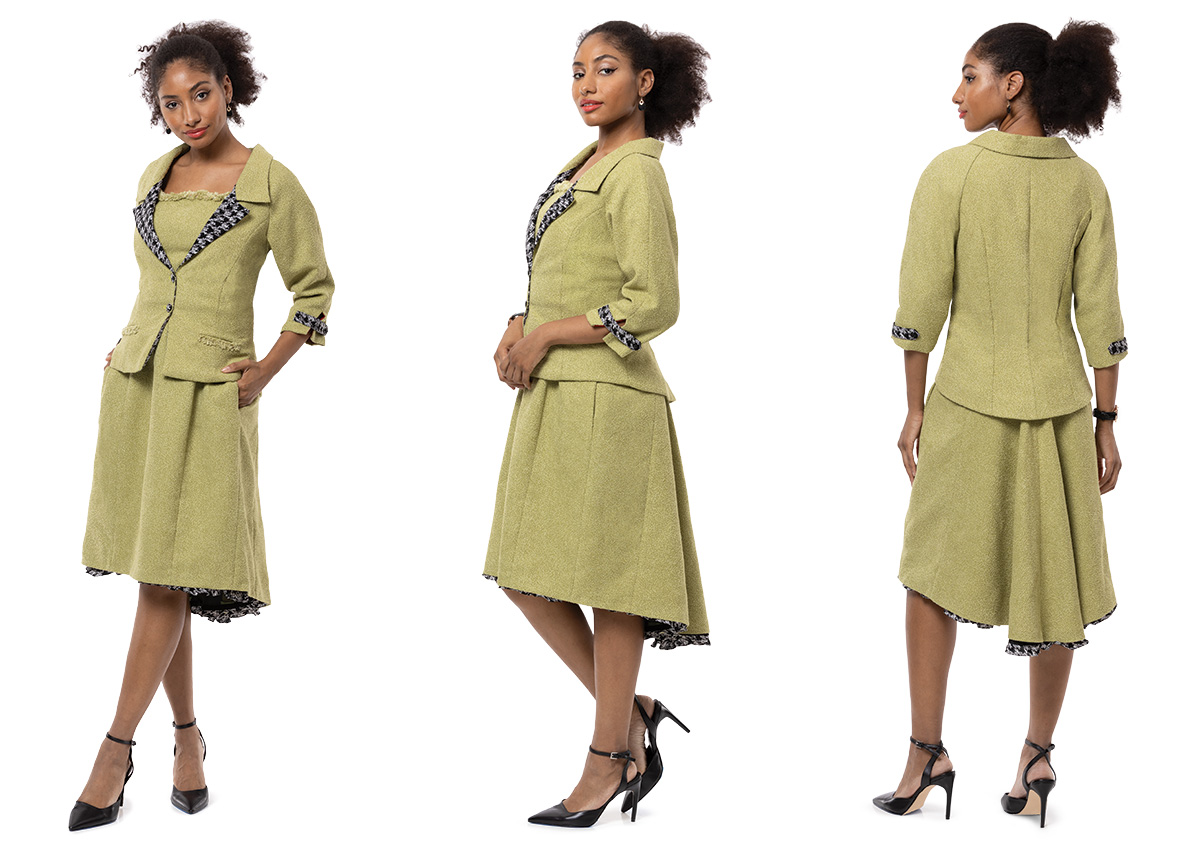 Michelle is a first-time challenge winner from High Point, North Carolina. She submitted a charming, vintage-look dress and jacket ensemble. This outfit was inspired by Michelle's late son, Reese, who was a fan of Lucille Ball's TV character Lucy Ricardo, fictional daughter of "Mrs. McGillicuddy." The dress and jacket—in Reese's favorite color, green—include mid-20th-century details, such as the flared skirt back, portrait collar, and button tabs on the jacket sleeves. Michelle started with two black-and-white houndstooth garments (a blouse and a dress), and dense, textured fabric she thrifted. The fabric's fringed selvage became the foundation for a braided trim.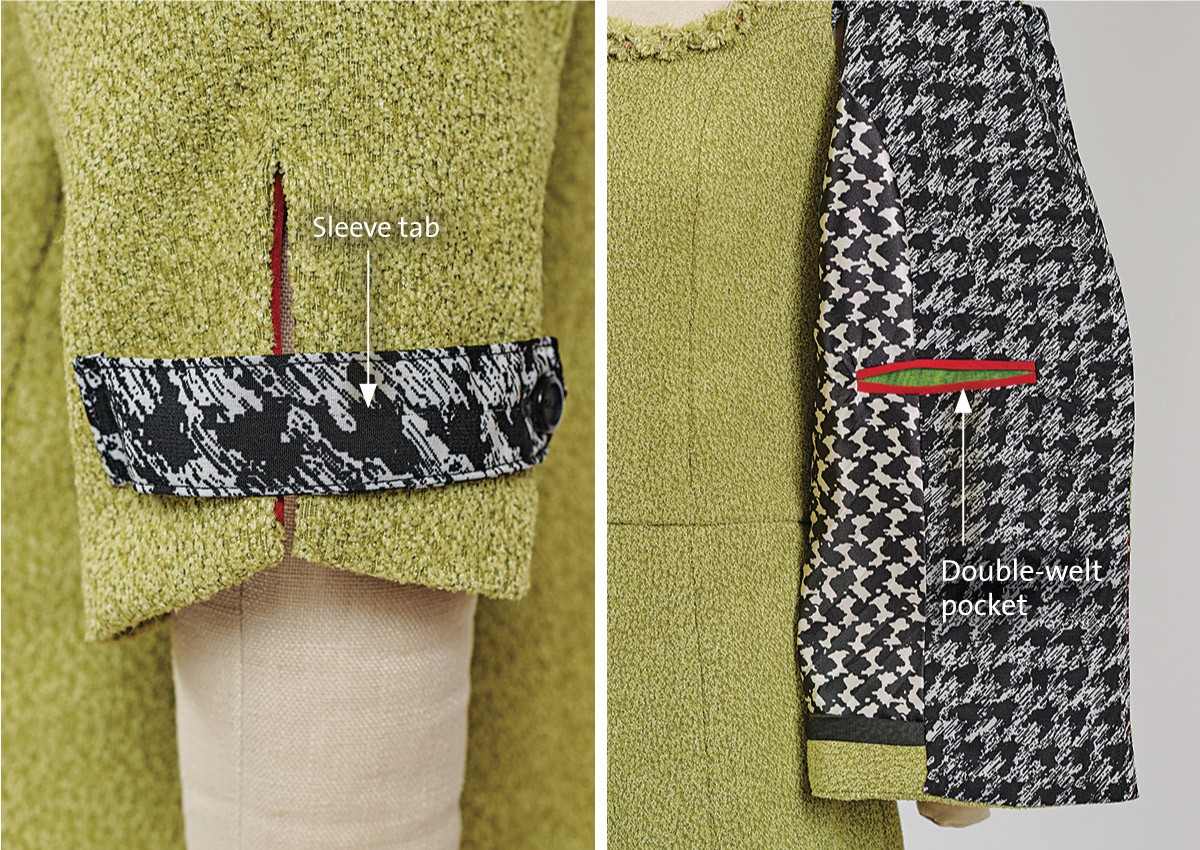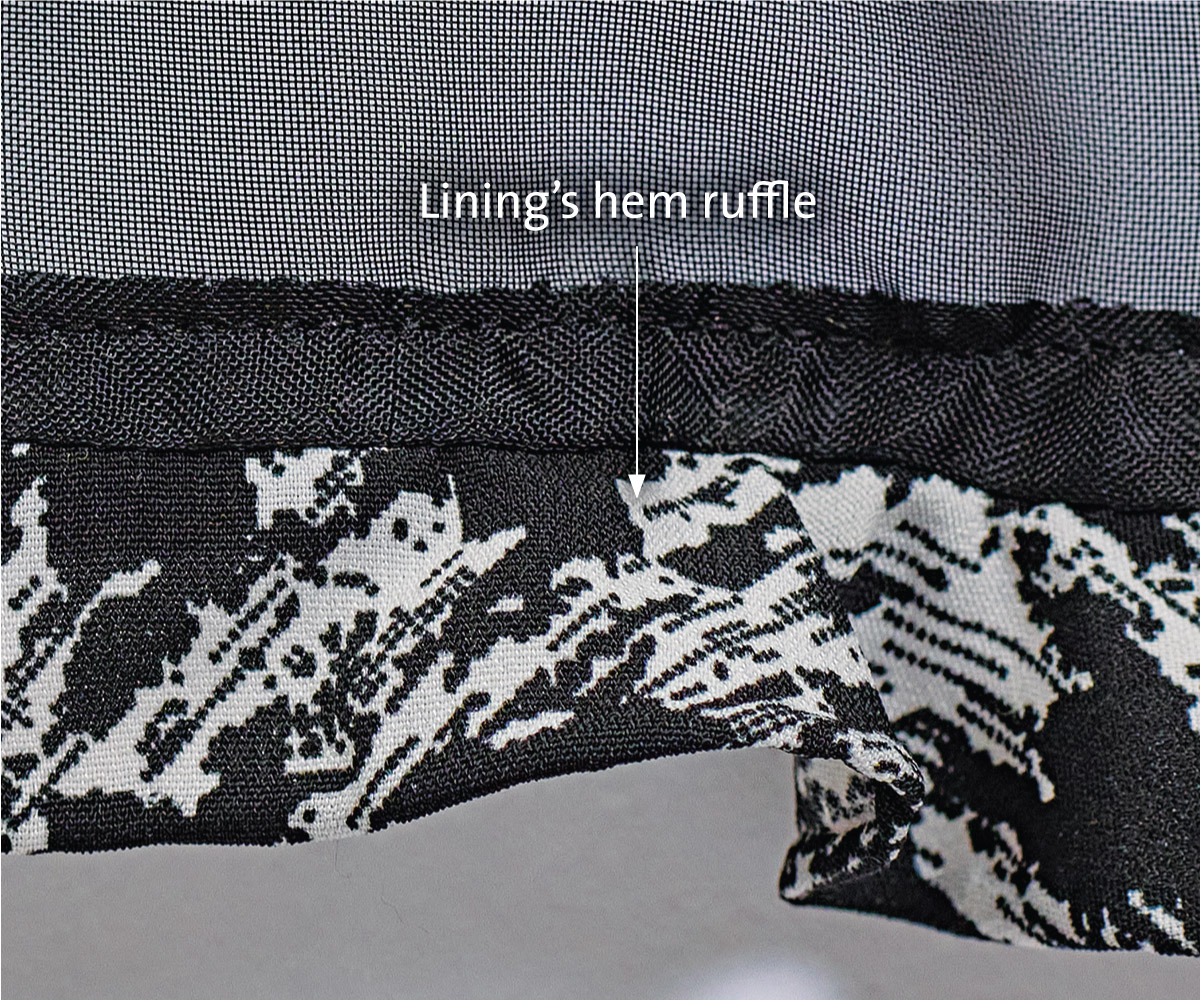 The judges were moved and uplifted by the story behind this design, and said they felt Michelle successfully incorporated elements of personal significance into an ensemble with broad appeal.
Patterns: Both garments were drafted by Michelle from her personal sloper.
Details: The dress has black-and-white cap sleeves and a hem ruffle, bordered with black ribbon.
Lining: The jacket is lined with both houndstooth prints and includes a red double-welt chest pocket.
Selvage: The fringe trim at the dress neckline and jacket pockets is braided from selvage and red fibers, to symbolize the designer's connection to Reese.
Most Creative Restyling: Bonny Carmicino
Shirt Redo, Cowl Renew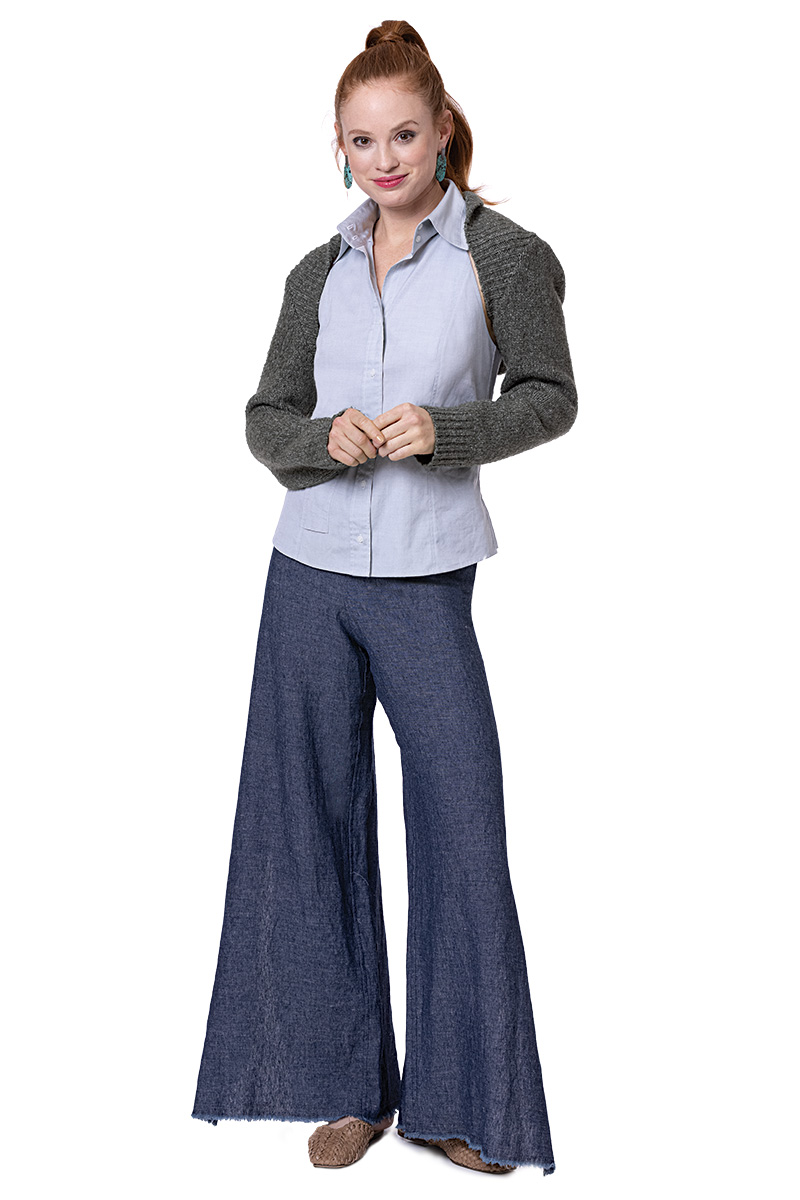 Bonny's work environment is casual, and she envisions wearing her outfit for outdoor lunch breaks as well as in her design studio. The ensemble consists of a sleeveless shirt based on Vogue 1248 by Andrea Katz Objects (out of print); wide-leg, pull-on pants; and a soft knit bolero made from a cowl-neck sweater.
Bonny of Cold Spring, New York, has a particular talent for designing wearable pieces that are elevated with special elements and exquisite construction. Here, she upcycled a man's dress shirt, which offered plenty of usable fabric. The cuffs became side vents at the shirt hem, and she reused the locker loop as a detail on the collar back. The pants are a wrap style made of indigo linen. Each piece of the ensemble is deceptively simple; a closer look reveals sophistication in her textile choices and sewing techniques.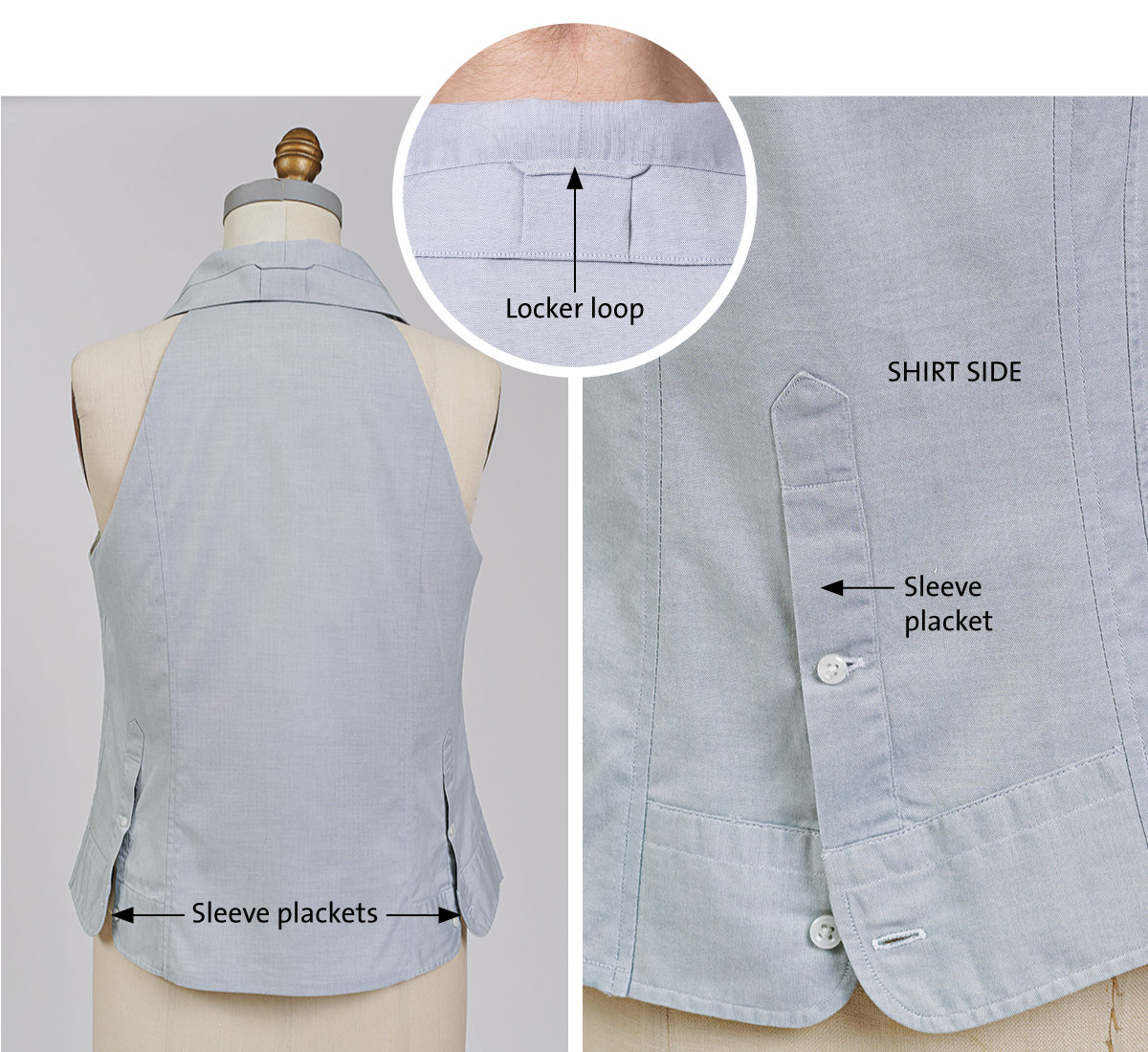 Placket: The shirt's original placket was reused in front, but inverted to achieve a traditional woman's right-over-left overlap.
Linen selvages: These appear at the pants' side seams and along the slit edges. Raw-edge hems echo the selvage fringe.
Bolero: This was cleverly assembled from a dismantled sweater: Its sleeves are made from the body; the original sleeves were pieced together to form the back; and the front and upper back were made from the cowl.
Best Use of the Selvage: Lindsay Ostlie
On the Fringes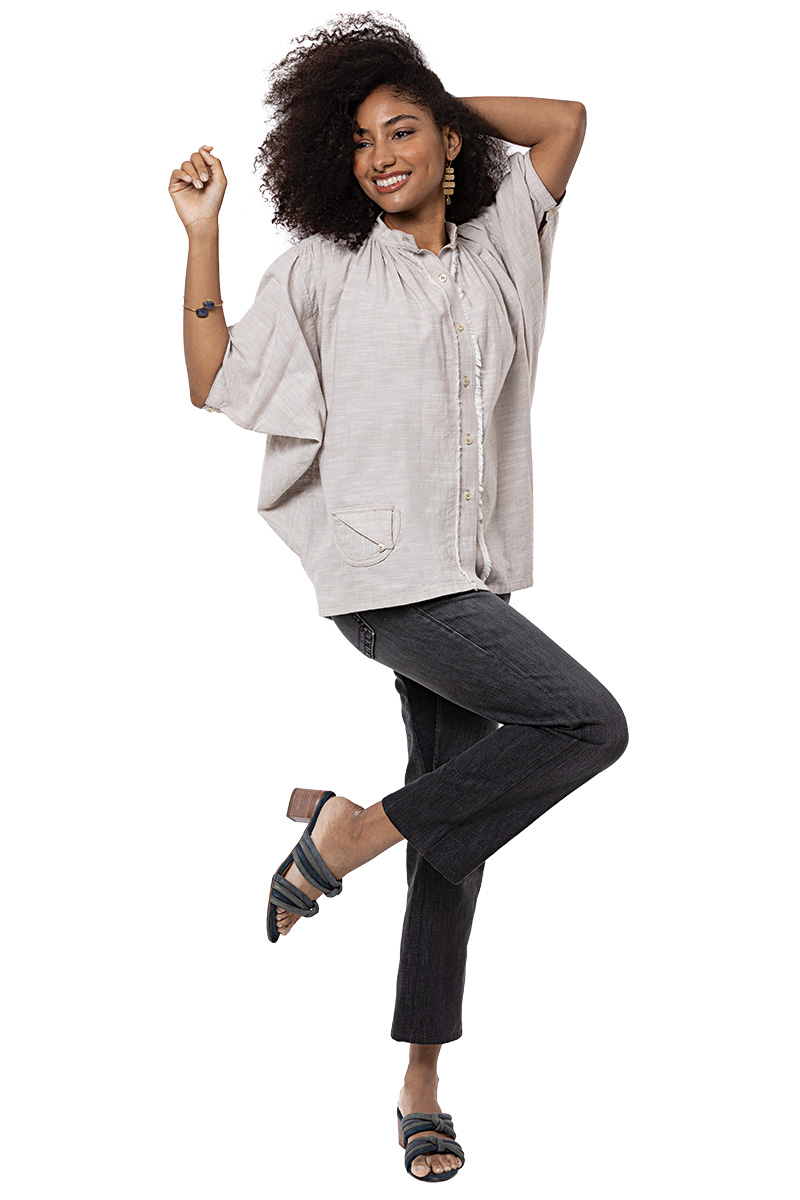 Lindsay's artist statement starts out "On the fringes of normal, always. On the fringes of disaster, occasionally. On the fringes of greatness, perhaps." The Carrington, North Dakota, resident captures the highs and lows of daily life, and she designed her outfit to handle all of them. The two-piece ensemble is purposely casual and comfy, as she is a working mother who has a range of responsibilities. She restyled a pair of ill-fitting jeans for a better fit and more contemporary look. In addition to tapering the flared legs to a straighter silhouette, she replaced the existing fly zipper and waistband with a sailor pants-style front-flap opening, and a wide, stretchy waistband. The blouse is a zero-waste design, and the slubbed cotton fabric's fringed selvages appear along the front button placket. A perfectly coordinated trim, they add just enough interest without weighing down this lightweight top. The front, back, and batwing sleeves are gathered into a fitted yoke. This low-key, breezy outfit has plenty of details to make it unique and easy to wear.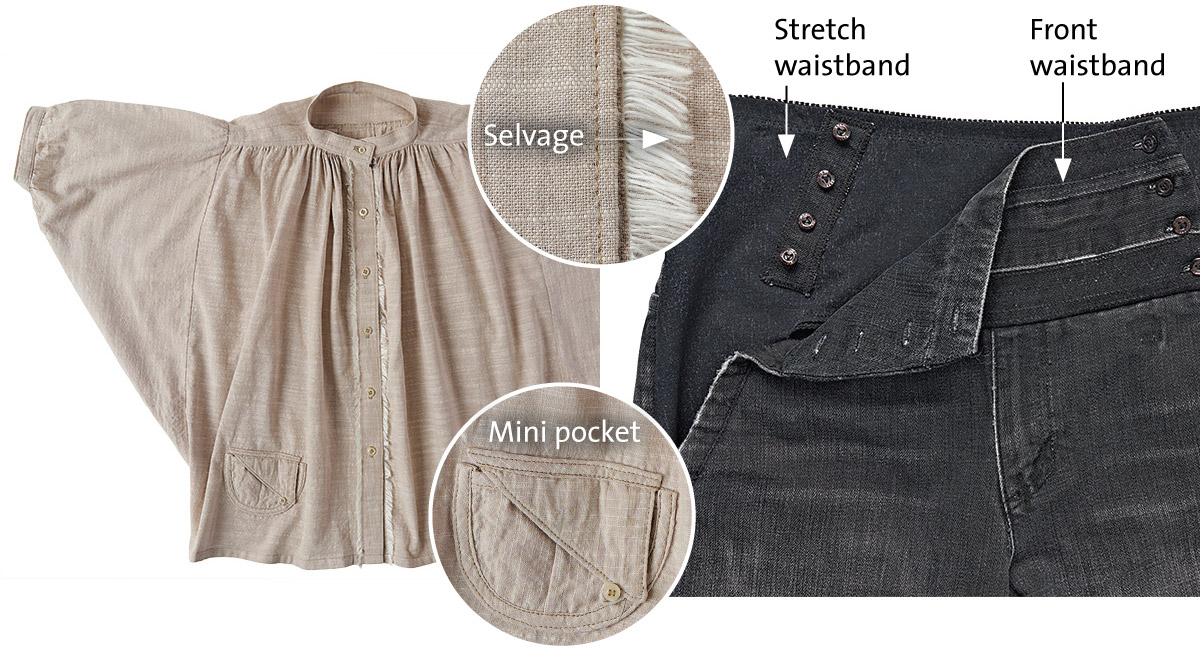 Waistband: The pants' front waistband is made from strips of the original waistband. The side and back bands are heavy stretch knit to offer a forgiving fit.
Bands: The blouse has a band collar and cuff bands on the sleeves.
Pocket: Small fabric pieces became a button-flap patch pocket on the blouse front.
Finest Construction: Judy Huyck
Meet Emily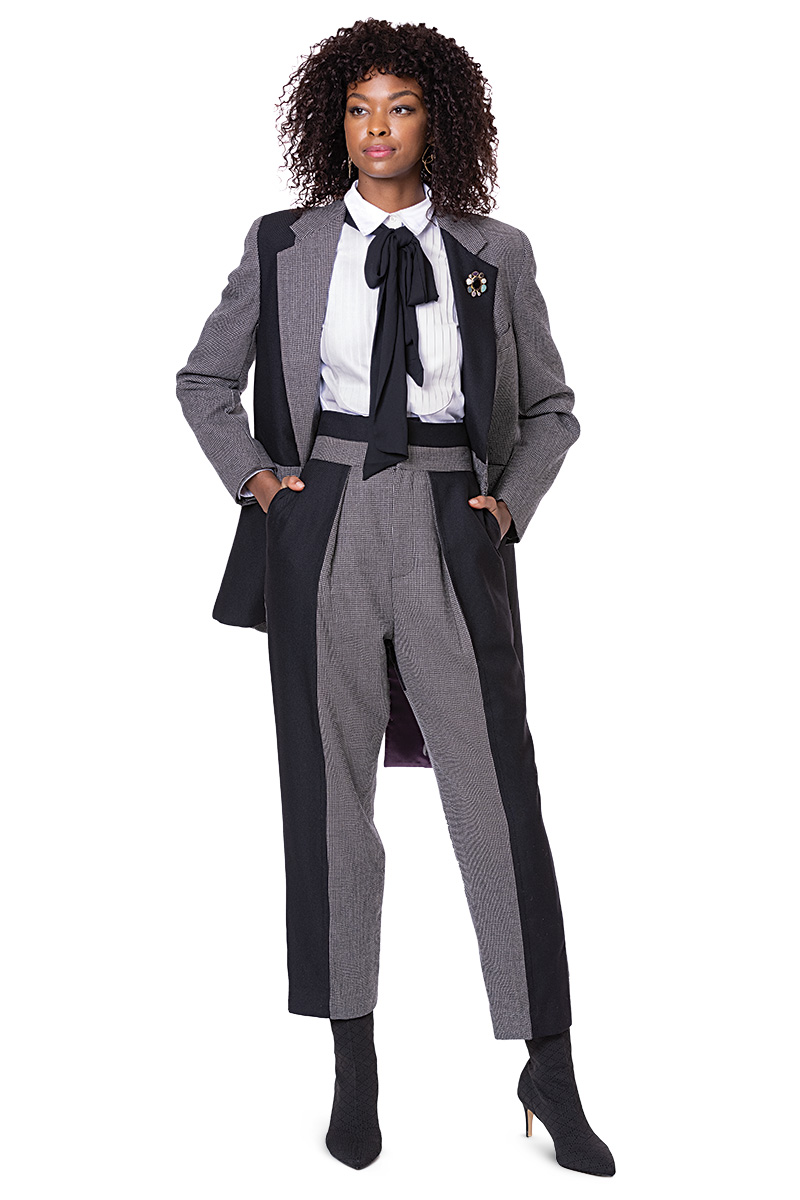 Judy wrote that her imaginary muse, Emily, is dressed to give a presentation on Victorian-influenced undergarments in avant-garde off-Broadway productions. Her retailored suit, originally a men's size 42 Evan Picone number, was inspired by the Spring 2020 Alexander McQueen collection. Although Judy of Grandville, Michigan, made the ensemble for a size 12 woman, she says the design is gender-expansive.
In addition to the mini-houndstooth fabric of the original garments, the new suit has black wool panels that define segments of the jacket and trousers. Judy dismantled both pieces to remake them, removing the lining, sleeves, pockets, collar, and pants waistband. She separated each pant leg into front and back pieces, then recut them using a vintage 1980 Vogue designer pattern by Givenchy. Each front leg was redesigned with a black panel from center to side seam. The black fabric's selvage appears along the center seam, adding a subtle textural detail.
The redesigned jacket brings equilibrium to an asymmetrical design. The hemline is uneven, and a black left lapel and lower panel are balanced by a right-side black panel. The overall effect is modern, edgy, and powerful.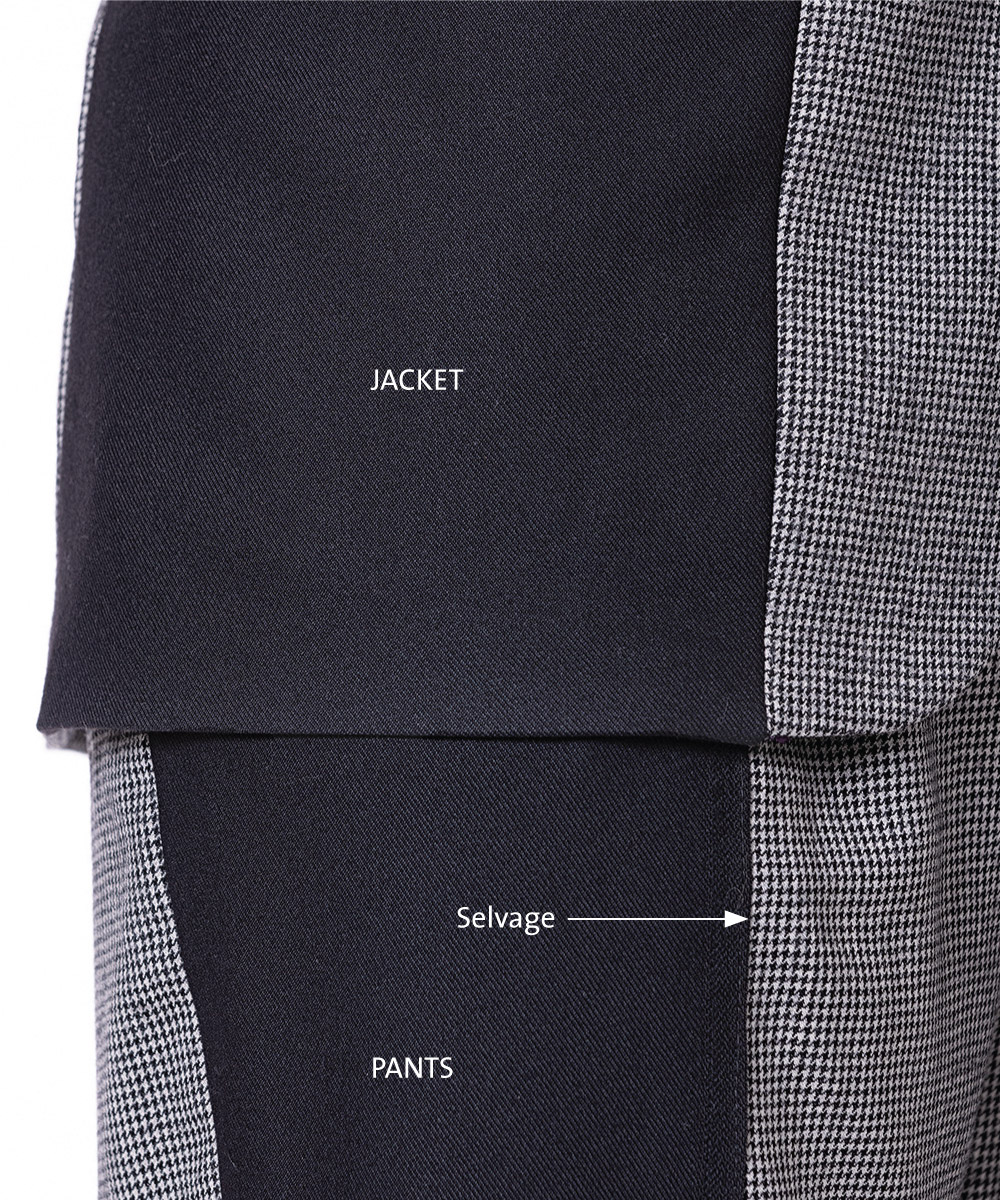 Patterns: Judy draped the new jacket panels in muslin on a dress form, then used the resulting patterns to cut the black wool.
Lining: This is made from the original suit lining, supplemented by a yard of purple polyester shantung. Judy used the purple selvages as piping in the seam joining the jacket facings and lining.
Damage control: Due to moth damage in the suit, Judy had to insert black panels in the trousers back. These create interesting blocked designs with the jacket's back.
Audience Choice: Debby Spence
Shades of Red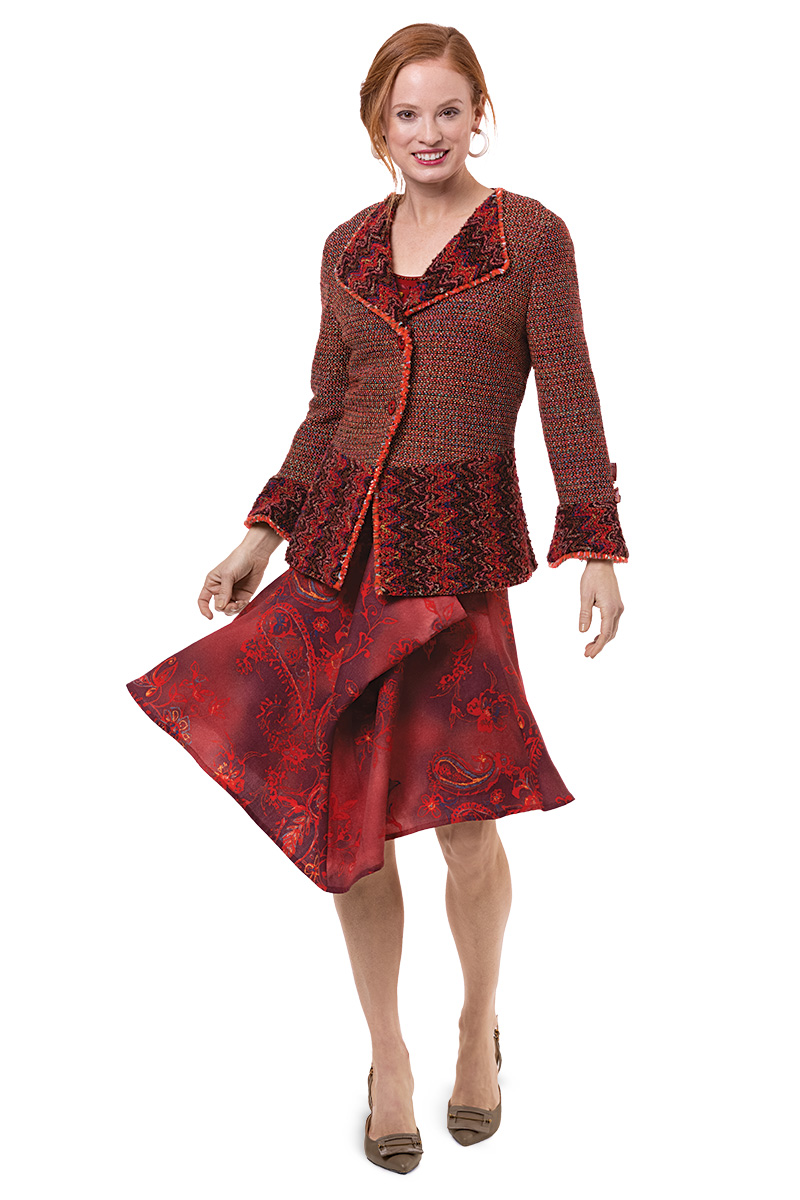 Debby of Lancaster, Pennsylvania, is a repeat winner in the Threads/ASDP challenge. This time, her stunning three-piece ensemble was voted best by her peers in the association. Debby redesigned a jacket and skirt suit that she had made more than 10 years ago for a favorite custom client. There's a sentimental connection, therefore, that led to this thoughtful remake. She also upcycled a thrifted red knit dress, adding beads at the neckline. It works as a top in the new outfit.
The jacket is made of a wool-blend tweed and acrylic-blend zigzag fabric; the skirt is 100 percent wool challis. Both pieces needed to be reduced by six pattern sizes to fit Debby, so she recut the jacket extensively, creating princess seams and additional darts throughout the bodice while leaving the collar in place. She used the excess circumference of the original skirt to create a draping pleat detail at the front, resulting in a skirt that's exceptionally comfortable. Debby says she enjoys thinking of her special client every time she wears these remade garments.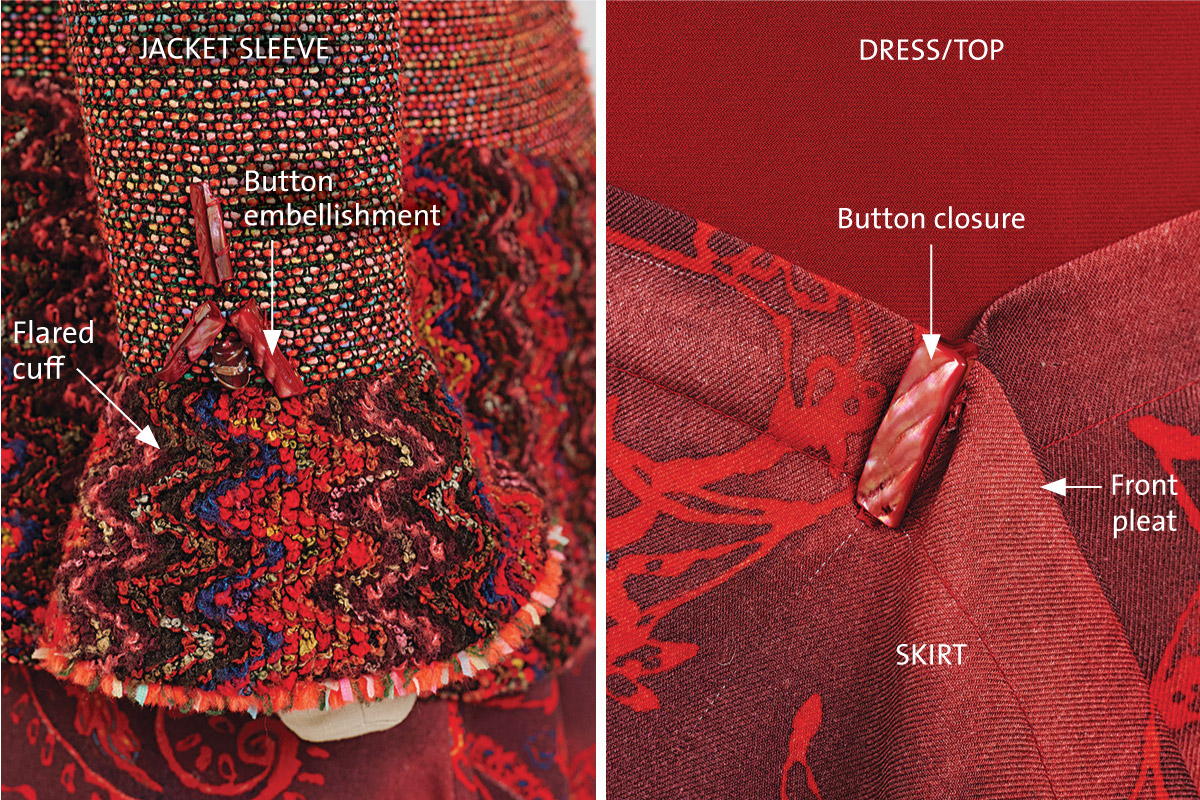 Peplum: The jacket's original peplum was turned inside out to show the contrast zigzag fabric, and recut for more pronounced flare.
Trim: Fringed selvage from the tweed fabric was installed around the lapels and cuffs and at the center-front edges.
Skirt closure: A decorative button at center front secures the draped front pleat.
---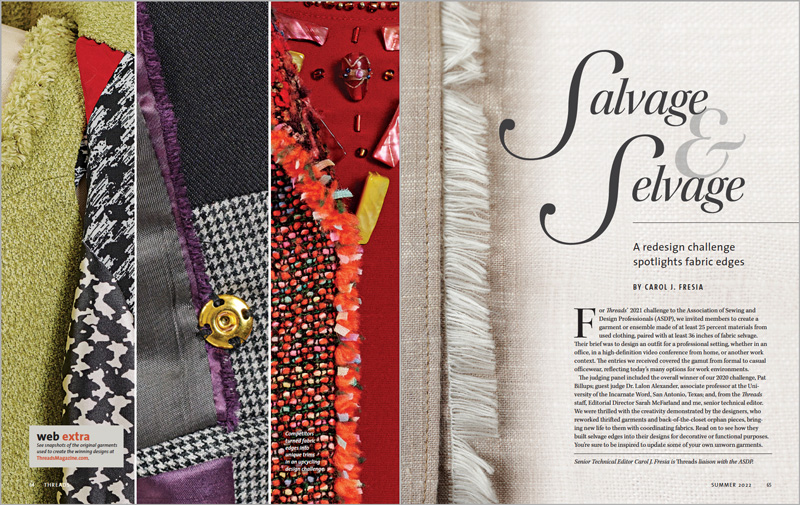 Senior Technical Editor Carol J. Fresia is Threads liaison with the ASDP.
View PDF