An Amateur's Guide to Drawing Garment Ideas
How to sketch garment details and designs even if you're not an illustrator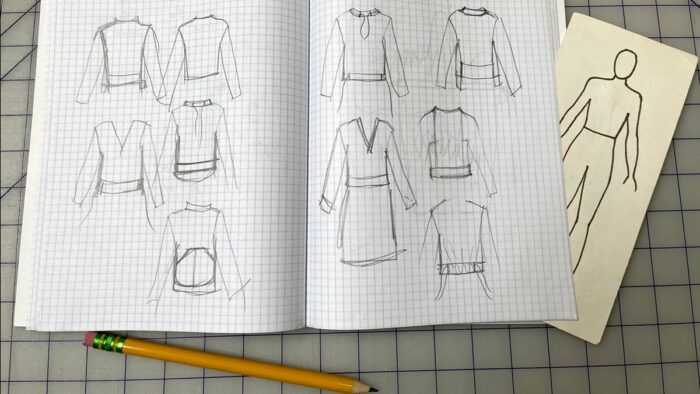 True confession: I am not an illustrator. There. I said it. My drawing skills arrested themselves sometime around the third grade. Honestly, saying I draw at a third-grade level would be an insult to most third-grade artists.
I have taken any number of drawing and fashion illustration classes and workshops over the years, trying to up my game in the drawing arena—to no avail. I gaze longingly at lovely fashion and pattern drawings hoping someday to translate my design ideas with paper and pencil.  Alas, that skill eludes me.
Drawing coping mechanism
Be that as it may, drawing is by far the easiest way to try out design ideas and garment details. So what is a hopeless non-illustrator to do? Over the years, I have developed my own drawing coping mechanism to help me imagine my ideas before committing them to fabric and scissors. Recently, I have seen computer-aided programs and apps that give us non-illustrators a fighting chance. My coping mechanism is rudimentary but has served me well for many years.
The first thing I had to do was reassure myself that my journal of illustrations was for me. I didn't have to share it or have it graded by a teacher or scoffed at by third graders. It was mine, and whatever basic drawings I made were for my exclusive use. This may sound obvious, but there was a huge mental block convincing me for years that I couldn't do this. I also had to let the idea of "neat and tidy" go. My doodles did not have to be finished works of art. They were working drawings and only needed to convey the idea I was noodling with. Once I had set those ground rules, I was ready to go.
…
Start your 14-day FREE trial to access this story.
Start your FREE trial today and get instant access to this article plus access to all Threads Insider content.
Start Your Free Trial
Already an Insider? Log in