Echoed Embellishment Technique
A creative process to design coordinating textiles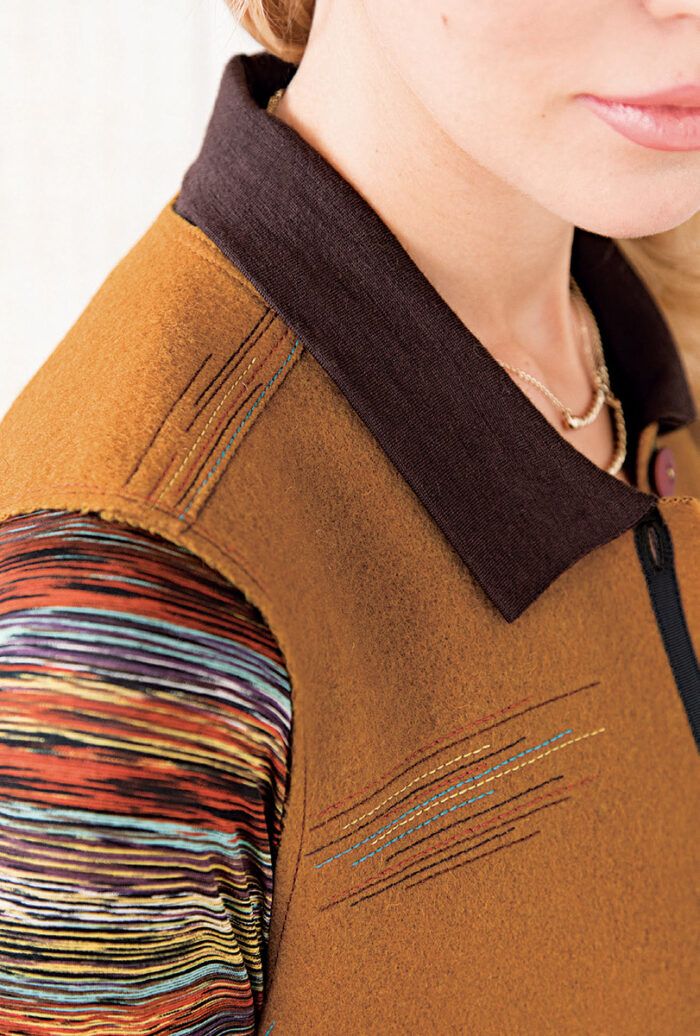 I love to experiment with embellishment techniques. As a result, I have a closet filled with samples I've made of stitching, appliqué, stenciling, painting, quilting, color-blocking, beading—the list is endless. My goal is to apply these techniques to garments so that the adornment relates organically to the whole design. However, it can be a challenge to translate embellishment ideas into great garment designs. 
An approach I've found inspiring is to "echo" a fabric's print. Here is the thought process I use to develop a successful echoed embellishment.
Reflect and repeat
First, look closely at your fabric. Study the fabric's color, texture, and print. Choose features that can become a coherent design. I identify an element I'm drawn to and echo it to make a companion fabric. It is not an exact copy, but is reminiscent of the original or has shared characteristics.  
You might isolate a motif that can be replicated in an appliqué, quilting, or beads. Maybe your fabric has a texture that can be mimicked with pleating or stitching. It can be a literal translation or merely a suggestion of the original element. Changing the color or scale of the motif can also create an interesting effect.  
Echoing enables me to create coordinating fabrics, so I can combine textiles of different fiber contents into a cohesive garment or outfit. As you'll see in the examples on these pages, I've worked with two different printed fabrics, both suited to pairing with a gold wool fabric. By echoing the print motifs, I transformed the wool into a perfect companion fabric. 
Experiment creatively
I enjoy the process of sampling different versions and of producing an original design that fully expresses my style. As you work on samples, collect information: Assess how much time…
Start your 14-day FREE trial to access this story.
Start your FREE trial today and get instant access to this article plus access to all Threads Insider content.
Start Your Free Trial
Already an Insider? Log in