A Matter of Fabric Weights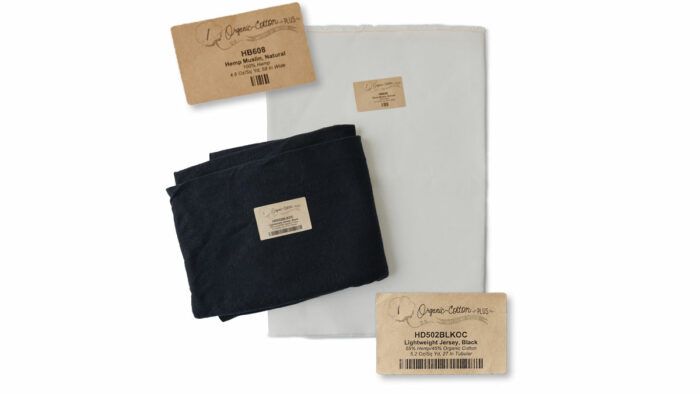 Q: I would very much appreciate information on fabric industry weights. Some online retailers list them, others don't. I've been online for an hour trying to choose a fabric and it would be so helpful to know what those numbers, when they are included, mean.
—Ada Focer, Boston, Massachusetts
A: Threads Senior Technical Editor Carol J. Fresia shares some facts: Fabric weight is designated as weight per specified area: Depending on where the fabric was made and/or sold, weights are given in ounces per yard or grams per meter. The area is not often listed, and you must infer that a fabric weight listed in ounces refers to square yards (ounces/square yard), and those listed in metric are grams per square meters (GSM). Thus you may encounter "12-ounce" denim; this means the textile weighs 12 ounces per square yard. 
To determine GSM, manufacturers and sellers don't cut and weigh a square meter of fabric. Instead, they use a special cutter that creates a circle with an area of exactly 100 square centimeters, which equals 1/100 of a square meter. This circle is weighed on a sensitive scale, and the result is then multiplied by 100. 
The only time I've seen a weight designation on a fabric bolt in a store was on denim, and I wasn't convinced the information was accurate. In most cases, weight listings are not necessary when you can handle the fabric, testing its thickness and drape. However, online shopping is a challenge for sewers who are used to feeling a fabric to determine its suitability for the design they have in mind. Fabric weights can offer essential information when you can't shop in person. 
When you're shopping online, be sure to check how the weight is defined. I have found some examples of textiles described in ounces per linear (rather than square) yard. In this case, the weight varies by the fabric width: The same fabric weighs more if a yard is 60 inches wide than if it's 45 inches wide. This doesn't seem to occur as frequently when textile weights are listed in grams per square meter. 
Weight is only one characteristic you need to evaluate when choosing fabrics. For example, a tissue knit may have the same weight as silk organza, but the materials are obviously not interchangeable. Often, fabric structure and hand are more important than weight. When you're comparing similar fabrics, though, weight helps you select the right one for your needs. Heavier ponte knits are suitable for pants and jackets with structure, whereas lightweight ponte may be better reserved for tops or garments with ease and drape. Similarly, a 6-ounce denim makes a good shirt, while 10-ounce denim is better for sturdy jeans. Use weight as a guideline for sorting through options.
You can find charts listing typical fabric weights online, along with calculators to convert between ounces/square yard and GSM. Here are some ranges to help you make decisions as you shop. Note: The ranges are rounded rather than exact conversions between imperial and metric units.
2 to 4 ounces/square yard (about 60 to 120 GSM): linings, lingerie, floaty blouses, skirts, and dresses (which can be lined).
4 to 7 ounces/square yard (about 120 to 200 GSM): lightweight to midweight tops, skirts,  dresses, palazzo pants; in knits, this range is suitable for medium-weight to heavyweight tops. 
7.5 to 10 ounces/square yard (about 200 to 300 GSM): pants, structured skirts, jackets, coats, softer bags, and totes.
10 to 13 ounces/square yard (about 300 to 450 GSM): heavy jeans and work clothing, jackets, winter coats, structured bags and heavy-duty totes, and upholstery.
Some online retailers don't provide a numerical weight for the textiles they sell. Instead, they offer a qualitative assessment of the fabric's heft ("lightweight," "bottom-weight"), or a list of garment types the material is suited for. I have found that independent online stores do a superb job of describing their goods. If you have any doubts, contact the owners, who are typically experienced sewers themselves, to get personalized advice. 
---
Have a Question? Send it to us and we'll find an expert's answer.
via mail: Threads Q&A, PO Box 5506, Newtown, CT 06470-5506
via email: ThreadsQ&[email protected]
via the Contact the staff page to submit your entry