Pattern Review: Marfy 9071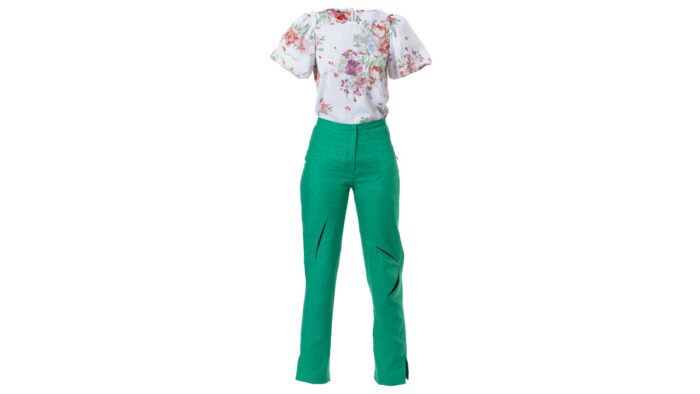 Marfy 9071
This pattern has two garments, but we are only showing the pants. The loose-fitting, blouson pullover has a V-neck and cut-on cap sleeves, both edged with 1-1/8-inch-wide appliquéd bands. It also has a drawstring waistline. The slim-fitting, ankle-length pants have a narrow waistband, fly front, curved back yoke with zip pockets, and 4-inch hemline vents. The pants front features five diagonal seams embellished with zippers, one of which includes a functional pocket. The blouse and the top edge of the pants waistband sit at the natural waist. The back yoke side seam does not line up with the diagonal front side seam. It is meant to be longer, by 3/16 inch, so it can be eased to the front. The rest of the seams and match points line up well. We found one illustration on the Marfy website showed a zipper placement that doesn't match the pattern markings. Our tester suggests using French seams on the blouse, so the neckline and armhole edges have a clean finish. Based on 60-inch-wide fabric and pattern size 42, the top requires about 5/8 yard and the pants 1-1/3 yards.
Our seamstress notes:
The front leg pattern is printed in one piece. Extend the grainline before cutting the front pieces apart where the zippers are inserted. Label the pieces from top down L1, L2, etc.
The direction in which the zippers should open is not marked on the pattern. On our pants, we made the zippers on the front zip toward the side seams, except the lower one on the right leg, which zips up.
Our tester sewed the bands when the blouse was mostly in the flat stage. First, she sewed the shoulder seams, next added the neck facings, then partially sewed the armhole bands before closing the side seams. Afterward, she finished sewing the armhole bands. As always, the patterns from this company come without instructions and have no seam or hem allowances, though grainlines and all essential match points are clearly marked with lines, letters, and plenty of notches. Each pattern is hand-cut in one size. Use a drapey fabric for the blouse, as it needs to be soft and flowing. Think of a sheer chiffon layered over a tank top. Because of its simplicity, it calls for a showstopping fabric with coordinating embellishment or fancy trim finishing the edges. For the pants, use a stretch woven, a stable ponte knit, or linen.
(Sized European 42–46 for busts 34-5/8–37-3/4 in. and hips 36-1/4–39-3/8 in.)
—Tested by Eve Kovacs, Woodridge, Illinois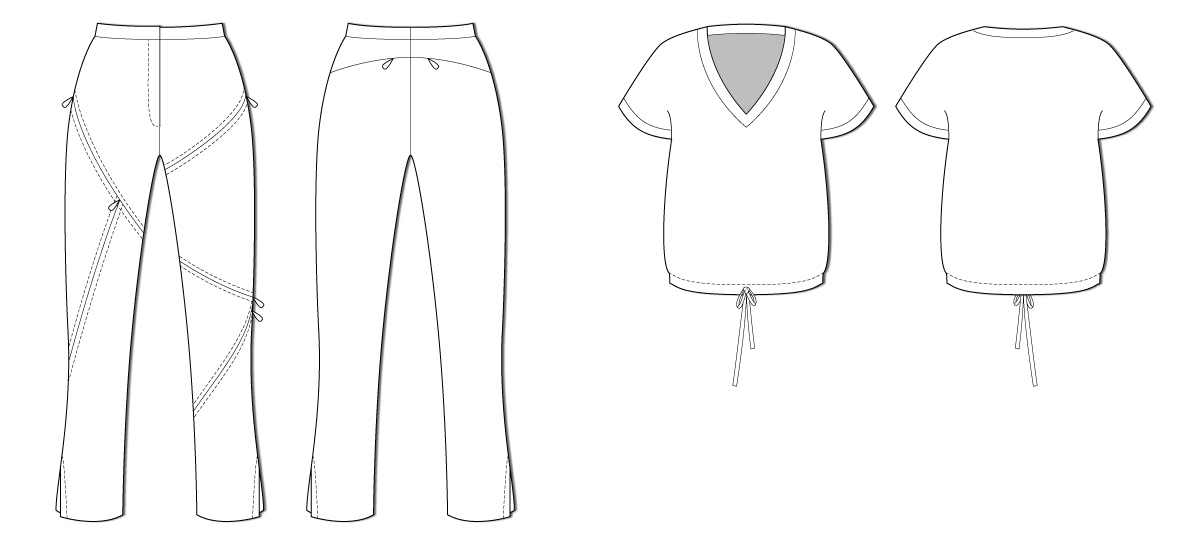 Sewing tip: Add 5/8-inch-wide seam allowances where the zippers will be inserted.
This review was originally published in Threads #218, Summer 2022. Have you made this pattern? If so, be sure to share pictures in our Readers Closet gallery.
Illustrations by Cassandra Bernier.