Getting Plastered with a Custom Dress Form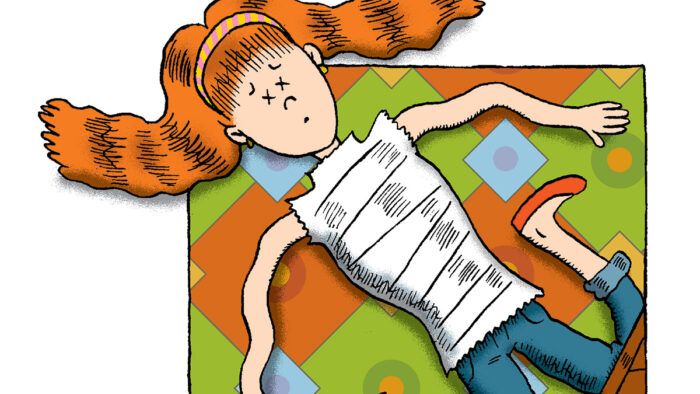 Many decades ago, my friend Paula and I set out to create the one sewing tool that would catapult our sewing to couture status: the custom dress form. Our household budgets would never allow for the purchase of a ready-made custom dress form, so in a moment of creative discharge, we brainstormed a way to meet this need. While our husbands were out, we each dressed in an old T-shirt and wrapped masking tape around our bodies in strategic places (a step we invented only after discovering nothing was holding the billowing T-shirts close to our bodies.) Once taped into shape, each of us wrapped the other in rag strips soaked in plaster of Paris.
At one point during this process, Paula mentioned that she was getting warm. Then, a few minutes later, she was complaining of nausea. At first, I thought she was overreacting; however, it wasn't long before I, too, was feeling warm. We hadn't considered that plaster warms as it dries.
So, we quickly decided to exit our mummy wraps. We had originally planned to use scissors to cut our way out, but three broken pairs of scissors later, we realized this would not work. During that fruitless endeavor, we made another significant discovery: our body hair was now encased in plaster, and we had plastered ourselves nearly down to our knees.
We hadn't considered that plaster warms as it dries.
Our only movable parts were our arms, legs (below the knees), and heads. We couldn't sit, bend, or take any more than tiny baby steps. And we couldn't decide which was worse: the heat from the plaster, the inability to move, or the anticipation of being ripped from the plaster.
Finally, with the aid of a saw (which we retrieved by penguin-walking out the front door, around the house, and into the basement), a few sturdy kitchen knives, and some razors, we were freed. Our husbands returned to find two exhausted wives, a total disaster in the kitchen, and two misshapen, torso-like forms that looked vaguely familiar. Although our wounds left no scars, you would think I'd be wiser from the "torso tomb" experience.
But one recent autumn, my colleague Carol announced that she wanted to make a custom dress form. I volunteered my services as an experienced wrapper, and a mutual friend agreed to assist. Carol ordered a kit; we watched the instructional video, and read the directions carefully. The plan was to wrap wet plaster bandages in a thin layer around Carol's body, and when the bandages hardened, cut the plaster off with bandage scissors. Then, we would mend the cast of her body and pour expanding foam into it to make the final dress form. It sounded easy enough.
We were well prepared, and everything started off smoothly: the wrapping process proceeded without a hitch. I was ready to start cutting off the cast when Carol began to feel light-headed. She hobbled over to lean against a kitchen cabinet while I frantically cut up the back of the cast as fast as I could. I was six inches from the top of the cast when she collapsed. She slid to the floor with her legs folded under her body, trapping her knees in the toe kick of the cabinet. I dropped the scissors to try to catch her, but it was too late, and we both went to the floor.
My assistant lunged for the cast and started to rip it from Carol's prostrate body, not realizing that the cast was still snugly wound around her neck. As I reached for the scissors to finish cutting the cast, Carol's head dropped to the floor. Luckily, within seconds, we were able to extricate her from the cast, and she regained consciousness without any permanent damage.
Later, we salvaged the form, Carol's cheeks regained their rosy hue, and we all saw the humor in the story—but I am through with getting plastered.
Judith Neukam is a senior technical editor.