Marist Student's Sustainable Fashion Wins Her a Coveted Award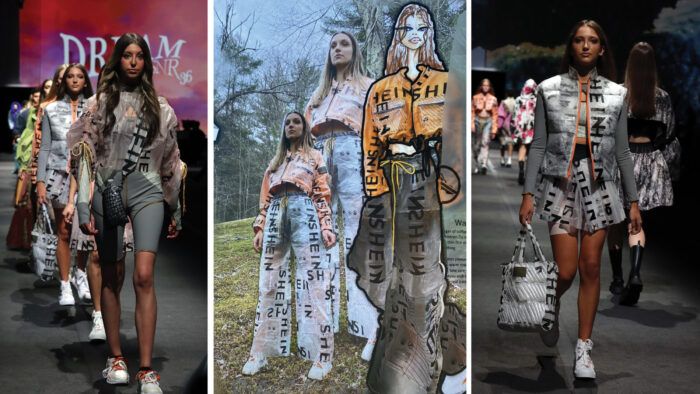 Ava Grand's sustainable fashion collection has won her the Marist College  2022 Designer of the Year Award. The graduating fashion design student created layered activewear by repurposing packaging bags from the fast-fashion online retailer Shein and from knits destined for the landfill. The public glimpsed her looks in a recent fashion show at the school in Poughkeepsie, New York.
Ava says she is proud of taking on the sustainability issue by reusing the bags in a practical way. "Not only does it speak a message to change the concept of repurposing, but it does it in a fashionable light," she says. "Having a voice socially made this easier to get my message (sic) out there." In fact, she attracted millions of followers on TikTok as she worked on her collection.
Packaging bags repurposed
Each of Ava's looks incorporated three to ten Shein bags. Technically, each Shein bag is made of two plastic bags, which provided "a lot more square-footage than imaginable," she says. "I had a no-waste mentality. Therefore, I used each part of the bag and saved each scrap to add in patchwork statements, also known as bojagi. Within my four looks, each comes with an accessory handbag that easily showcases about twenty (Shein) bags."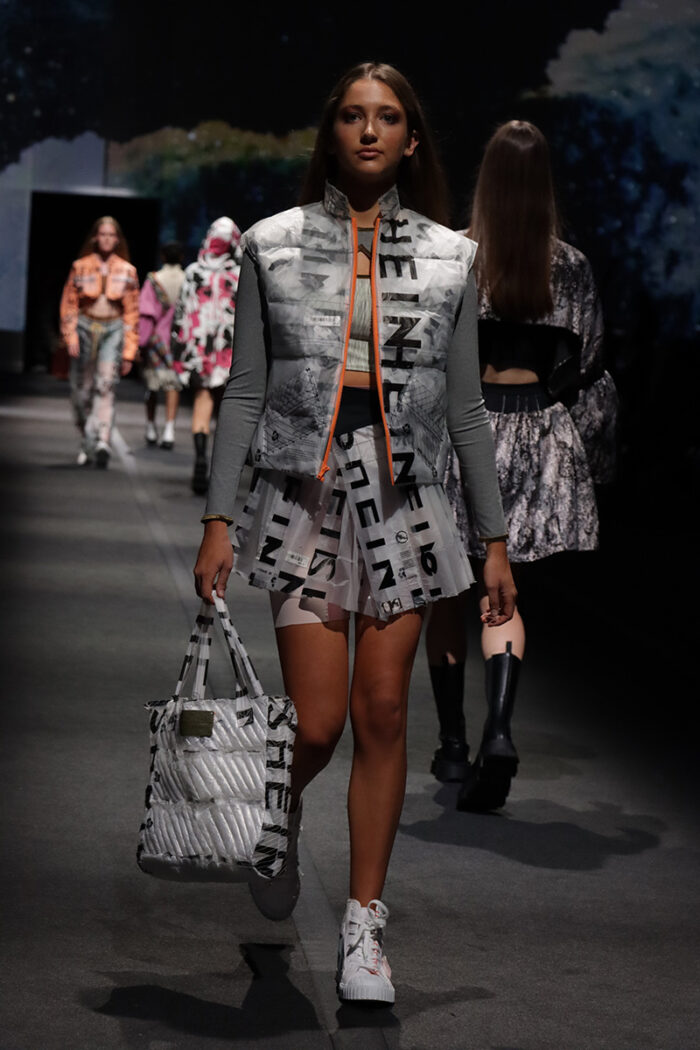 The inclusion of handbags is likely a nod to how she got started designing her collection and gaining a social following. She describes in a Marist student-produced video about her collection that she had accrued lots of the Shein bags after doing extra online shopping during the pandemic. She brainstormed a way to use the durable yet transparent bags and ended up sewing "this insane tote bag that went viral on TikTok."
That led to discovering a community of similar-minded people. They sent her their extra Shein bags. She created a fabric and was well on her way to making her Retreat Collection.
A sustainable activewear collection
Ava explains her garments in detail:
"Designing into each stitch, each pocket detail, each zipper, etc., was done just to catch the consumer's eye as my four looks went down the runway. All looks, of course, are covered in Shein bags. However, not all garments were. My collection is an activewear line where knits were needed for movement. In order to keep this a full-circle sustainable line, I accumulated my knits and jersey fabrics from FabScrap, which allows donated graveyard fabrics to continue their lifecycles. Pieces of mine include patchworked pink shorts to underlie a clear skirt and others have a matching active sports bra and biker shorts. All articles of clothing made had functionality . . .  meaning deep pockets, drawstrings at the waist and sleeves, and thumbholes . . ."
She explains further:
"The transformation of this material when dyed and overlayed with other fabrics evoked the mood and feelings of a scenic foggy sunrise or sunset forest. This ties in with my color story working hand in hand with nature being sustainable.
"A hidden detail is triangle cutouts on the bodysuits, tops, and jackets that symbolize the recycling symbol that is seen on each resealable Shein bag. The triangle also was the silhouette shape I kept in mind when designing, such as the V-dip front skirt."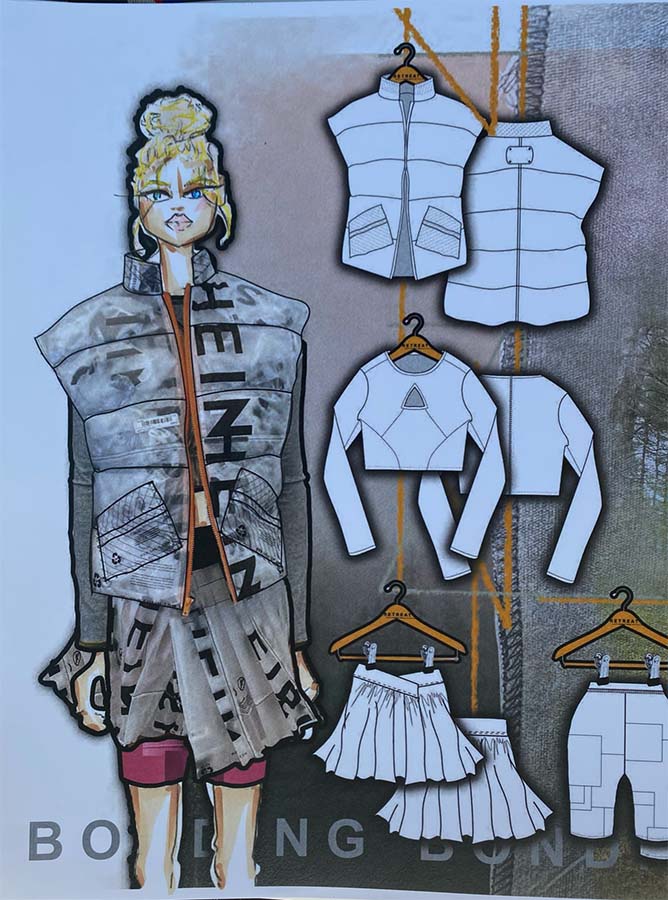 Mistakes and solutions
To create her chosen garment mood and color, Ava dyed the bags. She cooked them on a low-heat setting using natural dyes. She says she made plenty of mistakes boiling the bags to the point of disintegration. "If the bags were not stirred enough, the colors would clump creating an organic splatter design," she adds.
Her garments' pleated and ruched detail also required pressing. Without using a press cloth, she'd melt the bags. "Instead of sulking and getting mad, I allowed it to be a part of the process and added lined stitchwork patches on top," she explains. "Of course, nothing is perfect, yet these mistakes are what made each piece innovative."
Marist fashion show
Her collection was among the 24 senior designer collections showcased in Silver Needle Runway (SNR) 36. The fashion show also gave 39 students in Marist's Fashion Show Production class professional experience. The show is entirely student planned, promoted, and run.
A nine-member panel of industry professionals judged the designer collections before naming Ava the 2022 Designer of the Year.
When Ava accepted the award at the end of the show, she said it was "a dream come true."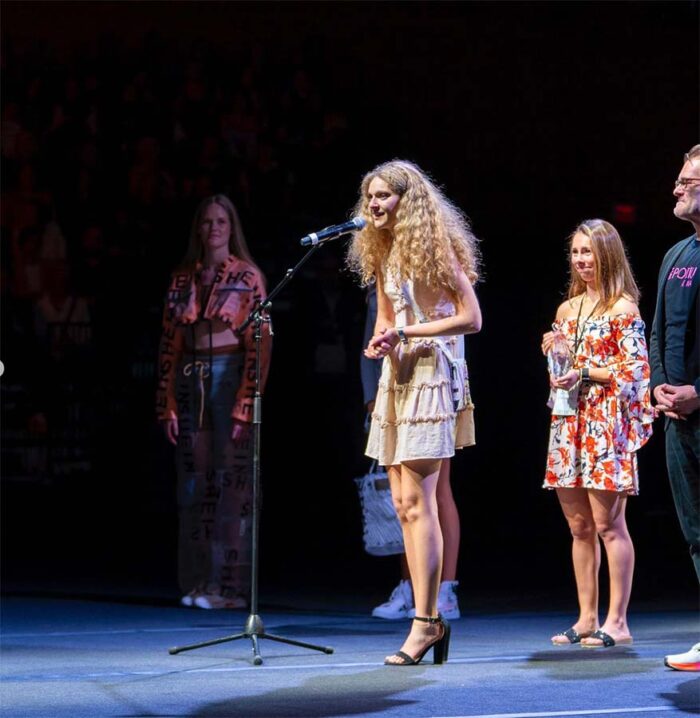 She says she has already accepted a design position for Centric Brands in Los Angeles. She'll work specifically for Favorite Daughter's denim team, which she starts after graduation in June 2022.
---
Photos: courtesy of Marist SNR36 and Ava Grand.