Luxury Loungewear Challenge: Focusing on Sumptuous, Sustainable Fabrics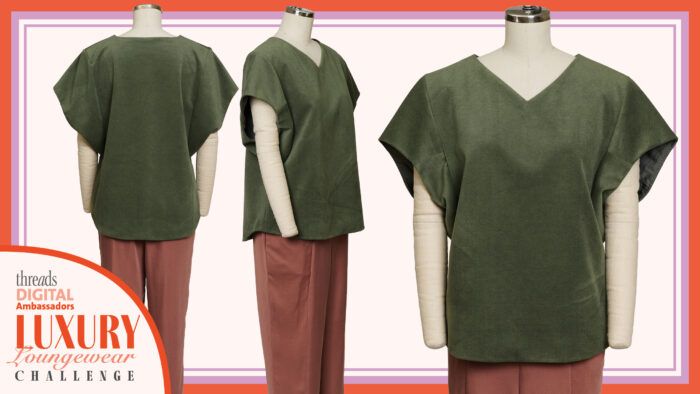 As an activewear designer, I am always thinking about comfort, movement, and performance. I may not produce loungewear patterns, but as someone who has largely shielded at home for the past two years, I certainly sew and wear my share of loungewear. So it was fun to think about the concept of "luxury loungewear" for the 2022 Threads Digital Ambassadors' Luxury Loungewear Challenge.
For me, the loungewear part was easy. It's all about comfort and ease of washing, certainly something you can throw on and it feels like a second skin. I mostly work from home, but I'd consider the clothes I wear to be more casualwear than loungewear. To me, I feel most like I'm lounging on the weekends—when we wake up late, enjoy brunch as the sun streams through the windows, and I can make a whole pot of tea last for hours while I think.
Luxury found in the fabric
The luxury part felt trickier in comparison. What does luxury mean when you prefer solids to print or embellishment? Oftentimes, the luxury you see in magazines and on catwalks is labeled such because of the extras added onto a simple design. But that's never been my aesthetic. To me, luxury means wearing the finest materials that feel wonderful and make you feel even better whenever you touch or wear them. I wanted to take this one step further, though, and ensure I used luxury fabrics that are also produced sustainably and bought from small, independent businesses.
Keeping this in mind, I decided I wanted to make separates that would work for most of the year (the weather is mild year-round in London). We live along a busy footpath and rarely close the blinds on our big windows, so I wanted something that also had enough coverage to wear at the table in full view of the public—so skimpy was out.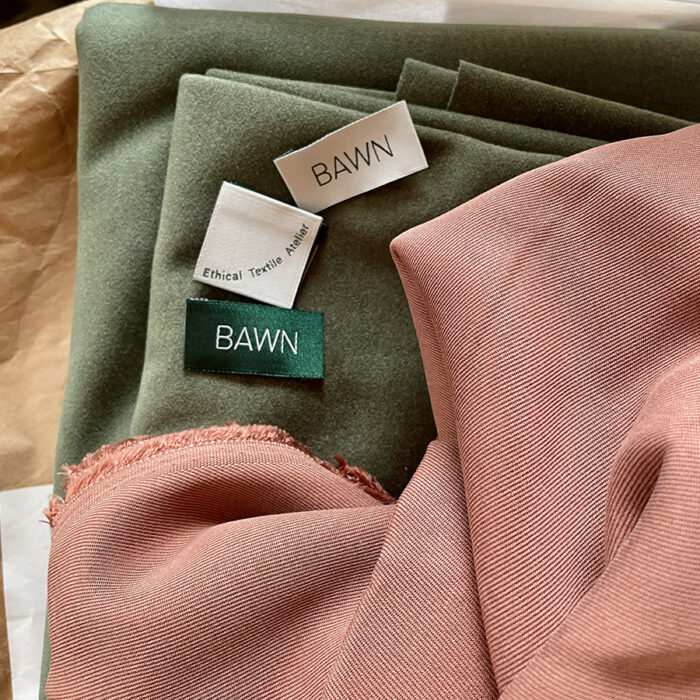 Pattern and fabric for the top
Most of our FehrTrade patterns are drafted for exercise performance, but we do have a few that can double as casualwear with a change of fabric. I decided on our Sweat Luxe top pattern, which I wanted to make in a luxury heavyweight fabric. Maybe cashmere or a silk velvet? I wanted something tactile, soft, yet easy to clean. The pattern is drafted for heavyweight fabrics like sweatshirting and only needs a little stretch, so I knew I could use a woven if I needed to and just go up a size. Despite ordering a lot of swatches, there wasn't really anything around that was the right weight AND felt luxurious. That is, until I received some swatches from Bawn Textiles, a new ethical textile atelier in Scotland, and I fell in love with their corn velour.
Yes, you read that right, it's made from corn. It had the right heft, felt gorgeous to stroke, and a beautiful dark sage green color that worked well with the color palette I was after. I wanted to use colors that were muted but sophisticated and looked expensive, and this green was perfect. Bright colors do not scream "relaxing brunch" to me.
The only downside to the corn velour was that the reverse wasn't as wonderfully tactile as the exterior. I realized I'd need to line it with something that felt luxurious on the skin. I've been wanting to try the range of organic "bamboo silk" from Raystitch, an independent fabric store in London, for ages and I found that their dark gray colorway coordinated wonderfully with the sage green.
Pattern and fabric for the pants
Now that I had my plan for the top, I needed to decide on something to wear with it, ideally some casual trousers, and made in something more lightweight to pair with the heavier, short-sleeve top. My go-to casual trouser of the past few years have been Closet Core Patterns' Pietra Pants, which I believe I've made maybe six times now. Not only are the Pietras the ones I reach for in my wardrobe again and again, but it is the pattern I've tweaked and sewn enough times to be comfortable changing it up to elevate the finish this time around.
I didn't really have a specific color in mind apart from staying within the muted palette, but when I saw how beautifully the swatch of Bawn's blush lyocell (Tencel) twill coordinated with the corn velour, I knew it would be the perfect pairing. Since I decided to use eco-friendly luxury fabrics, I felt it would be fitting to use 100 percent recycled Gütermann thread throughout, too.
So with a plan in hand, fabrics prewashed, and bobbins full, I was ready to start sewing.
---
Editor's note: To find out more about the construction of Melissa's ensemble for the 2022 Threads Digital Ambassadors' Luxury Loungewear Challenge, read her second installment here. You can also see what her three challengers created and who was voted the favorite here.
---
Photos: courtesy of Melissa Fehr.