How to Make Those Unforgettable Sequin Flowers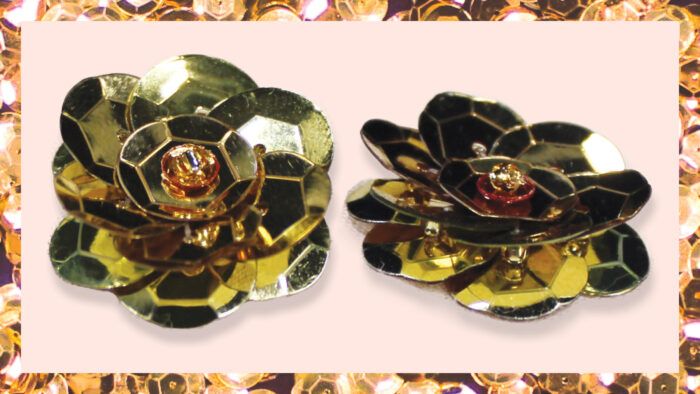 When I was in design school, another student made a beautiful black silk satin bustier covered in dimensional sequin flowers. I was immediately fascinated with the flowers' shape, shine, and structure. As students, most of us were willing to share techniques and ideas with each other because we were all still learning. Not that student. She never shared her secrets. Admittedly, she didn't have to. Still, my seeds of pettiness were planted, and oh boy, did they grow.
Sequin flowers on my mind
The idea of the flowers stayed with me through the rest of school and into my professional career. What's funny is that I never sat down and tried to duplicate them. As obsessed with them as I was, it never crossed my mind to reverse-engineer the motif until years later, when I was flipping through a fashion magazine and saw an up-close image of the flower on a couture dress. It was a small image, but I saw the understructure and realized what the basic component was. After that, I began experimenting with different sequin flower shapes and embellishments, but I always returned to the little sequin flower that started it all.
In tribute to that school-age denial of learning, I am going to show you how to make that flower. It's simple, fast, and fun. You can add it directly to your design or make individual motifs to sew on later. Regardless of how you use it, I hope you'll learn its composition and teach it to someone else.
Make the flowers
Supplies
To make this flower, you can use any round, center-hole sequins, in any size. Cupped sequins are traditional, but flat sequins yield beautiful results, too. I find that deep-cup sequins make more closed flowers that show more of their…
Start your 14-day FREE trial to access this story.
Start your FREE trial today and get instant access to this article plus access to all Threads Insider content.
Start Your Free Trial
Already an Insider? Log in