My Favorite Trouser-Making Details, Part 3: Buttoned Cuffs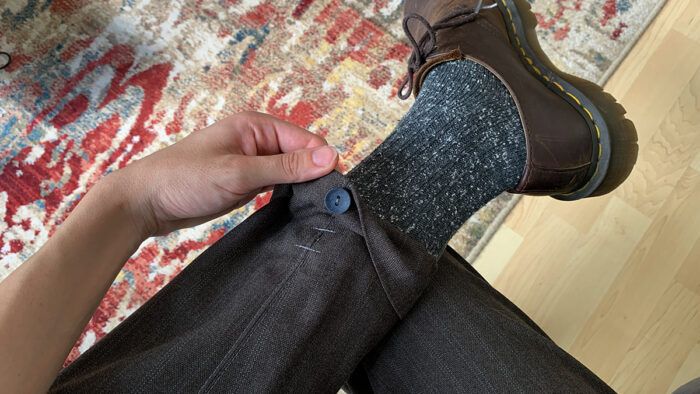 I first came across buttoned trouser cuffs about a year ago, on one of my many explorations of Pinterest. As a fan of trousers and of small sewing details, I was captivated and wanted to know more. I did a deep dive to see what purpose buttoned cuffs serve, how to sew them, and who came up with the idea. I found that Salvatore Ambrosi, an incredible Italian tailor who's the founder of the trouser-making company Ambrosi Napoli, is famous for incorporating this touch into his trousers, and I just had to try this technique for myself. In this article, I'll take you through everything I learned about buttoned cuffs, including how to draft and sew them.
The Purpose of Buttoned Cuffs
I love cuffed pleated trousers. They add an effortless, casual touch to an otherwise more formal silhouette. They also add weight to the hem, enabling the fabric to drape beautifully. What I don't love about cuffs is how much lint, dust, and general debris accumulates within the folds.
Convenience
Buttoned trouser cuffs, however, allow the wearer to completely unfold the cuffs in order to easily brush the dirt away. That can extend the time between launderings. As someone who tries to take care of my handmade garments as best I can to extend their lifespan, this just sounded like the best idea ever. Plus, it's a subtle detail I know is there and that, surprisingly, impresses and entertains others.
Versatility
I always wear tapered trousers, but if you love wearing straight-leg trousers, you can also use this trick to lengthen and shorten them. Simply unbutton the cuffs to extend the length by the height of the cuffs, and button them when you want the trousers to be shorter. This trick would be perfect for…
Start your 14-day FREE trial to access this story.
Start your FREE trial today and get instant access to this article plus access to all Threads Insider content.
Start Your Free Trial
Already an Insider? Log in