Pattern Review: Merchant & Mills The Quinn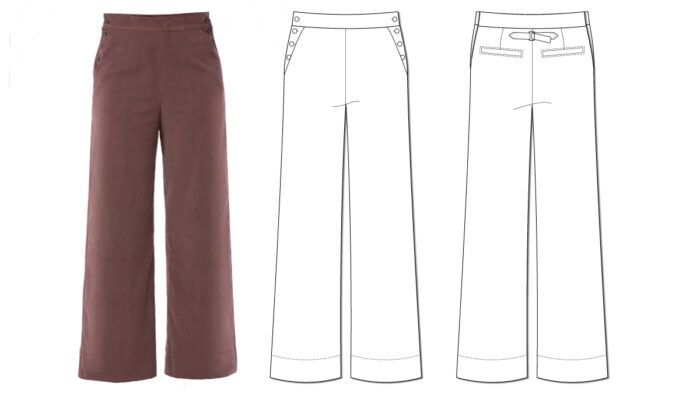 Sailor-style Pants
Skill Level:
Experienced sewists won't find this design difficult to sew. It would be a challenge for a beginner, but achievable with guidance.
Size Range and Fitting:
The pants are sized UK 6 to 28 for waists 24 inches to 50-1/4 inches and hips 34 inches to 60-1/2 inches. The ease is generous; size 6 offers 3-3/4 inches and 3 inches of ease at the waist and hips, respectively. Review the finished measurements and consider going down a size if the ease is more than you prefer.
Fabrics:
Use light- to medium-weight versions of nonstretch woven fabrics such as denim, linen, cotton twill, corduroy, satin, or brocade.
Style and Sewing Details:
Inspired by sailors' uniforms, these high-waisted, wide-leg pants have angled front pockets, and side-seam openings with buttoned closures. On the back, there are two 1-inch-wide fabric tabs with a buckle slider below the waistline, and two single-welt pockets. The bottom edge of the 1-1/2-inch-wide straight waistband sits at the natural waistline. The design detail that stood out to our tester is the drop-front closure with eight buttons. The pants are ankle-grazing, and could easily be shortened to a culotte length.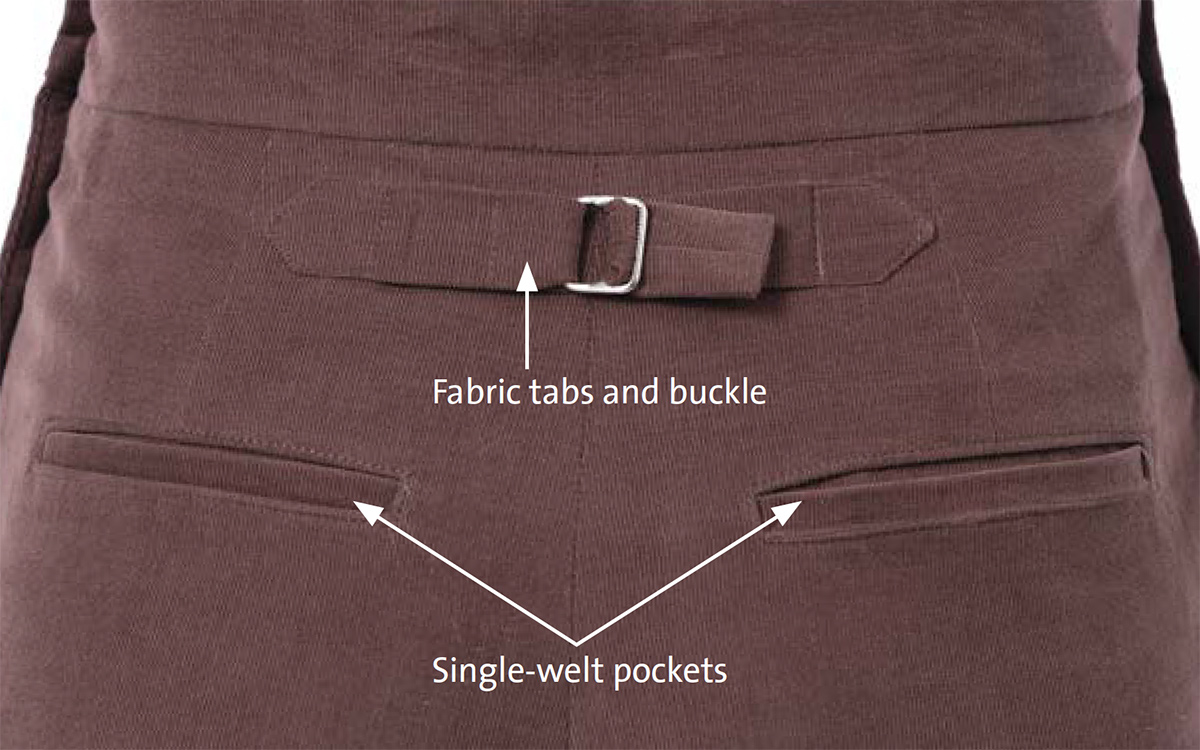 The instructions and illustrations are excellent. Our tester had one tip: Replace the asterisks that note the match points. She recommends cross marks instead, as they would be more accurate markings.
The matching seams are the same length, with an exception. As is common for pants patterns, the back inseam is longer and eased to match the front inseam.
The back waist darts go into the welt pocket and, once they are sewn, the welt pocket markings become distorted. Our tester suggests shortening the darts to end at the welt edge or trueing the pocket markings to remedy the distortion.
Our tester recommends using a ready-to-wear method to finish the waistband: Clean-finish the interior edge, then stitch in the ditch from the right side. This method minimizes bulk and ensures a wider seam allowance that is easier to catch in the stitching.
This review was originally published in Threads #224, Winter 2023. Have you made this pattern? If so, be sure to share pictures in our Readers Closet gallery.
Photos: Jack Deutsch. Illustrations: Kelly Keenan.