Fancy Fabrics Wedding Dress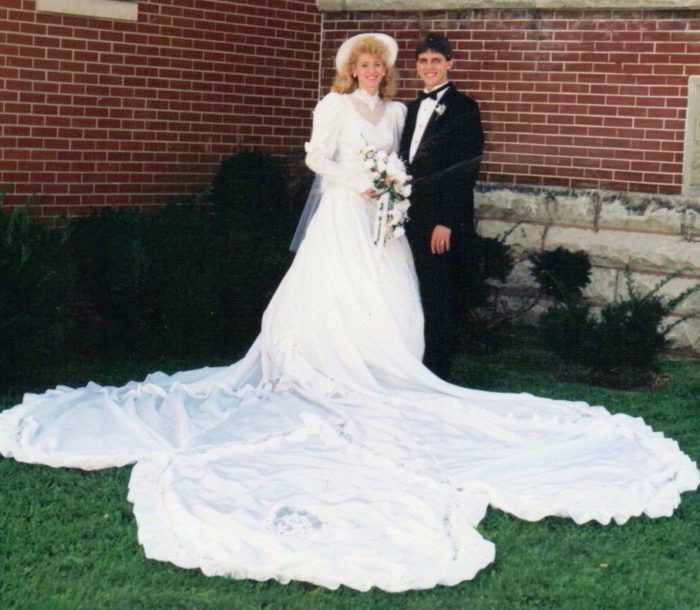 Although this project isn't a recent one, it's the most fancy and detailed project I've ever made. I made this for my "to be" sister-in-law. She wanted an extra special wedding dress with a long train. She brought me pictures of five dresses. One picture was the front of the bodice, another sleeves, two for the skirt back, and a picture for the skirt front. Then asked if I could put them all together into her dress, but make the train as long as I could get it. My naive self said sure and went to work designing and calculating what fabrics we'd need.
This dress is made of Taffeta, with several types of light weight lace. I chose light weight fabrics because of the amount of fabric needed. I didn't want the dress to end up too heavy for her to wear, and dance in. The extra long train would also need to bustle. The lightweight taffeta bustled nicely.
Some of the lace appliques were purchased already beaded and sequined. The lace along the skirt edges and next to the ruffles were all beaded and sequined by hand.
The front/back bodice is covered with applique, as is the hip area of the skirt. There are appliques placed through the front skirt and one large one in the center of the back of the train. I placed ruffles and inset lace along the hemline of the skirt and along the seams of the train pieces. All of this lace was sewn in by hand, then the taffeta was cut out from under it to make them see through. I had to do it by hand because the skirt was too large to fit under my machine. I remember many days on the floor of my living room with a needle and thread. My living room was the only room long enough to hang the dress so that the skirt lay flat enough to get the lace in smoothly. Our living room was 20 ft wide and the train was 20 ft. long.
Her dress was a joy to design and she was/is thrilled to wear it. She thought it was quite comfortable, too. I also made her hat/veil. It too is covered with beaded and sequined appliques.
I made my own wedding dress and many others also, but none were as fancy as this one.
I haven't designed or made a wedding dress in a long time. My friends/family are all in different seasons of life now. These days I spend designing and creating clothing for my children and myself, and teaching friends to sew for their families.