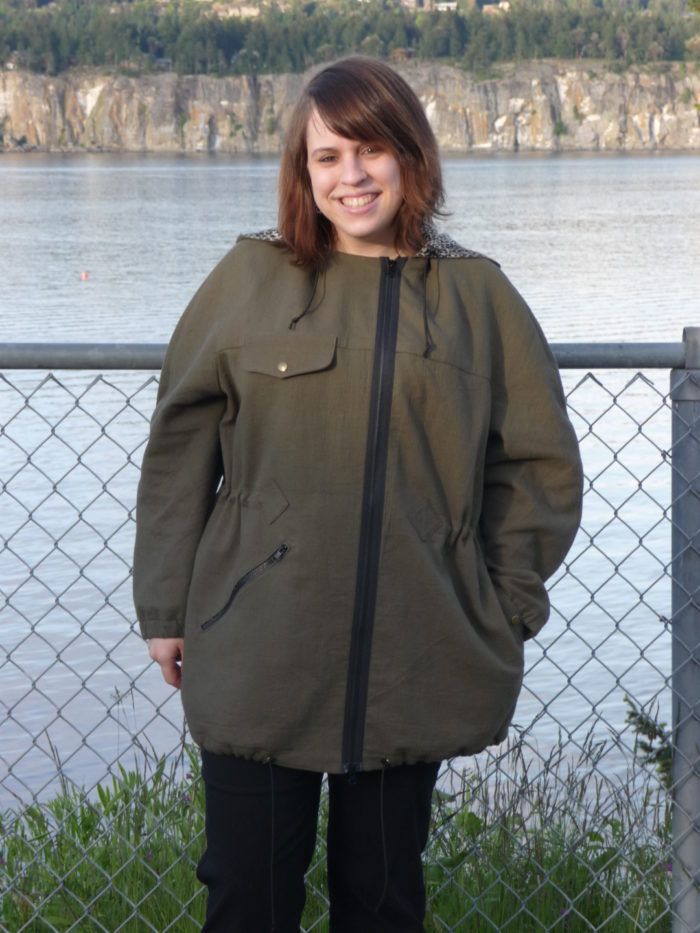 I used BurdaStyle pattern #101 from October 2013 magazine, and added the hood from a jacket in the August 2010 magazine.  I was inspired by my daughter to make this jacket for her, as she required a general purpose yet modern jacket, which was not too heavy for the fall.  The fabric used to make the outer shell of this jacket is a cotton woven, with a tiny pinstripe design in it; the lining is a rayon blend. 
This fully lined jacket features a two-way exposed centre off set zipper, a large zippered pocket on an angle on the right side, and a roomy inseam pocket on the left side that has three rows of topstitching and closes with a snap. The pocket flap on the right breast is held down with a matching snap. There is an adjustable drawstring for the hood, the waist, and the lower edge of the jacket. The drawstrings exit the jacket through metal eyelets. The hood lays flat on the shoulders due to the centre back neckline pleat that I added to the hood.  I also added a loop at the back neckline on the inside, for ease of hanging the coat on a hook.  The casing for the waist drawstring is created between the lining and the jacket fabric, and it adjusts from the inside of the jacket.  The cuffs of the jacket are elasticized. A large portion of the lining was sewn into the jacket by hand.
The sleeves were too wide and bulky looking, so I decreased the width of them from the shoulder to the wrist, and was very pleased with the results.  My daughter loves her new jacket!