Make Your Very Own Fitting Assistant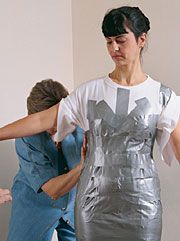 What do you do when you want a garment that fits perfectly? You use a dress form. And if you don't have one, you make one. If you've read the article, "Create a Basic Skirt Pattern from Duct Tape", in the latest Sew Stylish, Number 2, Fall 2007, you now know that you can do some pretty amazing things with a simple roll of duct tape. Well, here's another great idea.
Taken from the pages of our sister magazine, Threads, the article "Clone Yourself a Fitting Assistant" shows you how to create your own dress form out of duct tape, papier maché, or paper tape. Since dress forms can be a bit pricey, these are great ways to get the fitting benefits of a dress form on the cheap. All you need is a friend, a few supplies, and the willingness to get all wrapped up in the process.