Cool Tool: Gravity Feed Iron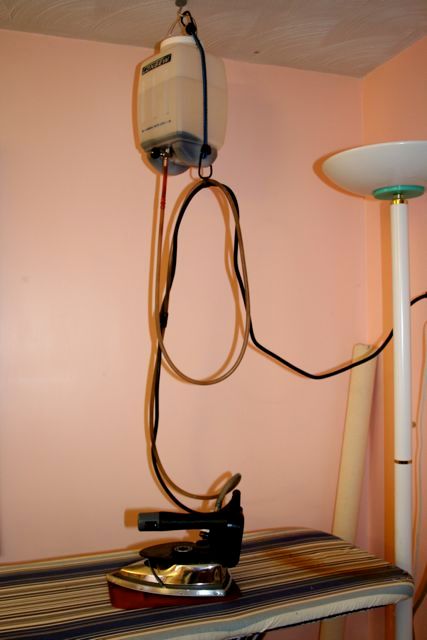 I spend much of my sewing time going back and forth to my ironing board. My philosophy is that pressing is sewing. Because of this, I keep my iron running for extended periods of time, and I am pretty hard on my iron. In the space of 18 months, I literally burned through 5 home irons. At an average cost of $70 per iron (and one boiler style iron that was a lot more than that), the costs added up quickly. Then a friend suggested I look at gravity feed irons.
A gravity feed iron is a staple in most design studios, couture houses and tailor shops. Unlike a standard home iron, it has a large water reservoir (in my case, 4 liters) that is suspended from a hook above the ironing board. This allows you to press for a long time between refills. A hose feeds the water to the iron, and to activate the steam, you must press a button on the iron's handle. There is no continuous steam capability. Most gravity feed irons use tap water, and come with resin filtration beads. You need to change the beads periodically, just as with any water filter. Some people advocate using distilled water in their reservoir. I have used plain (very hard) tap water in my iron for 4 years with no ill effects.
Gravity feed irons are industrial strength. They generate a lot of steam, a lot of heat, and a lot of weight. My iron weighs almost 4 pounds. Gravity feed irons are great for fusing interfacing; you don't have to apply much pressure with an iron that weighs 4 pounds! They generate steam in any position, not just on a flat surface. This allows you to steam garments on surfaces other than your ironing board. When I made some religious vestments several years ago, I used my iron to steam them on the hanger, since they were too voluminous to put on the ironing board. I also frequently press items on my dress form with my gravity feed. They don't have an auto shut-off, which is great if you need to be pressing for long periods or going back and forth to your iron as I do. You do need to remember to turn them off when you're done.
Gravity feed irons generally range in price from $200 to $500. There are several reputable manufacturers, including Consew, Naomoto and Silver Star. They are available from industrial sewing supply stores and several online sources as well. Gravity feed irons aren't for everyone. If you don't do a lot of sewing, a gravity feed iron may be overkill. But if you want an industrial strength pressing tool, check out gravity feeds. I wouldn't be without mine!