What does your sewing space look like?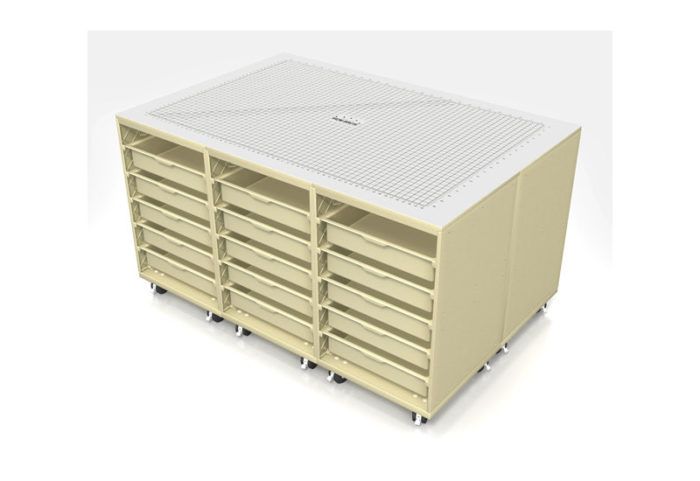 An empty nester should have a dedicated sewing room, right?
Until my husband and I became empty nesters (we have 3 children), I could only dream of having a room devoted to my sewing hobby. I assumed that once their bedrooms were vacated, my dream room would become a reality. But I was wrong. Since none of our children live nearby, and they usually stay overnight for at least one night when they visit, out of necessity their rooms have become guest rooms. Between the kids, their spouses and their children, they require even more space when they visit than they did when they were kids!
It may not be perfect, but it makes me happy.
Although it's not what I envisioned for myself, my sewing room/guest room, isn't that bad either. The dressers are filled with sewing notions, fabrics and projects underway. My husband added shelves on both sides of the closet with a small space remaining in the middle for hanging clothes. The shelves allow much of my sewing gear to hide behind the closet doors. I place a resin table top on the bed for cutting, marking, etc. The bookcase that once held the great classics, text books and school notebooks now holds Threads, sewing and knitting books, and magazine sleeves filled with aritcles I've ripped out of magazines and other sources (not Threads!) regarding the projects I hope to make one day. My serger sits on what was once a desk for my daughter's schoolwork, and my sewing machine rests on a cabinet that once housed my mother's black Singer. The room is much smaller than I'd like; the cutting "table" is entirely too low; the storage isn't as organized and convenient as it should ideally be, and the room is carpeted so dropped straight pins are a danger to bare feet. Despite all of the negatives, I'm thrilled to have it, and for my present purposes, it's just perfect.
What changes would I make? Hmmm….
I often wonder what I would change if I could make the changes with a finger snap. First I'd move the room downstairs near the main living area so that I'd be closer to whatever else is going on in the house. I'd have a large cutting table with a full grid cutting surface instead of my small portable cutting surface. I'd include room for an ironing board so that I didn't have to run to the basement to iron each seam. I'd buy lots of colorful, translucent plastic storage bins of various sizes and have a wall-to-wall, floor-to-ceiling storage unit custom built to fit one wall. I'd store fabric in larger bins and notions in smaller bins, their contents all clearly labeled. I'd also have a rolling cart with lots of drawers for the essential tools I use every time I sew (scissors, pins, etc.).
Does the perfect sewing space provide inspiration just by being perfect?
When I dream about this, I ask myself a question. Would I sew more if I had the perfect place? Would such a place inspire me more? I'm not totally sure it would. My inspiration doesn't come from the room. My inspiration comes at unexpected times, and in most cases I'm not even near my sewing/guest room when I get the bug to sew. I'm beginning to think the place where we sew has more to do with comfort than inspiration.
What does your sewing space look like? How would you change it?