Double Bias Length Extension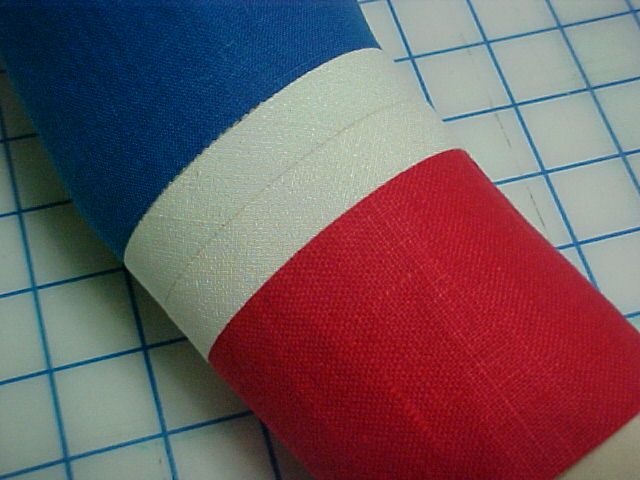 This technique came from a vintage suit I saw a few months ago. The idea was used to extend the sleeves with bias fabric inserts. The suit was in a very small glen plaid and the inserts on the bias added interest. I thought it would also be a great way to extend a pant hem or add interest to a straight skirt. This technique could be used to lengthen different areas in a garment but also to add interest using contrasting colors as it is shown here.
In the example shown, the blue fabric is the sleeve. The two white bias strips are the inserts. The two bias strips when sewn together and pressed around the raw edges of the red and blue fabric finish at 5/8-inches wide each. The white bias fabric is cut 4 times the finished width. Example: 4 x .625 (5/8-inches) = 2.5-inches wide. You will need a 2.5-inch wide bias strip for every insert sewn in the garment. This width accommodates both the bias strip for the blue fabric and the second strip for the red fabric, which is the sleeve extension. The remaining amount provides for wrapping the seam allowances around the raw edges known as the 'turn of the cloth'. The red fabric (the sleeve extension or cuff) is cut twice the finished width desired plus 2 additional seams allowances (an additional 1 1/4″) for the example used. The bias inserts and the extension can be any width when finished, but the bias should start at 4 times that measurement and the extension can also be any width when finish, but must start out twice the finished width plus two seam allowances.
Sew one bias strip to the adjoining blue fabric with a 5/8-inch wide seam allowance.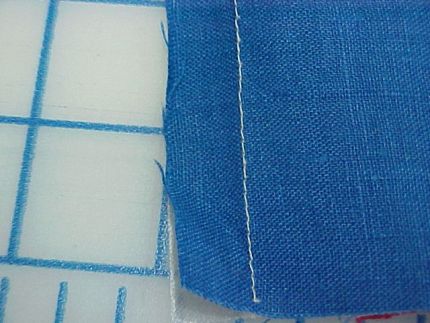 Sew the other white bias strip to the red fabric with a 5/8-inch wide…
Start your 14-day FREE trial to access this story.
Start your FREE trial today and get instant access to this article plus access to all Threads Insider content.
Start Your Free Trial
Already an Insider? Log in