What amazing technique or inspiration have you gleaned from Threads?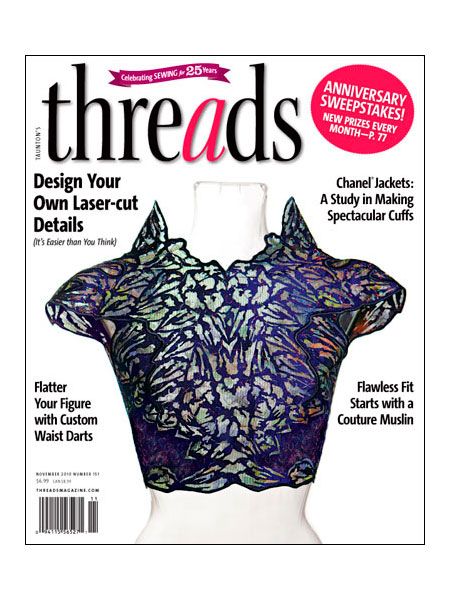 MY "AH-HA!" MOMENT WITH THREADS
I've been sewing since I was a kid, but I wasn't introduced to Threads until years later, long after I was married. I remember reading my first fitting article by Karen Howland. I can't recall which issue the article was in, but I do vividly recall the "Ah-Ha!" moment I experienced. The article came to my attention just as my body began it's shift from the perfect body of youth to the not-so-perfect body of adulthood. My fitting attempts up until that time were based on trial and error. When I read that article, I remember thinking, "Of course! This makes so much sense. It's so logical and well thought out." And then, "Why didn't I think of that?" Fitting articles continue to amaze me. Once I take the time to stop and think about them, I continue to find that fitting techniques use nothing but common-sense logic, but sometimes I need someone to help me see the logic.
HAVE YOU HAD A THREADS "AH-HA!" MOMENT?
Threads is currently celebrating its 25th year in publication. We've printed thousands of articles filled with sewing inspiration and techniques during that time. We've changed a lot over the years, but I like to think we've also improved with every change. Is there an article that you've read in Threads over the last 25 years that made you say "Ah Ha!" to yourself. Was there an article that taught you something you had no idea about or something you had never tried until reading about it. Was there a particular tip that spoke to you and helped to make your sewing life easier. Is there something you treasure Threads for above other things?
SHARE YOUR SPECIAL MOMENT WITH US
Tell us about your special moment with Threads. If you recall the issue and article name, please include that as well.
Thanks for helping to make Threads the magazine sewers turn to most often when they want to improve their sewing skills. Your comments can only help us to make Threads even better, and if you want to enjoy 152 electronically searcheable issues of Threads in .pdf format, check out our 2010 DVD Archive.