Don't Miss Your Chance to Enter the Inspired by Threads Contest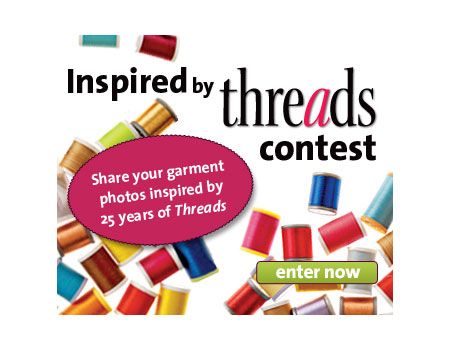 Show us how you've been inspired by Threads! To celebrate our 25th anniversary, this contest is open to garments that have been inspired by any article in Threads magazine's history. This can be any article including projects, techniques, or tips published by Threads throughout the past 25 years.
To enter, upload photos of your garment with a brief description of the techniques, fabric, and pattern you used along with the article or articles that inspired the garment. Entries must be uploaded by 11:59pm November 5th, 2010. There is no limit to the number of garments you can enter.
Threads editors will judge the garments based on the overall garment design, construction techniques, and the application of the inspiration article used. Inpiration articles can include anything from an entire project to a finishing or fitting technique you found inspiring.
You could win a Threads prize package including:
2010 Archive DVD $149.95
Couture Techniques DVD with Claire B. Shaeffer $39.95
Threads Insider Techniques Vol. 1 DVD $29.95
Threads Insider Techniques Vol. 2 DVD $29.95
We'll choose 5 finalists, then put the vote out to the Threads audience to choose the winner. Winner will be announced on November 15th, 2010.
See Official Rules for details.