The November/December Issue of Threads is on Sale!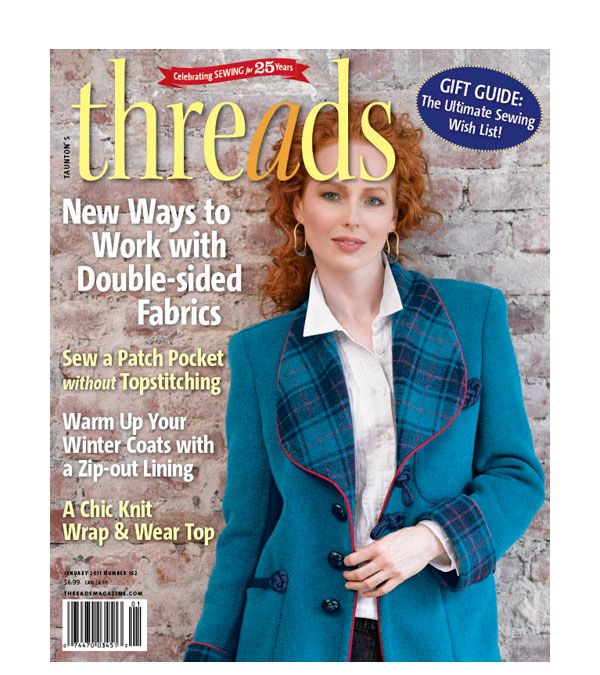 We're excited to announce that the latest issue of Threads hits the newsstands today. Here's a sampling of the great sewing content you'll find in this November/December issue.
Unique design ideas:
Anna Mazur brings clever ideas for applique that truly stands out with 3-D applique techniques. She shows you how to create an textural bag design, a scuplted, removable coat collar and a sweet, layered applique belt.
Wondering what to do with double-sided fabrics? Judith Neukam and Kenneth King team up to give you some fabulous ideas and techniques that make the most of a fabric with two right sides.
Skill-building techniques:
Warm up this winter by adding a quilted, removable lining to a coat or jacket. We share sources for quilted fabrics and how to apply the lining with zippers so it's easy to zip in and out as the weather changes.
Learn how to apply a patch pocket by machine without topstitching. Industry insider Annalisa Tay walks you step-by-step through the process.
Clever sewing info and inspiration:
Discover the ordinary items around your house that make great sewing tools.
Plus, meet the winners of the 2010 Make it With Wool contest and see the outstanding garments these young sewers have created.
Elegant, fun-to-sew projects:
For those of you that like working with knits, be sure to check out the ultra-chic wrap turtleneck project from Rhonda Buss.
Plus, lots more!
This issue marks the start of a new department called Designer Spotlight. In this issue, we interview recent project runway contestant and longtime Threads author, Pamela Ptak.
You'll also see how to embellish zippers with embroidery, discover how a lockstitch is made, and get the latest on patterns. Plus, there's a sewing gift guide featuring items that every sewer would love to receive!
We hope you enjoy this winter issue of Threads. Please write and tell us what you think of the issue. We'd love to hear from you.
Happy Sewing!
Deana Tierney May