Fantasy fur, installment 2: Creating a slit pocket in the fur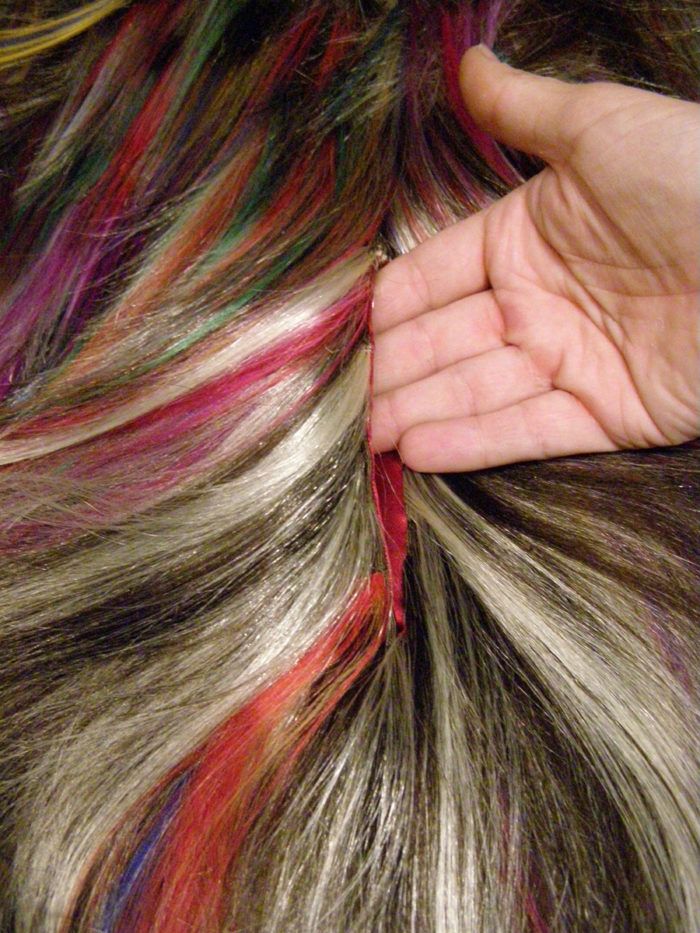 I've made one hair weave fur garment, and the item missing was the pockets. This post, and the next, are how I engineered slit pockets in this fantasy fur.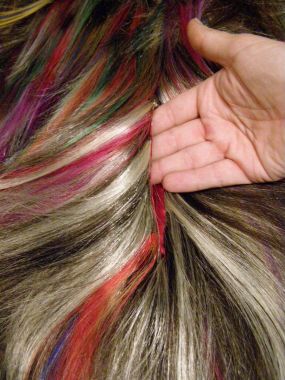 Here's a photo of the finished pocket.
To begin, determine where the pocket will be located, based on the garment pattern piece. Mark this point–here it's marked with a pin. Sew a row of ribbon, stopping the stitching at the pin. This is what it looks like. You'll cut the ribbon off, 2-3 inches away from the end of the stitching. That will hang loose. Since you want more density along the opening, sew another row of weave, midway up the ribbon. This is about 2 inches long. Zig-zag stitch the next row of weave, stopping at the same pinned mark. Sew another row of ribbon, stitching the ribbon all the way to the end of the last ribbon. Cut the ribbon. Keep repeating the above steps, until you get the desired length of the pocket opening–generally minimum of 6 inches for women, 7 inches for men. You can see the "seam allowance" created by the ribbon that extended past the opening–this will provide fabric to sew the pocket bag to later. Fold this ribbon seam allowance back and baste out of the way. Now, you will create the opposite side of the pocket opening the same way–leave 2-3 inches of ribbon hanging loose, then begin sewing where the pocket opening falls. Repeat the steps of stitching a short piece of weave midway up the ribbon, sewing a row of weave, and a row of ribbon, all the way up. This forms the opposite side of the opening, with a corresponding "seam allowance" of ribbon. Fold this seam allowance back and baste out of the way. Now, you'll sew…
Start your 14-day FREE trial to access this story.
Start your FREE trial today and get instant access to this article plus access to all Threads Insider content.
Start Your Free Trial
Already an Insider? Log in