Can this Beautiful Jacket Be Transformed After a Botched Alteration?
This thrift store find needs expert Kenneth D. King's touch to work around a previous owner's attempt to alter it.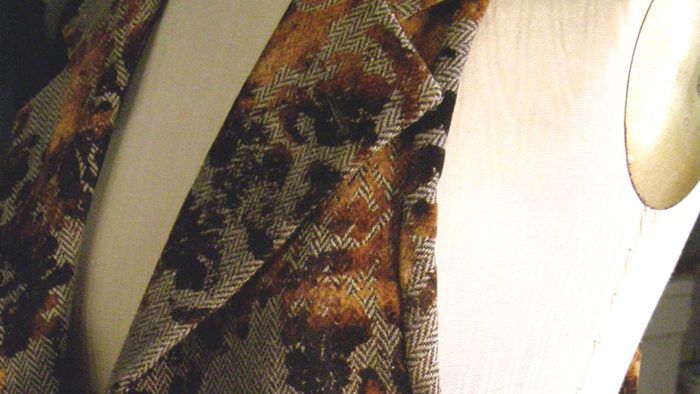 A friend of mine found a jacket at the thrift shop that she knew I would love. The jacket's fabric  was really beautiful–a wool herringbone with a floral flocked design.
I was smitten—until I put it on.
Disaster! Someone did an appalling alteration job on this beautiful jacket, rendering it unwearable.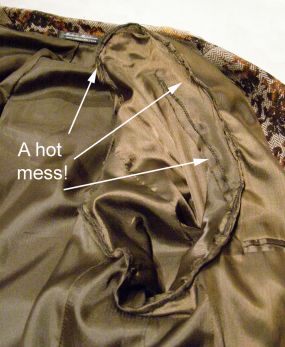 The sleeve was crammed into a much deepened armhole, and there was no shoulder pad.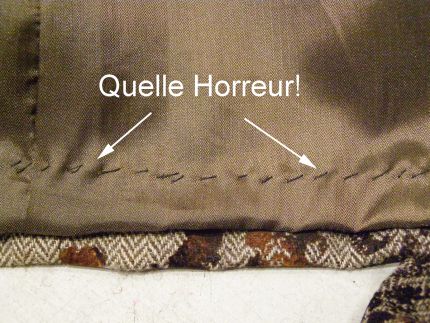 The photos give a close-up look at the er, "craftsmanship."  It looks as horrible as it fits. Really.
So, what to do? I wanted to save this jacket in some way because the fabric is so beautiful, but there was no way to keep it as a jacket. So, I decided to make a vest from it and document that process.
Here's what I did:
To make this a quick fix (spending a lot of time wasn't cost effective for me), I decided to not remove the lining, but to treat it as an interlining.
The first step is to smooth the lining into the inside of the jacket, and pin the body and lining together around the armholes at the front and back. After pinning, thread-baste the lining and body layers together. Once the lining and body are basted together, the pins can be removed. Once the layers are stitched together, cut the sleeves away at the botched armhole. To establish the design line for the new armhole, place the jacket on the form (or on the body). I'm using what is called cold tape, a gummed fabric tape used in fur and leather construction. You could substitute narrow masking tape. The advantage of cold tape is that it's repositionable, so you can experiment to get the proper line. After you've established your design line, transfer the…
Start your 14-day FREE trial to access this story.
Start your FREE trial today and get instant access to this article plus access to all Threads Insider content.
Start Your Free Trial
Already an Insider? Log in