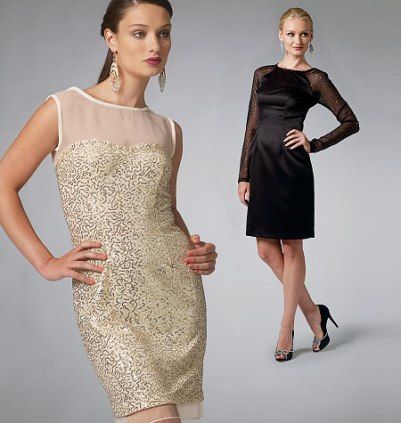 The weather is getting cooler and the approaching holiday season is getting closer and closer. Soon our houses will be decorated and holiday party invitations will be sent. Below are a few fun dresses from McCall's 2011 Holiday collection perfect for the festive season.
Pattern 6460 is a sized-by-bust dress pattern ranging from an A/B cup to a D cup. The neckline yoke on views C and D and the sleeves on views A, B and D are a perfect place to highlight a beautiful sheer material. The neckline is framed with a bias trim and the armholes in view C are also bound.
Pattern 6462 is an off-the-shoulders dress designed for knits. The bodice is fitted with two waist darts and the skirt is full. The dress has side pockets and a back zipper. Make it in a sweater knit for a winter-time look or in a sparkly novelty knit for an evening party.
Pattern 6463 is a lined dress with a neckband, a full skirt, and a flat front panel running from the neckline to the hem giving it a slimming appearance. Appropriate fabrics include taffeta, brocade, satin, and dupioni. The skirt is cut on the cross grain (eliminating side seams) so do not select a one-way design fabric.
Pattern 6464, by Palmer/Pletsch, is a lined, empire waist dress with a boat neckline. Choose from a straight or A-line skirt and three sleeve lengths or make it sleeveless. Make in wool crepe, gabardine, or wool suiting.
Pattern 6466 is from the Create It line. Mix and match four bodice variations, two midriffs, and four skirts. With so many choices you can make something appropriate for an afternoon get-together or a dressy evening party. Add a fabric flower for an extra feminine touch.
Check out these and the complete new McCall's Holiday pattern line.
What special holiday outfit are you making?