Re-create Couture Pleated Silk Organza Panels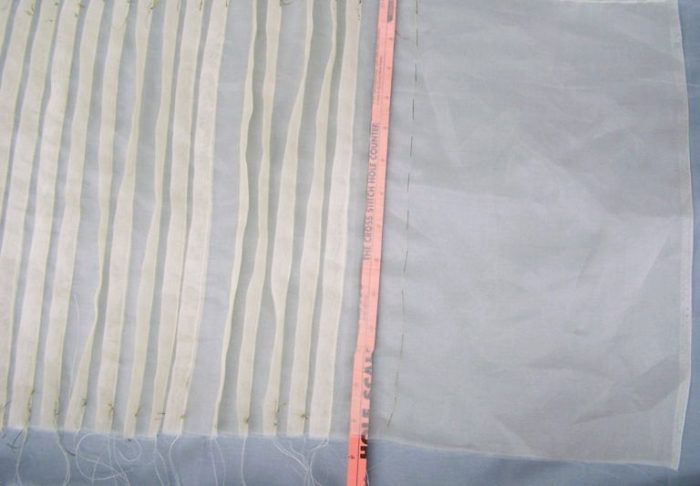 The students in my couture sewing seminars are always presenting me (and themselves) with interesting challenges. It's fun for everyone in the class to see how things are worked out. My student Cheryl Marsh tackled something interesting just the other day, and I'd like to share it with you.
Cheryl was inspired by a dress designed by Oscar de la Renta with a standard application of quilting; hand-finishing the seams on the inside, a hand-picked zipper, applied trim, and pleated silk organza panels, which are the stars of this tutorial.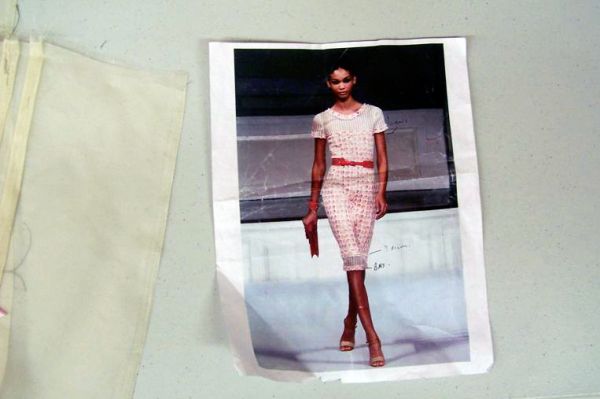 She needed to make six pleated panels of various sizes: the front yoke, the two back yokes, two short sleeves, and a long horizontal panel for the bottom of the skirt. We calculated roughly how much silk organza she'd need for each panel, and she got to work. While the pleats we created were slightly bigger than those in the original dress, we liked the idea of using a blocking board's 1-inch spacing. We did a quick sample, and we were happy with the result. We did need to figure out the best way to produce the pleats, and here's what we did:
Fortunately, Cheryl brought a 20-inch-by-30-inch blocking board to class. It had a sturdy padded surface with a clearly marked 1-inch grid, perfect for aligning and pinning the pleats in place. (She bought it at a chain store for about $30).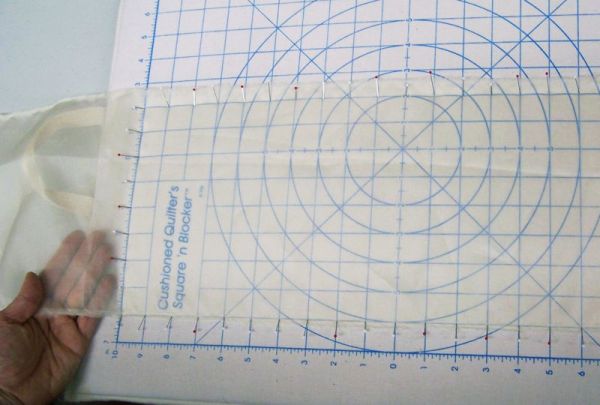 Begin by pinning all four sides of an organza strip to the blocking board, aligning the raw edges along the printed grid.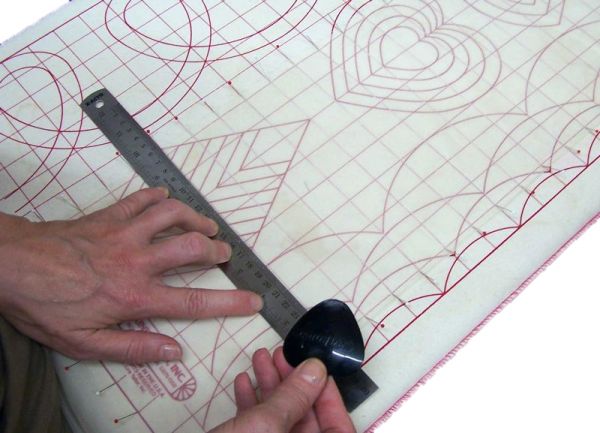 Next, chalk the foldlines. She used a Chakoner for this.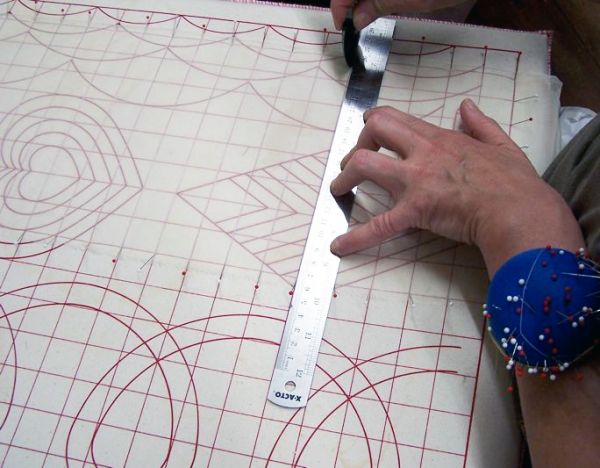 There are lots of similar markers around, but I find this type disturbs the fabric the least. We simply wanted to skim over it, leaving a narrow chalk line behind.
We chose to use white chalk because we were worried any other color might leave a residue. Unfortunately, the chalk wasn't particularly visible for sewing in our sample.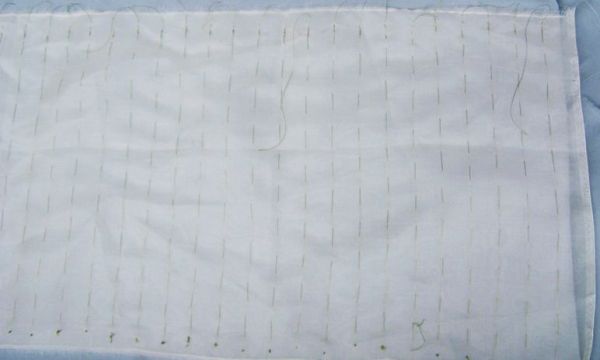 Since chalk tends to rub off quickly, we hand-basted the chalked lines.
Then, we carefully pinned the pleats and sewed them by machine.
Clearly, they needed to be pressed, and we didn't want them pressed to one side, as it would have revealed the machine stitching. Instead, we wanted the seamlines centered out of sight on the underside of each pleat.
It's impossible to do that without some sort of a tool, so we made a template to slip into each tunnel as it was being oriented and pressed. We tried a strip of thick paper cut from a manila folder, but it got flimsy quickly. Cheryl dashed off to the store, bought a thin plastic mat, and used her rotary cutter to cut a strip of plastic the width of each pleat tunnel.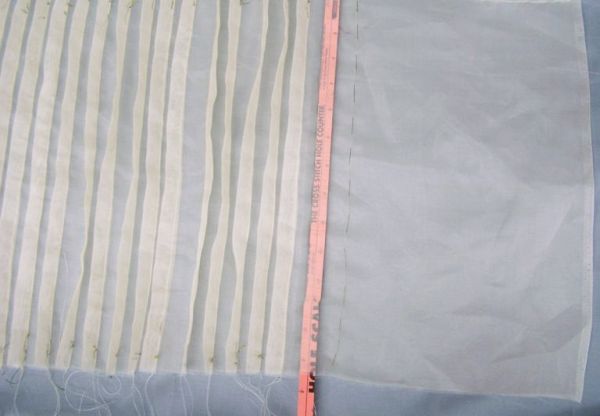 She even managed to cut the plastic so that there was a line down the center to serve as a pleat pressing guide. It helped orient the seamlines as she pressed each pleat.
Once the pressing was done, it was back to the blocking board for a little more work.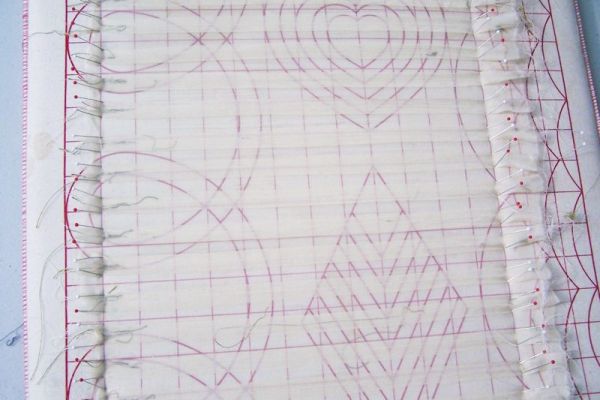 Each pleated panel was pulled taut on the blocking board, firmly pinned, carefully aligned, spritzed with water, and left to dry.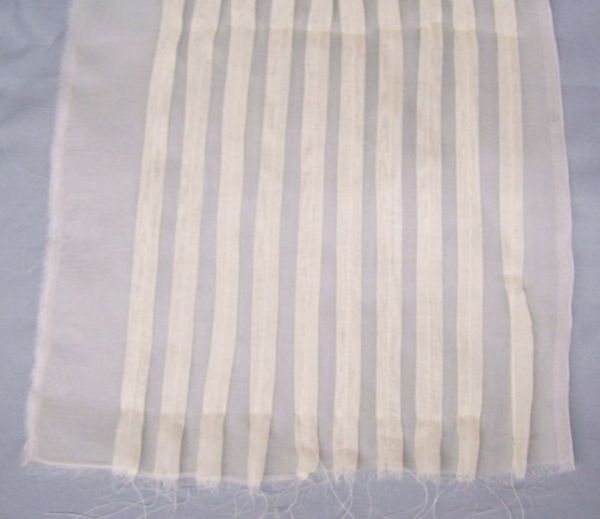 Once dry, the panels were unpinned and muslin pattern pieces put on top.
As the panels are sheer, we couldn't risk any carbon marks showing, so we knew we'd have to mark the stitching lines another way. As shown below, it is clear that the seam allowances were trimmed off the muslin pieces. The stitching lines defined the edges.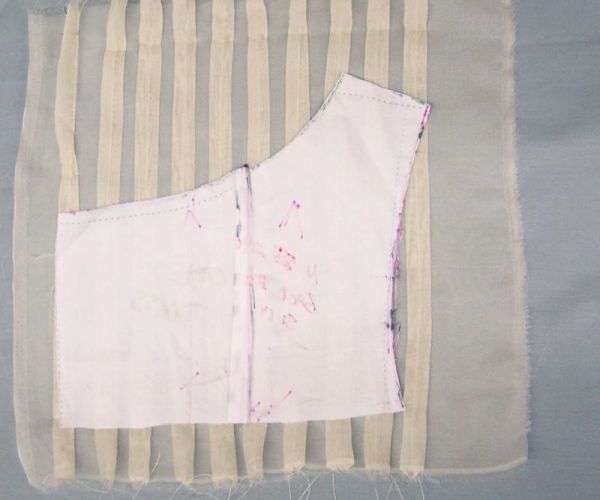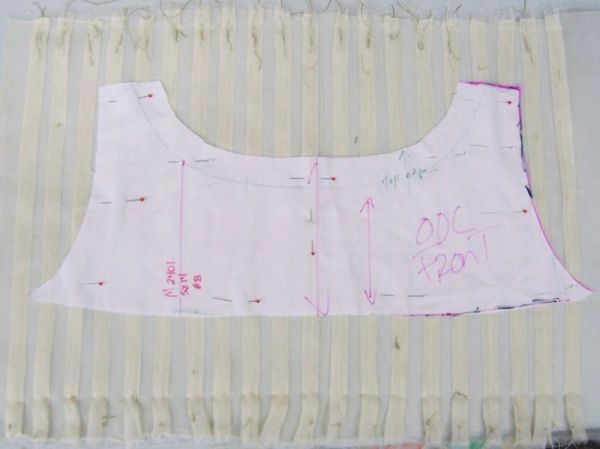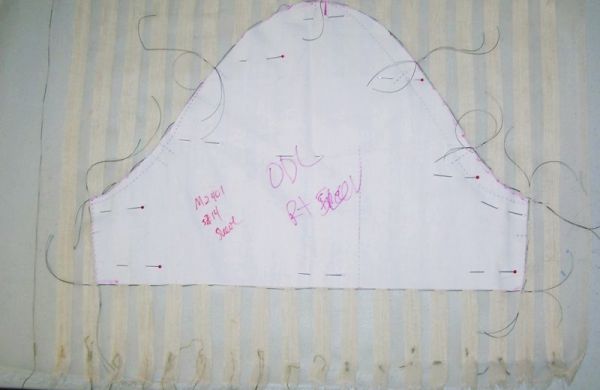 Next, we thread-basted around each muslin section easily, marking the stitching lines onto each pleated panel
All in all, it wasn't a quick process, but the results are lovely, and now the panels are ready to be sewn to the body of the dress.
My thanks to Cheryl for her hard work and her willingness to share her efforts, and to fellow student Susan Shildmyer for the photographs.
Has your sewing been inspired by couture designers, techniques, or elements? If so, which designers have had the most influence on your sewing? What couture elements have you tried to re-create?