American Sewing Guild Heads to San Diego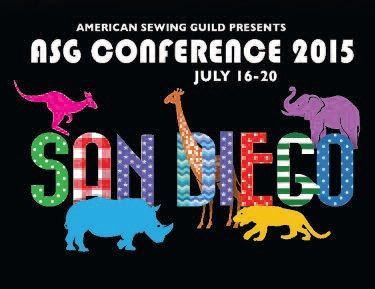 One of the things your Threads editors look forward to every year is the various sewing expos around the country. We're excited to attend the upcoming American Sewing Guild Conference, July 16-20, in San Diego, California. Will you be there? Look for Threads editors Sarah McFarland and Stephani Miller at the conference hotel, the Town & Country Resort & Convention Center. We'll be attending classes, exploring the exhibit hall, and chatting with other sewers. There's so much to do and see and learn–we can't wait!
This year's conference is built around a great selection of workshops, seminars, and lectures in two-day, all-day, half-day, two-hour, and 90-minute formats, all taught by a roster of well-known sewing experts. Take classes from Pamela Leggett, Claire Shaeffer, Ruth Ciemnoczolowski, Louise Cutting, Diana Cavagnaro, Julianne Bramson and Susan Lenahan, Jacque Goldsmith, Cheryl Kuczek, Connie Crawford, Katrina Walker, Gail Patrice Yellen, Linda Kubik, Andrea Schewe, Hisako Nakaya, and many other notable instructors. There are classes for every sewing interest and skill level.
Friday is "Wear your ASG Patterns Day": wear any garment you've made from a Simplicity ASG pattern, from a 2015 pattern or an earlier collection. Door prizes will be awarded!
Friday evening will feature the conference keynote, delivered by Simplicity pattern designer Andrea Schewe. Andrea will talk about her 25-year career as a costume, garment, home décor, and crafts pattern designer for Simplicity and explain how a pattern progresses from design concept to completion.
In addition to the classes, there's the annual ASG Fashion Show and Luncheon on Saturday. This year's theme, "A Walk on the Wild Side: Let your Creativity Roar," is sure to encourage fascinating entries by ASG members.
The show exhibition hall, open for specific periods every day, will be filled with a variety of vendors offering interesting sewing goods. There will also be special exhibits showcasing ASG members' work, as well as a sewing lounge for attendees to use in their leisure time.
In addition to all this, there are six San Diego-area tours to take advantage of during the conference. I'm very curious to see what the San Diego History Center's Costume and Textile Collection has to offer.
The conference brochure and registration materials are all available now at the conference website and registration is open.
Will you be at the ASG Conference? What are you most looking forward to this year?