Project Runway, Season 14, Episode 4: Fashion Flip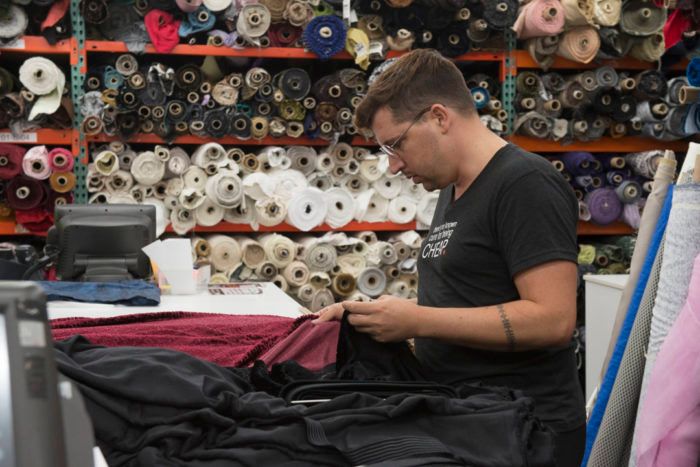 Hooray! The designers finally get to visit Mood!
This week's challenge seemed like a gimme: give a classic garment style a unique, modern twist, while being inspired by New York City, and also have a consultation with Mary Kay's make-up artist Luis Casco. And pick your own fabrics at Mood, with a budget of $250. Win $5000 and be featured in a Mary Kay ad in Marie Claire magazine. This was the least restrictive challenge so far, and the designers were enthusiastic to dive in. After a half-hour sketching session, they spent 45 minutes shopping at Mood, and then moved on to the studio to begin the one-day challenge. 
Considering how excited everyone was, there was some unexpected lack of focus in the workroom. Amanda, upset at being in the bottom three for a couple of weeks, could not get started on her project. Gabrielle's progress came to a standstill early, and she admitted she couldn't move on without Tim's critique. Swapnil was, momentarily, confused about his inspiration, "Breakfast at Tiffany's": does the film take place in NYC or in Paris?
Other designers chose a direction immediately and moved forward with determination. Sometimes this worked in their favor: Candice with her black pleather dress and white jacket; Kelly and the updated white T-shirt. Sometimes, it didn't quite: Joseph and the amazing all-black peplum dress; Jake with the ill-advised sequined basketball jersey.
The designers have settled into recognizable roles by now: Gabrielle is the morose, introverted girl; Amanda is the bubbly sorority type; Candice is the edgy, elegant, driven woman; Blake is the self-absorbed, scattered enfant terrible; Laurie is the sassy designer who blends urban cred with a sexy, girly aesthetic; and so on. We've seen them on previous seasons, and have come to anticipate certain behaviors as well as outcomes. I hope we'll see a little more depth and variety in the future episodes.
A refreshing surprise at this week's runway show was guest judge Kiernan Shipka, best known as Sally Draper in "Mad Men." Kiernan is something of a fashion Wunderkind. She's not quite 16 years old, but she really knows her way around a red carpet look (not to mention street style). More than many celebrities twice and thrice her age, she understands how to dress in a venue-, event-, and age-appropriate way. I had a feeling she'd have insightful comments for the contestants, and I was not disappointed. She managed to couch thoughtful criticism in a respectful, positive light, and to convey a genuine appreciation for the designers' efforts. Charming, intelligent, and stylish!
The winner:
Blake's blue deflated-parachute of a dress, inspired by Dior's New Look. When he was called into the final six, I was positive this look was in the bottom three. The neckline was a raw edge hidden by a big necklace, the seams were wonky, and the bubble in back was attached in what appeared to be giant handstitches. And where was the New York in this? The New Look originated in Paris. In my opinion, this failure to adhere to the inspiration "rules," plus the shamefully poor construction, was a bridge too far. This dress should have been in the bottom, or at least stuck somewhere in the overlooked middle.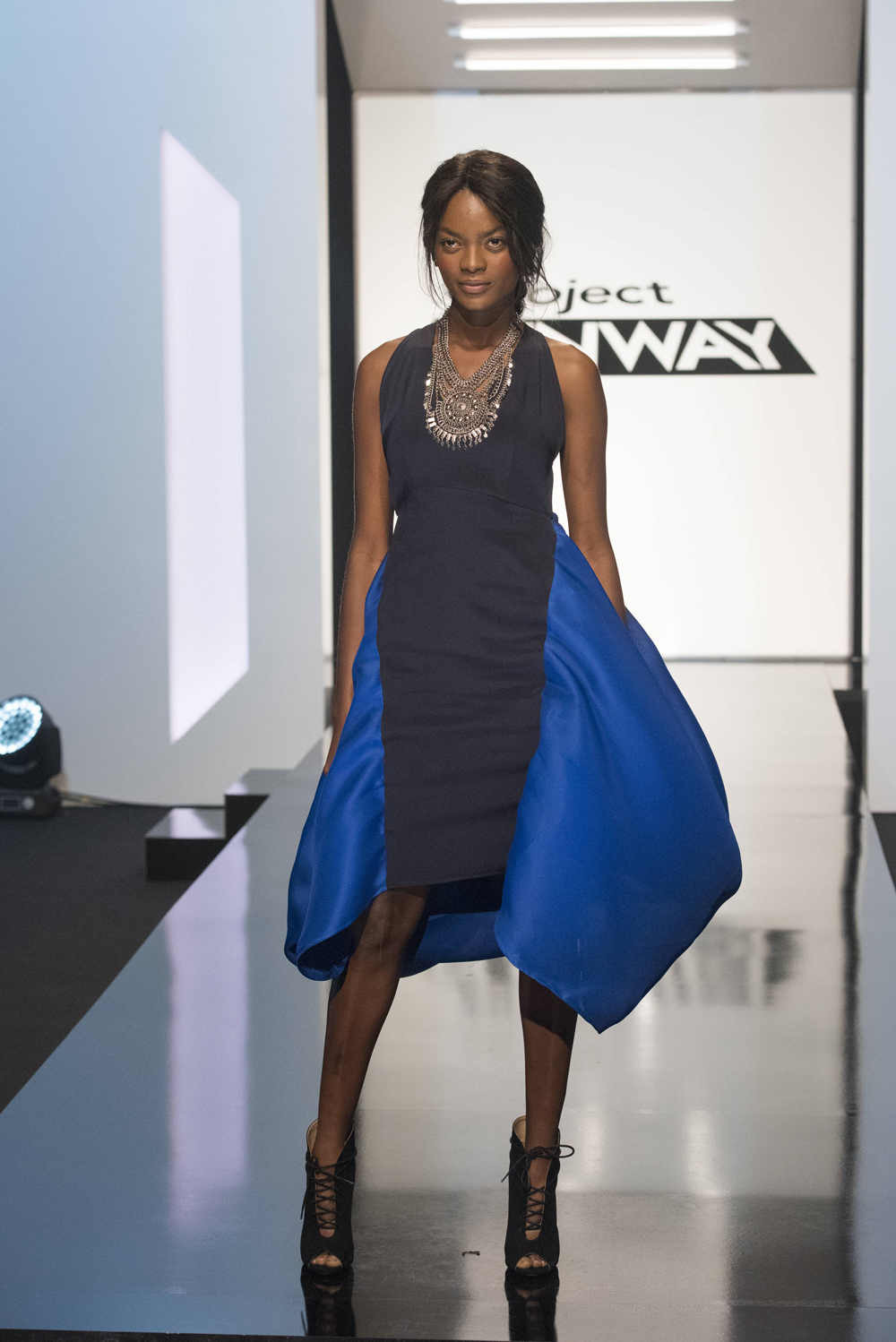 The remaining top looks:
Candice's vegan-leather princess-line dress with white, pleated jacket. The judges loved the refinement of detail in this ensemble, and were impressed with how clearly it reflected Candice's overall aesthetic. They described the look as flattering, edgy, sexy, elegant, fierce, chic, and sculptural. The proportions were excellent, and I thought it was worthy of the win–certainly more than Blake's look.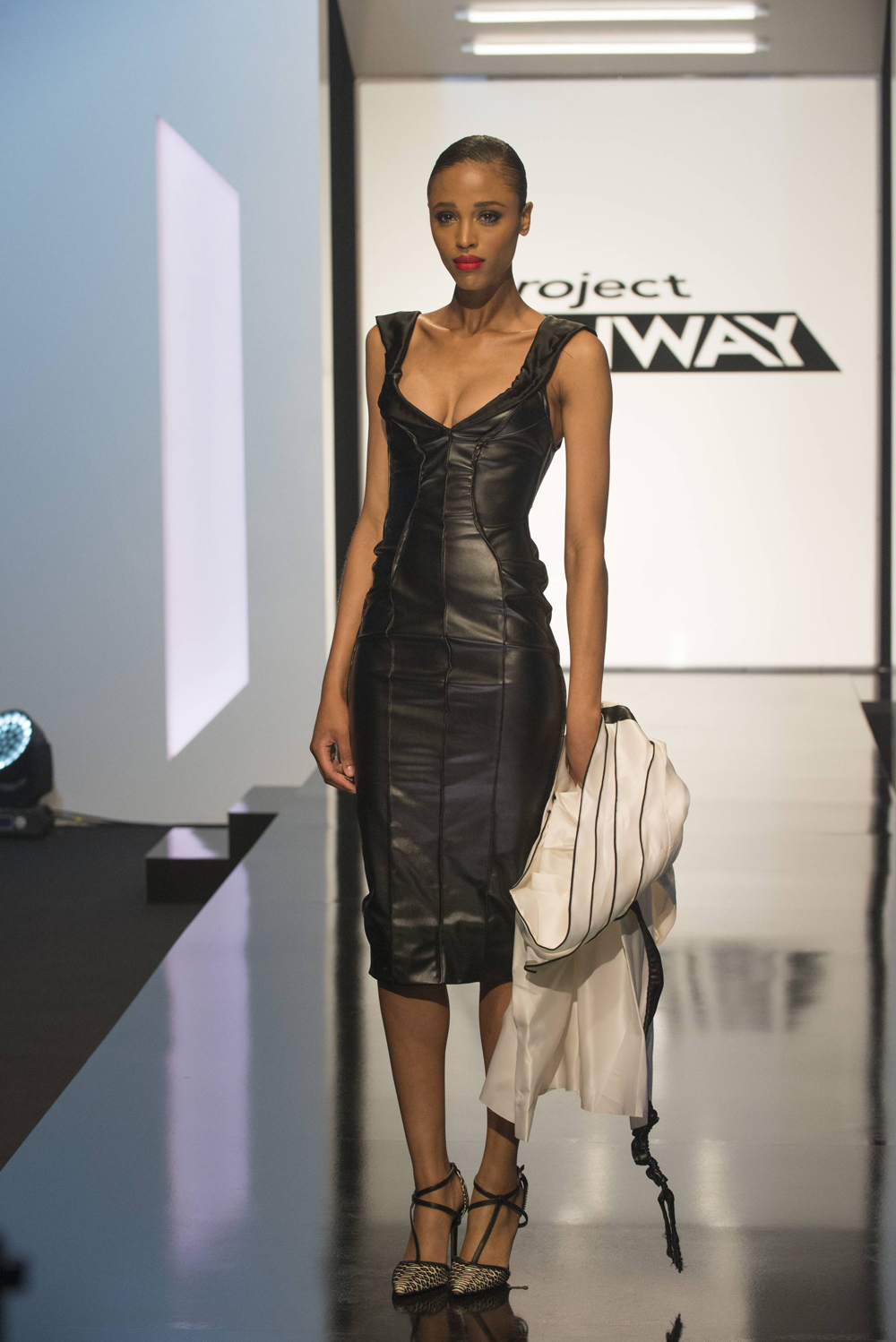 Swapnil's flouncy black mini-dress. Very cute interpretation of the little black dress, with a clever juxtaposition between the high-necked front covered in oversized organza ruffles and the bare back. Although it's hard to tell from the runway sequence, the dress looks well-made, too. Heidi considered it a showstopper, Nina liked its drama, and Kiernan found it youthful and playful.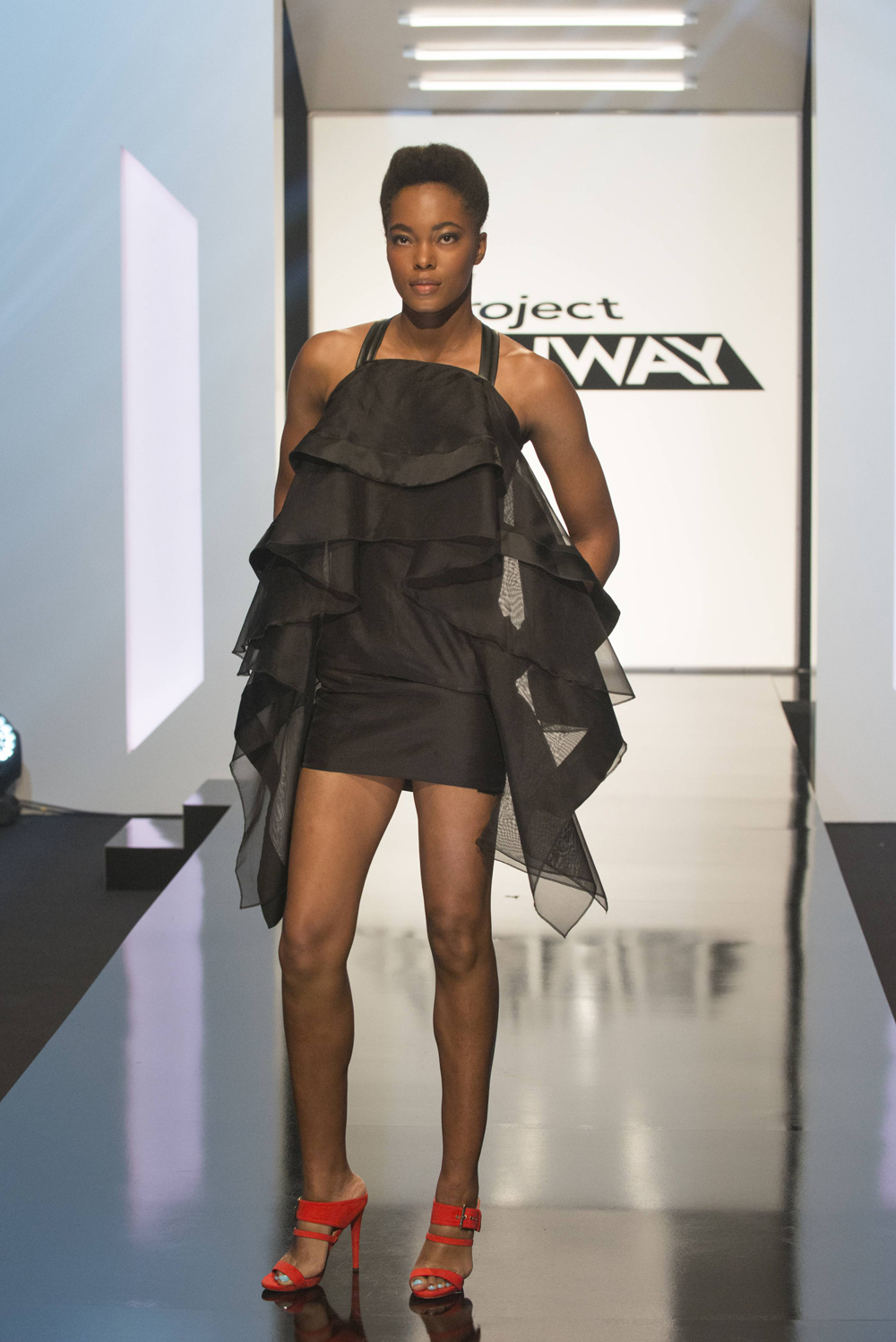 The loser:
Gabrielle's white dress with black, ruffle-sleeved jacket. The jacket started out, in Gabrielle's sketches, as a bigger, more volumetric coat, and I'd have loved to see her realize that design. Instead, she made a bland, shapeless jacket with a sleeve detail that read as derivative and unresolved. The judges found the ensemble sad and old-fashioned, and criticized her harshly for its lack of finish. This struck me as hypocritical, since they'd glibly excused Blake's dreadfully made dress.
The dress was, admittedly, a right mess: Gabrielle had trouble with the stretch fabric, and when the serger's thread broke, she was unable to rethread it and complete the garment properly. I don't know how to thread an industrial serger, and I would love to know whether Brother provides instructions for the designers for this eventuality. At the same time, I think appearing on "Project Runway" without knowing how to thread a serger is akin to going on "Survivor" not having learned to start a fire.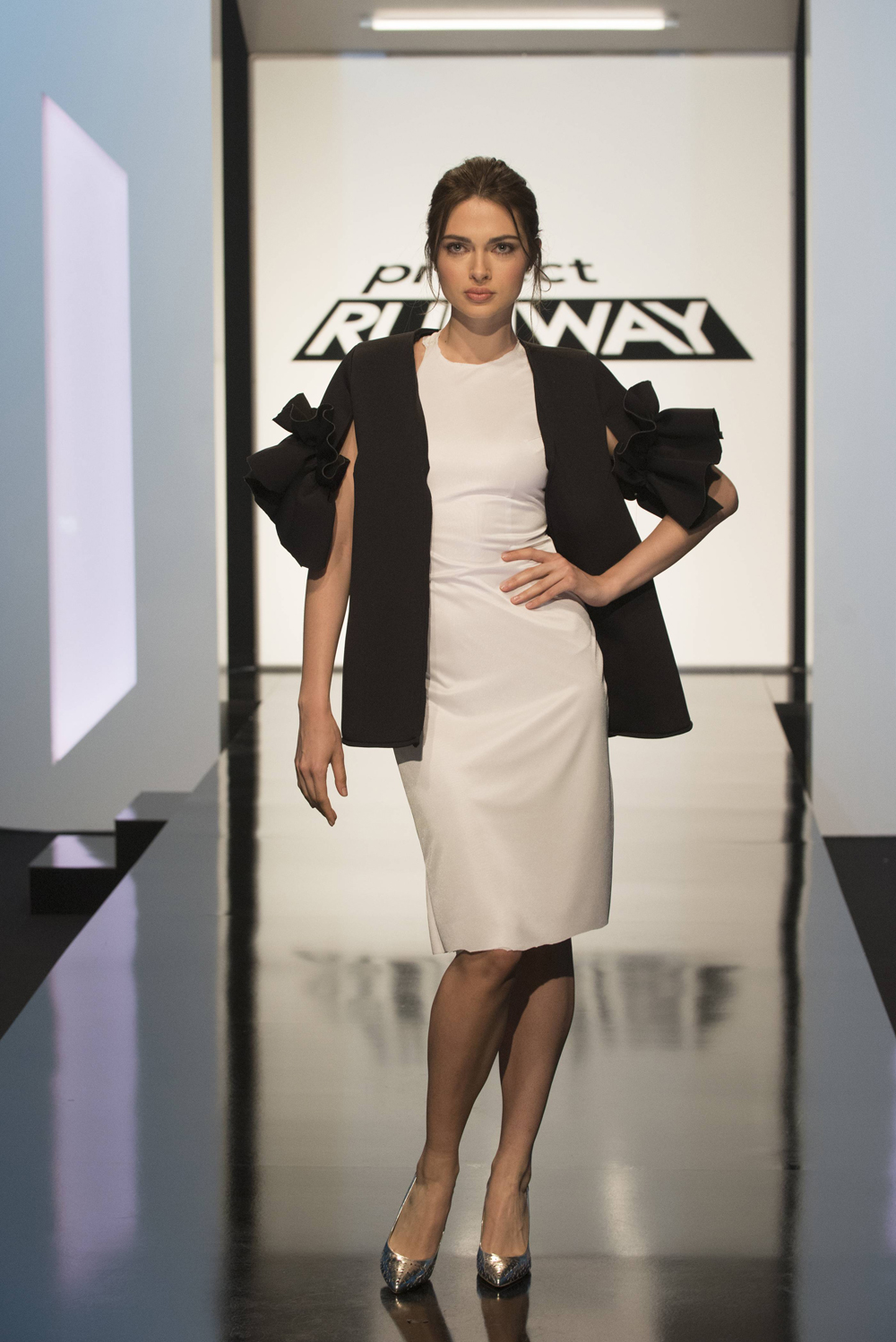 The remaining bottom looks:
Lindsey's two-piece dress with orange jacket. I didn't find this offensive, but it was deemed unoriginal, heavy, badly proportioned, and "not fresh or new." All true–but there were worse garments that landed in the middle. Lindsey claimed over and over to understand the New York look, having lived in the city at some point, but if this was the outfit she designed to "wear on a date with New York," it doesn't seem like the relationship would last.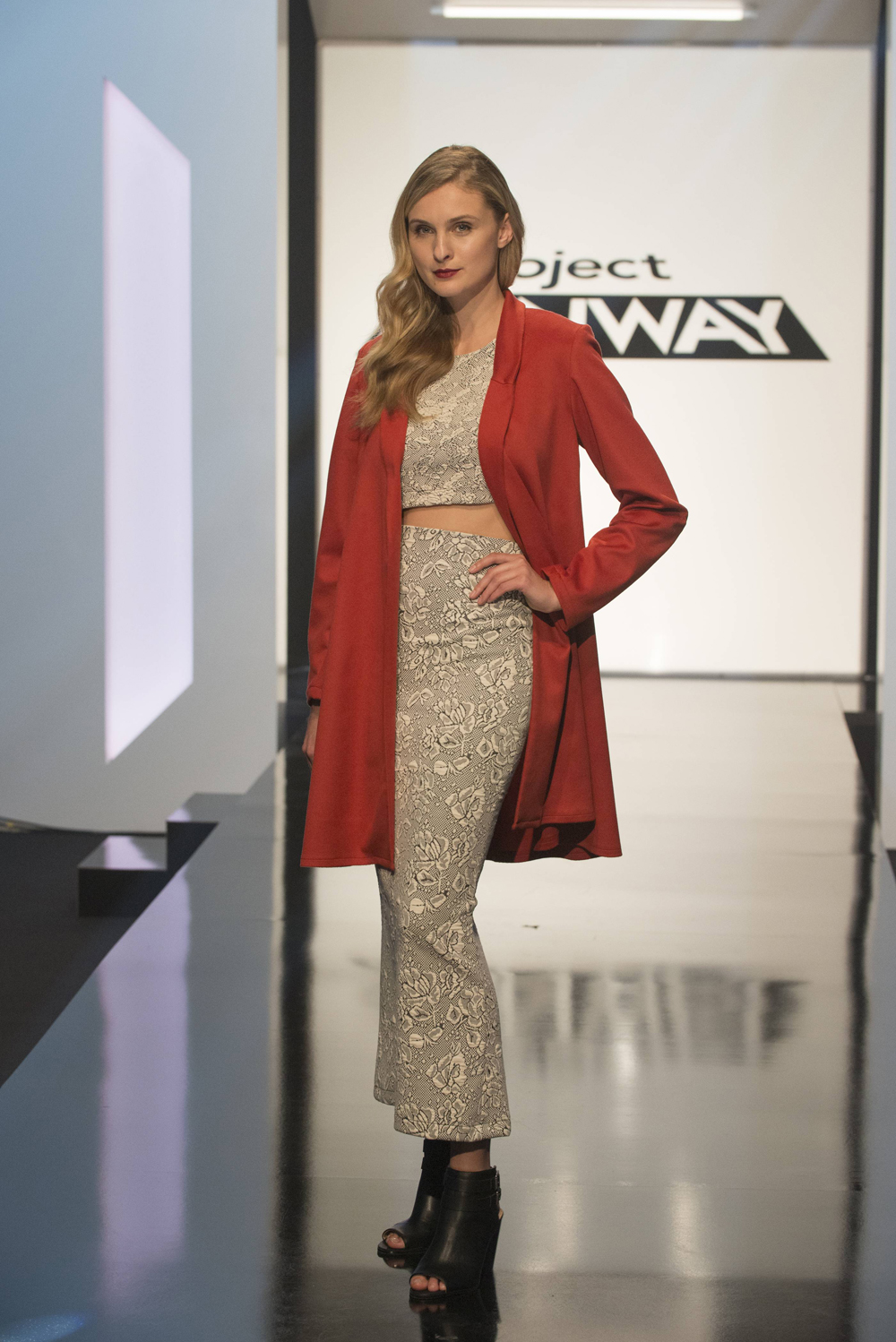 Amanda's black and white wrap dress. This problematic shmatte was a predictable result of the emotional muddle that haunted Amanda throughout the episode. The only aspect the judges liked was the use of white leather. Kiernan suggested lowering the waistline for a better proportion, while her fellow judges were less kind and compared the dress to "mall maternity-wear." I wouldn't have been surprised if Amanda had been sent to the workroom to collect her things; to my eye, this dress wasn't appreciably better than Gabrielle's look.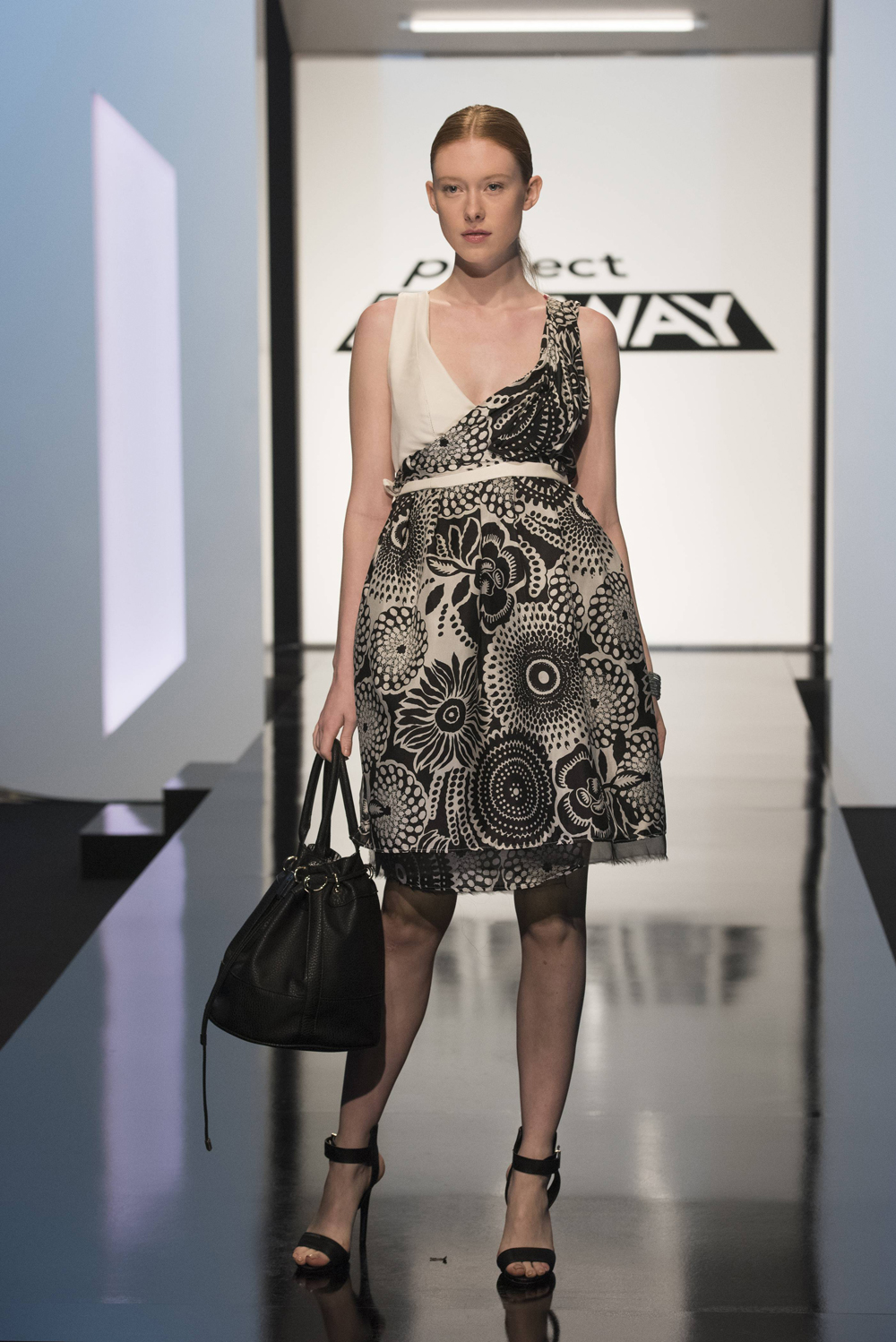 All the rest:
As the weeks go by, I get increasingly frustrated at the lack of air-time given to the designers who fall in the middle. There were some attractive, well-resolved looks that were hardly seen during the workroom sequences, and weren't discussed in the runway show, either. Let's look and assess…
Ashley's gray and white dress. I liked this dress. I think it may be black and white with a sheer overlay creating the soft gray effect. The tucked front panel adds interest, as does the open back (one of many open backs in this episode). The look isn't terribly innovative, but it's pretty and appears nicely sewn.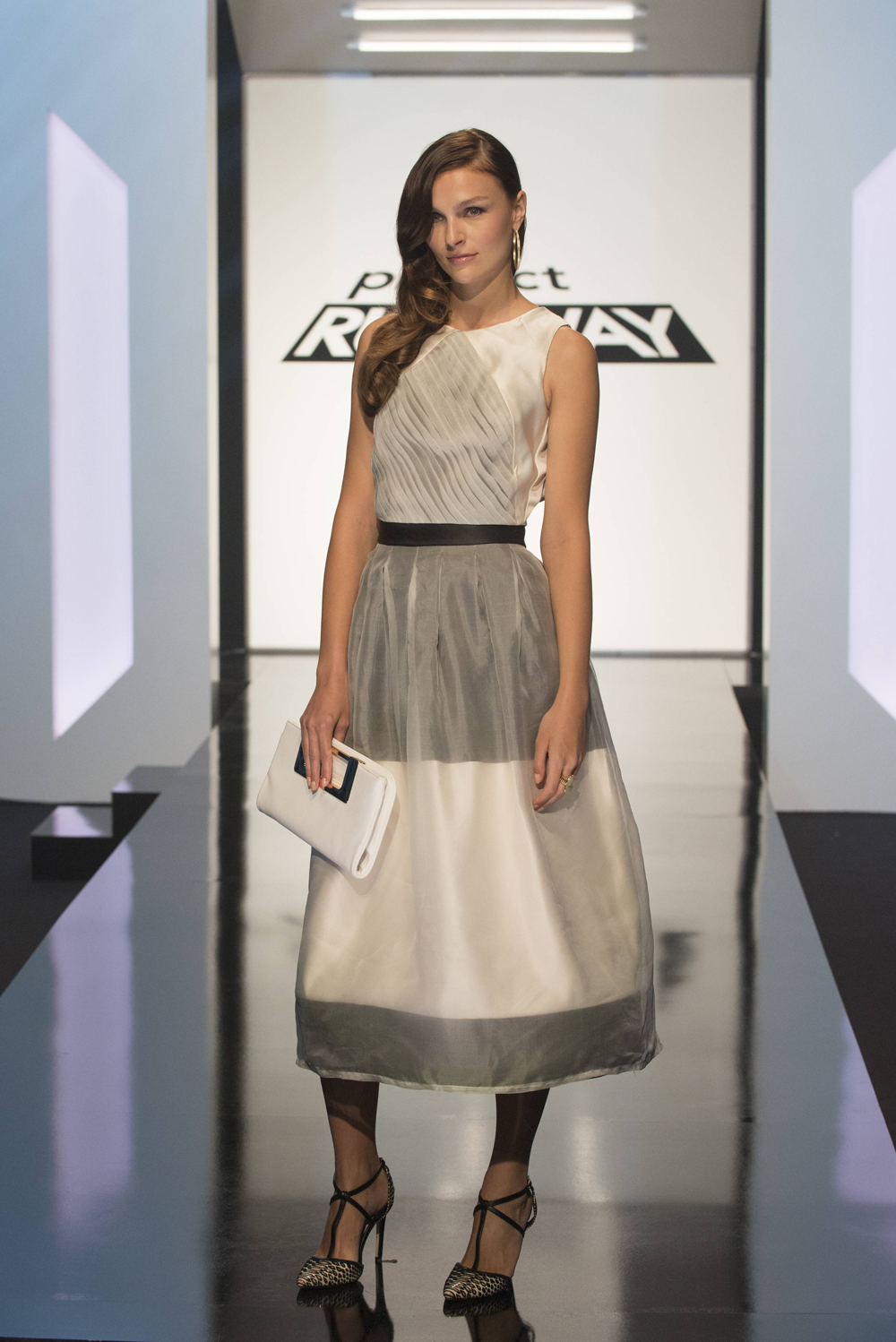 Edmond's black and white skirt suit. A bit basic and dated to my eye, though the collar detail is nice.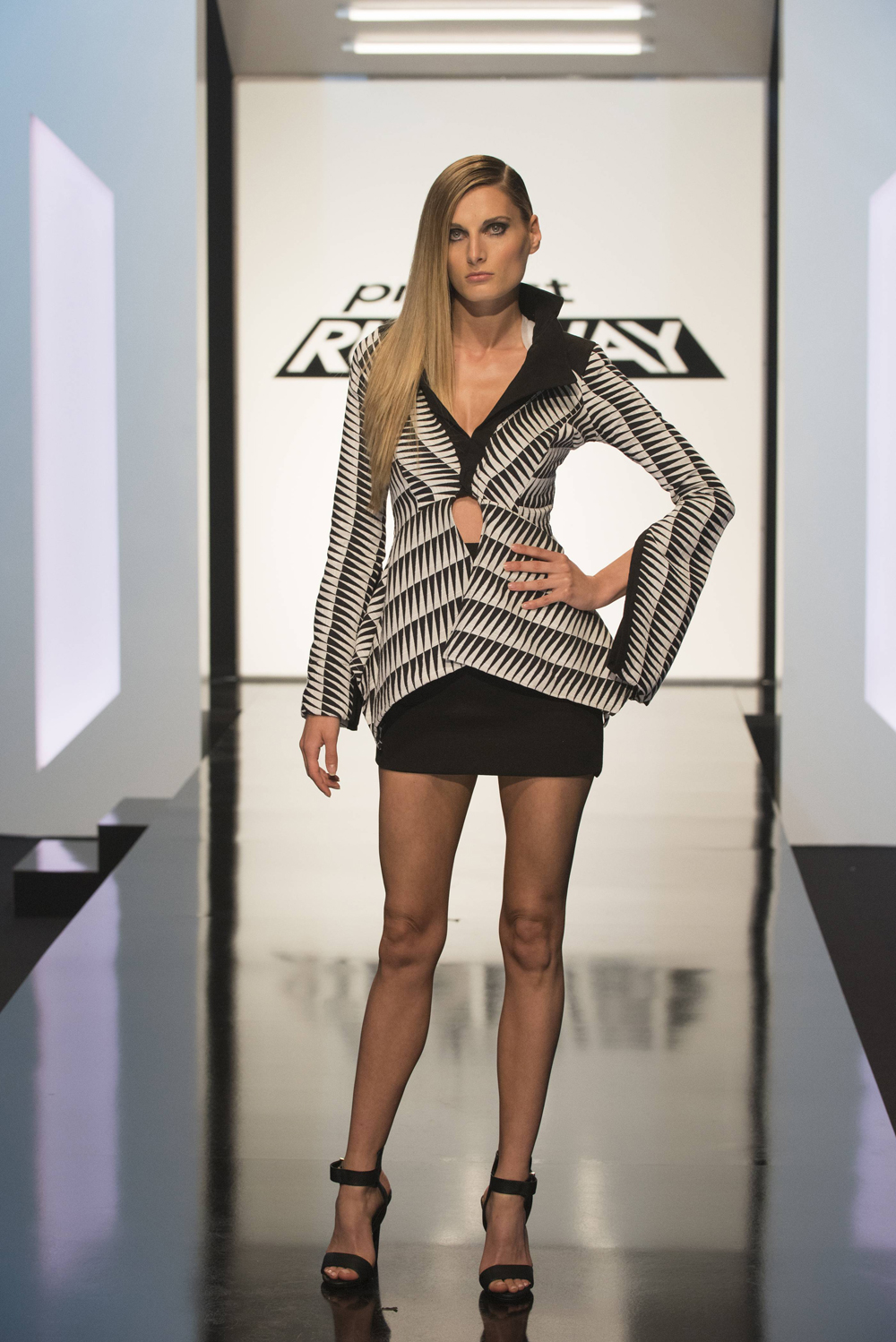 Jake's basketball jersey. What?! Amanda was right when she criticized this in a confessional moment–there's no design effort whatsoever in this garment, and for that reason, it should have been in the bottom three, if not auf'ed. If he had to go with basketball, he might have done better to have used Knicks colors, at least. And the numeral 9 applique looks like felt or even construction paper. There is nothing fabulous about this dress.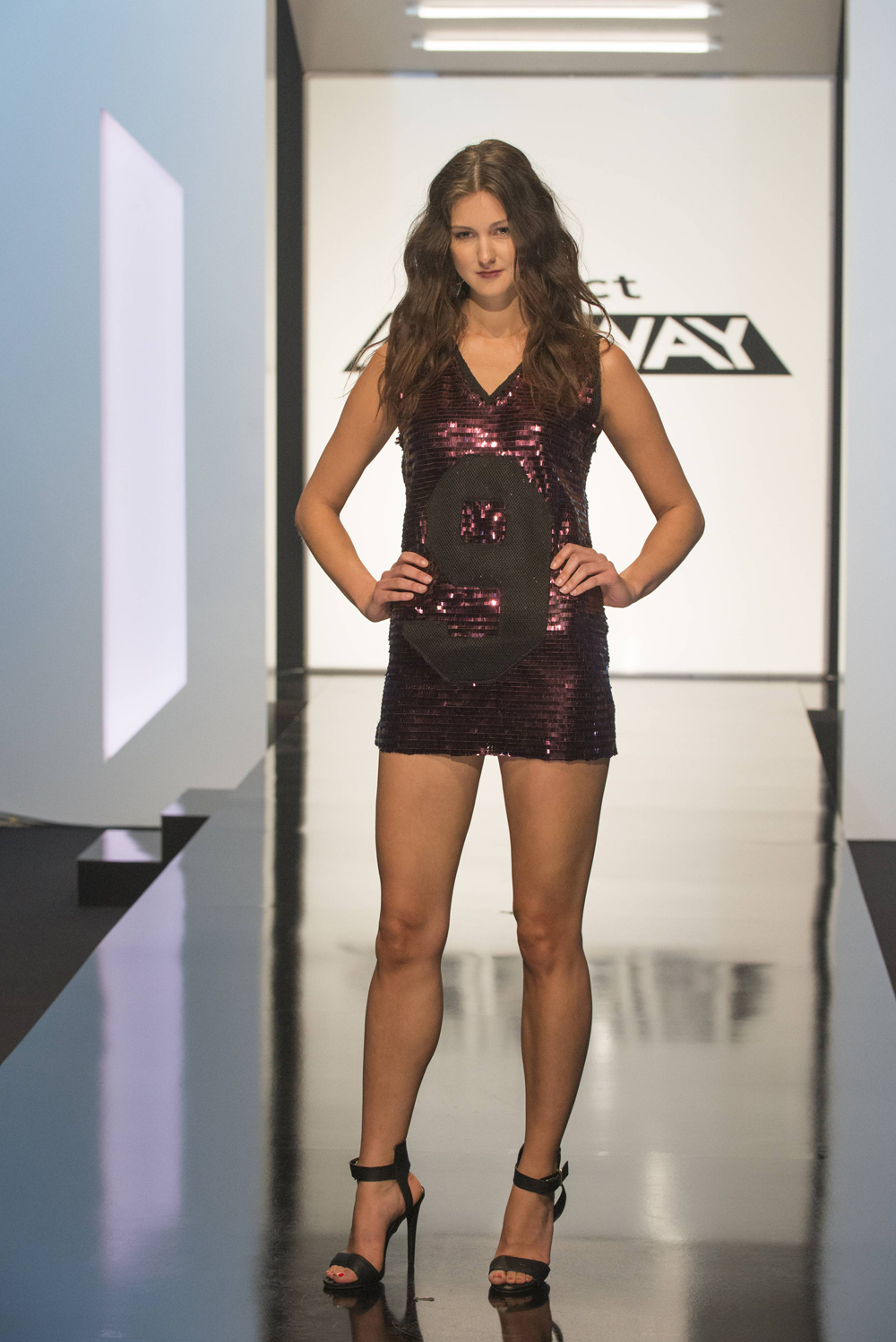 Joseph's scuba-fabric black peplum dress. Boring, matronly, too long…uninspired. Well-sewn, though, and the fit is pretty good. He had some real struggles with the fit on the model, so it's nice to see how well he solved those issues in the final garment.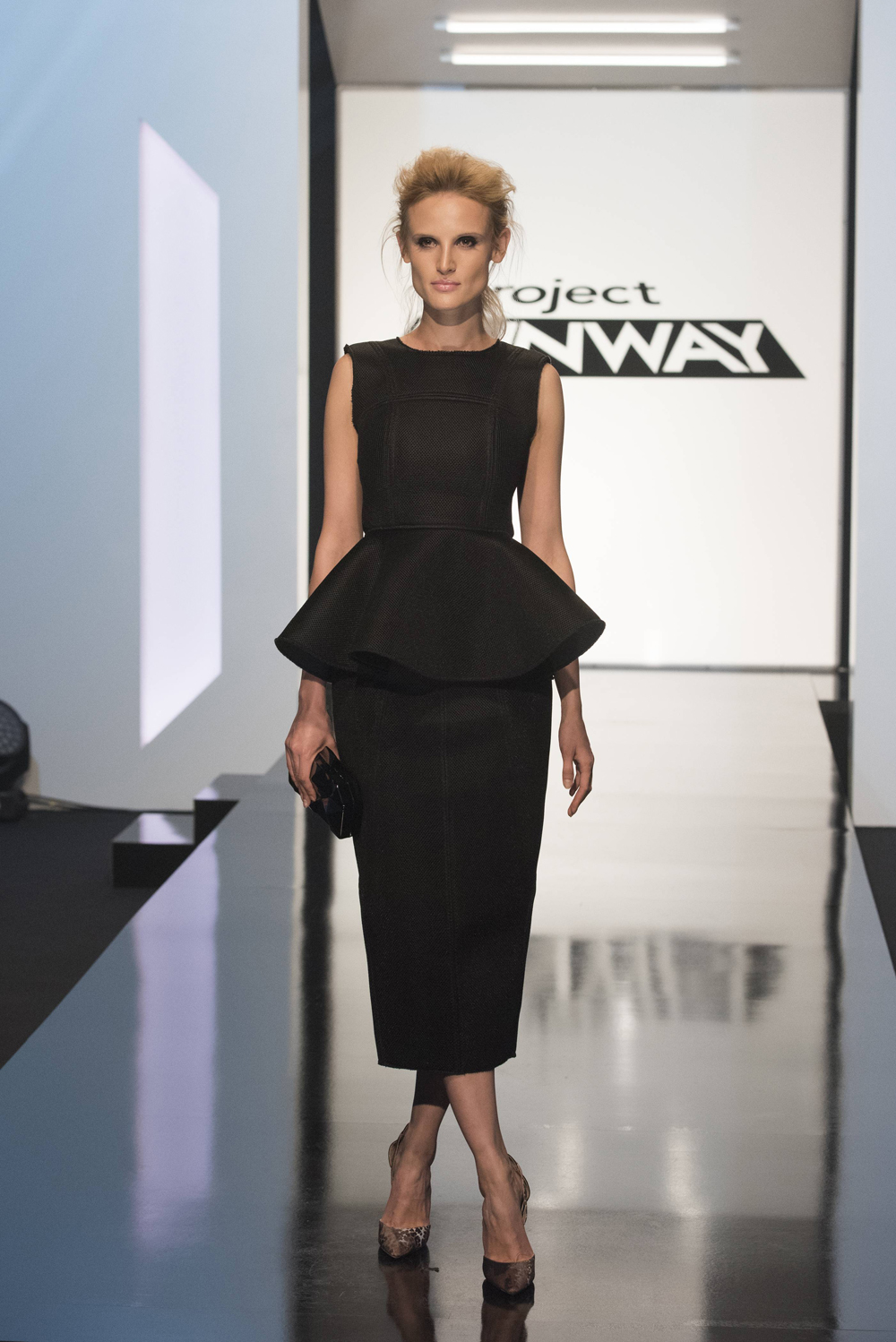 Kelly's white T-shirt. I really liked the idea of this top, and the finished garment was fun. I'm not sure about the shape of the neckline or the saggy-looking edge finish (which may be intentional–hard to tell). The issue here is that, if I'm not mistaken, all she made was a top. When other designers made two and three pieces, a T-shirt isn't enough to earn a place in the top three.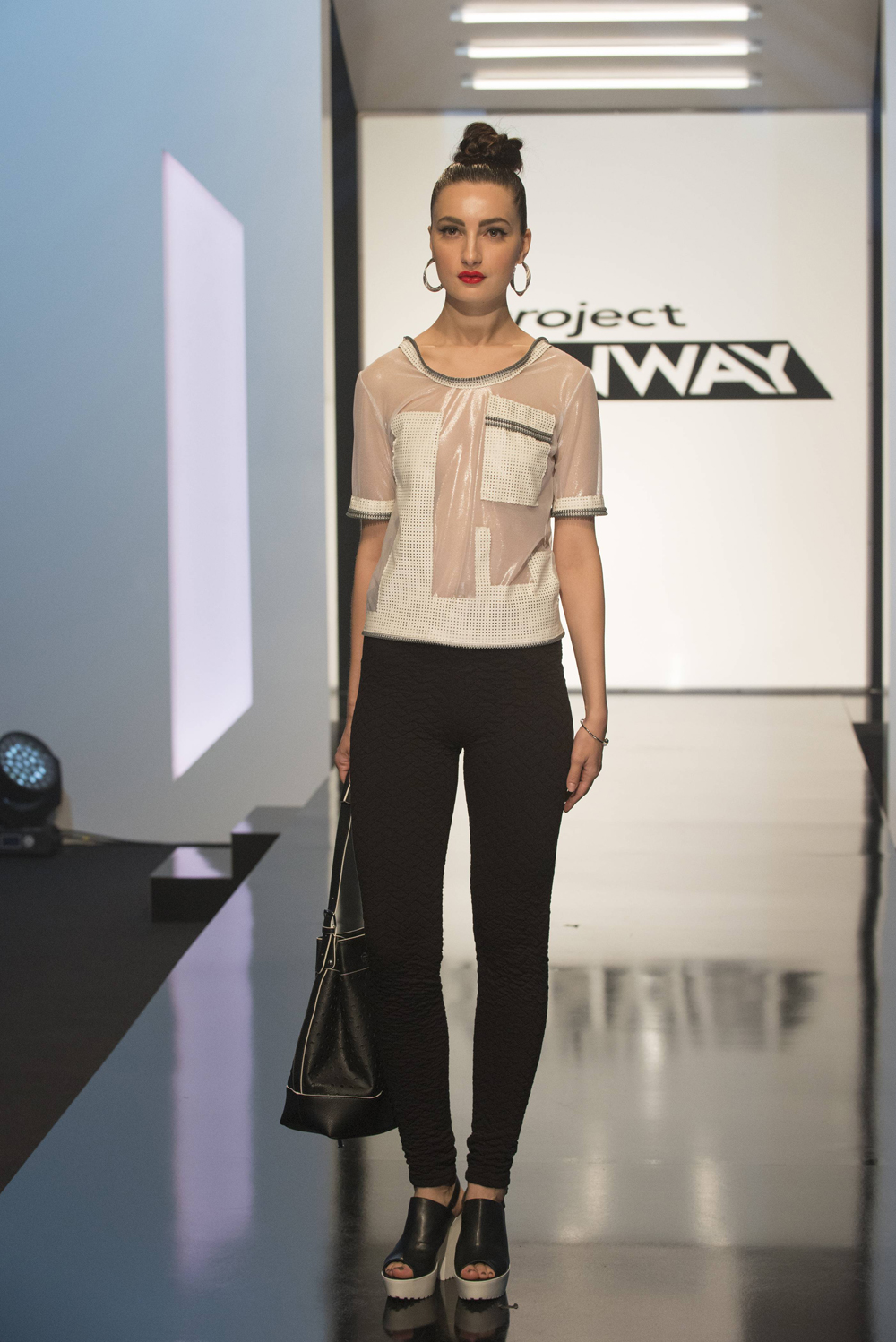 Laurie's pencil skirt and cropped, flouncy white/black top. There was a lot going on in this look, and a lot of it was very good! What a fun, interesting interpretation of the prim secretary look. The brocade skirt's subtle houndstooth lining, plus the super-exaggerated white blouse with pussy bow, puts a unique spin on a standard style. I was sorry not to see this in the top three, and I'm looking forward to finding out what Laurie does next. Plus, she's a refreshing, bubbly character who seems to have a great attitude.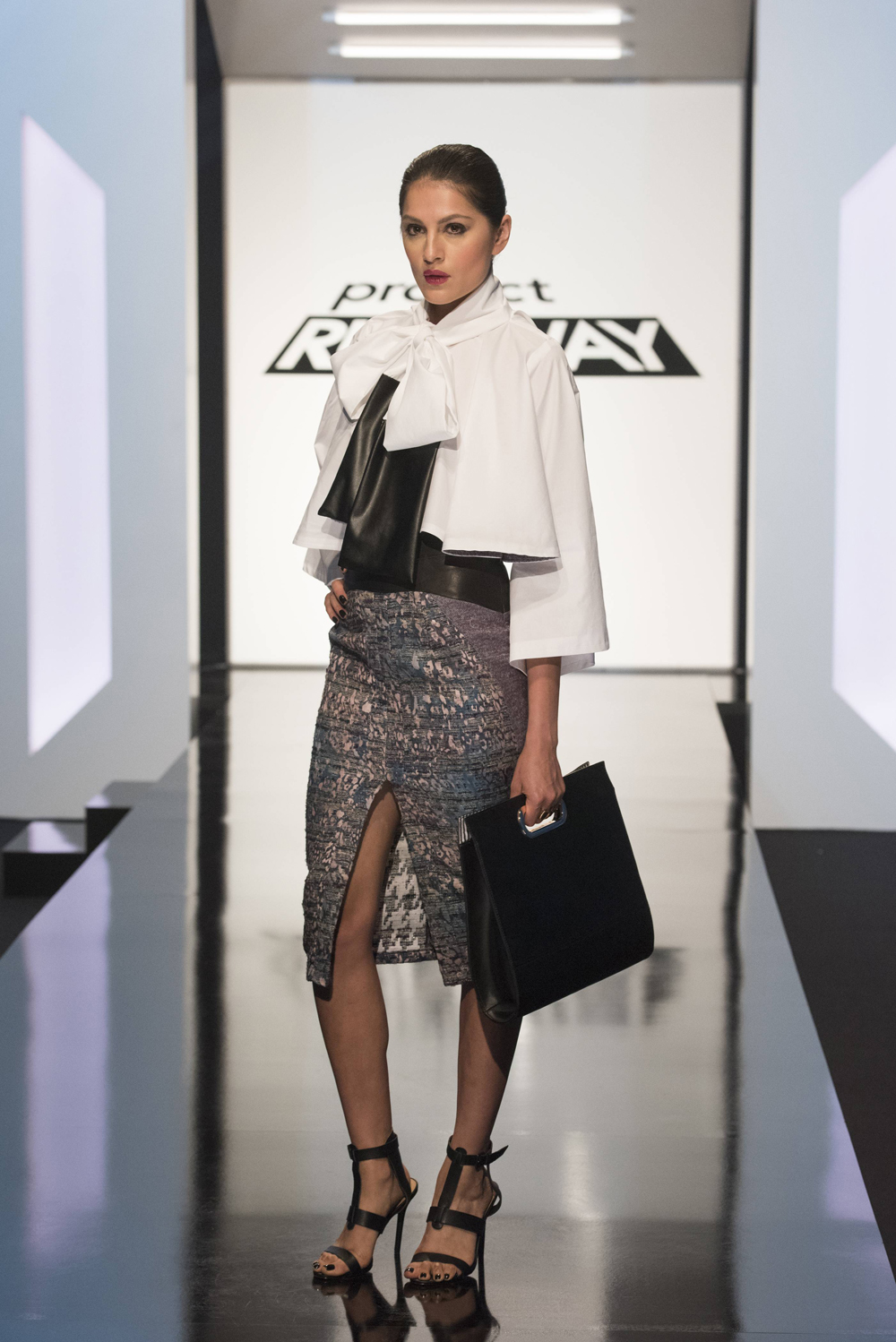 Merline's funky trench coat-inspired jacket. Merline really does have a way with bringing unusual architectural shapes into her garments. In this case, the choice of a dark fabric made it difficult to see all the details, but I was intrigued by the garment. The skirt and top underneath were throwaways, but the textiles she used served as ideal foils for the black (gray? dark green?) coat.
Did you agree with the judges? Where they unduly generous in their assessment of Blake's puffy dress? And what do you think of the fact that the designers almost universally chose black and white to represent New York? What colors would you have used?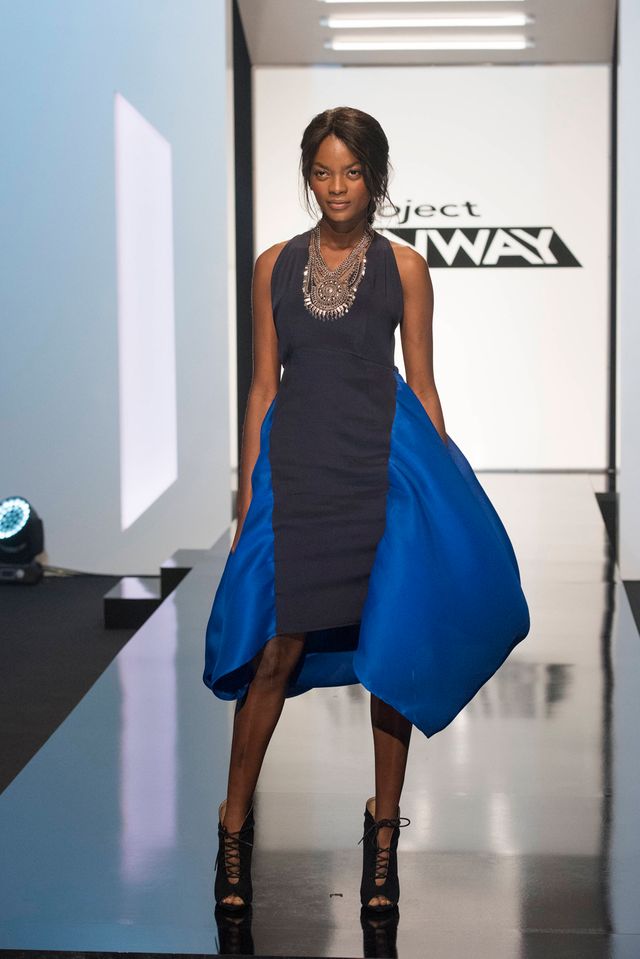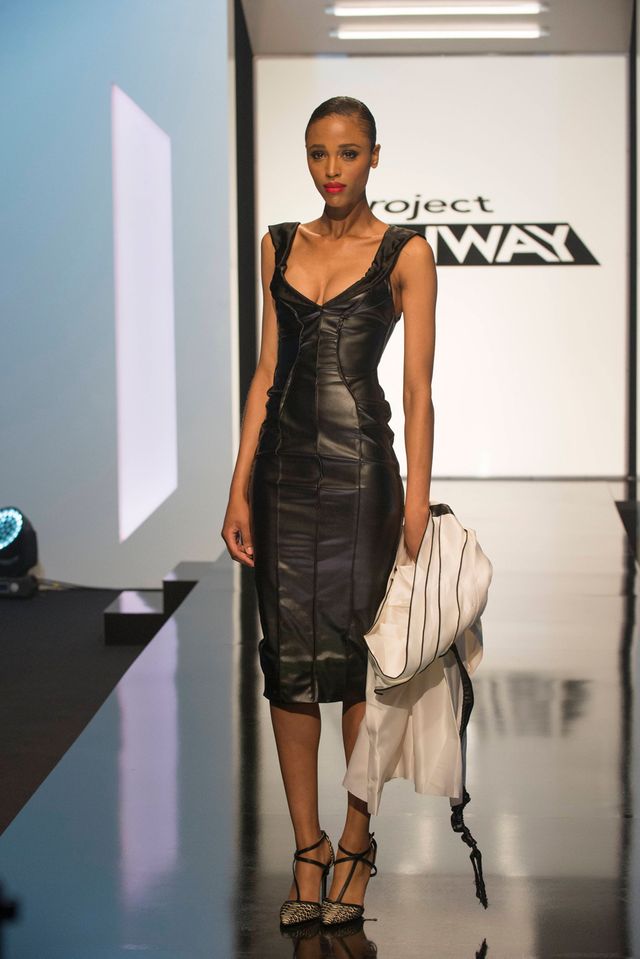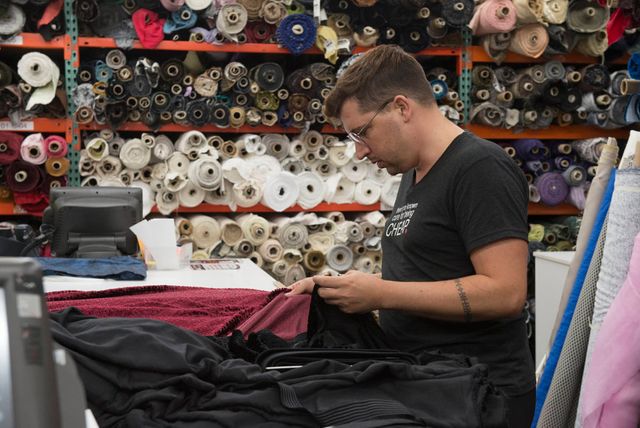 Jake Wall working on a design.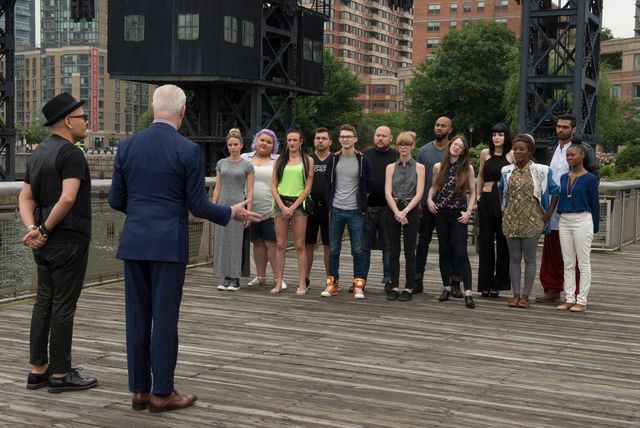 Tim Gunn addressing the contestants.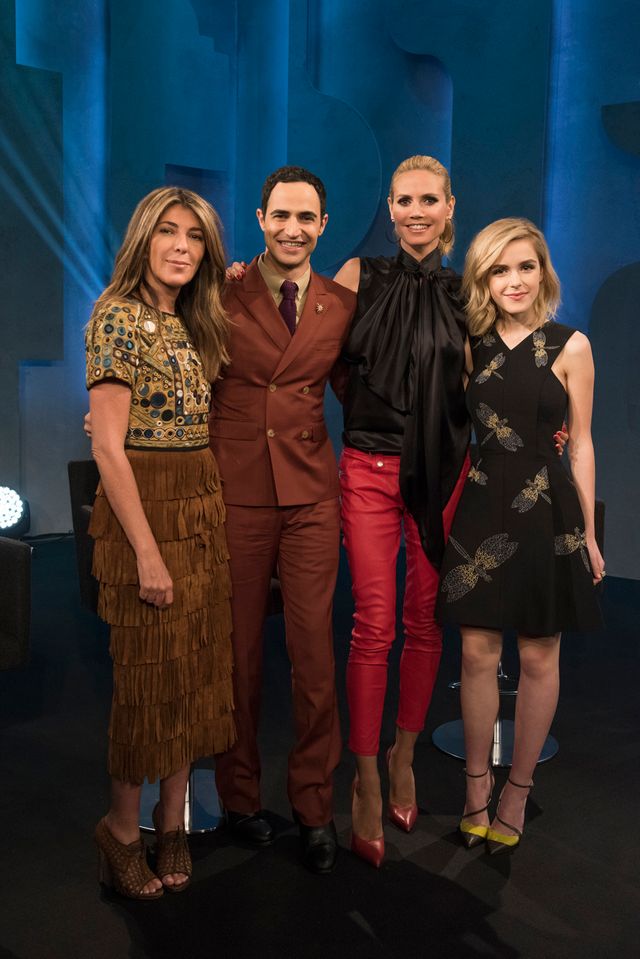 Nina Garcia, Zac Posen, Heidi Klum and guest judge Kiernan Shipka judge the fourth challenge of Project Runway season 14.