Project Runway, Season 14, Episode 13: "Finale, Part 1"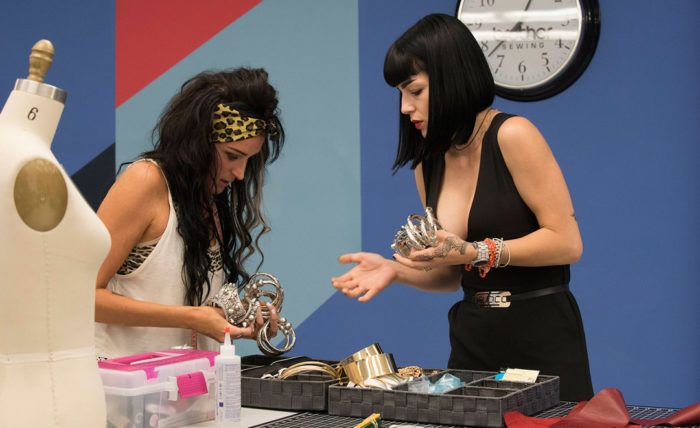 The end is near, and it still seems to be anybody's game. As long is it's not Edmond Newton? Hmmm . . .
As hinted at in last week's post, and accurately predicted in one of the comments, Tim used his carefully preserved "Tim Gunn save" to rescue Edmond from oblivion. Edmond has already been featured on a previous unscripted fashion design competition program (NBC's Fashion Star, in 2012), so it could be argued that he's had his share of opportunites. However, the finale is improved by his participation. His aesthetic is different from the others', and he's watchable without being excessively dramatic. I can't begrudge him a place at fashion week, and I am interested to see what he comes up with.
Unlike in previous years, the producers appear to be letting all four designers go through to fashion week, rather than pitting them against each other and weeding out one unlucky soul. That made this episode much more enjoyable. It's rotten to have one contestant booted off 30 minutes into the finale–the viewers' investment in caring about all four finalists isn't rewarded by the "suspense" of getting rid of one early in the episode. It's more interesting and engaging to see the designers work on their collections, especially through Tim's home visits. Let's see what the contestants were doing with their seven weeks and $9,000.
Tim's home visits
Five weeks into the designers' allotted time for creating their collections, Tim visited Ashley Nell Tipton in San Diego, Candice Cuoco in San Francisco, Kelly Dempsey in Springfield, Massachusetts, and Edmond in Atlanta. It was delightful to meet the proud families and loved ones who have supported the designers through their journey to Project Runway, and to see the environments that fostered their early creativity. It was equally fun to see the designers' progress in completing their collections. The three women were in good shape. Each had come up with a fairly specific theme, and each had a number of looks ready to show Tim. Edmond, on the other hand, persisted in the indecision that plagued him last week. His "inspiration" was glamour and luxury, which was far too vague to hang an entire collection on. The closest he came to a focus was to know he wanted to make lots of gowns, and that the final look would be worthy of the Metropolitan Museum of Art's annual gala.
Back to the workroom
Two weeks later, Ashley, Candice, Edmond, and Kelly reconvened in New York to put the final touches on their collections. Kelly arrived with all her looks ready to go; Edmond had at least a couple of garments to make. And–surprise, surprise–Tim popped in to give them a bonus challenge: Make an entirely new look, and select two other looks to show the judges as a minipreview collection.
Edmond viewed this as a blessing and a curse: He didn't have time to make another garment, but he needed the money and the trip to Mood Designer Fabrics to get supplies to finish his existing pieces. He ended up with $400 worth of fabric and notions in his shopping cart, but the budget was only $250, so he was forced to make rapid choices about what to leave behind. The other designers were stressed, but they knew this is the time to "make it work." Here's what they came up with.
Edmond: "Glamour and Luxury"
Edmond's three dresses shared a limited palette of black and white, along with embellishments based on very large ruffles. Still, the judges didn't find the collection cohesive, and although they thought it was pretty and ladylike, it was too conservative and classic. Their advice was to make it sexier.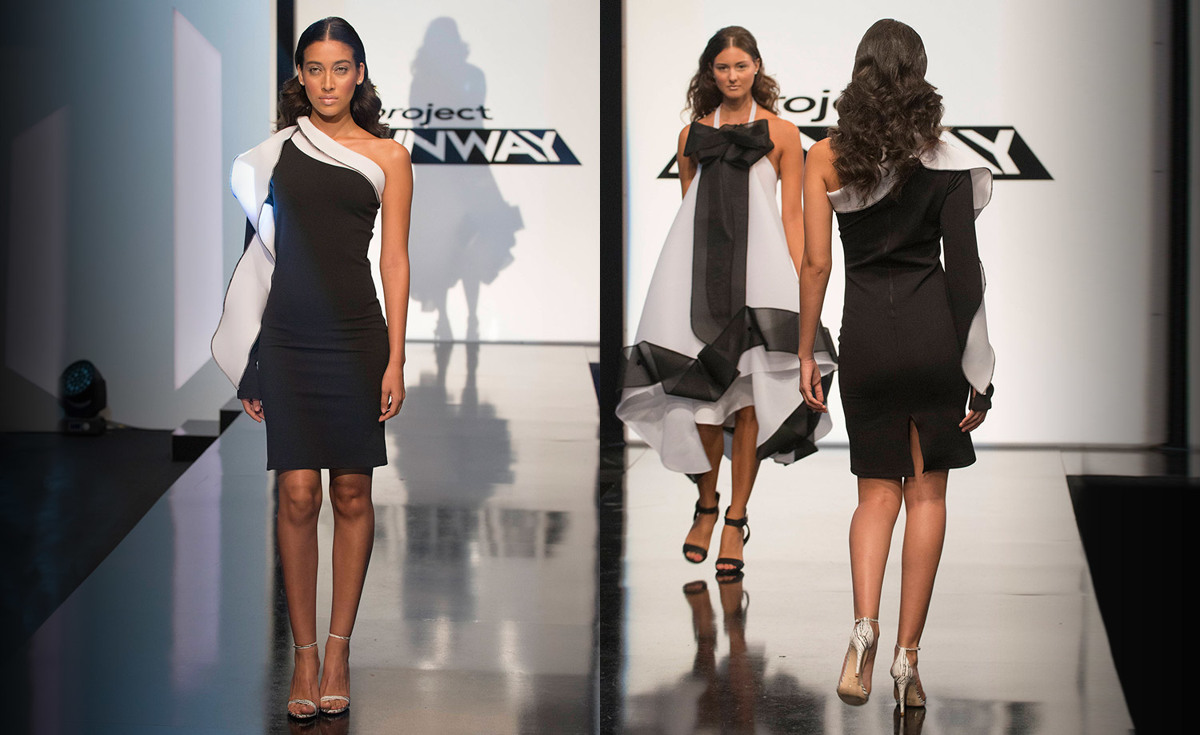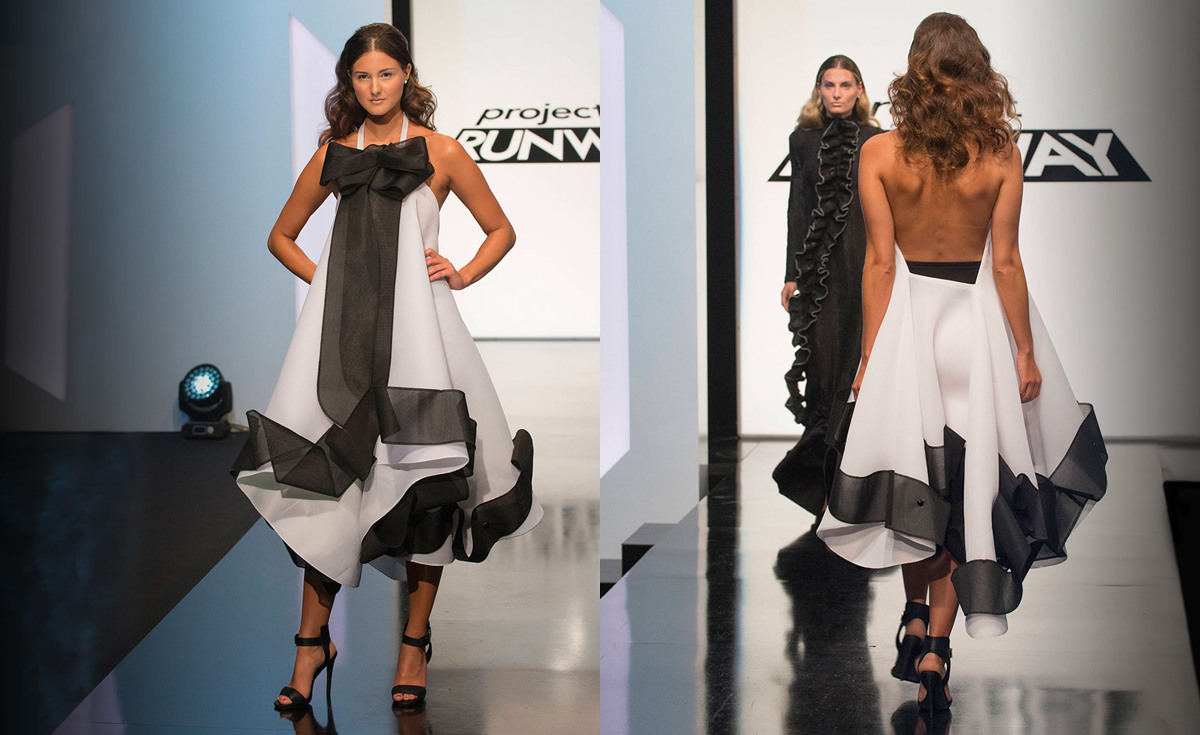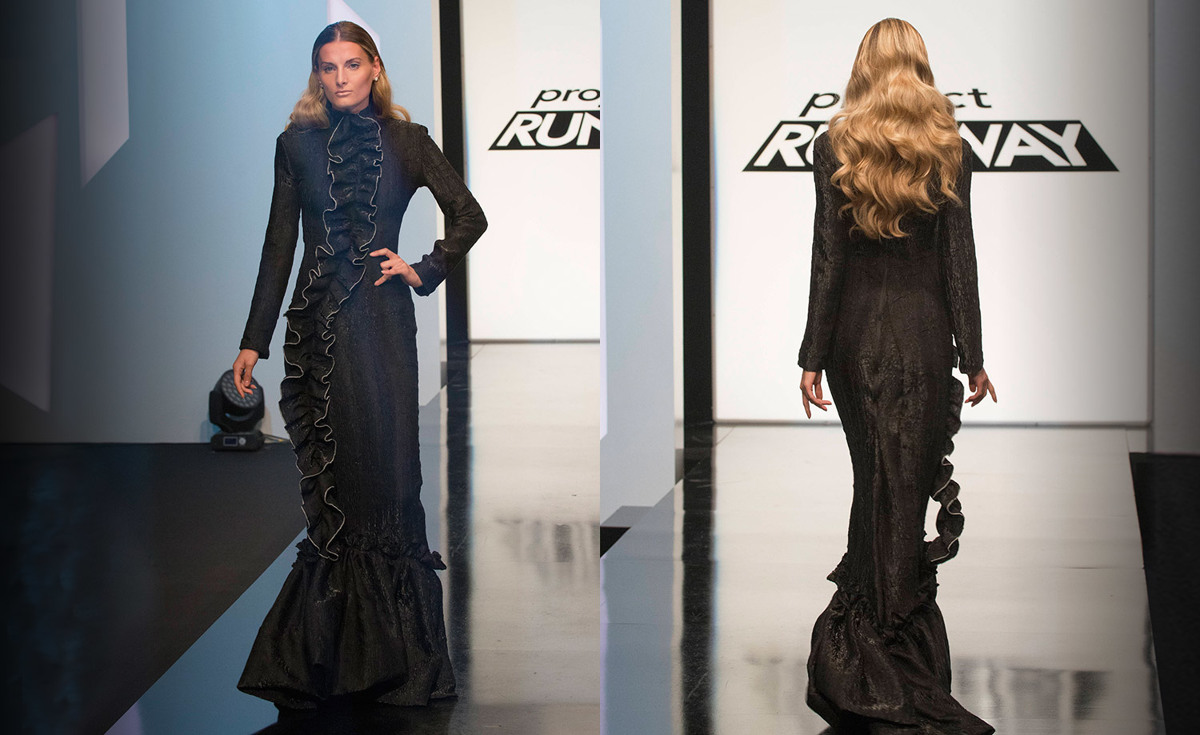 Kelly: "Studio 54 meets 1970s new wave streetwear"
Tim was enthusiastic about Kelly's collection when he visited her studio. Fanny packs, wood-grain, and nonskid flooring prints, and metallic finishes in casual, athleticwear-inspired silhouettes gave her work a "Kelly" vibe, and the cheekiness of it was refreshing. The judges found it inexpensive-looking, with no sense of luxury, and thought it looked as if she had made everything in a day. Oof! They counseled her to amp up the styling and to go for a lot more sparkle. Poor Kelly! She had included some amazing, innovative handmade details in her garments, but they didn't show up on the runway. I'm crossing my fingers for her–she's a good egg, and it would be a shame for her to have to go back to the deli. Other than for a sandwich. It did look like a good place to eat!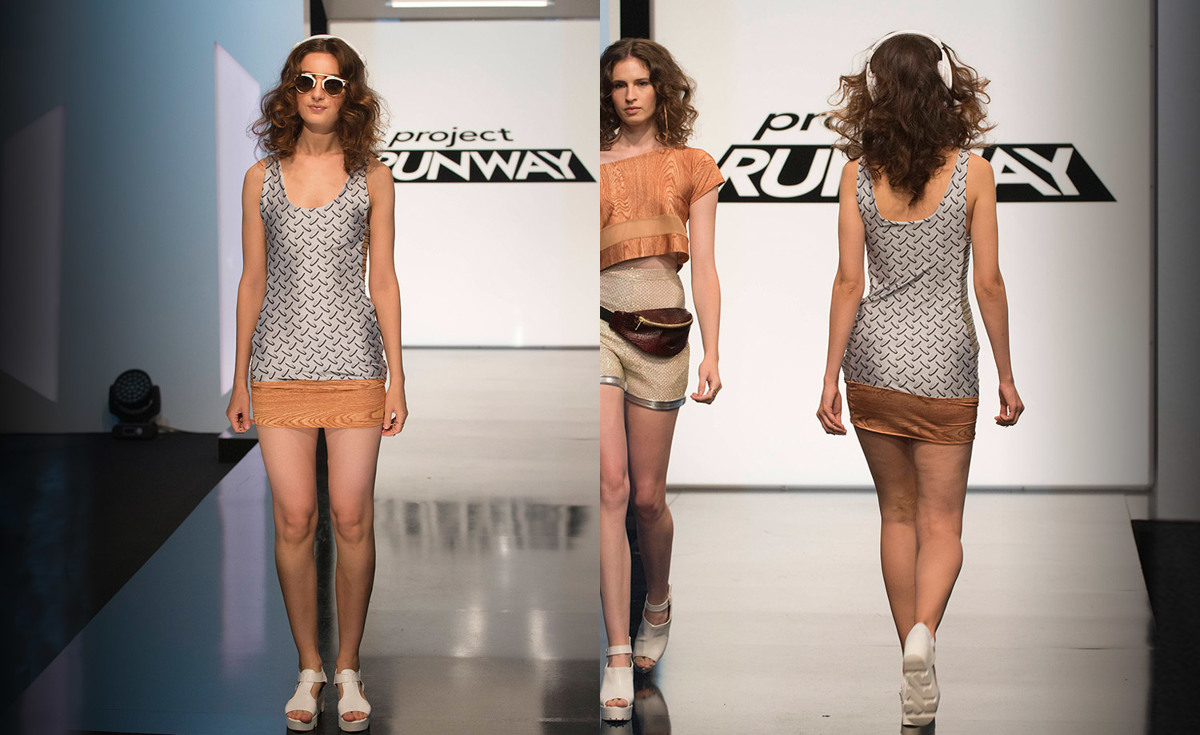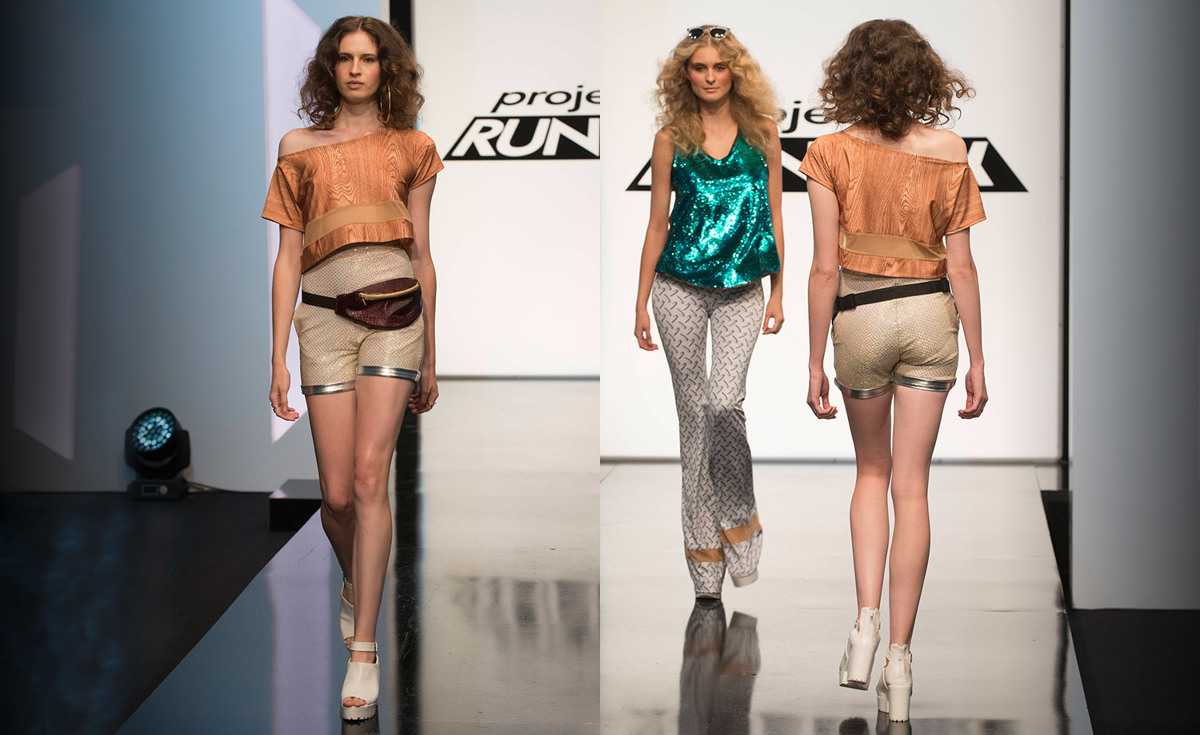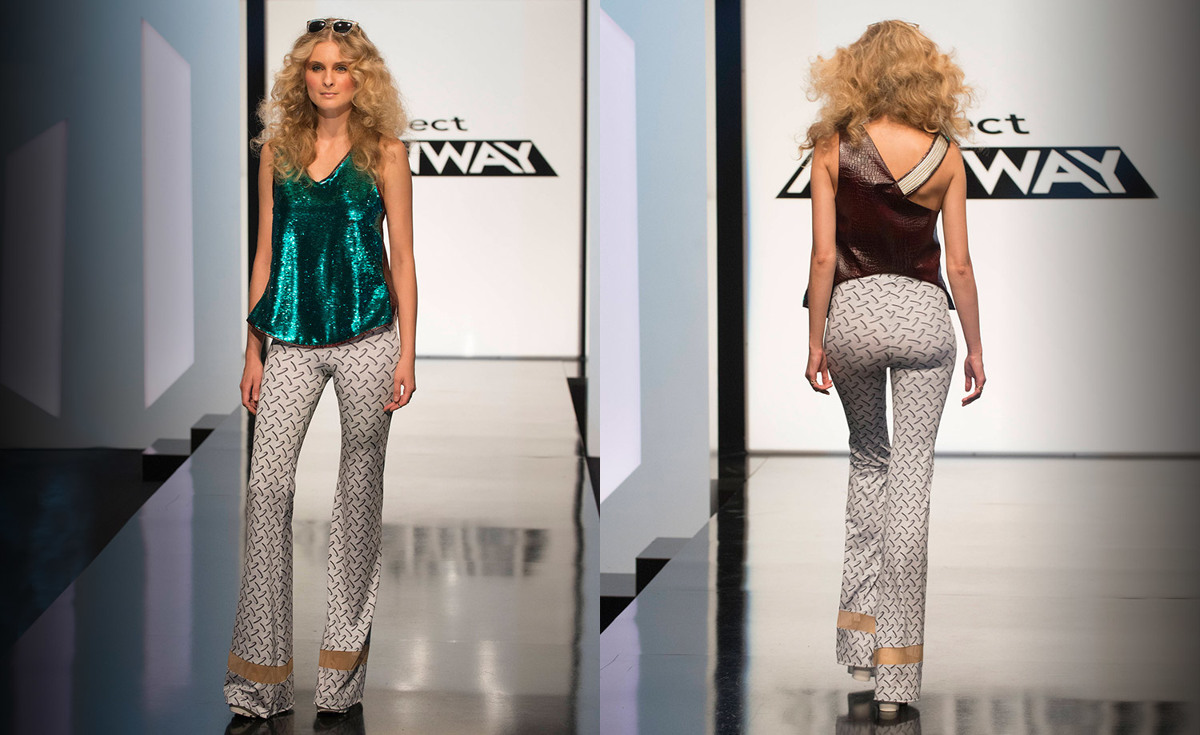 Ashley: "Mexico City in the 1950s"
Ashley entered the finals with a two-part inspiration: to show a marvelous plus-size collection, and to channel the mid-20th century in her family's place of origin, Mexico City. I don't know what Mexico City was like in the 1950s, but I loved Ashley's attention to detail in her designs. She hand-dyed all the fabrics, crafting lovely pastels, and concocted pretty, feminine silhouettes in beautiful textures. In addition, she fashioned gorgeous floral headpieces for each look. The judges assessed her three pieces as adorable and consistent but said they wished she'd included at least one print, and that the construction had been more refined. Nina also suggested she limit her use of the floral "crowns" to a few, rather than putting them on every model. Heidi, on the other hand, loved the crowns. She should wear one next week.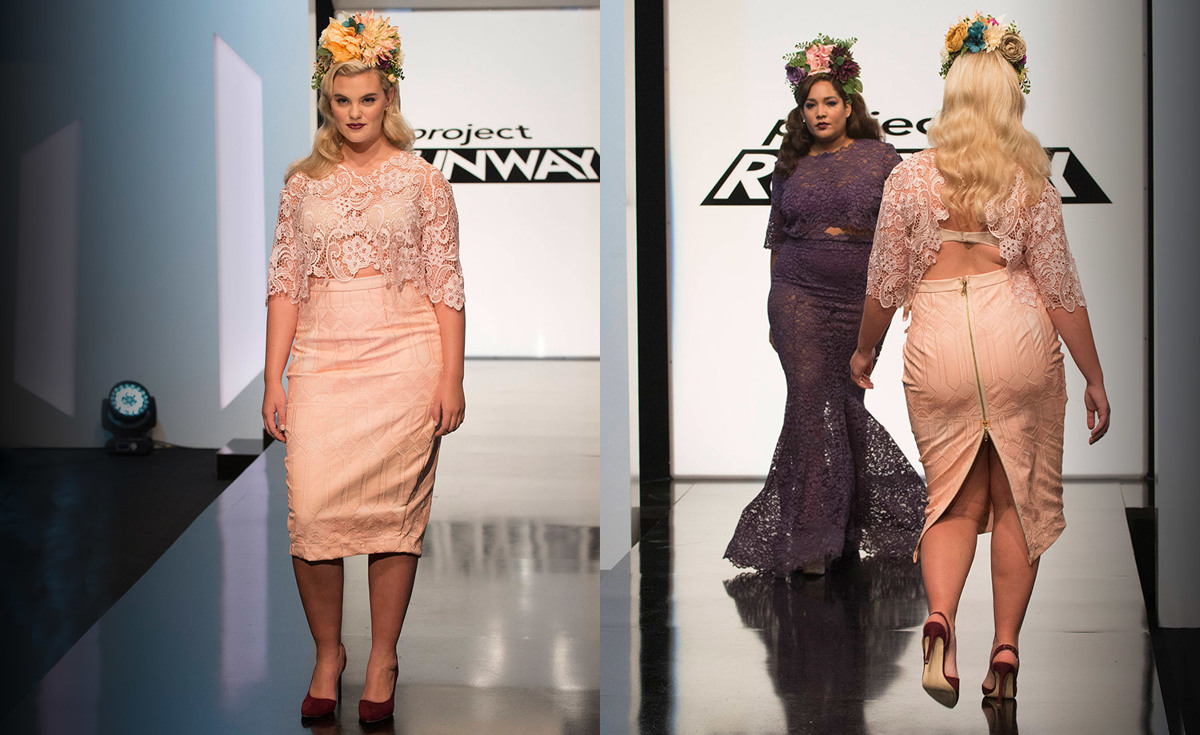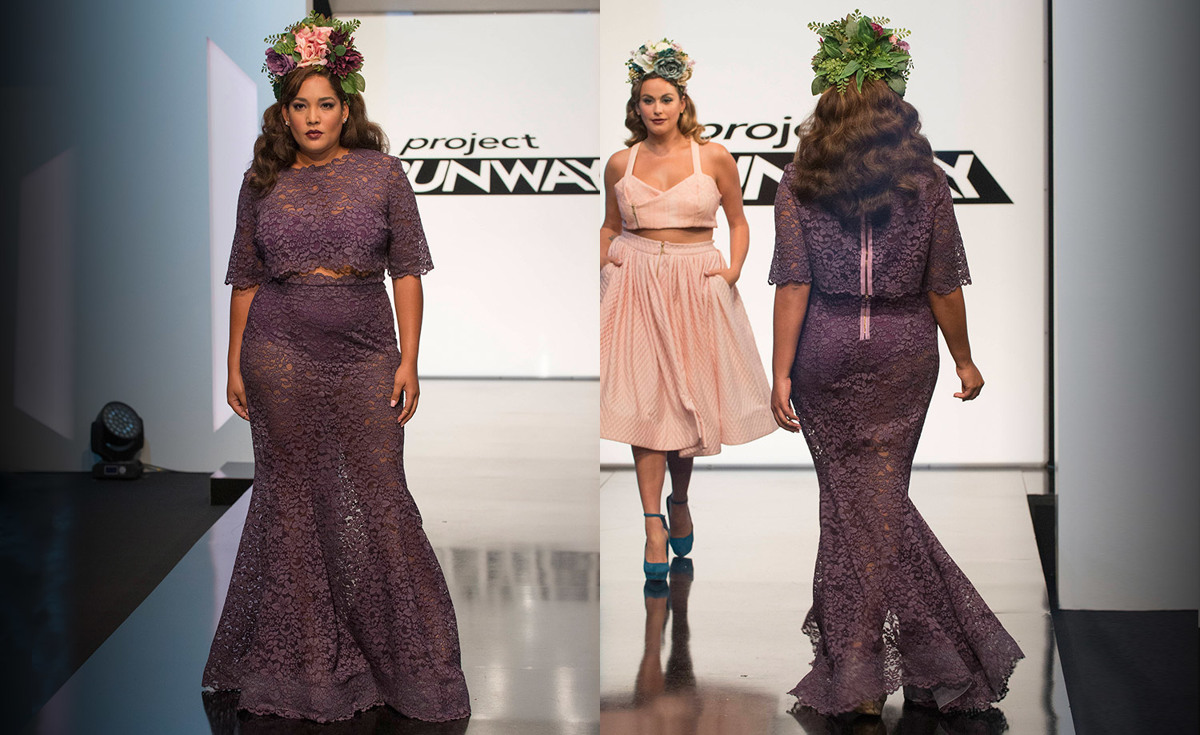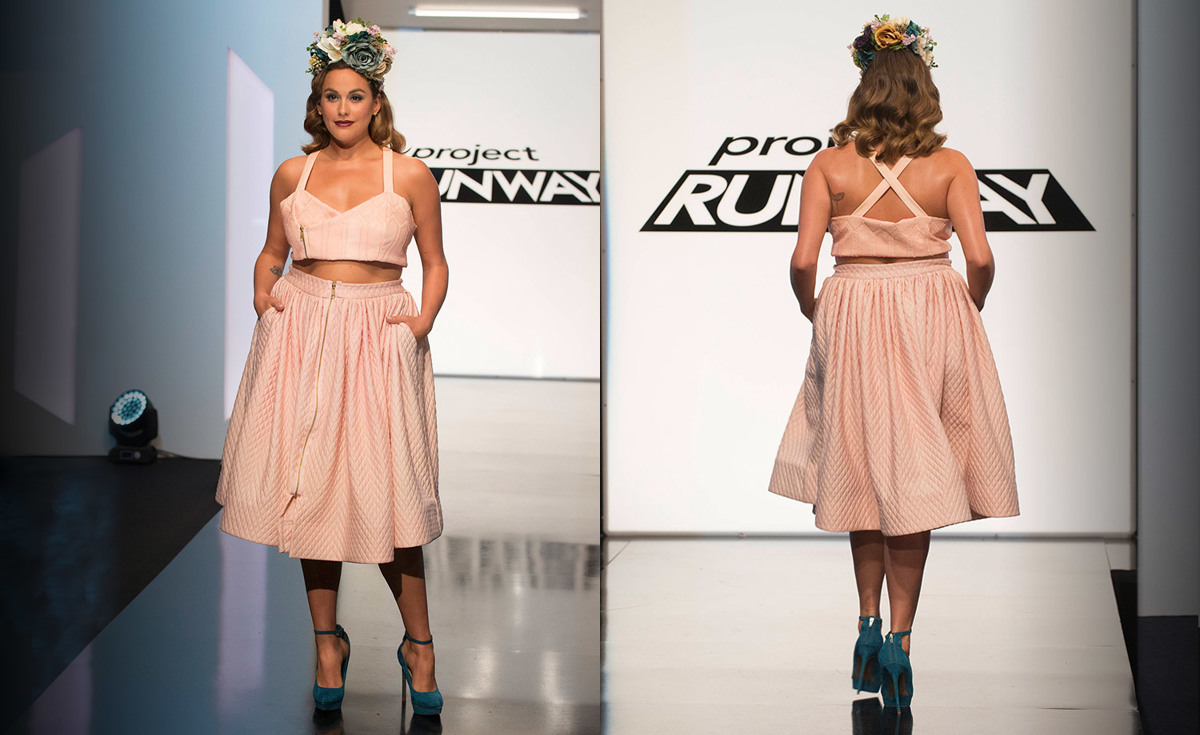 Candice: "Asian influence with three dimensions"…or something
Not surprisingly, Candice went for high drama in her collection, using a lot of black and bold reds, exaggerated silhouettes, and luxe fabrics like brocade and leather. There was a lot going on with her pieces, and the judges pointed this out. Zac called it "costume town" and "Gothic Ascot" (in reference to a huge black hat); Heidi felt there were too many cliches, and Nina said it was too referential, and too much like Alexander McQueen. This seemed like unduly harsh criticism to me. The other three designers weren't especially innovative, either, and no one called them on that. Candice felt blindsided by the assessment, but I suspect she'll pull herself together and offer a stunning runway show next week.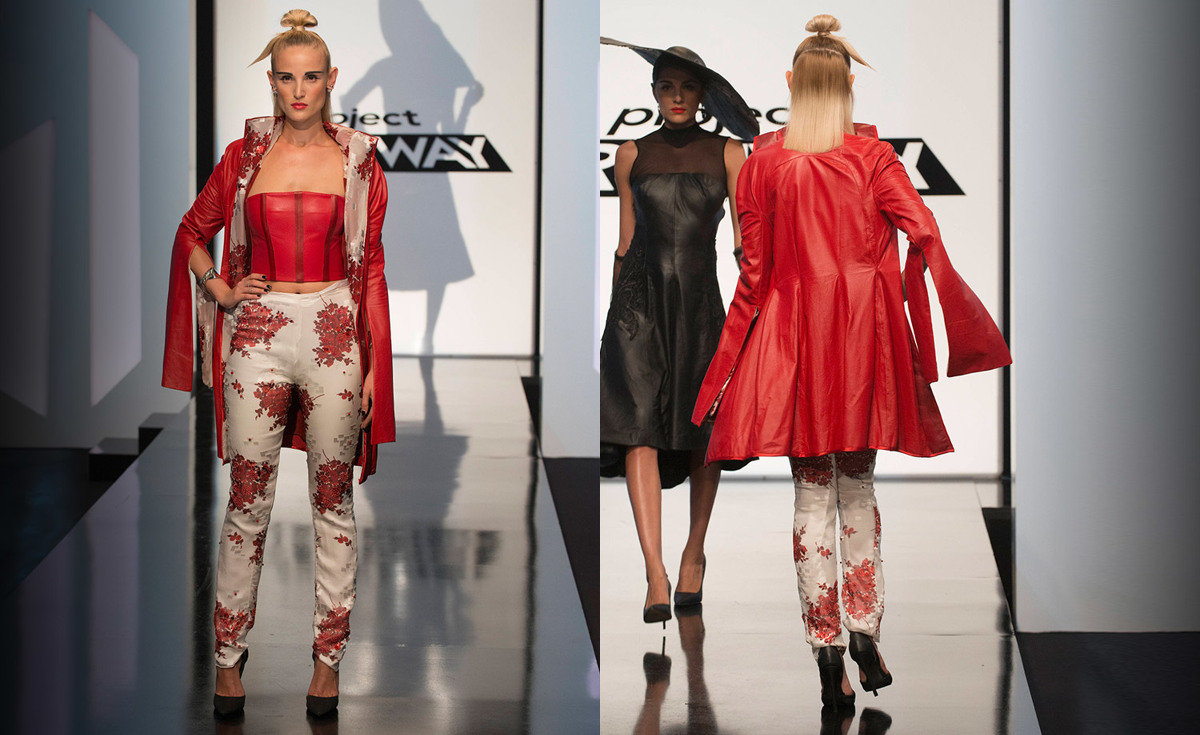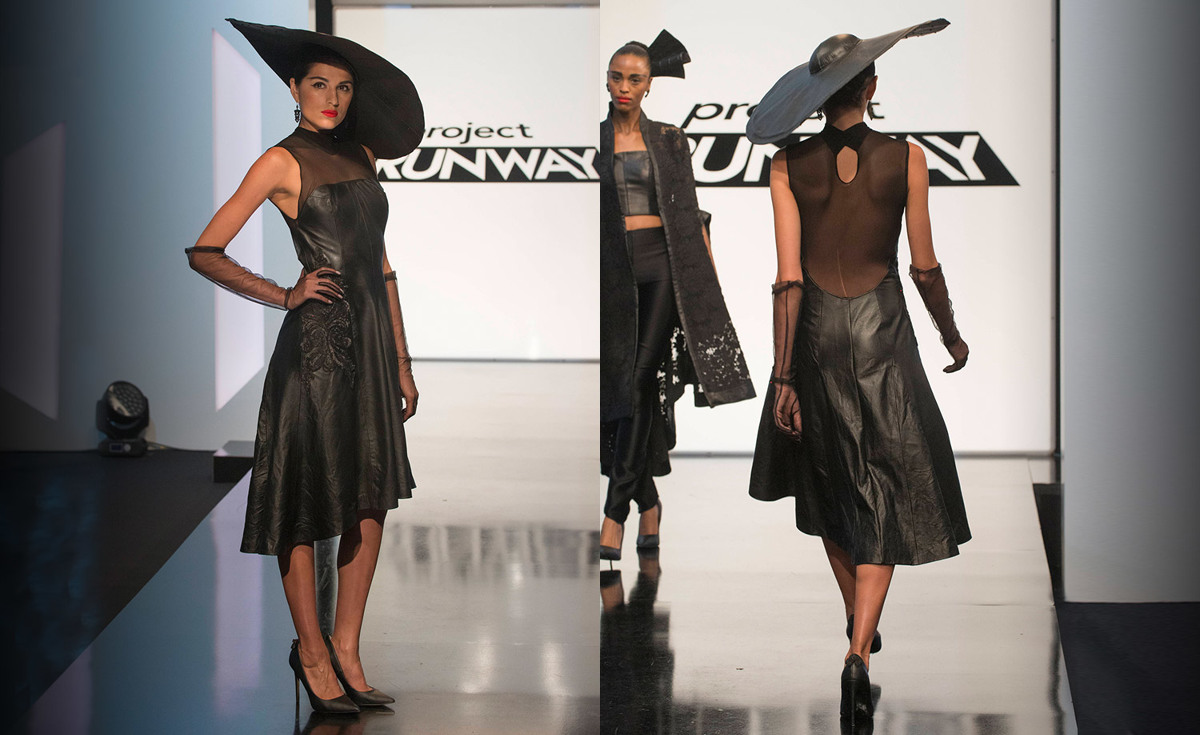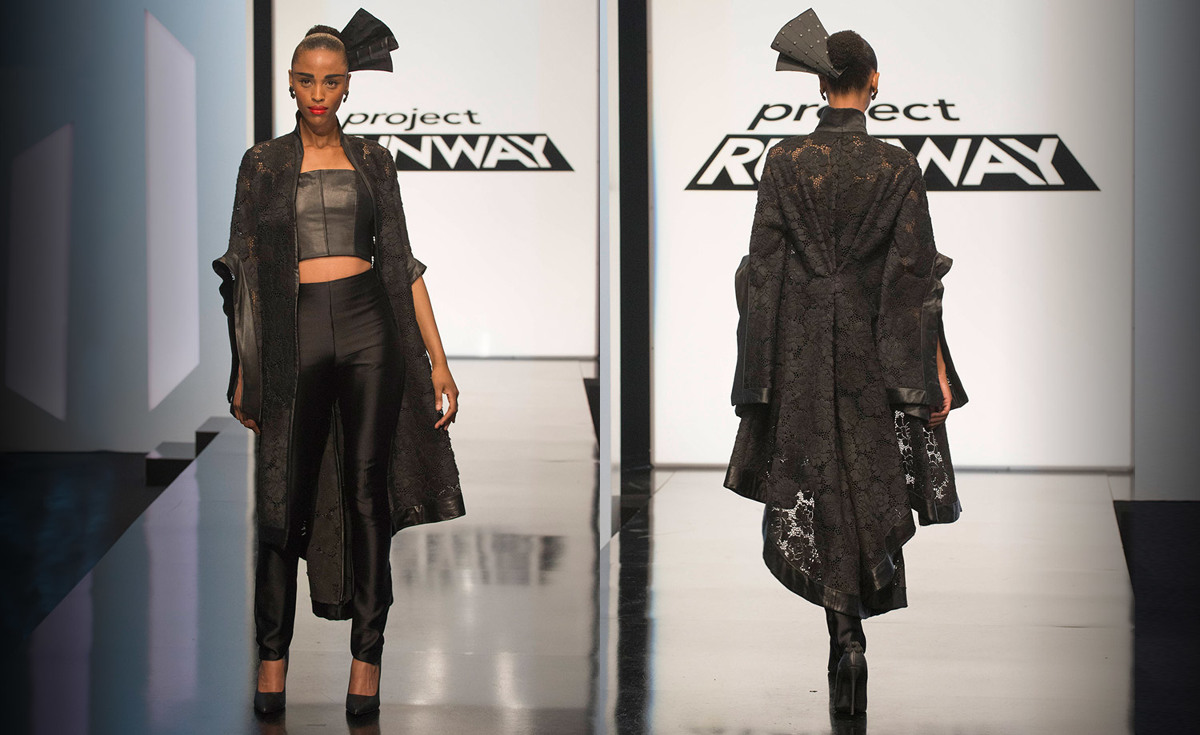 It's important to remember that this showing was just a preview, and that the designers still have a (very) little time to make adjustments in styling, as well as in the garments themselves. Let's hope they listened carefully and do what they can to address the judges' criticisms. It will be fun to see what they show next week!
What did you think about the pieces the designers showed? Did this week's episode change your thoughts about who should win? Did Edmond justify Tim's save?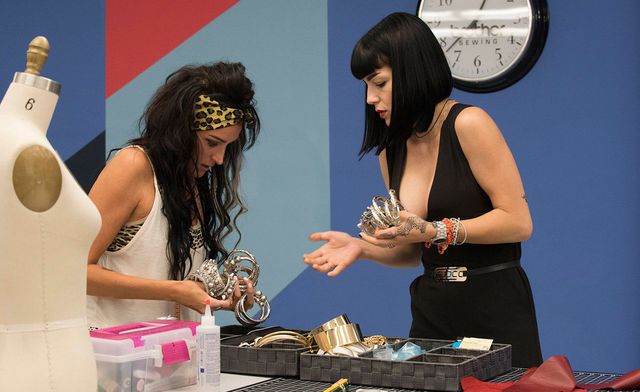 Kelly and Candice look over styling options in the workroom.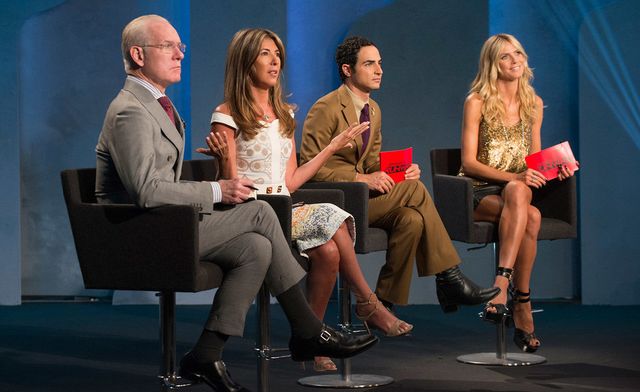 Tim and the judges (Nina Garcia, Zac Posen, and Heidi Klum) critique the designers' mini-collections.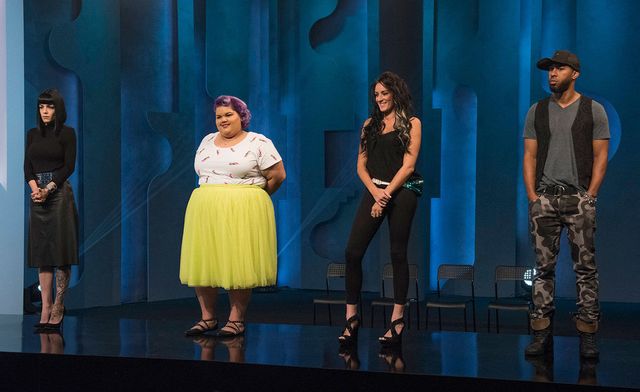 Candice, Ashley, Kelly, and Edmond await the judges' response to their preview collections. It's bad news for all of them.