Project Runway, Season 14, Episode 9: "Make It Sell"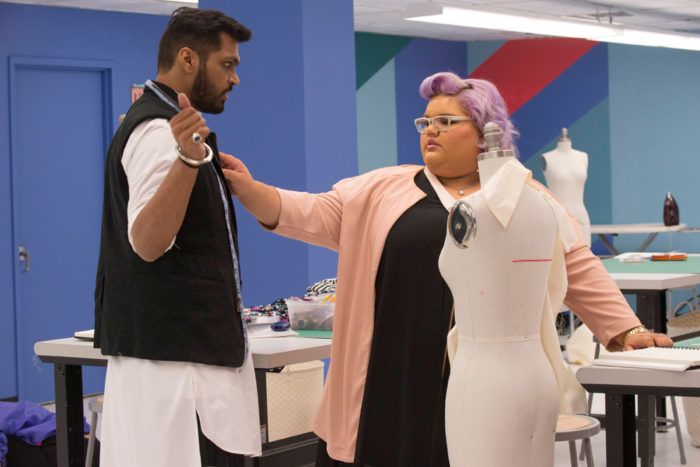 This week started out with seven designers, and endless portents that someone was about to get the auf. Nothing new there, and similarly, the dynamic among the remaining contestants hasn't changed in a while. Personally, I'm pleased about that, as it reduces the opportunities for interpersonal drama to take over the show and leaves me seeing more of what I'm interested in: the design process and its (sometimes uneven) results.
This episode's challenge was announced in a makeshift schoolroom environment (I still don't understand why mentor Tim Gunn exhorted the designers to "get to class") where Tim and Yuchin Mao, fashion director for JustFab, told the contestants they were expected to create a high-fashion look at an affordable price, to suit one of five fashion personas. These personas, helpfully listed on a blackboard, include the "bombshell," the "trendsetter," the "girl next door," the "modern classic," and the "femme nouveau" (the lack of agreement between "femme" and "nouveau" is so irksome!). According to Yuchin, these personas represent the JustFab customer range.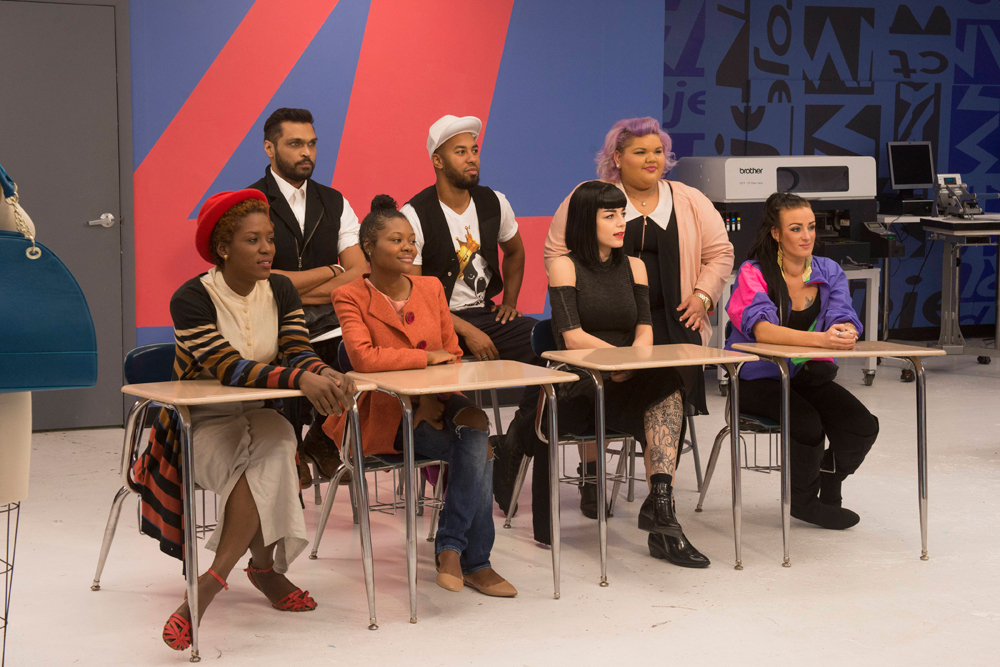 The seven remaining designers listen closely as Tim Gunn explains the next challenge.
As last week's winner, Candice was allowed to assign the fashion personas to her fellow designers, and proved herself a class act: She didn't want to set up anyone for failure by selecting a persona that didn't match his or her aesthetic, as Candice understood it. Most of the designers were pleased with their assignments and seemed eager to get to work.
The reward this time wasn't immunity-–that's over for the rest of the season. Rather, it was the chance to have your look manufactured and sold on JustFab.com. The designers were excited about this opportunity. Who wouldn't want his or her design to go straight to retail with a big retailer?
Turns out, this was perhaps not the best deal after all. First, the winner's design, while available at JustFab.com, is buried deep–you'd expect it to be featured on the home page, at least for a day or two after the episode aired. Second, you can't buy the dress without becoming a "member" of JustFab.com, so there's a second obstacle in the way of purchasing the winning design. Third, JustFab.com has an increasingly bad business reputation, with more than 1,500 consumer complaints to the Better Business Bureau about unwanted credit-card charges and deceptive subscription practices. The company's membership in the BBB has been revoked. I wish Project Runway weren't associated with this company, and think the "prize" this week was a pig in a poke.
An added restriction to the challenge was the relatively low budget, only $100 to spend at Mood Designer Fabrics store. Given that JustFab seems to cap its prices at about $45 for garments, the winning look would have to be able to be manufactured cheaply. Not all the designers took that into consideration, and this cost them during the judging.
Tim's workroom critique was focused: He pushed the designers to adhere to their assigned fashion personas and to be innovative. Several contestants were called on the carpet for making "standard" pieces, including Swapnil, who admitted that he was making something he'd seen countless times before. Tim cried, "You're incriminating yourself!" Swapnil's approach to this game is entirely atypical. He really wants to win, but doesn't want to make any effort. When you're surrounded by talented, driven designers like Candice, Kelly, Edmond, and Ashley, who are continuously striving to stake a claim in the fashion world, you'd think it would spur you to work a little harder.
Runway day
Joining Zac, Nina, and Heidi this week were Yuchin Mao, from JustFab.com and singer Ciara, who also bills herself as a fashion model. Several years ago, she was in discussions about creating a line of affordable clothes for Steve & Barry's (now liquidated), thus she seems to have some background in the apparel industry even if only peripherally. Interestingly, the judges didn't seem to agree on anything, so choosing a winner and loser took some negotiating.
The winner
Edmond Newton's red dress with interlaced straps at the front and back necklines. This was a bit of an "of course" moment for me, not because I thought this was the best design, but because it fit the bill precisely: It's a dress for a bombshell, but it's also basic, aside from the straps, and presumably inexpensive to produce. All the judges recognized it as a potential top seller and thought it would be wearable on a range of figures, but they admitted that it wasn't absolutely new. "New" isn't necessarily what sells at a place like JustFab.com, so Edmond got the win.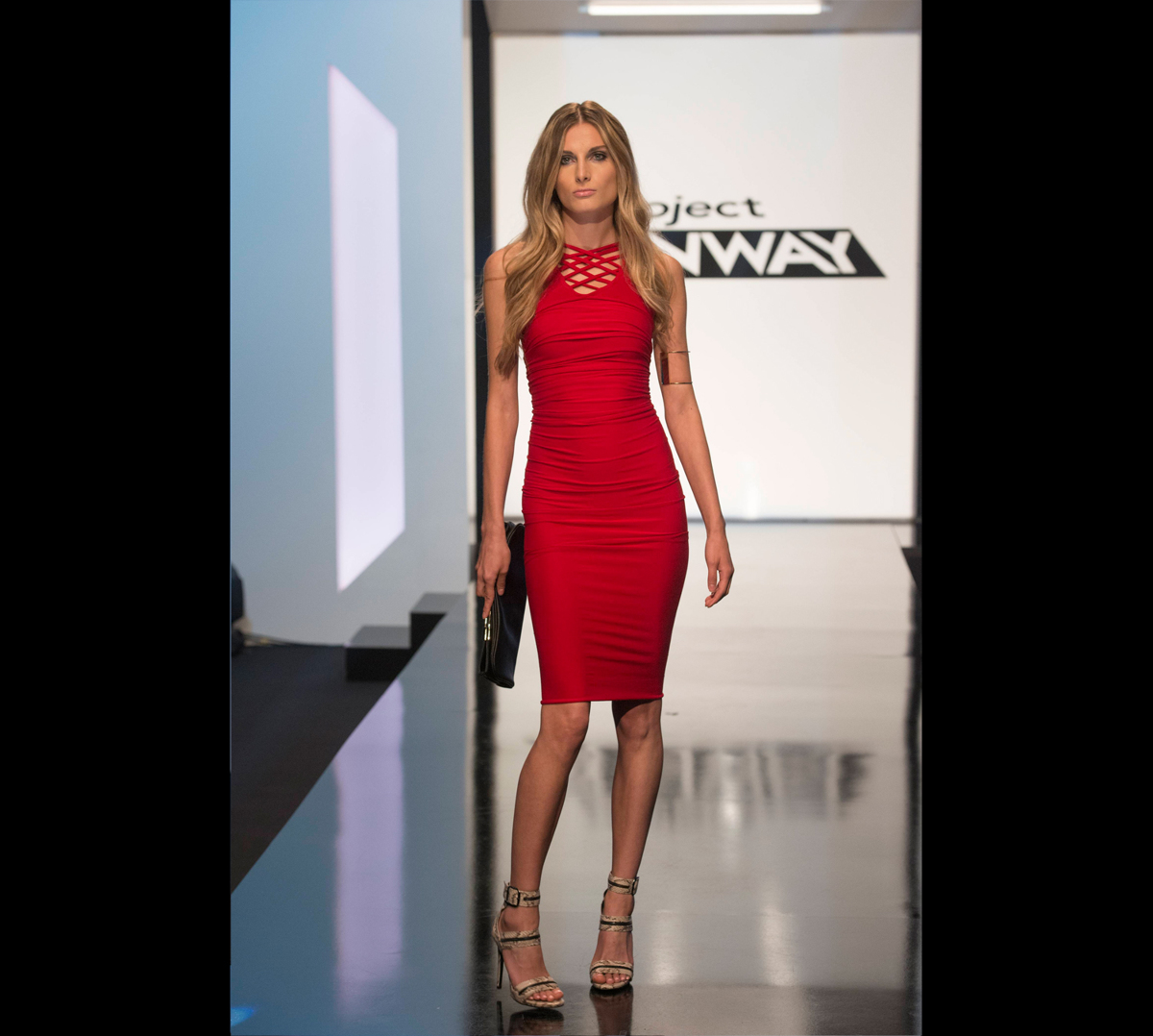 The loser
Laurie Underwood's pencil skirt and organza blouse. Laurie has subjected the viewers to one peep show too many, and, in return, has finally gotten the boot. Candice assigned her the persona of "modern classic," which Laurie thought was apt, and she started out designing a sheath dress. Tim rightly pointed out that her initial design wasn't innovative, so she retrenched, ending up with a skirt that could hardly be simpler, and a see-through, backless halter top made from a piece of organza that was tied around the model's neck. The effect was of yardage draped on a dress from at a fabric store, to approximate the look of a real garment. Sorry, Laurie. We need to see real clothes!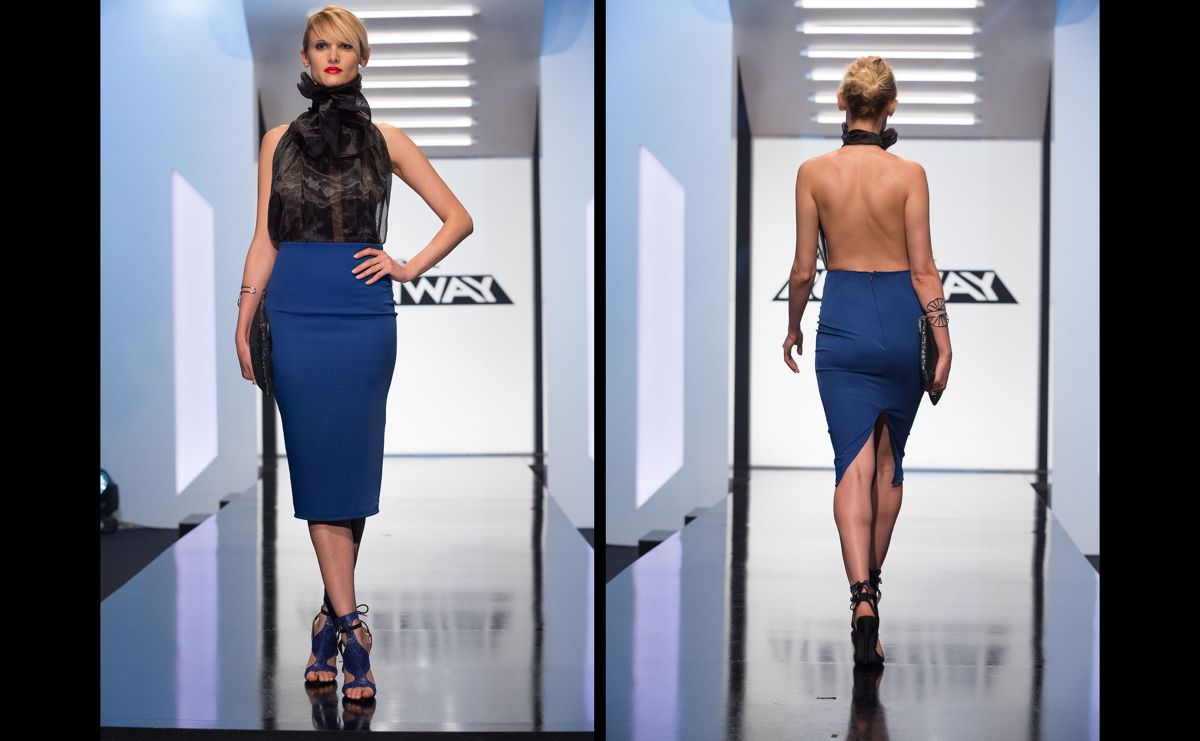 The rest
Ashley Tipton's three-piece ensemble. Although not everyone liked Ashley's choice of print (including me–Tim was right when he said it looked like a hospital gown), the judges did like the cute crop top, circle skirt, and pleather jacket she designed for "the girl next door." Zac was disappointed and said there was no originality, but all the judges agreed that the jacket would sell like crazy. Once the jacket was off, it was revealed that the top had a cute sheer inset in back, giving it a little oomph. Ashley was considered as a possible winner for this challenge, but maybe her garments weren't deemed as easy to make and sell at the desired price point.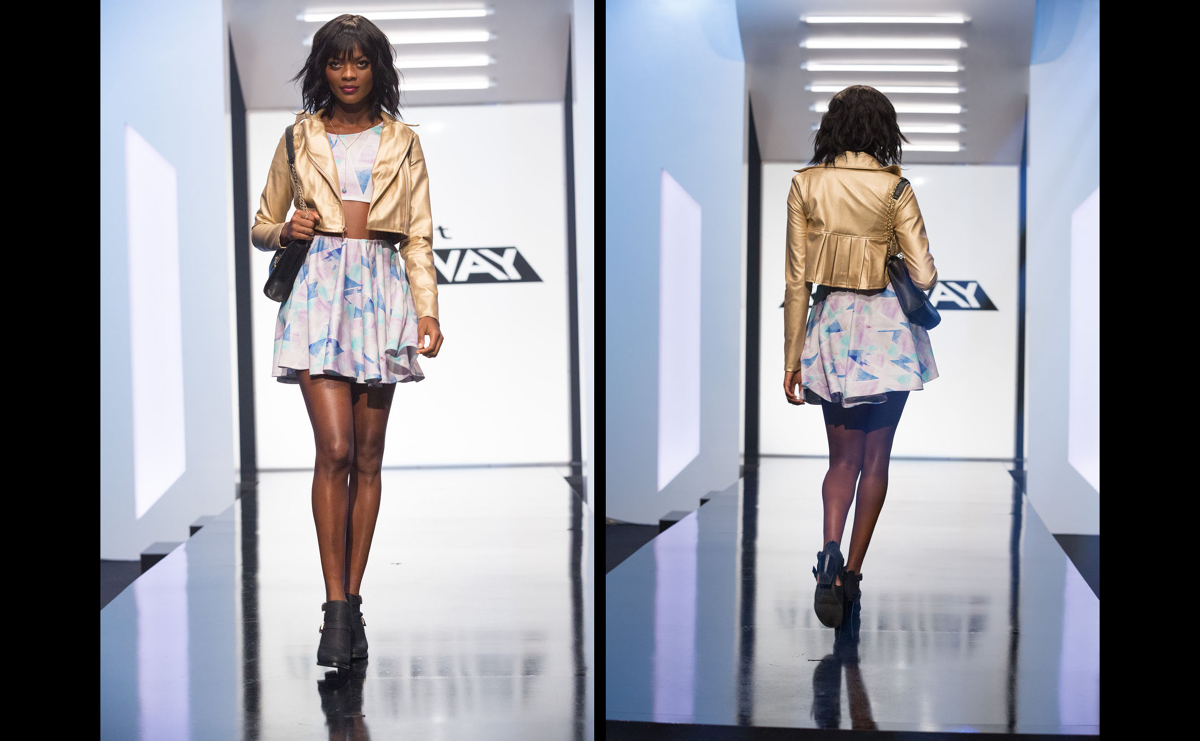 Candice Cuoco's neoprene jacket and tiered skirt. There were a lot of details in this look, likely making it a bad choice to manufacture. However, the judges found it well-made, edgy and cool, and fashion forward. It seemed a bit overdesigned to me, and not quite right for this challenge, but it fit Candice's persona of "trendsetter."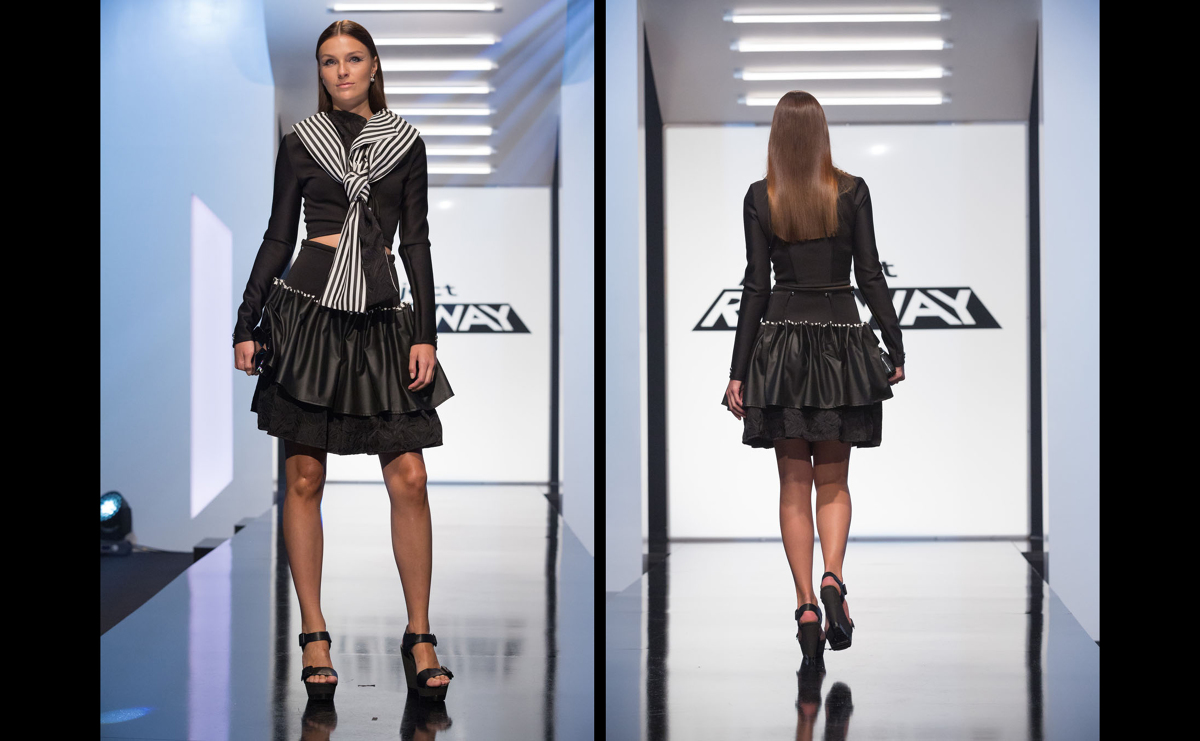 Kelly Dempsey's pattern-blocked top and pants with faux fur vest. This look, intended for a "trendsetter," got mixed responses from the judges. They recognized its originality, but found that it verged on clownish. The vest was described as a Muppet bath mat.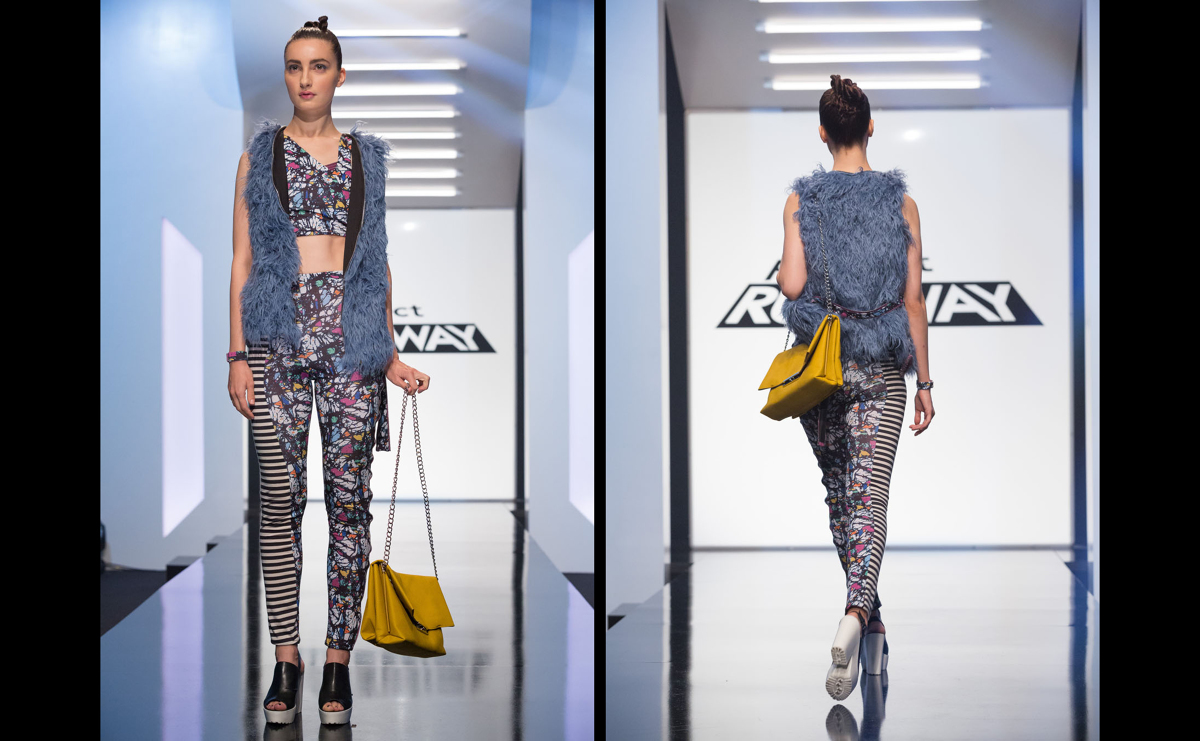 Merline Labissiere's white asymmetrical dress. Merline struggled with this dress, which was intended to suit the "femme nouveau." The fit and construction weren't good, and the design was too tricky to sell. Zac liked the concept, but everyone was in agreement that it wasn't sellable and that Merline had missed the mark.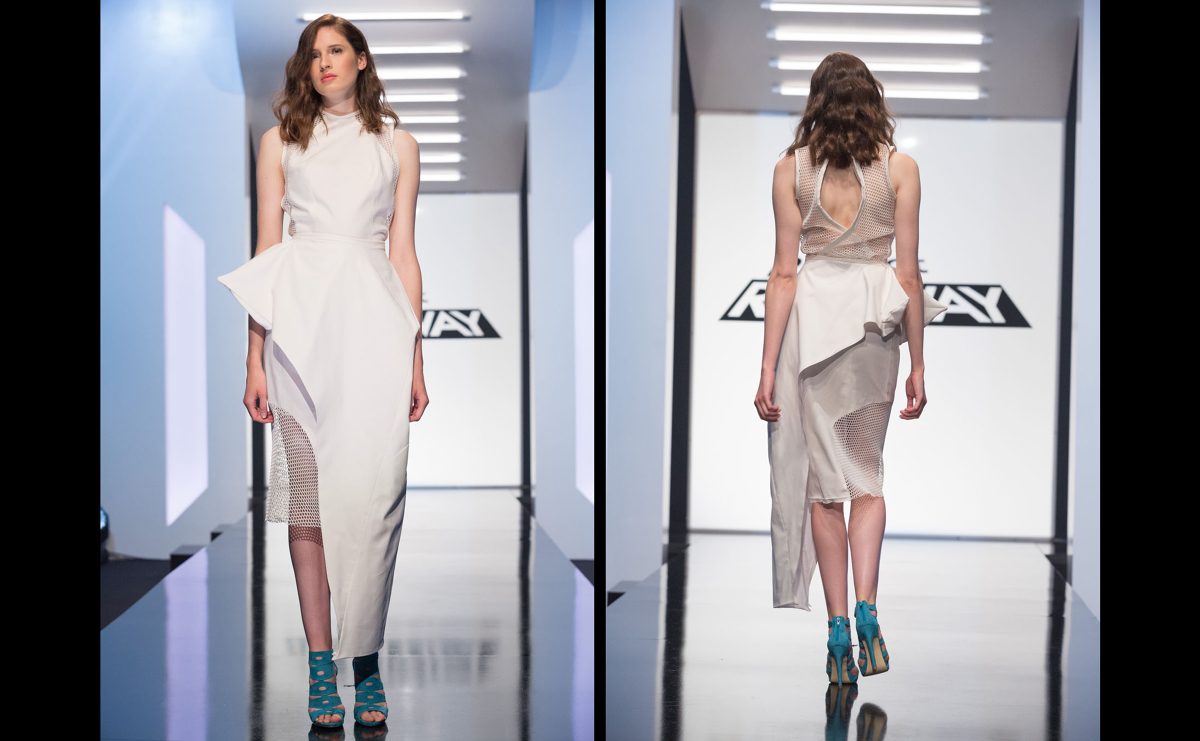 Swapnil Shinde's animal print slinky "bombshell" gown. Swapnil's got talent … I think. But his consistent failure to step up to the challenges is wearing thin. His model looked fabulous in the dress despite the unresolved straps and "butt flap," and yet even Swapnil acknowledged there was nothing new or original in the design. The puffy jacket/wrap he created didn't go with the dress; it looked doughy or tumorous. It may be that Project Runway just isn't the place for him to shine as a designer, and his arrogant attitude doesn't make it easy to accept his middling efforts.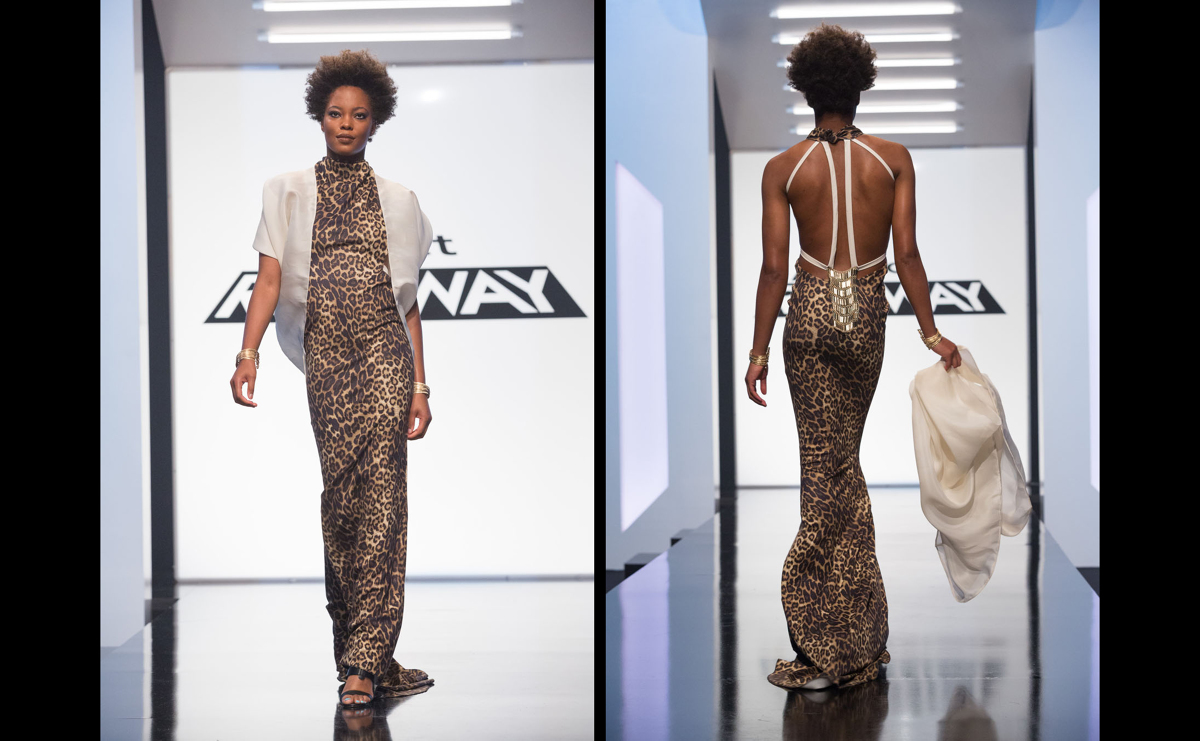 Did you agree with the judges' choice of winner and loser? Is Edmond's dress something you'd consider buying? Have you got favorites for the top three?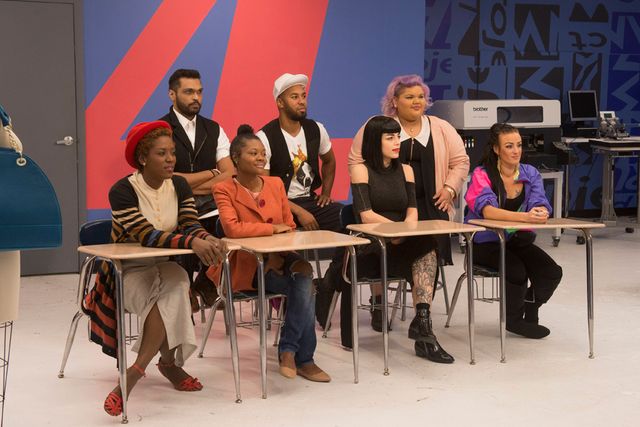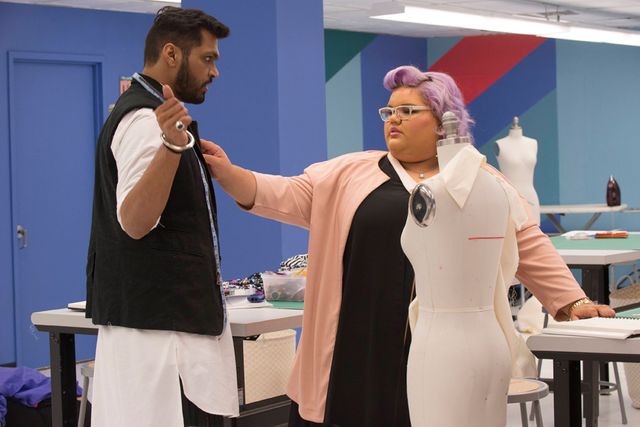 Ashley Tipton and Swapnil Shinde discuss their designs in the Project Runway workroom.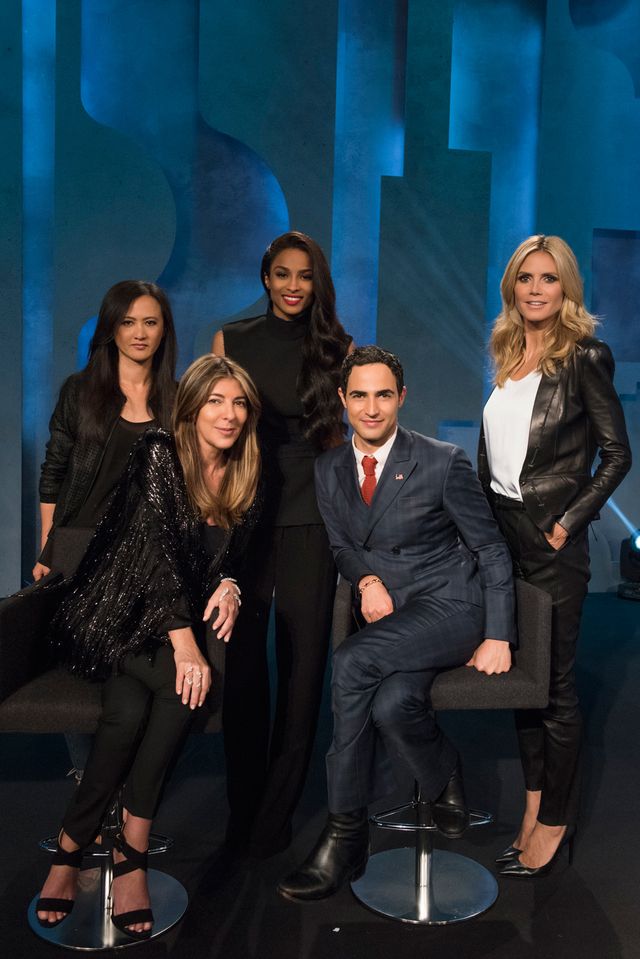 (Left to right) Guest judges Yuchin Mao and Ciara, Nina Garcia, Zac Posen, and Heidi Klum judge the ninth challenge of Project Runway season 14.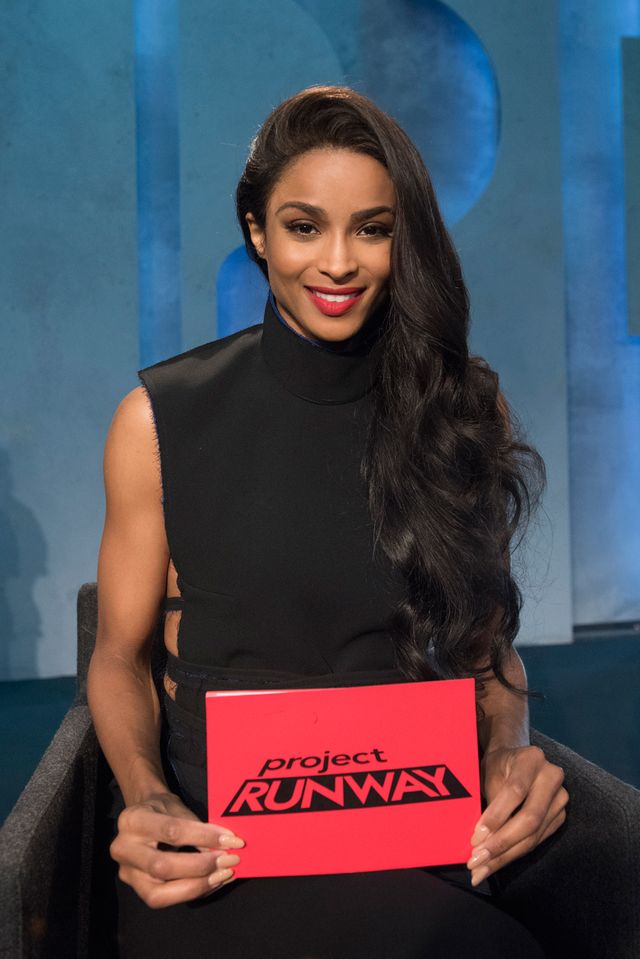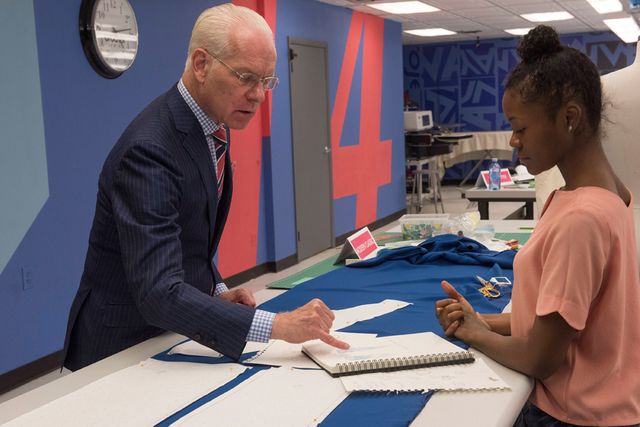 Tim Gunn and Laurie Underwood working on a design in episode 9 of Project Runway season 14.