Project Runway, Season 14, Episode 10: "Crew's All In"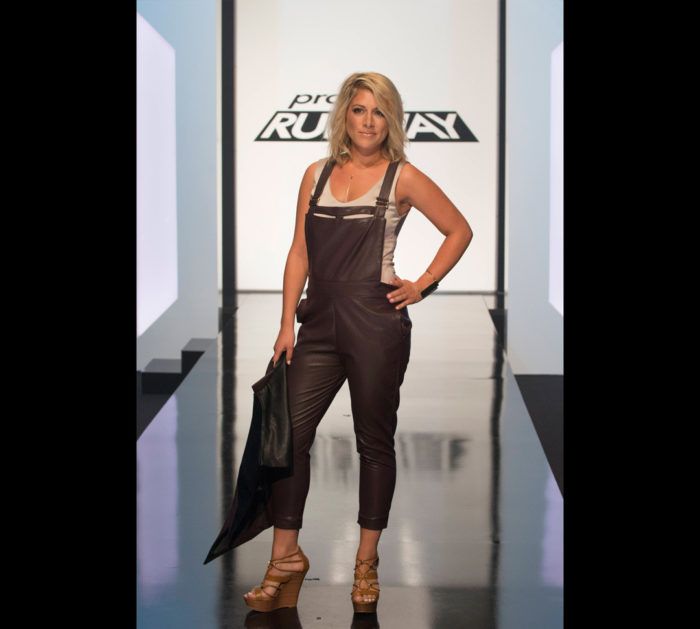 Folks, I have a date to take some stylish teenage friends into New York City for some epic people-watching, so this will be a quick recap of this week's episode.
This week's challenge was a classic: the "real woman" challenge. The designers were tasked with making over Project Runway's female crew members. Who knew that the Project Runway crew was home to so many hip, talented, attractive, and most of all, game young women?! They put themselves in the designers' hands, even if they were a little afraid. The results were mixed, but it was fun to find out who's behind those cameras and in the back rooms wrangling models, editing video, and otherwise making our favorite design show happen. Also, mentor Tim Gunn's and judge Heidi Klum's obvious fondness for the crew was charming. They were openly protective of the women's feelings and their personal styles.
The brief was to create a look that goes from workday ordinary to runway extraordinary. Emphasis was placed on the importance of pleasing the client while maintaining the designer's point of view, a balance that has been difficult for contestants in seasons past to achieve.
"What's the [bleeping] point?!"
The real drama came during Tim's critique of Swapnil's work. Swapnil's client was Jennifer, a beautiful but reluctant crew member who had trouble defining her style. Swapnil immediately decided to turn her into a "bombshell"–which seems to be his automatic setting. He futzed around for a long time and ended up with a humble wrap top in faux leather and an unhappy client. Tim became agitated, even cursing repeatedly (and being bleeped)! Swapnil appeared suitably chastened and started over again. He also shaved off his beard, which explains the continuity glitches this week and last week, between a bearded Swapnil in the workroom and a clean-shaven one in the confessionals.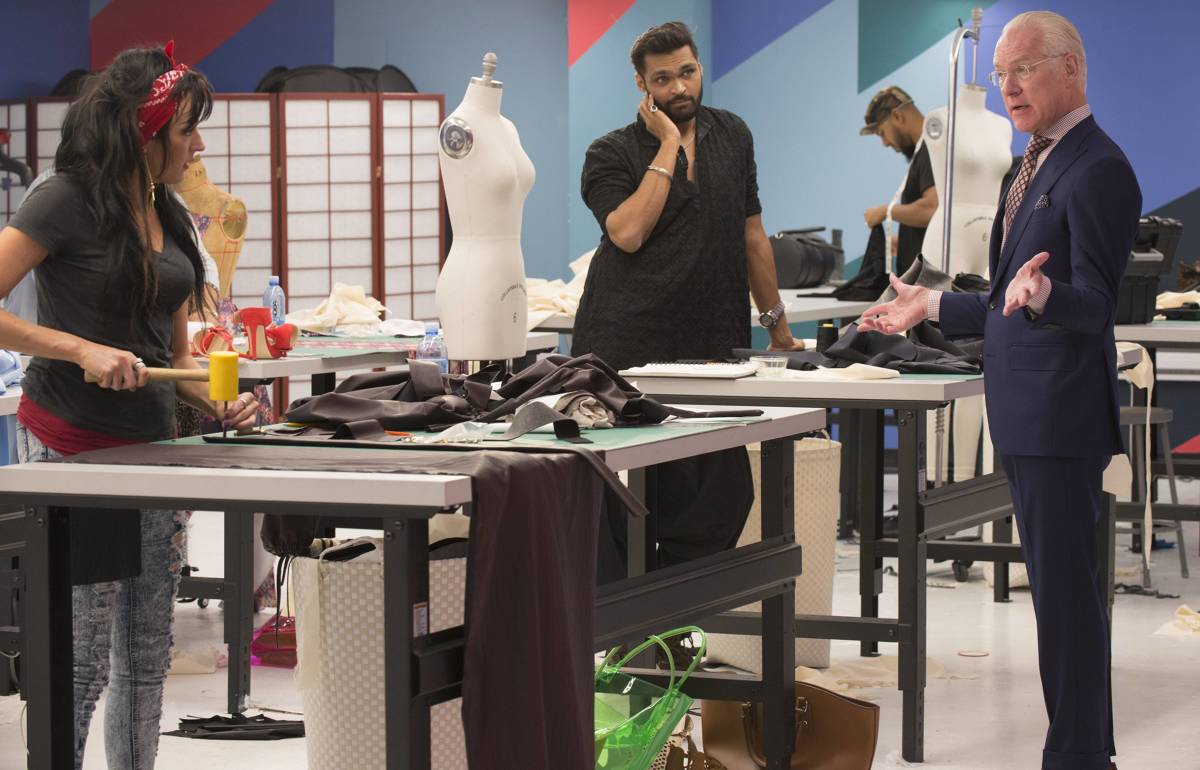 Kelly, Swapnil, and Tim Gunn discuss their designs.
Runway day
Our judges (left to right): Actress Shiri Appleby, Nina Garcia, Heidi Klum, Zac Posen, and actress Constance Zimmer.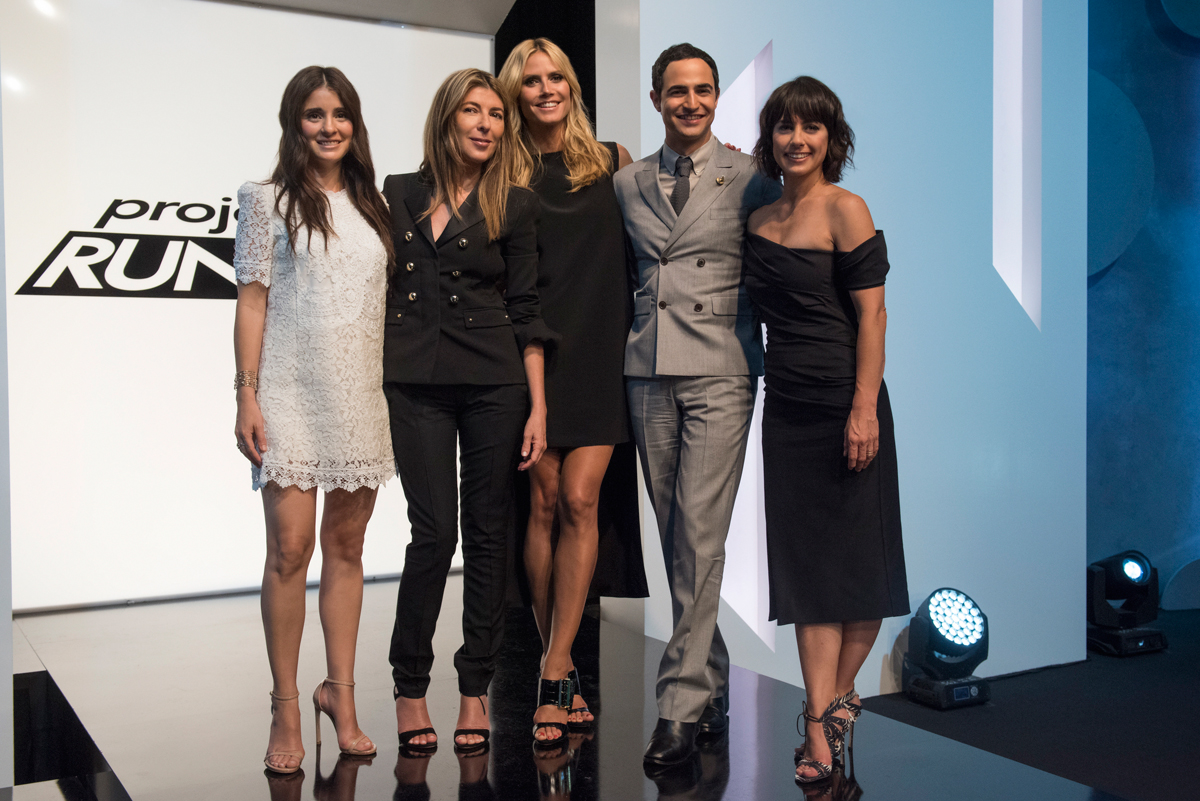 The winner
Kelly Dempsey's bordeaux pleather overalls for Ashleigh. Ashleigh requested an overall-type look, and was pleased with what Kelly made. I really couldn't stand the look, but I recognize that it worked in its own way. To me, this was sort of a cross between a fishmonger's apron and a pair of chest waders. It looked…hot, but mostly hot and sweaty. Ashleigh's makeover was fantastic, though, and all the judges agreed.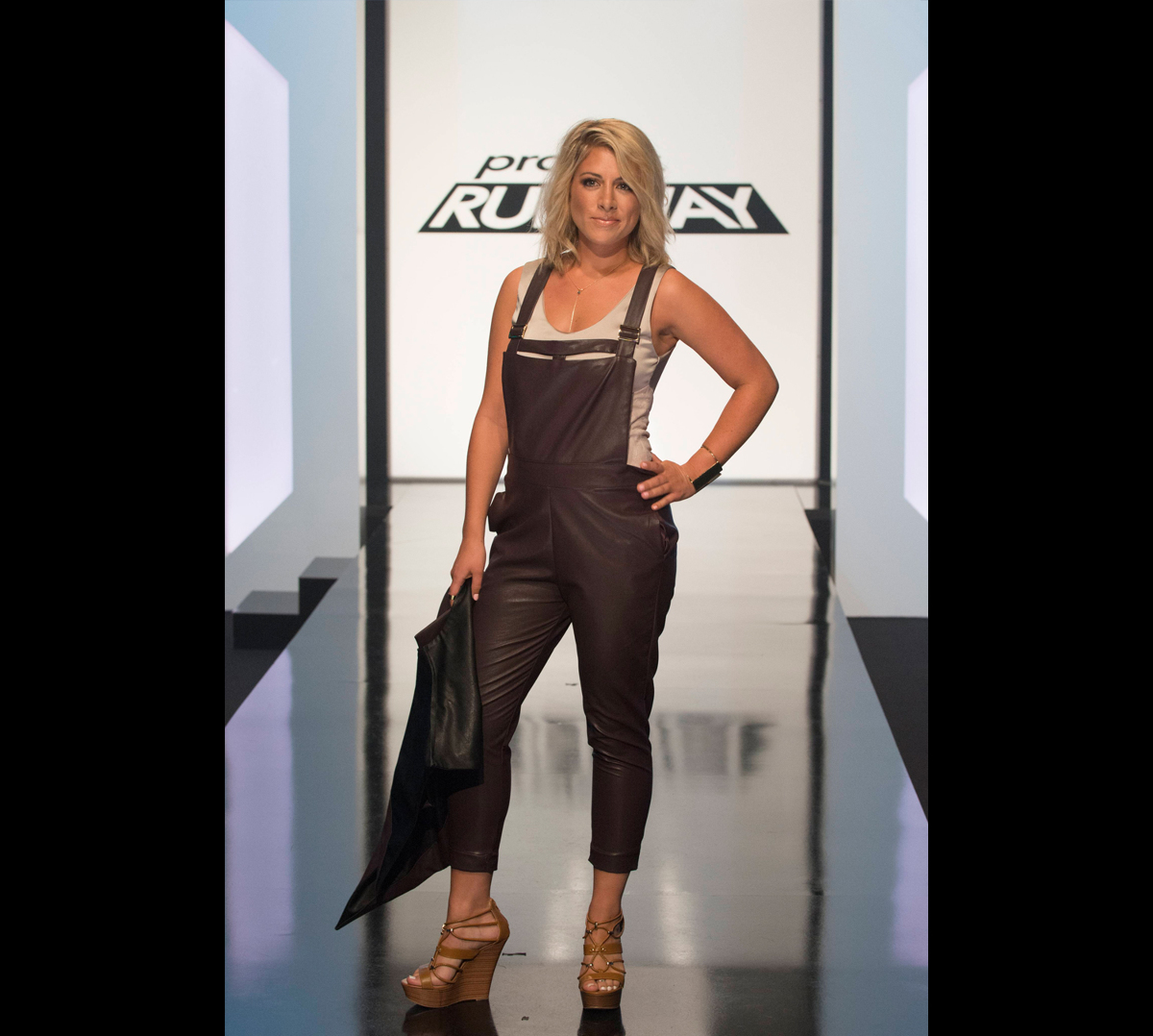 Remaining top two
Merline Labissiere's vest and skirt combo. Merline started this challenge by entirely disregarding her client's wishes: Katie specifically said she didn't want a coat or jacket, but Merline went ahead and made a gigantic, awkward coat. At the critique, it became clear that this wasn't going to fly with the client or with Tim, so Merline went back to the drawing board and revamped her idea into a sharp-looking vest with a tight, shiny, black faux-leather pencil skirt and a cute tank. The vest wasn't properly finished (its hem facing wasn't fully secured), but the overall look suited the client, and Katie went for it 100 percent, getting a half-shaved hairstyle to complete the tough, sexy vibe.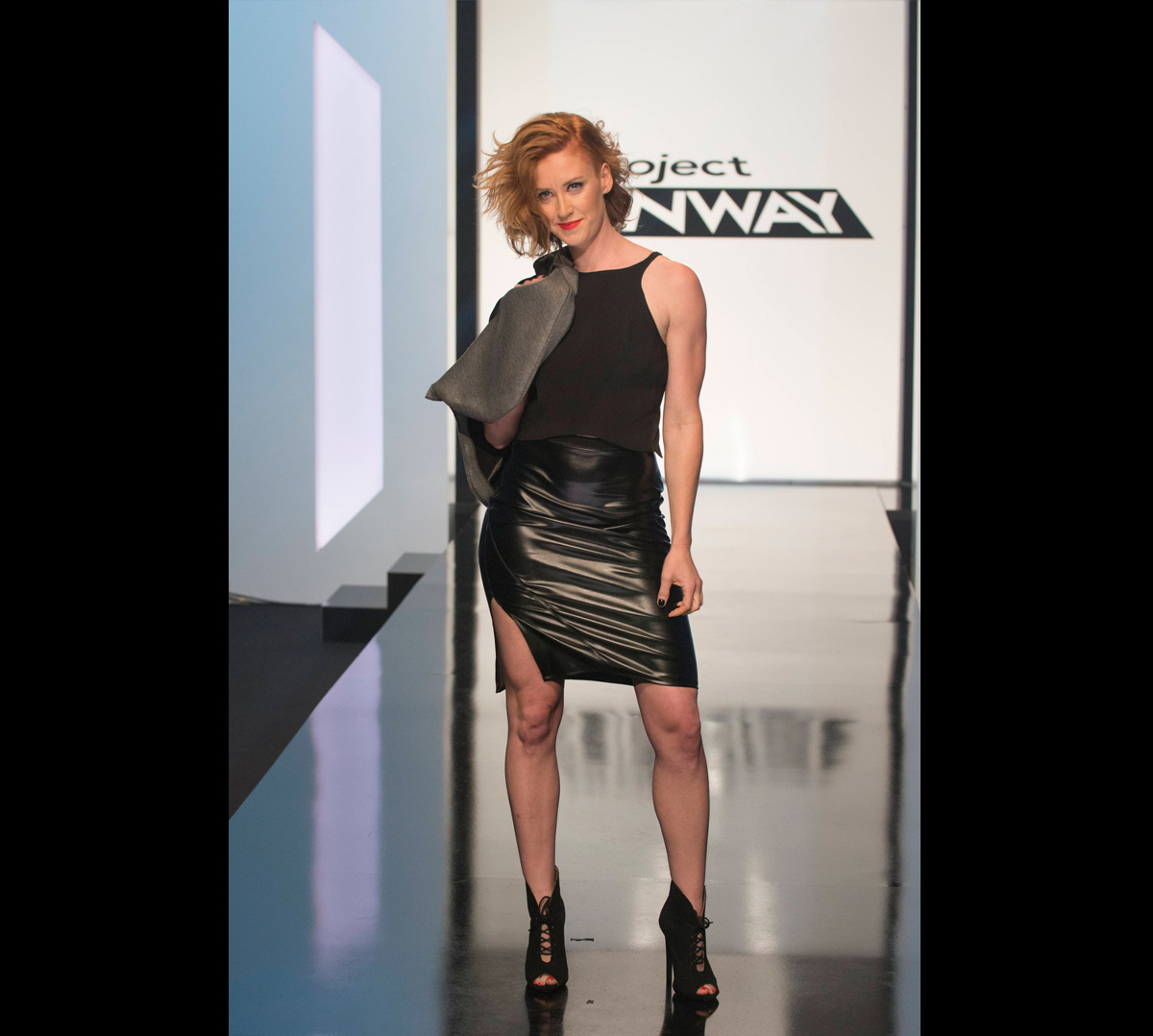 Edmond Newton's mesh-bodice dress and raincoat. This look had promise: The dress fit well, and the embellished mesh bodice was interesting. The raincoat looked good, too. But the pieces didn't go together convincingly, and there were too many design elements fighting with each other. Nonetheless, the dress and coat looked well-sewn, and Desiree, Edmond's cllient, had a fabulous hair and makeup makeover.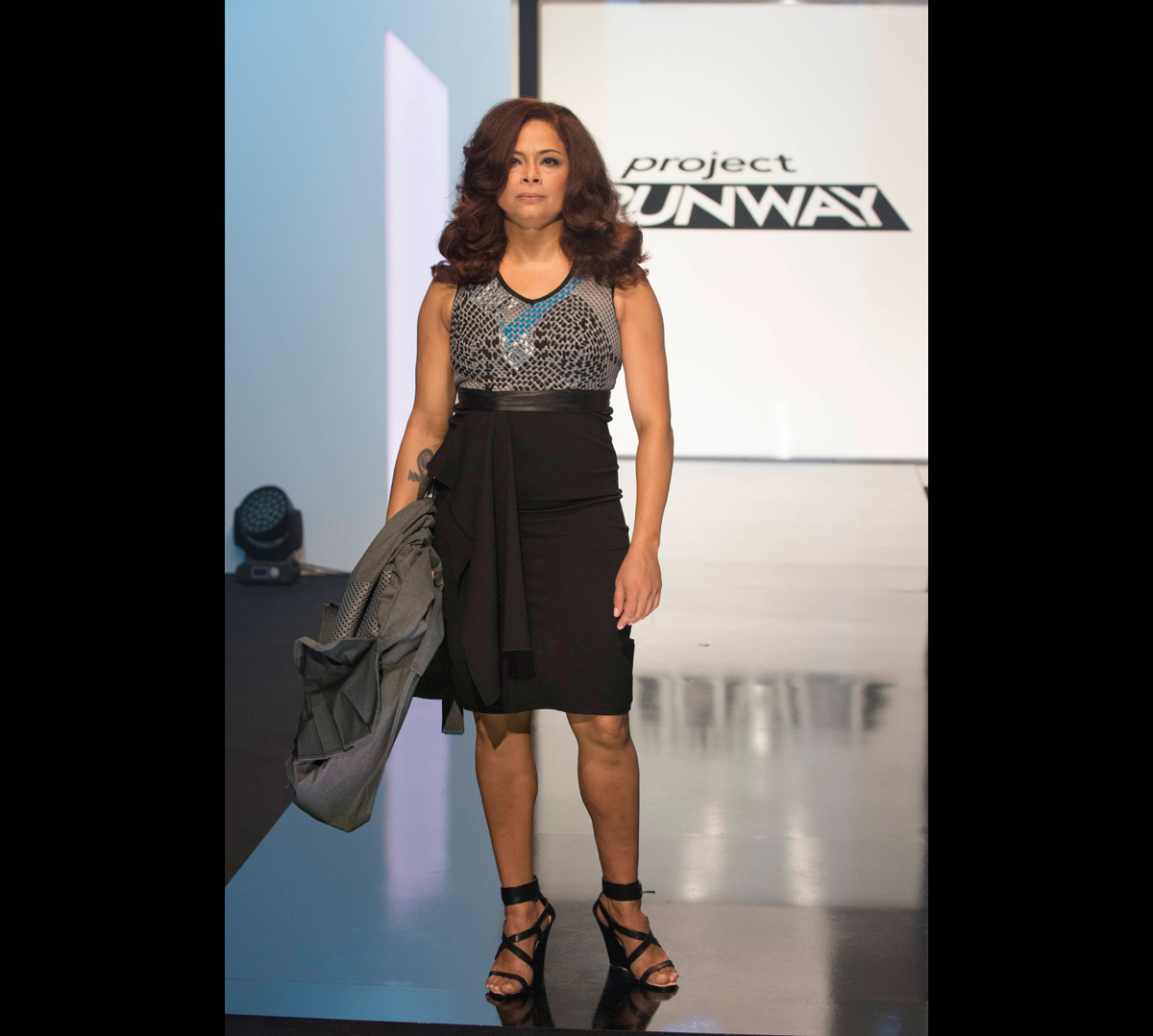 The loser
Swapnil Shinde's pale blue cape-back top and black skirt. Given the communication failures between Swapnil and Jennifer, it's a relief that there were garments to be worn on the runway, even though they were tied, pinned, and practically stapled together. Still, they were very much not Jennifer's style. Her hair and makeup were gorgeous, though, and in this outfit, it was clear that she has a great figure. She came across as something of a tomboy, so it would have been nice if Swapnil had found a way to keep that in mind, while showcasing her assets. Despite all the tsking over his "great talent," it seemed right to send him home this week. He's been so unfocused these past few weeks that it was time for him to go.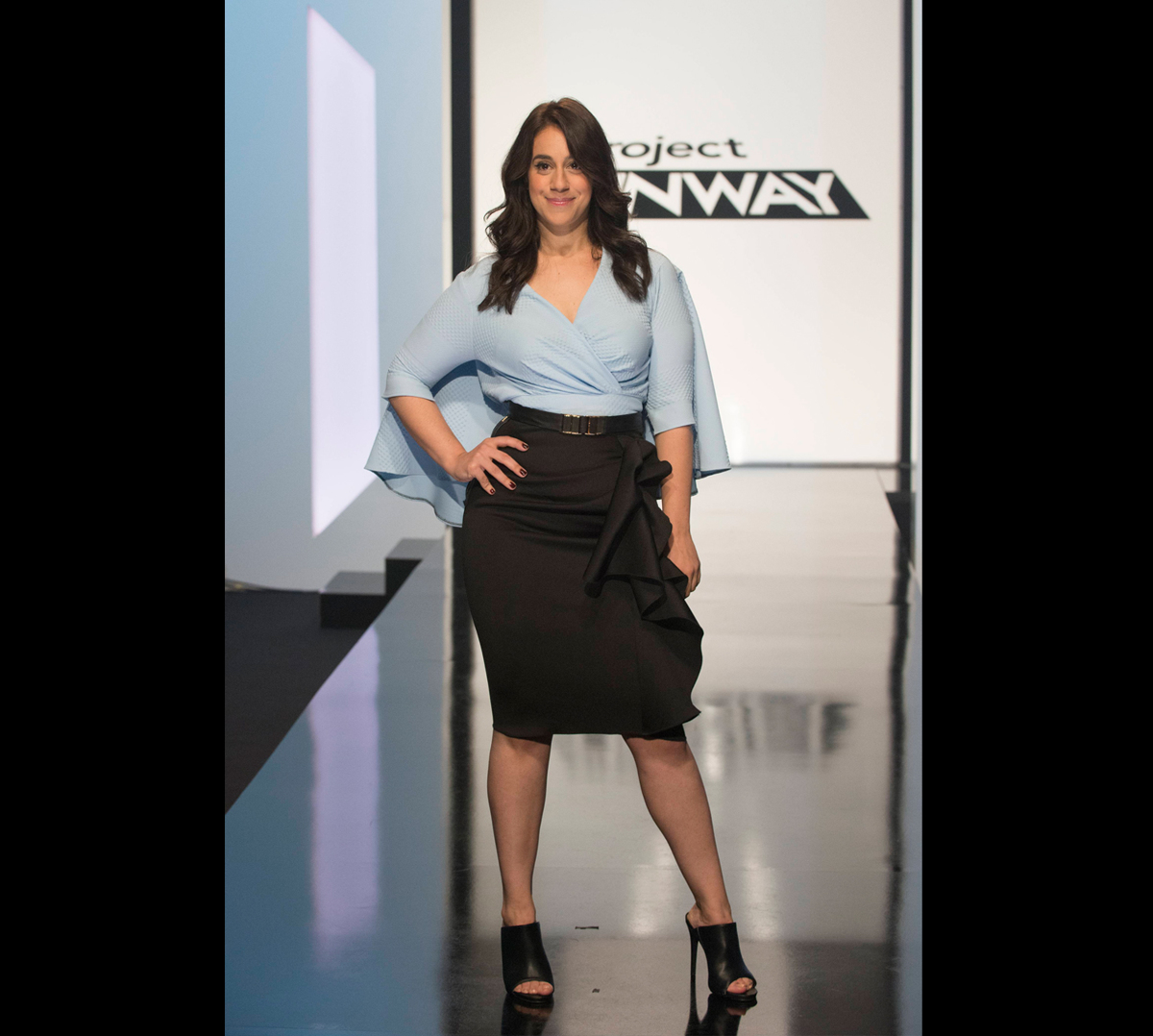 The remaining bottom two
Ashley Nell Tipton's print peplum dress for Nicole. Nicole was so pleased to be paired with Ashley, who has a talent for dressing those who are plus-sized. Alas! This match seemed preordained for success, but it wasn't to be. The judges disliked the fit, proportions, print, and silhouette. Yikes–there wasn't much left to praise. Ashley wasn't too happy, either. It's a shame. Nicole looked really pretty on the runway. I liked the closer-fitting silhouette on her (compared to Ashley's original design, with a full skirt and off-the-shoulder neckline).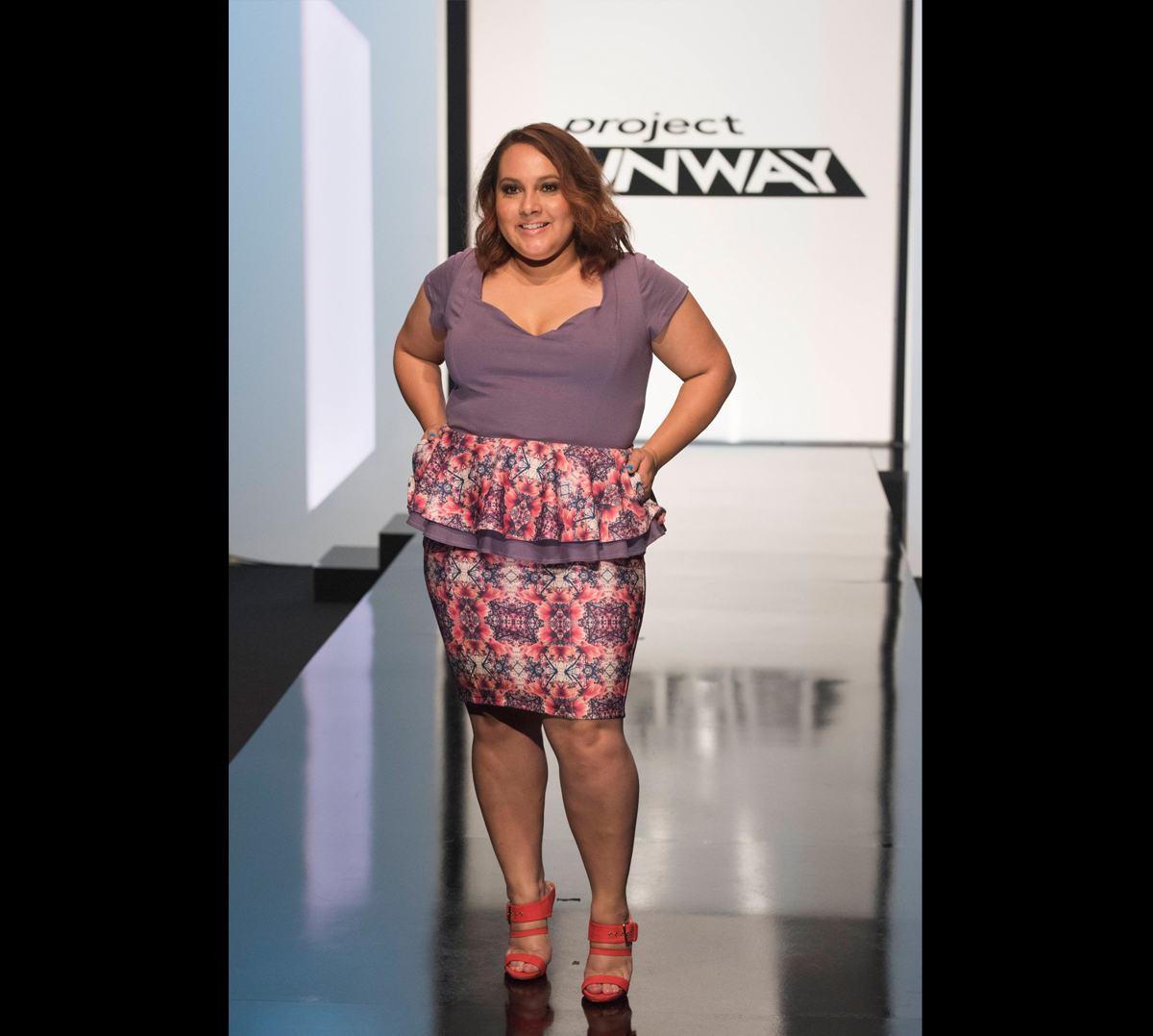 Candice Cuoco's black and blue bustier and skirt with sheer wrap, for Monique. I can't figure out how Candice when so far off the deep end with this one. Even she admitted that she should have edited much better. The judges couldn't decide whether this looked more like the red-light district or Comic-Con. There was something almost funny about how wrong this was on Monique. She's obviously a woman who has her act together and isn't afraid to step out of her comfort zone, but this was a bridge too far. Instead of looking edgy and elegant, she looked cheap and try-hard. This was a rare miss for Candice, who thus far has done a remarkable job of keeping her vision as a designer while attacking each challenge on its own terms.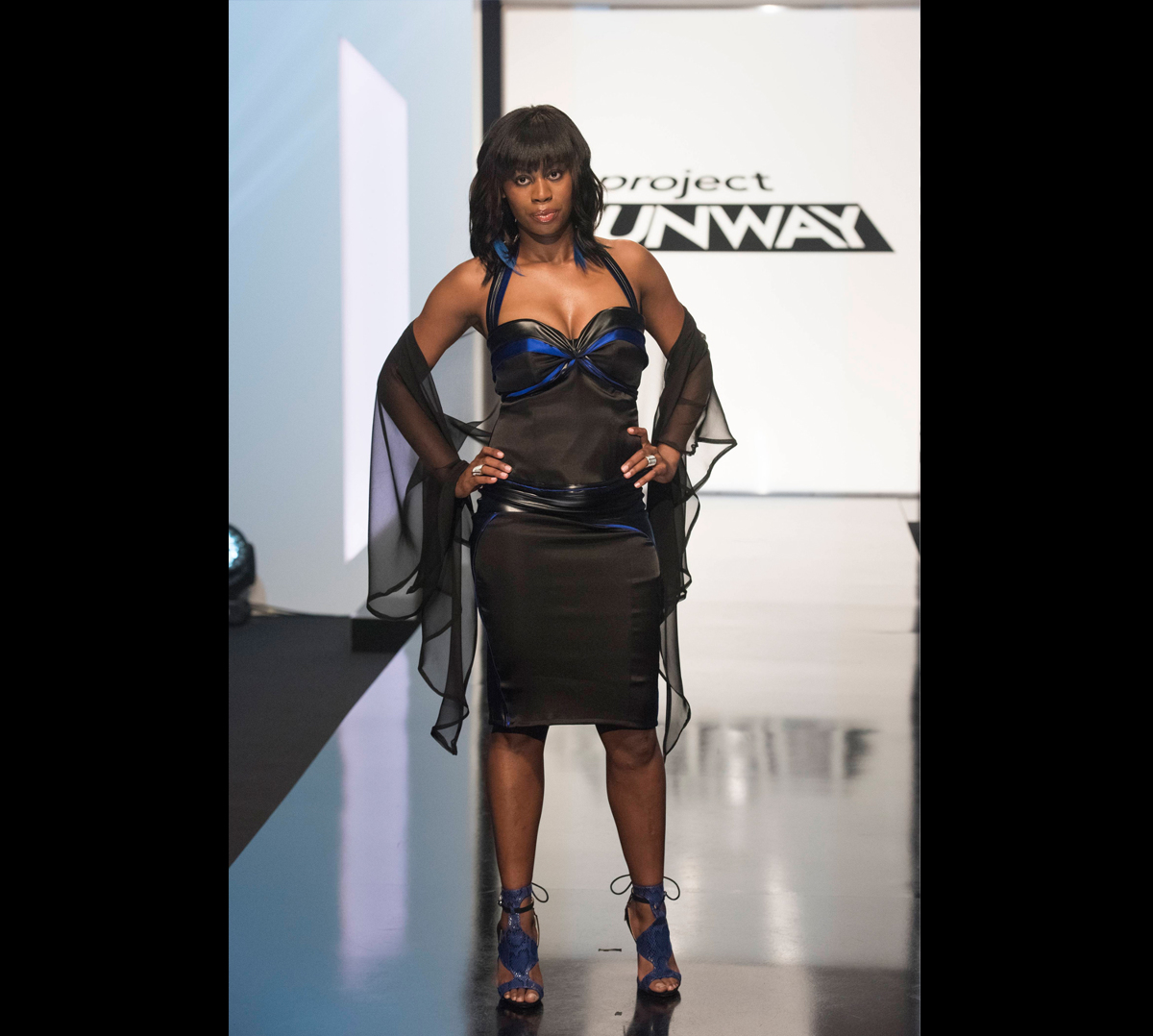 Which outfit did you like best? Did you think the designers did a good job of working with their clients? And did you notice that, for the first time ever (I think), not a single designer complained about having to dress a body that wasn't a 6-foot-tall size 2? That was refreshing, and showed a certain respect for the "real women" who might, eventually, buy the designers' clothes.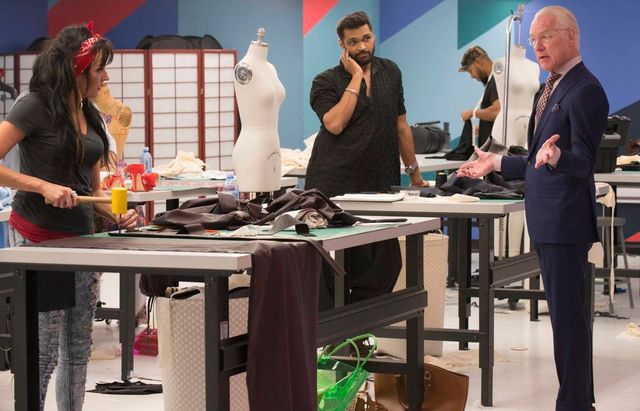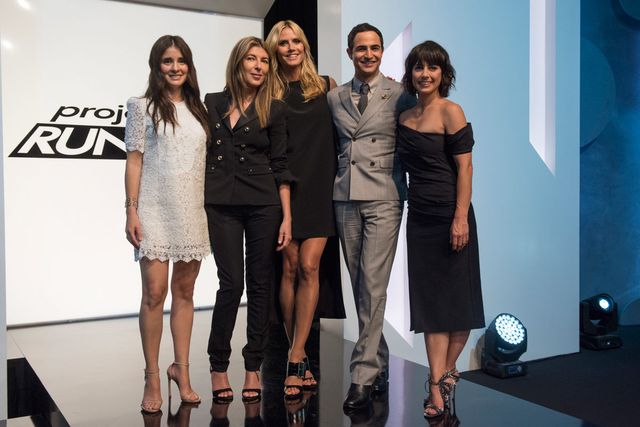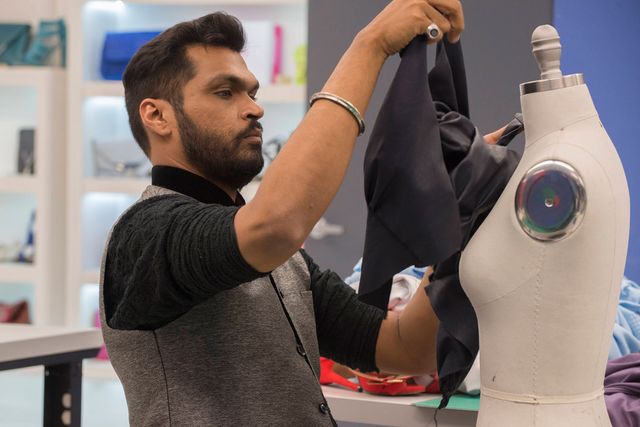 Swapnil Shinde in the workroom.