Project Runway, Season 14, Episode 6: Lace to the Finish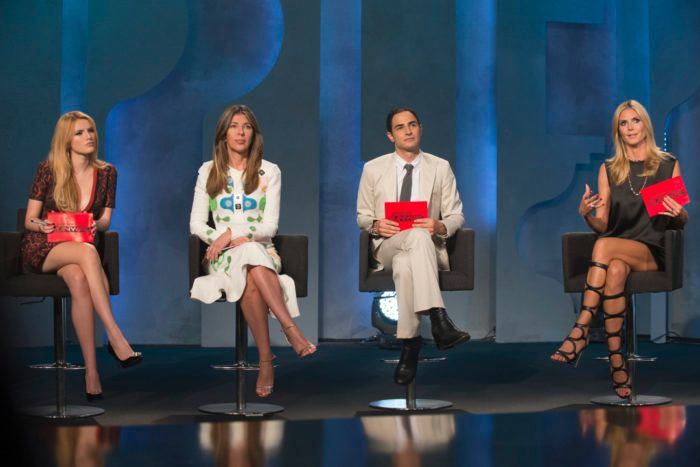 Make your way to HeidiKlumIntimates.com immediately and (for $95) you can buy a replica of this week's winning look. Yes, this was the Heidi Klum-product-placement challenge, in which the designers were charged with creating a lingerie look to be manufactured and sold as part of Heidi's intimates collection. As might be expected, the women contestants were mostly pleased with the assignment; the men were, to varying degrees, nonplussed.
What was more surprising was how long it took for the contestants to produce these miniature bits of clothing. If you've ever sewn underwear, you know that it's much quicker than you'd think. The seams are very short, the edges are typically finished with sewn-on elastic, and the stretch fabrics make for a forgiving fit. Designing lingerie is probably more difficult, though.
In this challenge, the designers were provided with assorted bra styles from the collection to use as the foundation of their own looks, so they didn't even need to drape or pattern a bra. This head start didn't seem to help much, and many of the designers were working up to the last second to send a complete look down the runway. There appeared to be a lot of hand sewing, which suggests that most of these contestants had never attempted to sew lingerie before.
No Mood store fabrics this week, by the way. Instead, fabrics and trims were supplied from Heidi's collection. Has Mood banned Project Runway from the store? Did Swatch bite Tim in the ankle? When will we once again see the designers pant and sweat as they drag rolls of fabric to the cutting table?
Heidi's critique, and The Twist:
This week, Heidi accompanied mentor Tim Gunn on his rounds in the workroom and shared her opinions freely, as is her wont. Heidi's experience as a Victoria's Secret model prepared her well for this fashion niche–check out her collection and you'll see that she offers some pretty underpinnings in lovely colors and styles. I wish I'd seen these before watching her critique the designers' looks; now that I have seen her collection, I understand more where she was coming from in some of her remarks.
Workroom "highlights" (if you can call them that): Princess Blakey confesses to knowing nothing about ladies' lingerie (quelle surprise); Jake admits to wearing ladies' lingerie (as Tim says, TMI!); Swapnil "prays to 10,000 of his Indian gods" (at least I think that's what he said); and Lindsey has a scissors accident and has to run out for stitches and a tetanus shot (this was an actual disaster, and I hope she incurred no permanent damage).
After visiting with the designers, Tim and Heidi called them onto the runway, where they discovered a pajama party set-up … and were informed of a twist: They must design and sew a cover-up for their looks. The good news to counter this bad news was that they had more time, and could stay up all night in their pajamas (provided for them) and have a slumber party. No one looked too swift upon being awakened by "Grandpa Tim" the following morning. Tim was impeccable, though, in his pajamas and robe with pocket square.
Runway day:
It was off to the runway, where Heidi greeted the designers with an evil cackle about how she "loves a twist." This week's judges were Zac Posen and Nina Garcia, accompanied by guest judge Bella Thorne. If you haven't heard of Thorne, she's a 17-year-old actress and former Disney property and just about the last person you'd expect to find judging a lingerie contest on Lifetime. I shudder to think what life is like as a teenage Disney actress, because Bella really seemed to know her way around a thong and balconnette bra. All kidding aside, her comments were smart, and she offered constructive criticism that made sense.
The winner:
Merline's black lace strappy bra and boy short-style bottom (sold as a thong on Heidi's website). To be honest, I and my cohort of viewers at home hated this look. The bra cups are disproportionately tiny, especially when framed by the straps; the straps look wonky and uncomfortable; and the panty is an awkward shape. When Merline was not sent to the green room as "safe," I was sure she was in the bottom three. She did make a suitable cover-up in black charmeuse, and this elevated the whole look. Viewing the photos after the show, I see more merit in the pieces, but would not have chosen it for the win. The judges, however, found it effortless (huh?!), interesting, unusual, sexy and empowering, suitable for layering under a tank top (if your day job is on a Disney kids' show, I guess), and fashion-forward.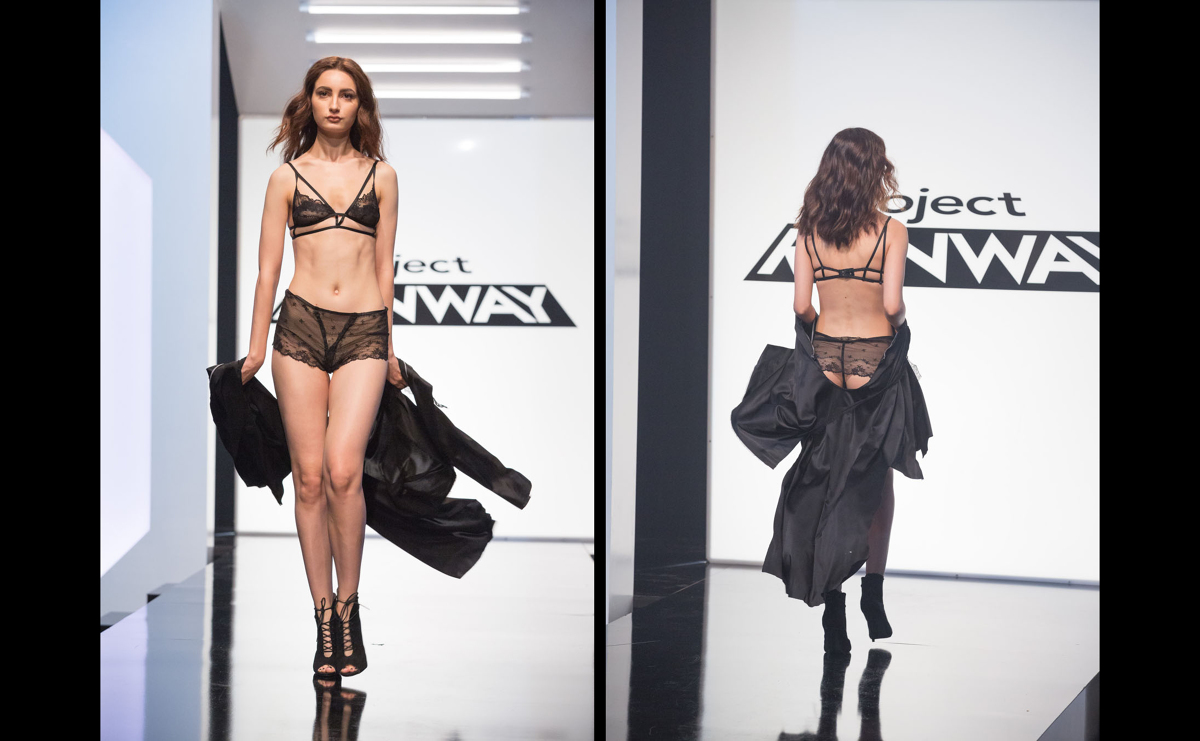 The other top two:
Swapnil's "bridal" set, consisting of a white bra with lots of interwoven straps and a coordinating strappy, lacy thong, covered by a white drape. Heidi considered this the "showstopper." Nina described it as powerful, and more fantasy lingerie than practical–and it made her think of Khaleesi and her dragons from Game of Thrones. Indeed, there is a strong attract/repel element in this look, which struck me as a little odd for bridal undergarments. All this was the result of endless angst about how Swapnil was going to obtain sufficient numbers of white elastic straps to construct the look.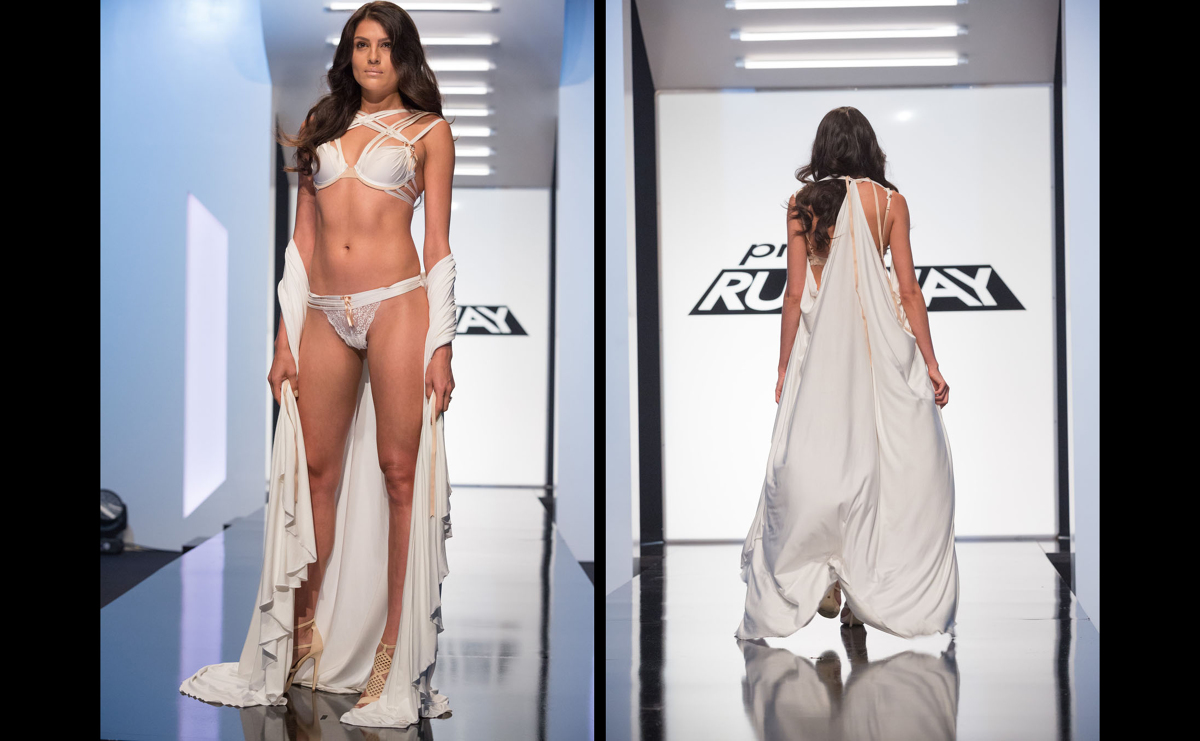 Ashley's lavender, lace-trimmed set with cute gray short robe. I really liked this look: It's pretty, wearable, somewhat unusual in its use of trim and "framing" (which seems far less awkward and uncomfortable than Merline's), and sellable. In fact, Ashley talked intelligently about how it's important to consider a plus-sized customer who will want some support and coverage in a bra, and she designed accordingly. The judges remarked that this was sporty and feminine, sweet, classy, young, sexy, and well-proportioned.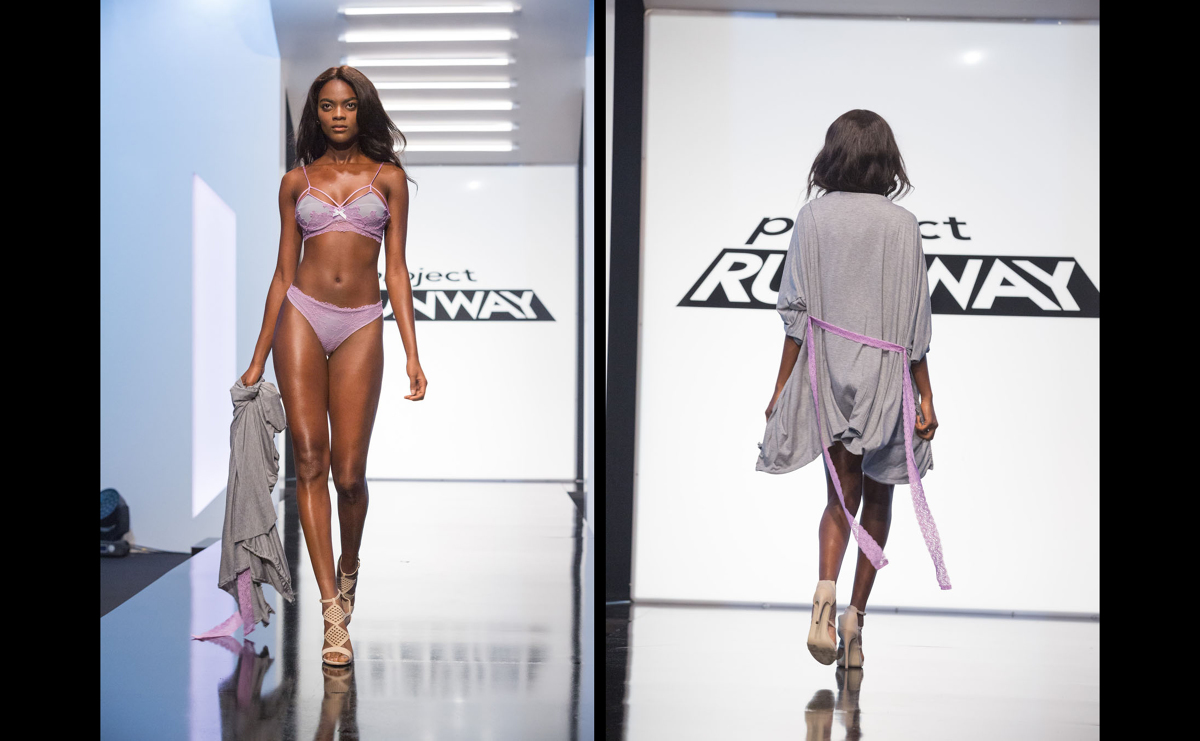 The loser:
Princess Blakey's hideous pink set with a scrap of white fabric as a makeshift sarong. It is ugly, unwearable, dated, and unflattering to the body. Blake tried to sell this as "sporty meets French," a puzzling pairing of terms I have yet to figure out in relation to his look. I won't even go into the ways in which this did not do justice to the model–the photos speak for themselves. I'm a little sorry to see Blake go, but this was hands down the worst look, and there was no way to justify keeping him.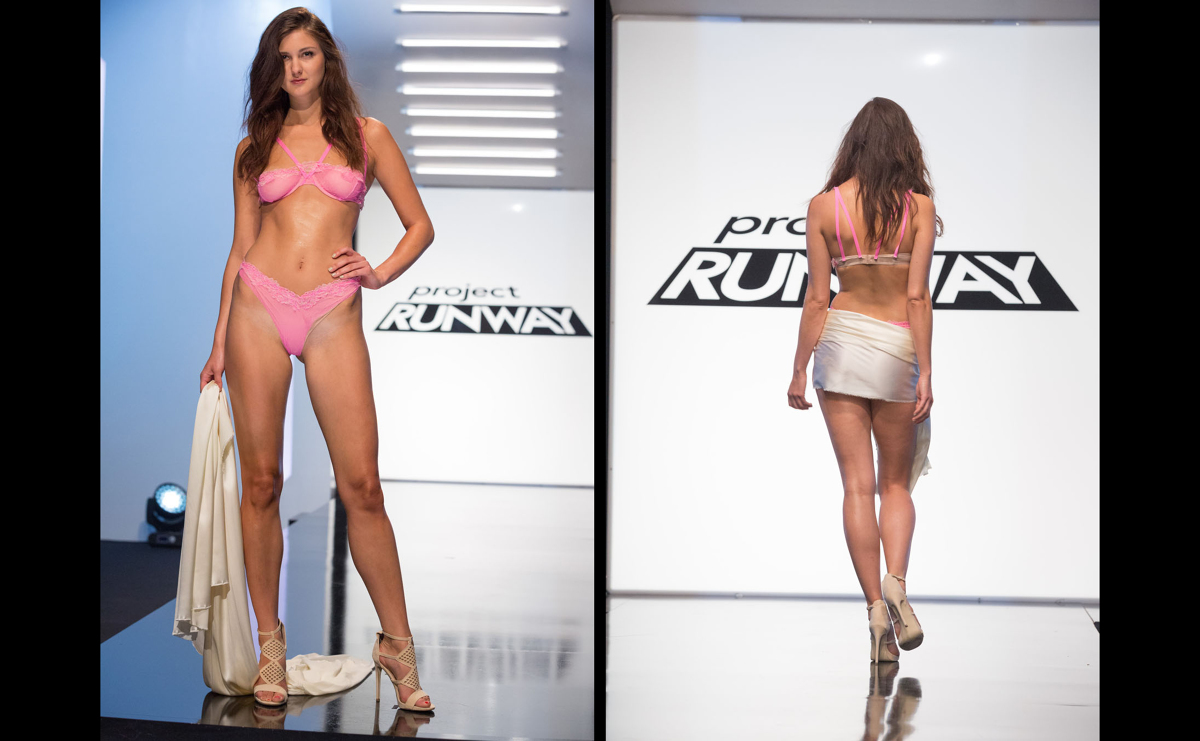 The other bottom two:
Jake's polka-dot set with double side straps, and "sarong" cover-up. Zac saw no imagination here, and all the judges agreed that the straps were problematic, causing unsightly bulges even on the slender model. It turns out that Heidi sells a polka-dot bra similar to this in her collection, but less fussy and complicated. While I didn't love this, it could have fallen somewhere in the middle, meaning there were other looks I thought were worse. I also had to award Jake extra points for being sensitive to his model, who did not want to parade around in a thong. The panty he made might not have pleased the judges, but it was kind of him to provide more coverage (not that his model had anything to worry about).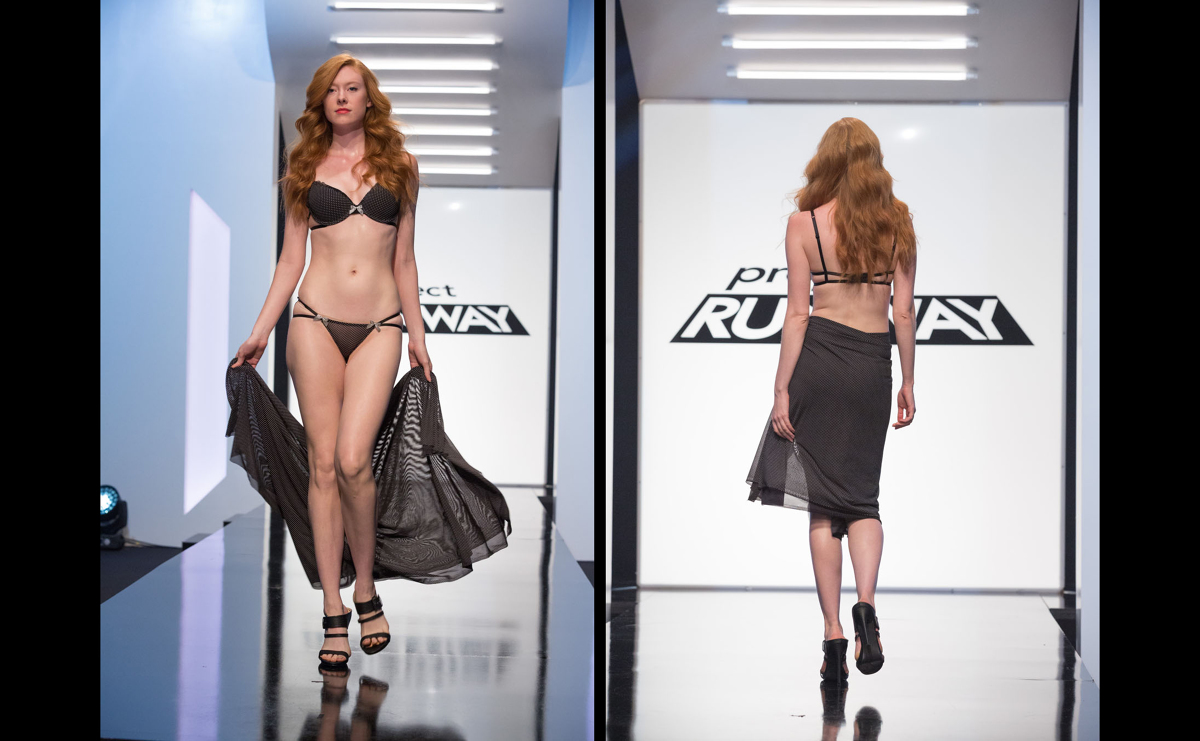 Laurie's fuchsia and navy set with dramatic navy cover-up. Heidi liked the bra with its fuchsia knot at the center, and the color combination was pretty. The panty was deemed too high-waisted and big, too dated, and badly engineered with a center-front seam. The odd elastic straps at the waist were an interesting attempt to relate the bottom to the top, but made the garment difficult to wear under clothing.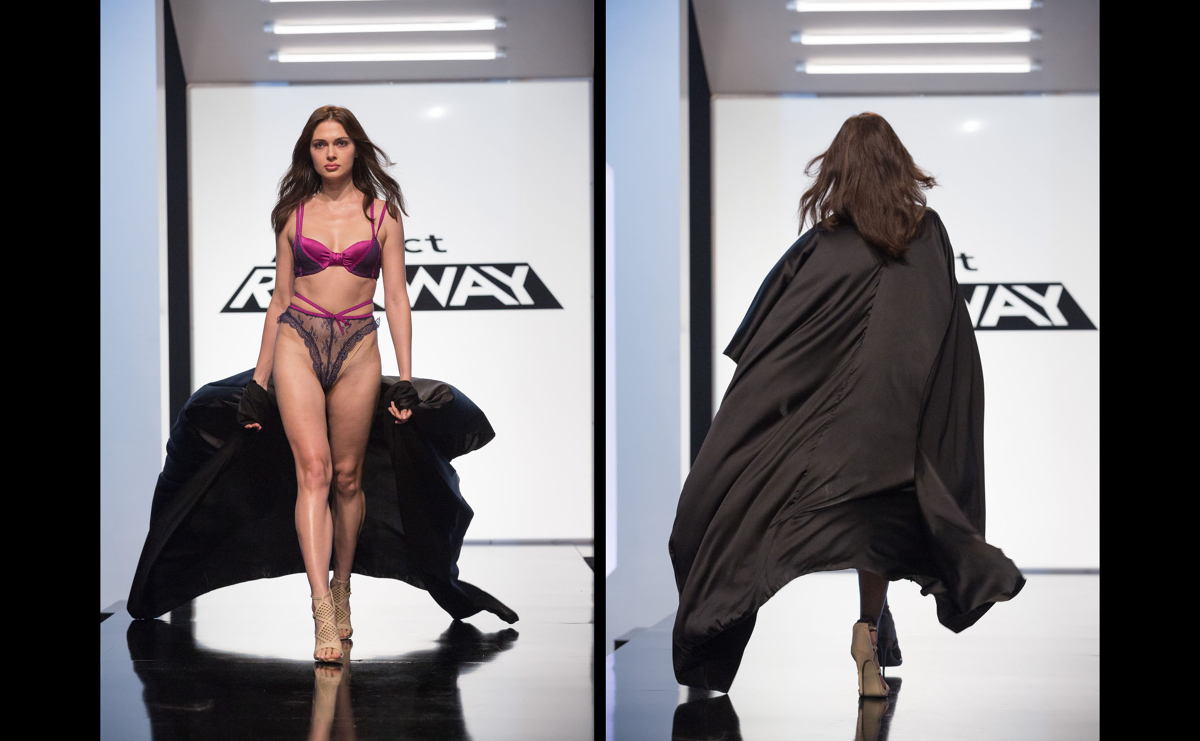 The remaining looks:
Candice's black mesh set with "garter belt" and black wrap cover-up. Heidi seemed intrigued by this during her workroom critique, warning Candice to be classy, and not too S&M. No whips. This looked unimaginative to me, although Candice was trying to be clever with the faux garter-strap contraption. However, since when is an elastic band around the thigh remotely decorative or attractive? Or comfortable, for that matter?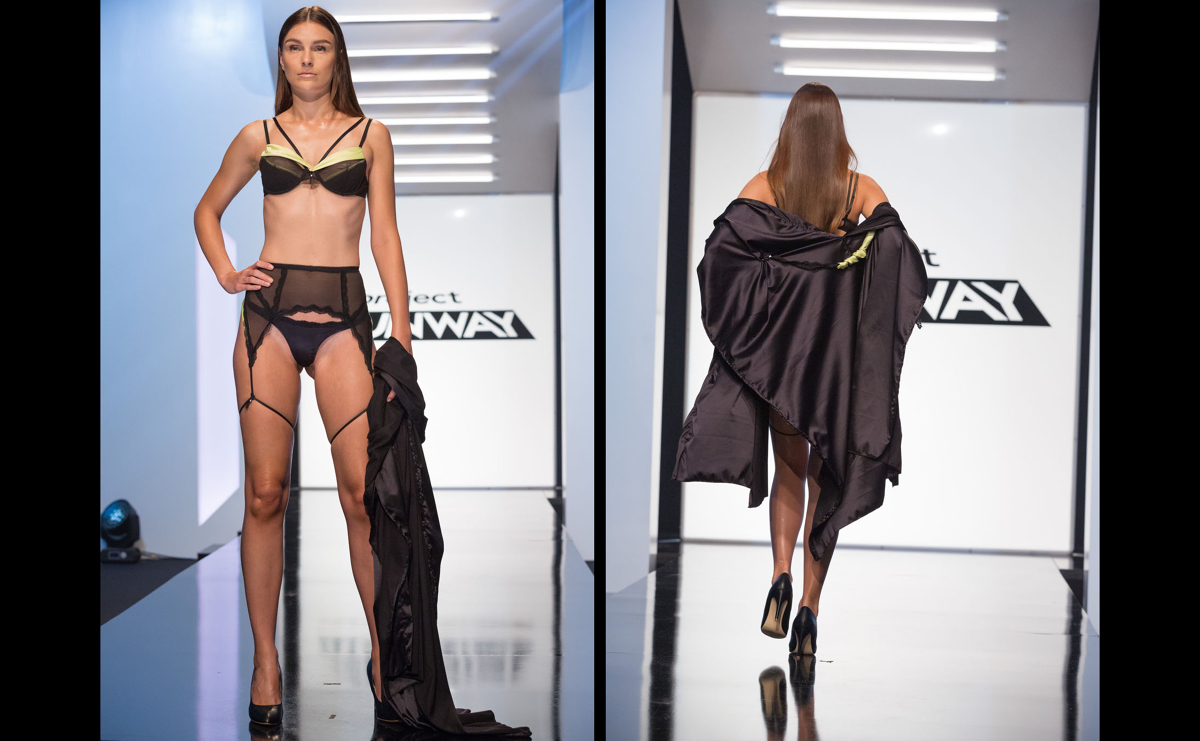 Edmond's purple lace set with plum kimono. This was fairly standard, but plausible, and compared to his original look (which earned him the nickname of "Captain Tacky" from Heidi), this is positively sedate and sophisticated.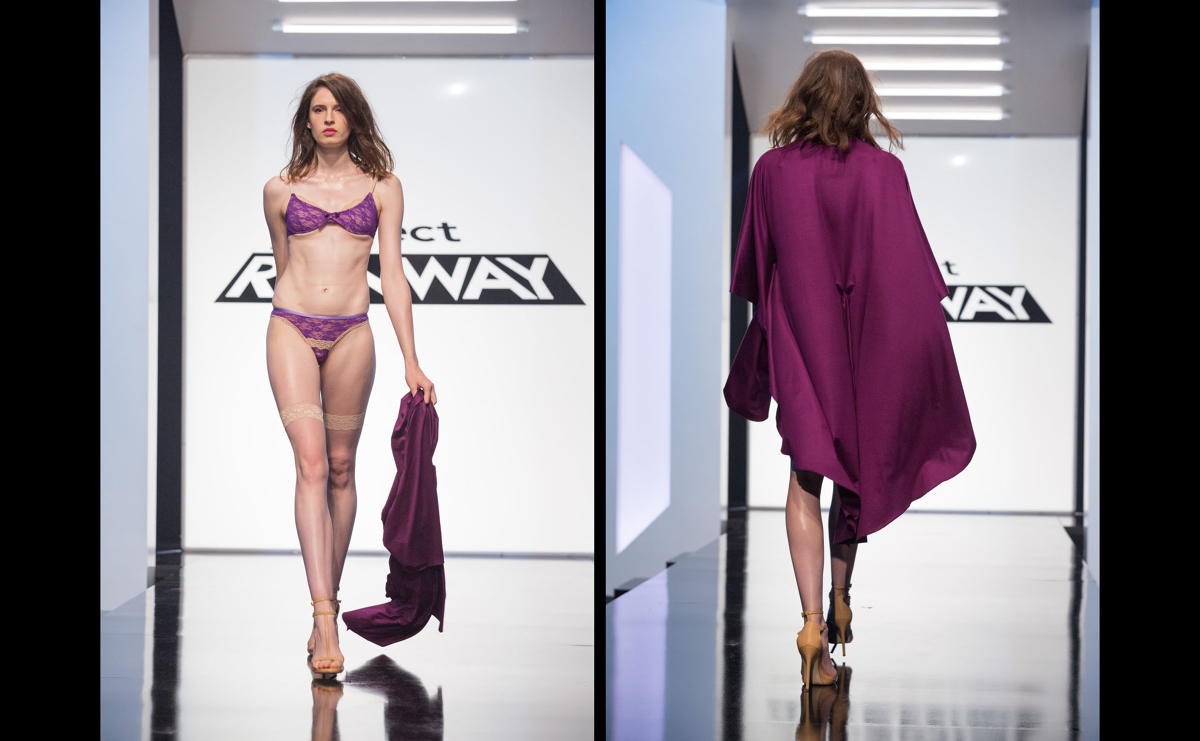 Joseph's gray and coral look, with coral poncho-type cover-up. Despite Heidi's warning to avoid a matronly look, Joseph has, once again, turned out an ensemble with very little sex appeal. Not that it's bad. In fact, it's one of the more practical sets, and, up close, it seemed to have some nice trim details. Also, Joseph tried to take into account current lingerie styles when planning the style of panty, unlike Laurie and Blake.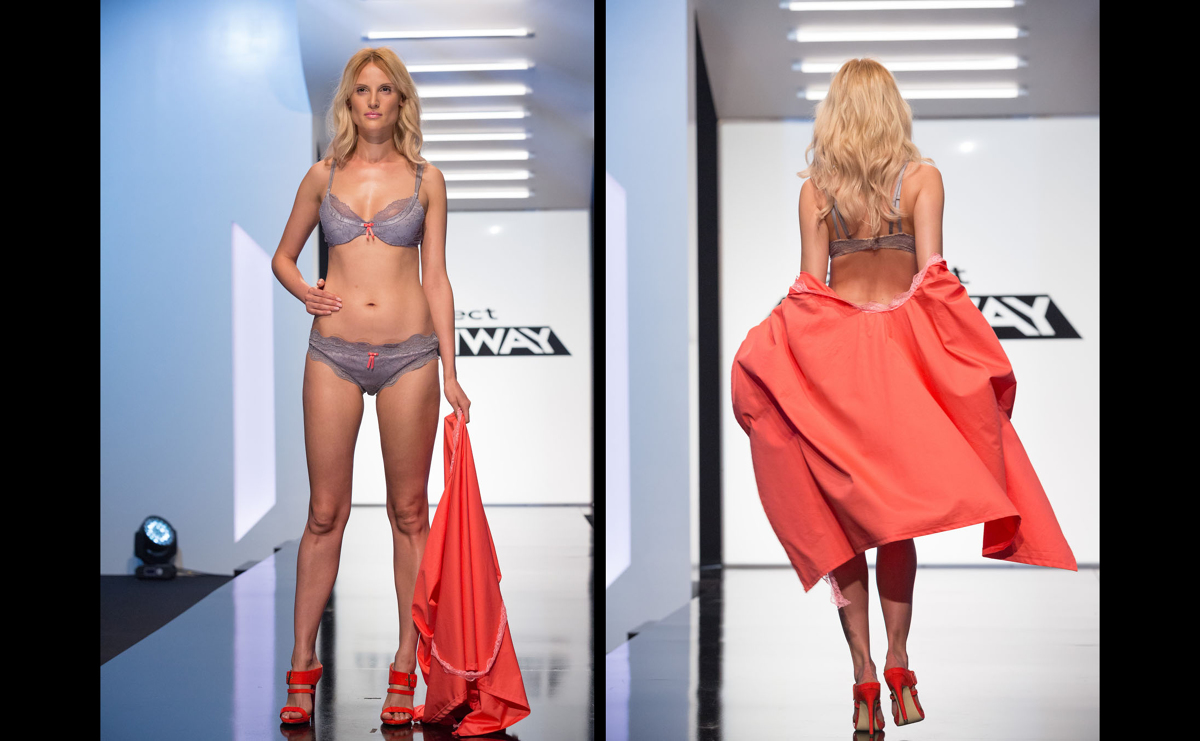 Kelly's lavender and yellow set with hooded, leopard-print cover-up. This was my favorite of the episode, and I was shocked that it didn't make the top three. Kelly cleverly layered several fabrics and trims to arrive at a fresh, pretty, yet sporty look. Her model's athletic physique was perfect for this style. To me, this was the most innovative look on the runway, and one that might have worked well with the Heidi Klum brand. Kelly was robbed. She should have won!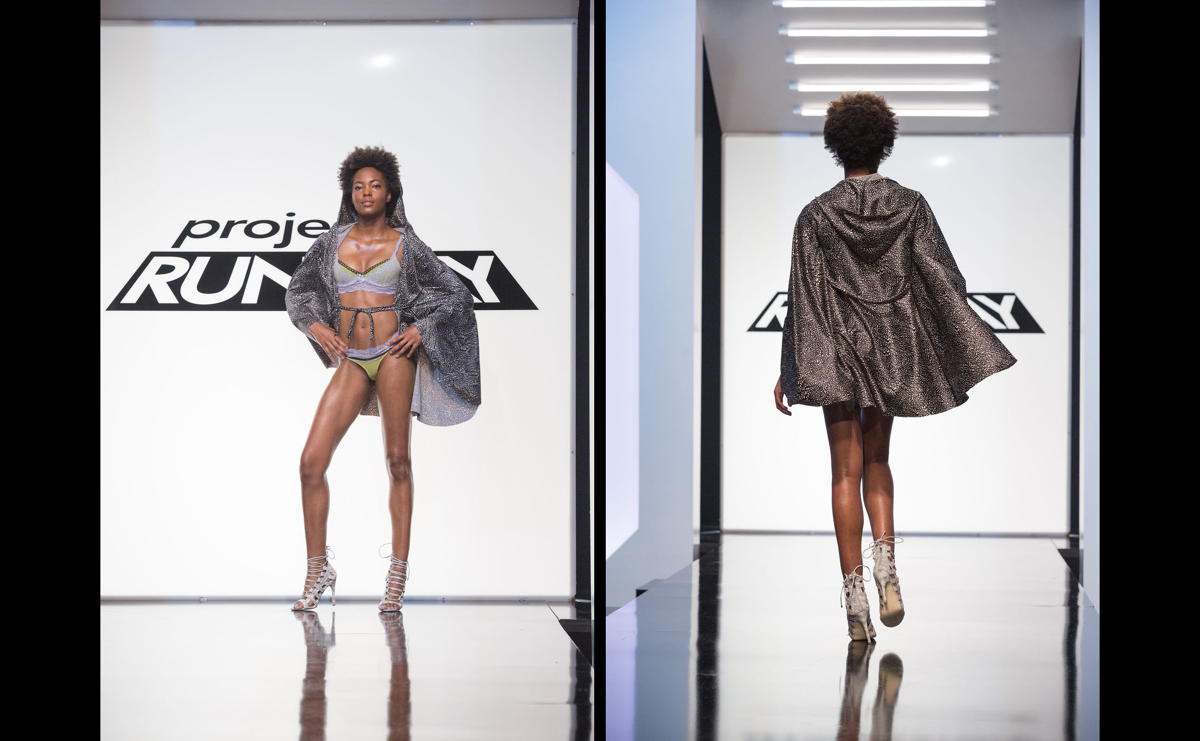 Lindsey's blue bra and panty with peach "boyfriend shirt" cover-up. Like Merline's look, this one seemed visually out of proportion to me: miniature kitten-ears bra over boxy granny-panty bottom. It made her model look flat-chested and hippy–and most women want to avoid that silhouette. In fact, I don't know how anyone over a double-A cup size could consider wearing this bra. Nonetheless, the garments appeared well made, so Lindsey was justifiably placed in the middle.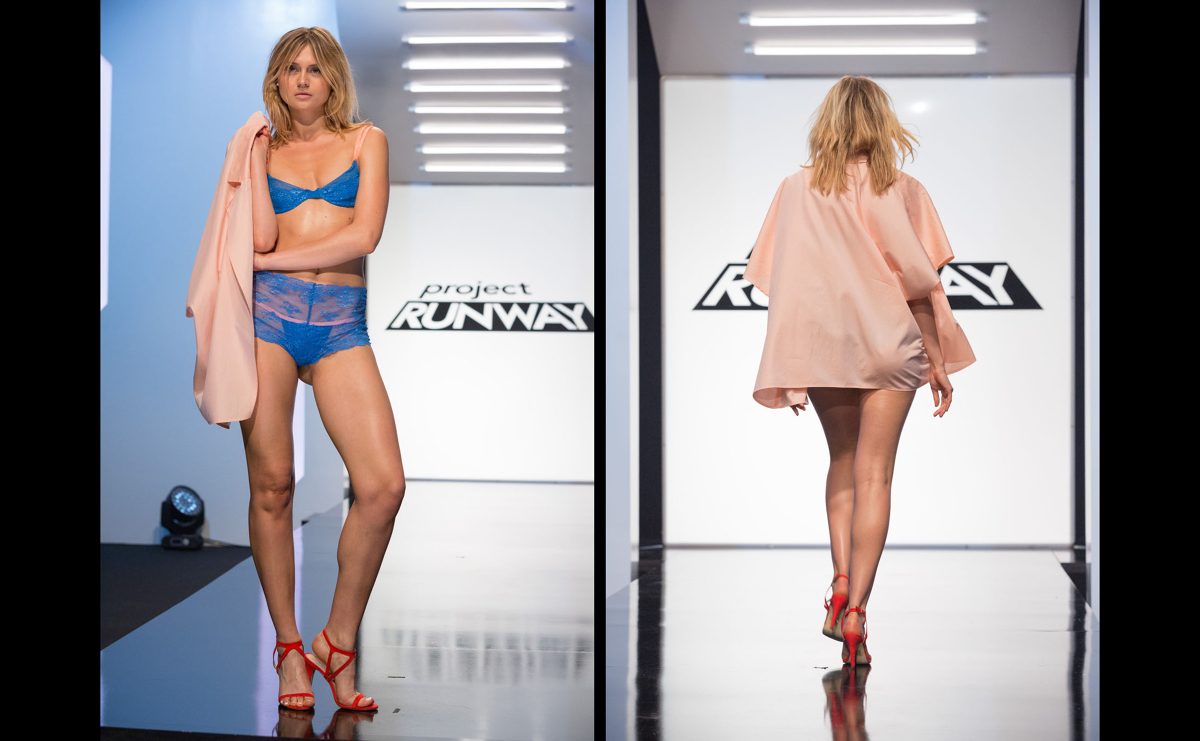 Before I sign off, I'd like to applaud the models, who bared nearly all for this challenge. Striding the the catwalk in lingerie is one thing, as is posing for a Victoria's Secret catalog (with all the attendant photo touch-ups, we can assume). Having a television camera do a tight zoom the way Project Runways' did this week is something else entirely. I hope all the models treated themselves to a cocktail or at least an ice cream cone when this was over. And I hope next week they get to wear stunning evening gowns.
Have you ever sewn lingerie? Did you find it difficult? Did you agree with the judges' decisions? Let us know below. If you want to learn more about making bras, click here.

Photos courtesy of ProjectRunway.com and A&E Networks.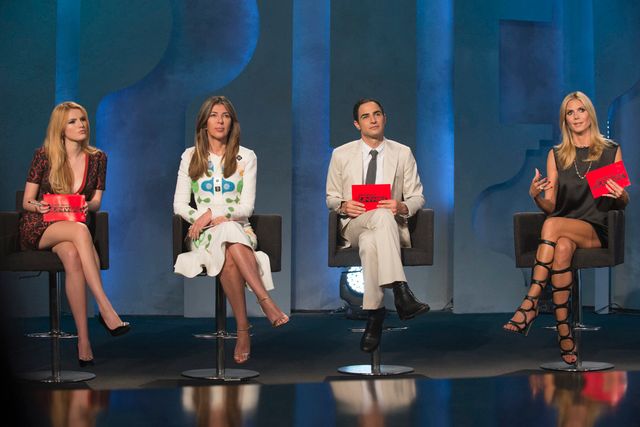 This week's judges (left to right): Guest judge Bella Thorne, Nina Garcia, Zac Posen, and Heidi Klum.