Pantone Picks Two Colors of the Year for 2016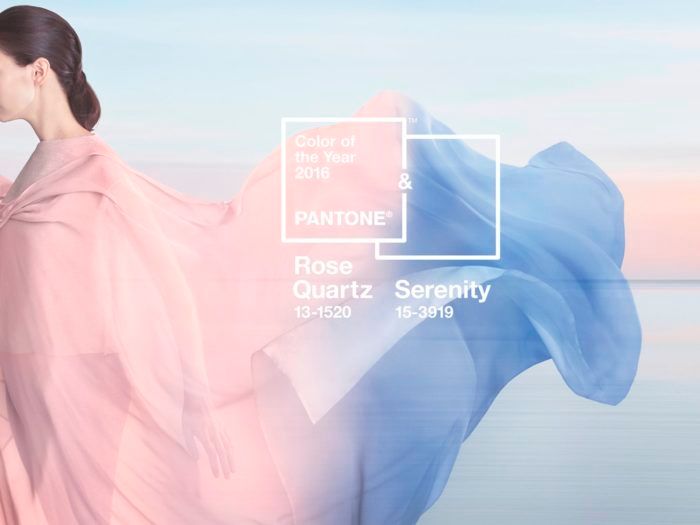 The new year is upon us, and there's a lot of sewing to look forward to in 2016. Perhaps you'll even sew a few things with 2016's Colors of the Year. That's right: colors, plural. For the first time, two colors–not one–are the "Color of the Year," according to color trends forecaster Pantone. The pairing of warm, pale Rose Quartz and soft, gentle blue Serenity was the most prevalent color combination sent down 2016 fashion runways by designers.
Not only does this color combination echo the hues of sunrise or sunset, it also strikes a visual balance between warm and cool that soothes the senses and instills a feeling of peace and security. With their visual connotations to sunrise and sunset, Rose Quartz and Serenity are also emotionally uplifting. According to Pantone's color trend forecasters, designers' generous use of Rose Quartz and Serenity in combination reflects consumers' growing need to disconnect from modern-day stresses and the need for reassurance and security.
To be sure, Rose Quartz and Serenity sit comfortably within the pastel spectrum, and pastels are not everyone's cup of tea, regardless of gender. Despite designers' partnering of pale pink and blue, they're not inseparable. So if one strikes your fancy, but the other leaves you cold, there's no reason to think that you must use both (or either).
Color trend reports are always open to interpretation and they certainly are not blanket mandates. No one is going to force you to incorporate the Colors of the Year into your sewing if you don't like them or feel they don't flatter you. On the other hand, mixing one or two items in Rose Quartz or Serenity into your outfit rotation could give you a new perspective on your wardrobe. After all, fabric stores will be stocking these two hues, as well as the other colors in the 2016 palette (more on that in a later post).
Here are some fabrics already available from online vendors in Rose Quartz and Serenity: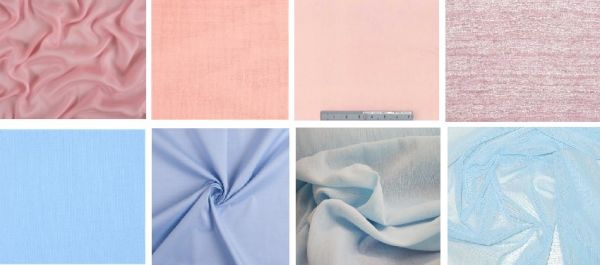 First row (left to right):
Mood Ralph Lauren Blossom Pink Silk Satin-Faced Chiffon
Fabric.com Cotton and Steel Double Gauze in Peach
Gorgeous Fabrics Stretch Wool Twill in Crystal Pink
Emma One Sock Variegated Viscose/Wool Sweater Knit in pink and white
Second row (left to right):
Fabric.com Kaufman 21-wale Corduroy in Cloud
Mood Light Blue Pinpoint Oxford Pima Cotton Shirting
Vogue Fashion Fabrics Baby Blue Cotton Gauze
Emma One Sock Baby Blue Power Mesh
What do you think of Rose Quartz and Serenity? Are they too child-like? Does it make sense to have paired colors of the year instead of just a single color?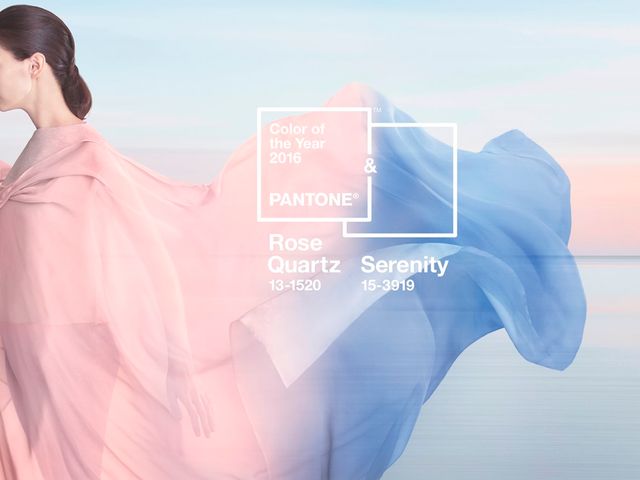 The 2016 Color of the Year is actually two colors: Rose Quartz and Serenity.