Project Runway All Stars: Season 5, Episode 12 – "Prince of Prints"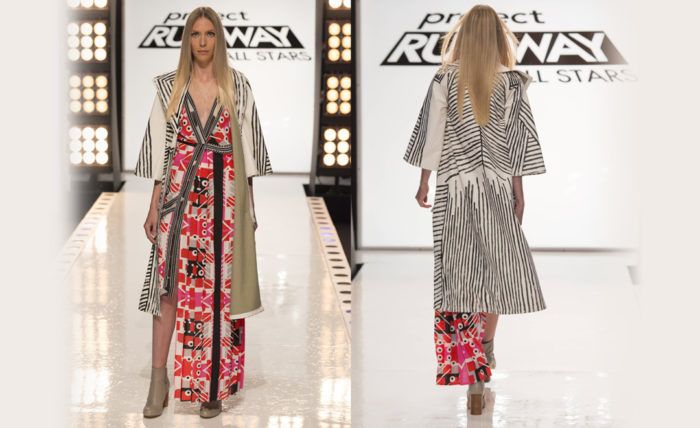 This episode had an oddball start. The designers were given a lecture by host Alyssa Milano about how technology has influenced fashion and were introduced to Barbara Meyer, a representative from Otterbox, a manufacturer of heavy-duty cellphone cases. Would the designers be making phone cases? Tablet cozies? Fitbit embellishments? No. This simply led up to the announcement of the custom print design challenge. Hooray! This is always a favorite of mine, as it gives the designers a chance to show their talent for creating a novel, interesting, and wearable patterned textile.
The winning designer's print will be manufactured on an Otterbox phone case and sold worldwide.
It's no surprise that Dom, who has excelled all season at combining prints, was excited by the challenge; on the other end of the spectrum, Ken was sweating anxiously, as he never works with prints. Meanwhile, Ken apologized to Sam for bullying him last week, and the two shared what appeared to be a sincere make-up hug. Redemption!
The guest judge this week was Nina Garcia, whom all the designers were happy to see. Dom, Kini, and Ken had worked with her on previous seasons of Project Runway, and they acknowledged that she's a tough but great critic. Sam was especially thrilled to meet her for the first time, and she was in very good form on this episode.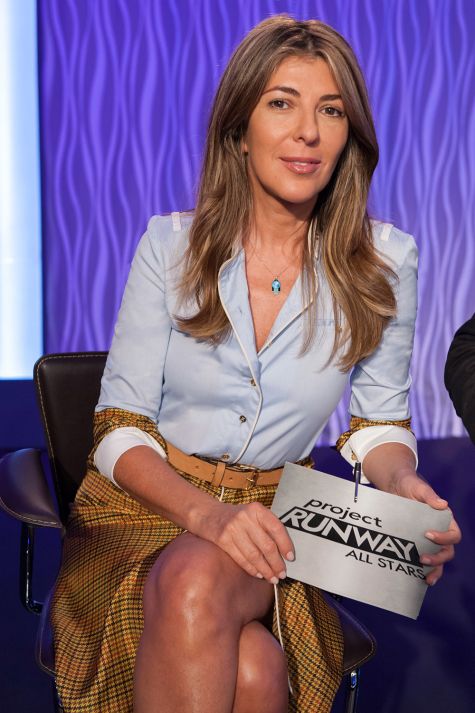 In addition to their own prints, the designers were given $150 to spend at Mood Designer Fabrics on coordinating textiles, at least one of which was meant to be another print. The challenge was described as being about "print on print," a phrase I didn't understand. Printing one print over another, perhaps? It turned out to mean "multiple prints combined in a single look." Once I figured that out, I was eager to see what the designers would come up with, because at the moment, I'm working with Threads contributing editor Kenneth D. King on an upcoming article about combining prints successfully. Stay tuned for #188 (December/January 2017) to find out what makes an effective print mash-up.
In the workroom, the contestants received a surprise visit from previous All Stars winners Mondo Guerra, Seth Aaron Henderson, Anthony Ryan Auld, and Dmitry Sholokhov. The alums gave each designer a minicritique and a pep talk, resulting in some rare moments of camaraderie.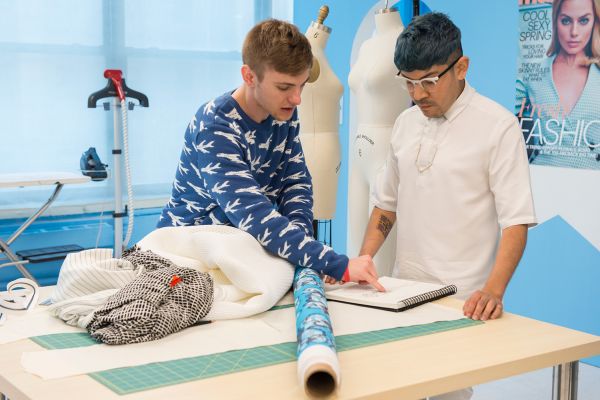 Onward to the runway…
The winner:
Dom's dress and coat ensemble. There was so much say about how Dom outdoes the competition in the use of prints that I feared she was getting a "loser edit" and would be out, but she was on target and created a fabulous, colorful geometric print, paired with an assortment of black-and-white striped and patterned fabrics, including white faux leather that she hand-painted with black stripes. The overall effect was hip, fun, and sophisticated. The pieces could work equally well in other outfits. The judges adored this look; I loved the Sol Lewitt-like effect of the coat in particular. Her finale collection should be spectacular.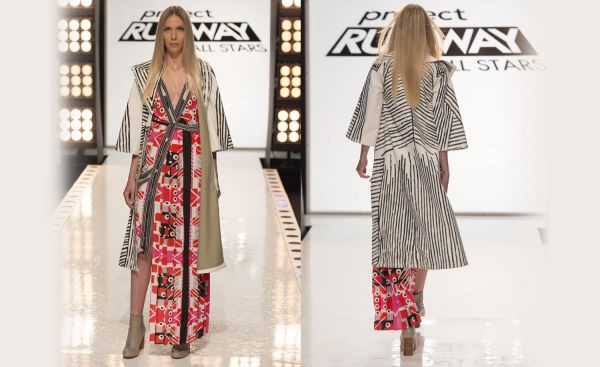 The runner-up:
Kini's tuxedo-inspired jacket and form-fitting long skirt. The judges praised this for its ultraflattering silhouette, which included an exaggerated, draped sleeve and brilliantly cut skirt. They were less fond of the shiny lapels and pocket flaps, and Isaac Mizrahi noted that Kini's print (shown in the jacket) was less interesting than the striated fabric he had bought at Mood. I liked Kini's print, which appeared to be an updated, edgier version of a Hawaiian floral. Kini stayed true to his aesthetic, with spot-on fit, a hint of "island," and a heightened dose of glamour. His model looked amazing–like a stylized fashion illustration come to life. I am so delighted he made it to the finals again and can't wait to see his collection.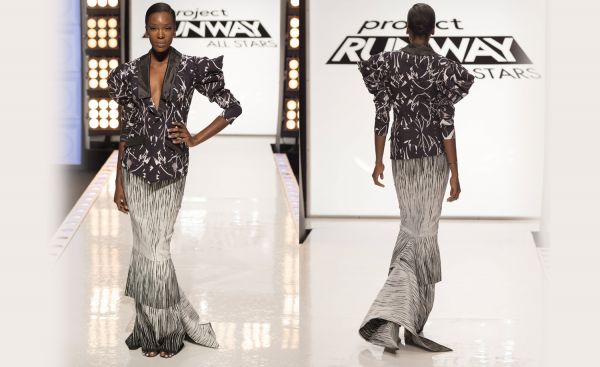 The bottom two:
Ken's black-and-white dress. This was a fine dress and something I might wear myself, but it wasn't a showstopper. Ken's print, which read more as a fine texture in the bodice, was unexciting, though it was nicely paired with a large black and silver brocade from Mood. Ken knew he could have done better.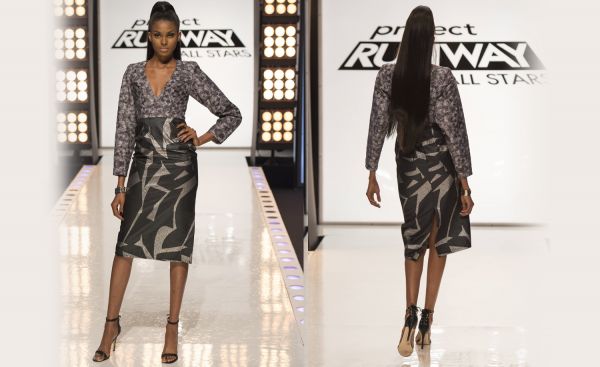 Sam's pixelated-print-plus-mesh coat and slouchy jumpsuit. I didn't like Sam's print, which looked derivative to me (there are many pixelated prints available now), and his return to the jumpsuit silhouette, as well as to mesh and neoprene textiles, felt like a big cop-out. He claimed to have really pushed himself, but this didn't seem much different from previous designs.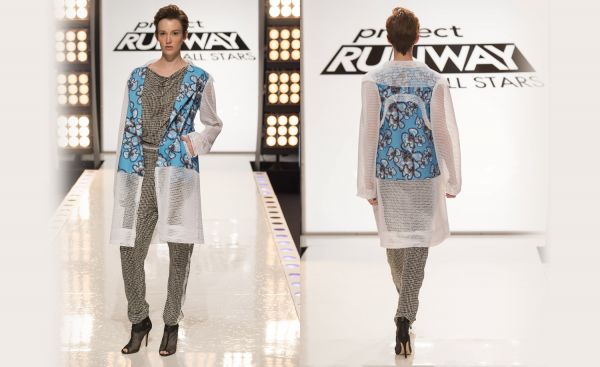 The loser:
Here's where the extralong episode's big twist appeared (it was half an hour longer than usual). After much discussion, the judges couldn't decide whom to send home, so they arranged a tie-breaking lightning-round challenge: Sam and Ken were each given two looks from a previous challenge–the winning and losing looks–and had an hour to remake them into a new look. Ken worked with the "baroque" challenge garments, which included his own winning look; Sam got the "fairy tale" challenge, with Asha and Mitchell's looks.
Sam used the garments creatively, but his dress and jacket were poorly executed and awkward (for an hour's work, though, this was a good result). Ken managed to make a well-finished dress with an interesting collar and sleeve. The judges deliberated and finally chose a loser. I hardly need to point out that this ordeal was clearly planned in advance and was not the emergency design-off it was presented as. It did serve an important purpose, however: It enabled the judges to name Ken safe, and Sam the loser. Based on their first print garments, Sam would have moved on to the finale, when Ken's work all season indicated that he was more deserving of the third slot. So, after many weeks of slipping through on charm, youth, and potential, Sam was off. He's shown a lot of growth over the course of the season, however, and I wish him luck.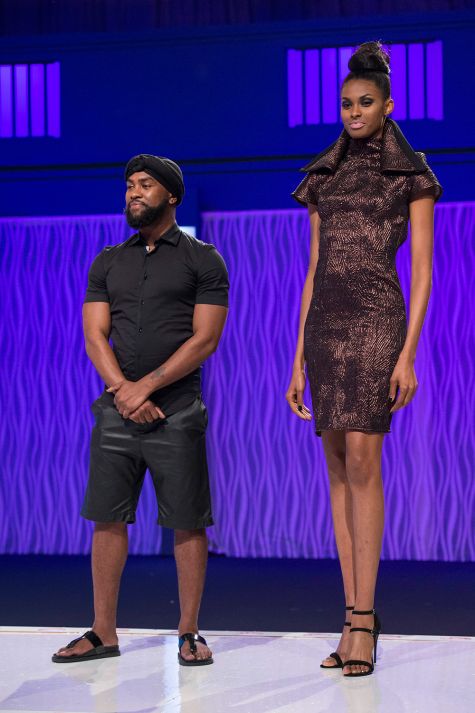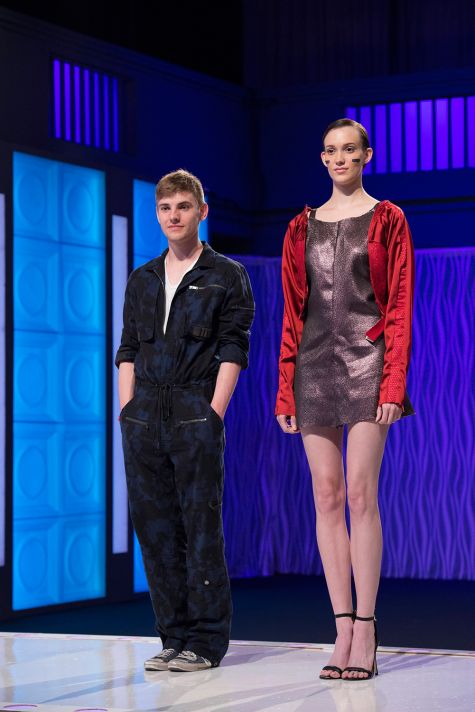 So Dom, Kini, and Ken will face off next week in the finale. They are to have four days to create an eight-piece collection. It hurts my head to think of what this will mean for them over the next few days, but I have high hopes for a fabulous runway show. They are all top-notch designers and experienced, skilled, and speedy sewers. I can't wait!
How about you? Would you rather have seen Sam in the finale than Ken? Who do you think will win next week?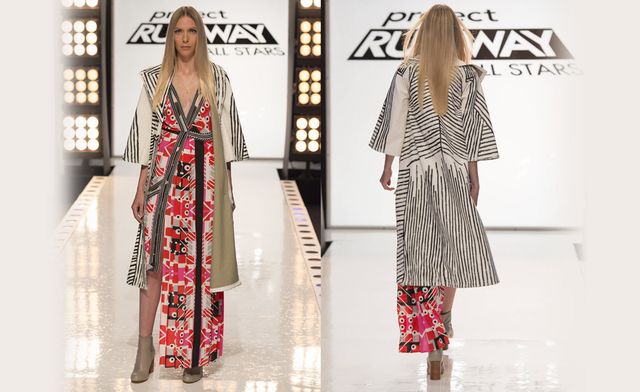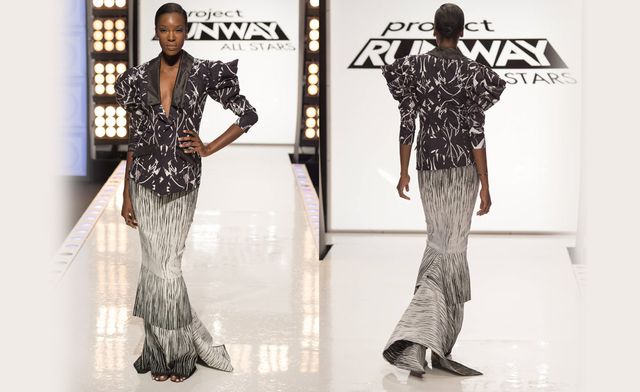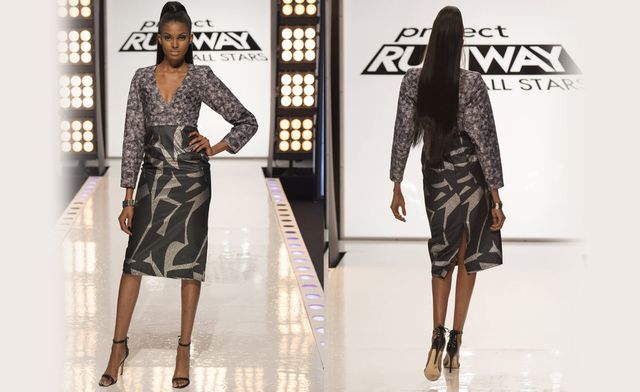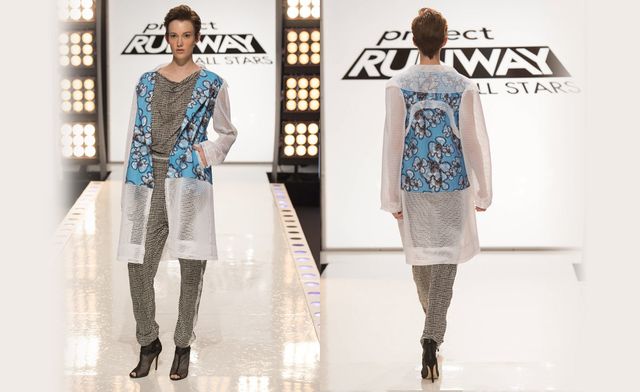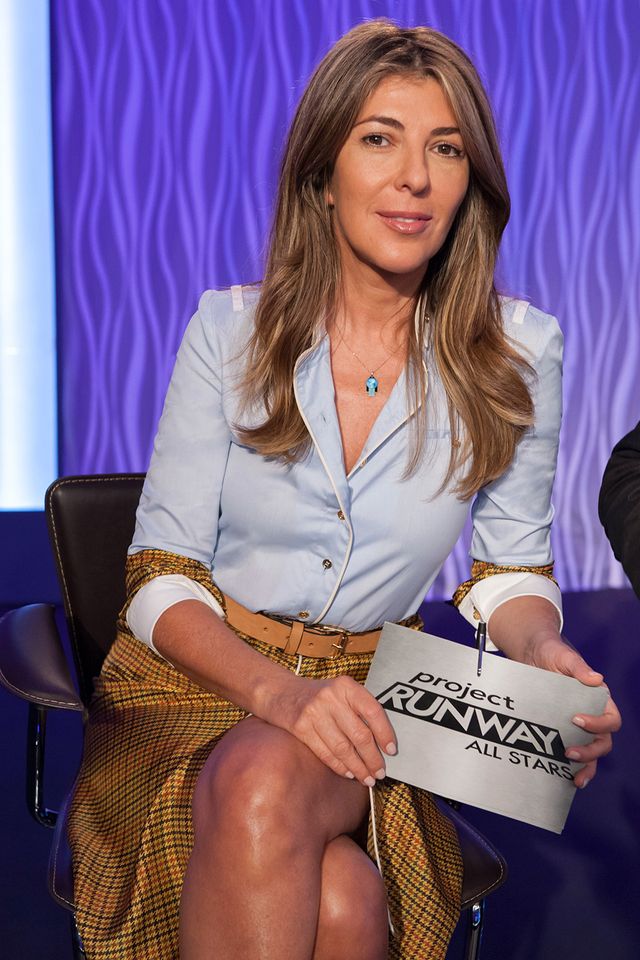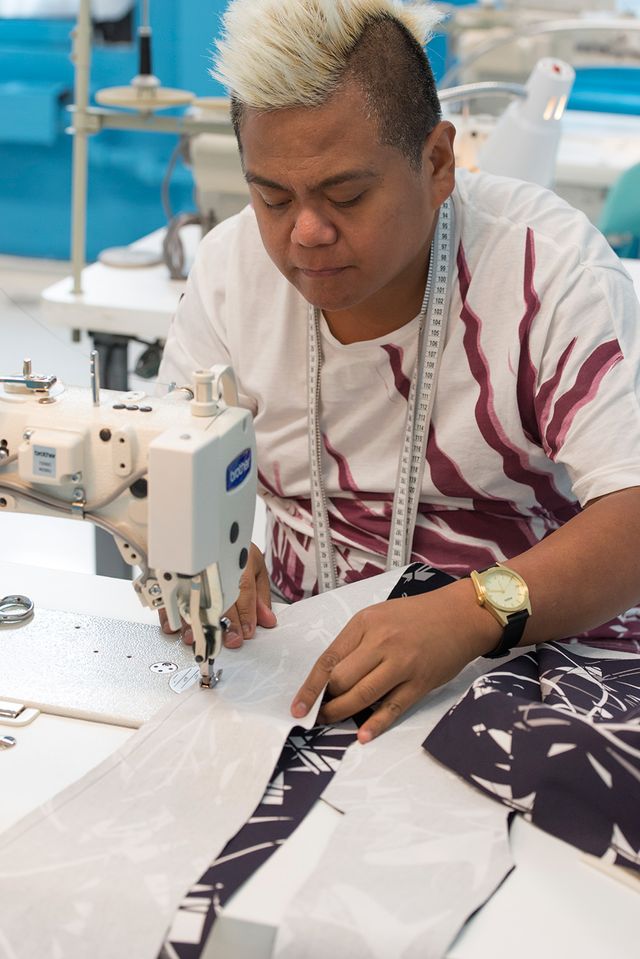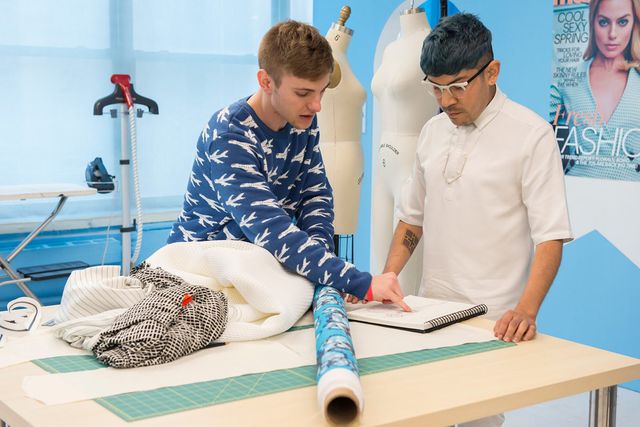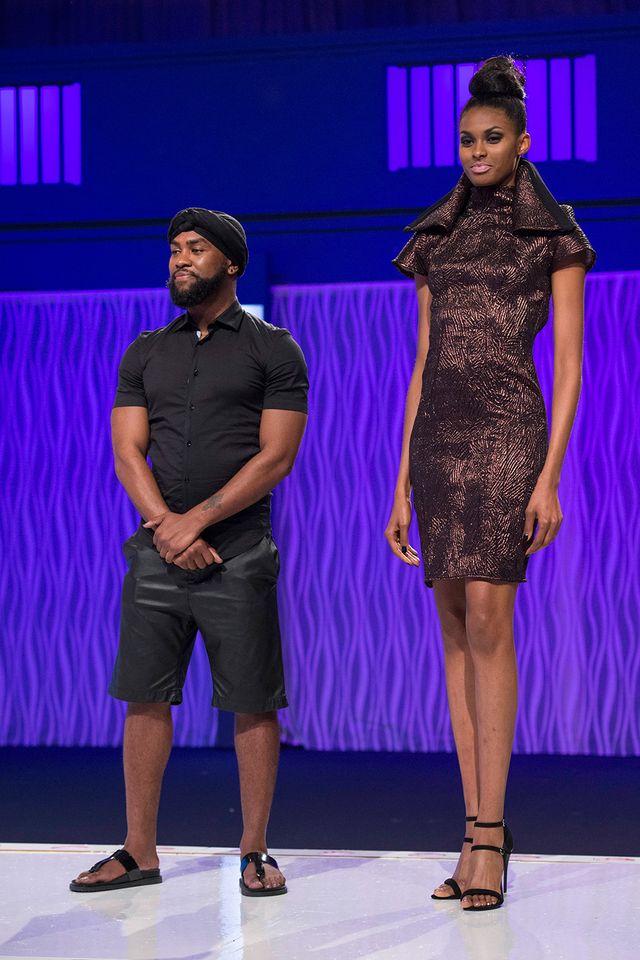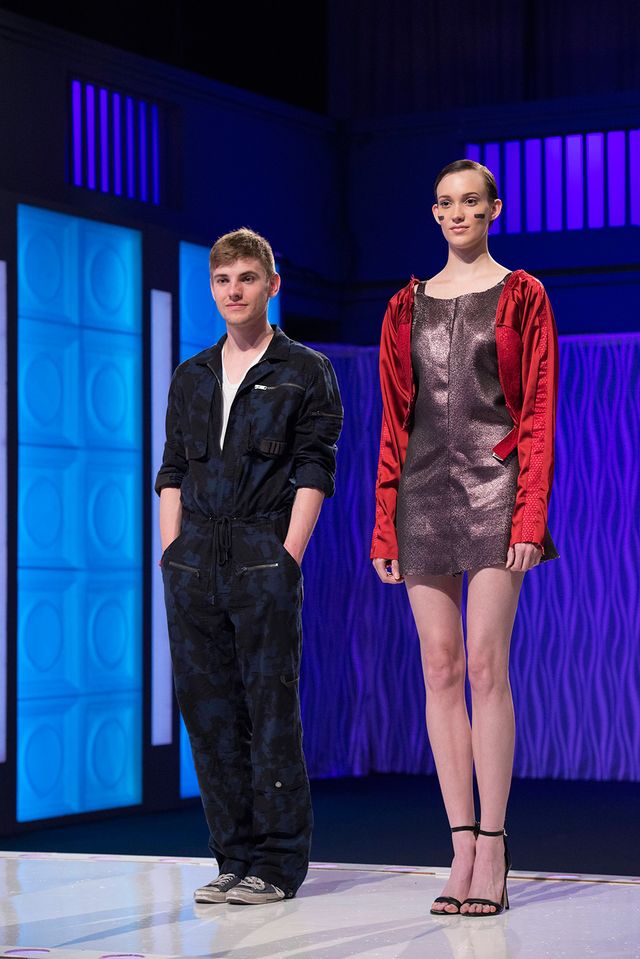 Sam's losing second dress