One-Dot Pocket Placement Method | Video
Louise Cutting reveals an industry marking method for pocket placement.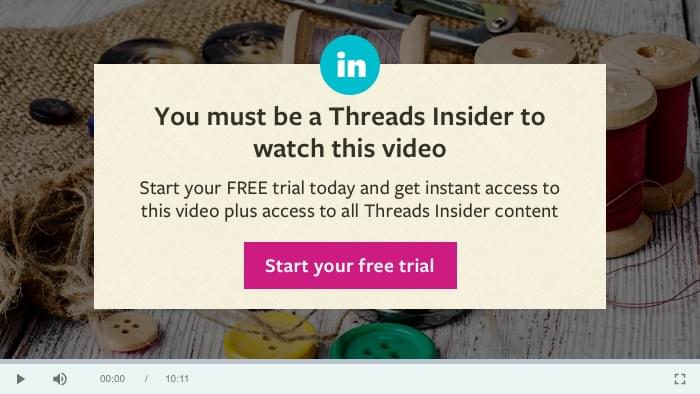 Evamarie Gomez and Judith Neukam; Shot by: Gary Junken
In Volume 7 of Threads' master-sewing video series Industry Insider Techniques, respected instructor Louise Cutting shares her techniques for mastering the details and trade secrets for achieving greater success in garment sewing. Industry Insider Techniques Vol. 7 and all Volumes 1 through 8 can be viewed online for free as part of a Threads' Insider membership.
Adding patch pockets has never been easier with the one-dot pocket placement method. Contributing Editor Louise Cutting walks through the easy-to-follow process in Industry Insider Techniques, Vol. 7, so you, too, can produce incredibly precise results. In this volume and the rest of the series, Louise shares years of expert experience. It's amazing how much you'll learn as this gifted instructor demonstrates professional techniques, from fine hand stitching to creating flawless miters. The level of workmanship is second nature to pros, and now you'll see how the techniques contribute to the quality of a garment—and how to do them yourself. In this 15-part series, you'll also learn how to match stripes, prints, and plaids, reinforce underarm seams, sew a smooth neckline zipper finish, and many more expert techniques. Topics covered in Industry Insider Techniques, Vol. 7 include: Best practices for working with thread How to match stripes, prints, and plaids Precision bound buttonholes What to do when prints lap Hidden button plackets Perfect sleeveless armholes One-dot pocket placement A smooth neckline zipper finish Easy, flawless miters No-fail invisible zippers An expert neckline finish Reinforcing underarm seams Match Stripes and Plaids Perfectly Every video in Volume 7 will help you learn how to sew like a…
Get the latest including tips, techniques and special offers straight to your inbox.