Stylish and Reliable Singer Featherweight C240 | Notions
The Singer Featherweight C240 is easy to thread and offers a breath of fresh air in casing design.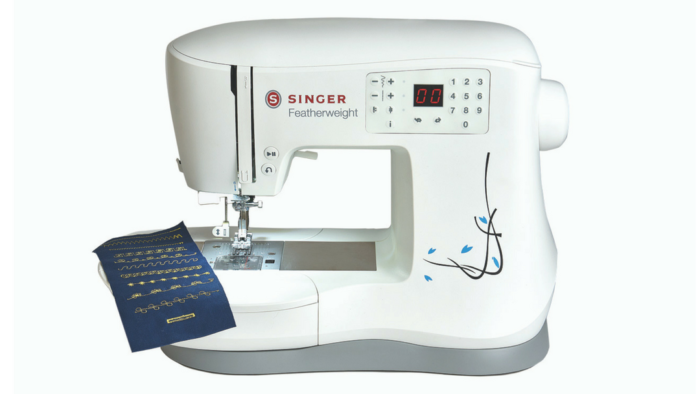 I loved the look of the Singer Featherweight C240 right out of the box. It didn't resemble the typical angular sewing machine, and I felt that it was a breath of fresh air in casing design.
It was easy to thread, even for a new sewer like me. As soon as I started sewing, however, I noticed that the thread tension wasn't right. The bobbin thread was being pulled up through the fabric, forming unseemly loops that made the stitching look downright wonky. I fiddled with the thread tension for a half hour with no real change in the quality of stitches.
Finally, I had to walk away. I made myself a cup of tea and took a few breaths before I returned to fiddle some more. To my surprise, the machine stitched perfectly. It seemed the Featherweight just needed some time to warm up. After that start, I had almost no problems with the machine.
I tried the straight stitch, the zigzag stitch at varying widths and lengths, and a number of the decorative stitches. The machine handled all of them with ease, creating good stitches in very little time. I was amazed at how quietly it sewed.
Singer has published online a number of model-specific technique videos for sewers of all levels, so you can learn about your specific machine. I used one of these videos to learn how to make a buttonhole using the Singer Featherweight's buttonhole foot, and I found it easy to follow along.
For technical specs, the Featherweight certainly offers a good amount of bang for its buck. It comes with six presser feet and features a drop-in bobbin. The machine weighs nearly 15 pounds because of its solid metal frame, but it is still manageable to travel with. Included in this machine is the Integrated Even Feed (IEF) system, which enables the machine to better handle multiple layers or difficult fabrics. The IEF is essentially a second set of motionless feed dogs that sit behind the presser foot and assist in moving the fabric smoothly and evenly. Because the fabric is being fed from the top and the bottom, layered projects won't shift.
The final consensus on the Singer Featherweight C240 is that I liked it. It is functional without being too basic nor too complicated. I would recommend this machine to newbies and veterans alike who need a good, reliable machine.