How to Make Chinese Knots
Skip the buttons and craft intricate closures from cording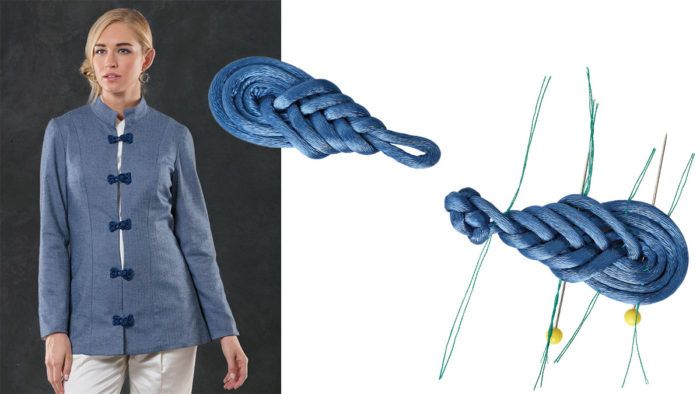 Chinese knots, also called frogs, make excellent replacements for buttons and buttonholes, adding texture and flair to your garment. They are also practical for fabrics where buttonholes are not feasible, such as very delicate or heavy textiles, or those prone to fraying.
Throughout China's history, the knots have grown in complexity and beauty, and many have been imbued with special meanings. One of the basic knots, the double-coin knot, looks like two overlapping coins and is thought to bring prosperity.
I will show you how to create cording suitable for forming knots and then how to tie two different Chinese knots: a double-coin knot and a figures-of-eight knot. These single-cord knots can be a starting point on your journey into the endless world of tying knots.
Cording basics
Premade cording such as rattail can be purchased, but custom cording provides many opportunities for interesting design. Each knot requires approximately 18 inches of cording.
Select materials
Create cording by enclosing cotton or polyester filler within a bias tube. Cording differs from piping in that the cover's seam allowances are within, rather than outside, the bias tube.
Fabric
This technique works best with a smooth or slippery fabric because the bias tube must be turned over itself to enclose the seam allowance. In general, a longer piece of fabric is more difficult to turn than a shorter one, and a slippery fabric, such as polyester lining, is easier to turn than a napped fabric, such as cotton velveteen.
Filler
Fillers are measured by their diameter; lightly press down on the filler as you measure the width to determine its size. In general, natural colored fillers are cotton, and the white fillers are polyester. Filler that is 5/32 inch wide is the most commonly used for garments and piping. Thicker filler results…
Start your 14-day FREE trial to access this story.
Start your FREE trial today and get instant access to this article plus access to all Threads Insider content.
Start Your Free Trial
Already an Insider? Log in