Why Don't You . . . ? Sew a Travel Garment From Bedding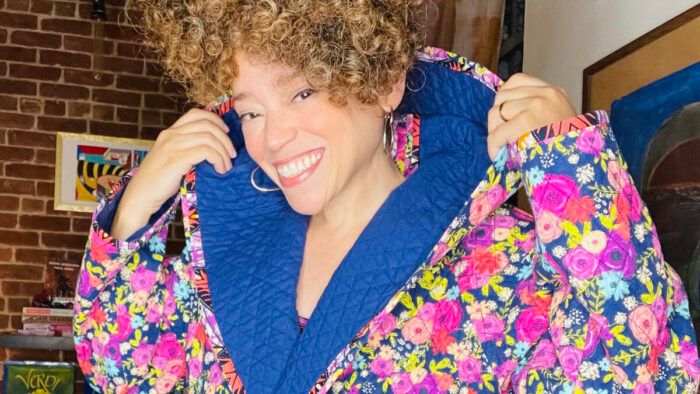 In a travel-themed Harper's Bazaar column of fabulous challenges, Diana Vreeland asked:
Why Don't You . . . travel with a little raspberry cashmere blanket to throw over yourself in hotels and trains?
Dressing for the trip
As any good sewist would, I love dressing for just about any occasion. But since falling in love with my "safety first" husband, dressing for travel has been an issue for me. In the first years of our marriage, our treks mainly consisted of road trips to his Southern hometown—it was not what you'd call a hub back then, so a 23-hour car ride was our best option. When the first direct flight down south opened up, I had just taught myself to sew, and was packing to board a little propeller jet with a handmade technicolor outfit. Rob immediately overruled my decision. It was then I learned that my man dresses for safety when flying. That means natural fibers, simple lines, and flat, closed shoes. My highly flammable poly crepe phoenix-print wrap dress and wedge sandals were NOT going to make the cut.
Luckily, my stash held an estate sale find: a set of cotton bedsheets, circa 1970s, with a floral print that Rob immediately recognized from his childhood. How fortuitous. I whipped up one of those Butterick reprint "walkaway" dresses (they were "easy" and popular among new sewists, and I wouldn't recommend them). The gargantuan sweep of my hem and my flat-soled strappy sandals were met with a raised eyebrow, and a sigh of compromise. The flight was très comfortable, and ever so chic. I probably ruined the effect by telling everyone who asked that I was wearing old sheets. Sheet chic, baby!

The itinerary
For this travel garment challenge, I thought: Why go blanket, when you can…
Start your 14-day FREE trial to access this story.
Start your FREE trial today and get instant access to this article plus access to all Threads Insider content.
Start Your Free Trial
Already an Insider? Log in