Pattern Review: Allie Olson Elio Top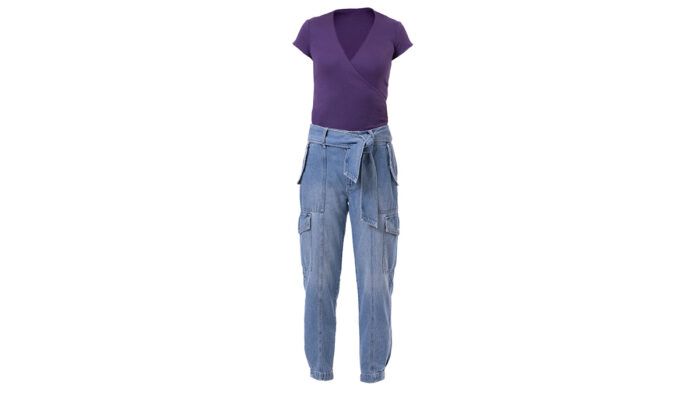 Allie Olson: Elio Top
As an alternative to a basic T-shirt, try this close-fitting, faux-wrap knit top with a deep V-neck. It offers three sleeve options: cap, elbow-length, and long. The neckline and side seams are stabilized with elastic and the hemline is finished with fold-over elastic, applied flat. As you sew the elastic to the neckline, the instructions say not to stretch it. Our tester made the muslin according to the instructions and found the neckline gaped. Depending on how full-busted the wearer is, you may prefer to stretch the elastic 1/4 inch to 1/2 inch in the bustline area so the neckline can hug the body. The pattern comes in two size ranges, 0 to 18 in a B cup, and 12 to 30 in a D cup, drafted for a 5-foot, 6-inch person. It includes 3/8-inch-wide seam allowances. The finished measurements for the bust and hip have almost 3 inches of negative ease. Choose a size based on your bust measurement, then grade the waist and hips up or down to your measurements. On the company's website, there are in-depth blog posts on fitting and choosing fabric and supplies. The top's length is the same for all sizes. The instructions say to attach clear elastic along the side seams to prevent pulling and to reinforce the seam. The instructions contain plenty of detail, are easy to follow, and the construction order makes sense. On the long-sleeve version, the wrist opening is narrow. The sewing machine's free arm is too wide, so turn the garment inside out and sew the hem in the round with the right side up.
Our tester suggests:
Instructions say to press the armscye seam toward the bodice, but press toward the sleeve instead.
Depending on the size, you may need less elastic than the pattern calls for.
The pattern recommends stable knit fabrics with four-way stretch. Use extra-stretchy midweight knits, such as the recommended cotton-spandex blend.
If you intend to wear the top tucked in, the hem finish is ideal. Instructions also give the option to forgo the fold-over elastic and to hem however you wish. Adding beading or embroidery along the neckline will jazz it up.
(Sized 0–18 (B cup) and 12–30 (D cup) for busts 32–57-1/2 in.)
—Tested by Tomasa Jimenez, Lyndhurst, New Jersey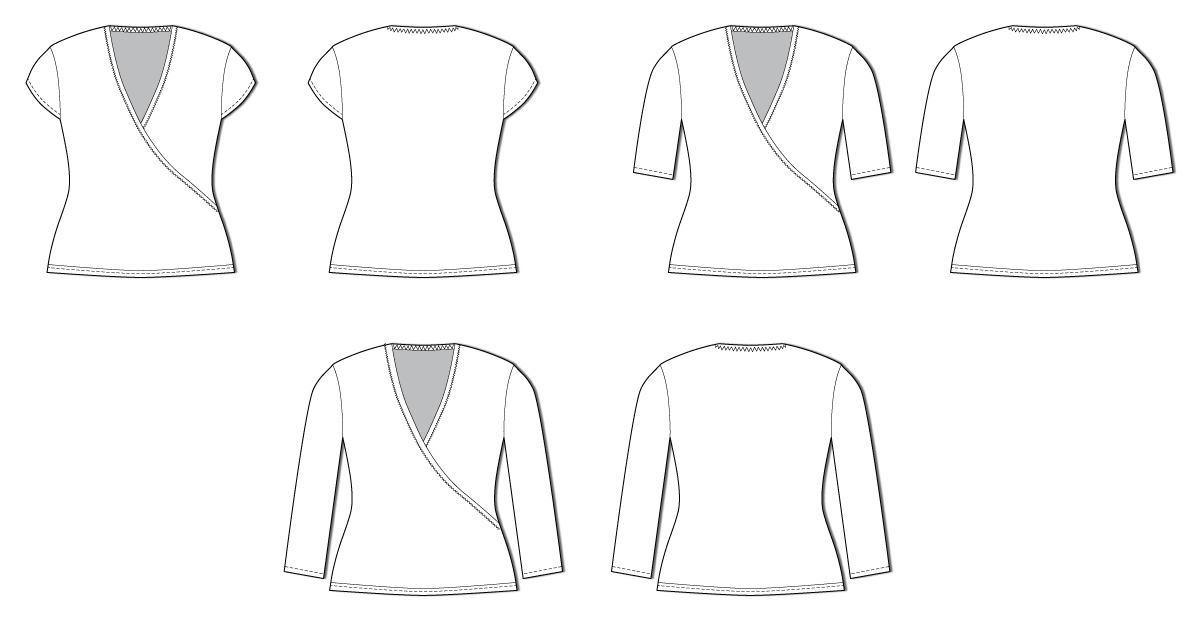 Sewing tip: Consider skipping the elastic on the side seams, but add clear elastic on the shoulder seams to stabilize them.
This review was originally published in Threads #218, Summer 2022. Have you made this pattern? If so, be sure to share pictures in our Readers Closet gallery.
Illustrations by Cassandra Bernier.