3 Ways to Make a Quilted Jacket
Upcycle, machine-quilt, or scrap-piece a unique garment
Curl up under a quilt to read, nap, or watch TV, and you know the well-being and coziness a quilt offers. You may also find yourself admiring the vast options for fabric prints, color blending, and patchwork patterns. If you have a bent for traditional-—or updated—artisan style, a quilted jacket project offers an opportunity to explore all these aspects of design while making something entirely individual.
This article shows an assortment of garments, blending techniques from quilters, garment sewers, and wearable artists. You can combine these techniques with additional construction, embellishment, and fabric manipulation methods to accomplish your vision.
Creative freedom
You can use any fabric from cotton to brocade, and you decide whether to piece the fabrics. Any batting can work, depending on whether you want to establish warmth or add just a bit of loft. If you have an old quilt, consider repurposing it as a wear-anywhere garment. With thoughtful construction, you can even make your jacket reversible. These garments are fun to wear and make splendid gifts. Your fabric and assembly choices make every creation unique.
The pieces shown have three characteristics in common: a face material, a backing fabric, and batting. The face can be a recycled quilt, new patchwork, or whole cloth. The backing, usually cut from a single fabric, can also be a variety of fabrics of your choice. The batting doesn't show but determines the loft of your garment; it can be a flat cotton fabric, flannel, felt, or a variety of battings depending on how much padding you want your garment to have. The fabrics and techniques you choose will determine the way your garments wear. 
Take your time
A quilted garment may take more time to create than a plain cloth one, but it can be more meaningful, too.
Pick scraps you love from your fabric stash, and determine whether you need supplementary materials to craft a whole garment. From planning to sewing to wearing, your quilted jacket will spark joy from start to finish.
Repurpose an Antique Quilt
Transform vintage quilts into beautiful jackets with creative repair and a thoughtful layout. Mending can be a rewarding part of the design process.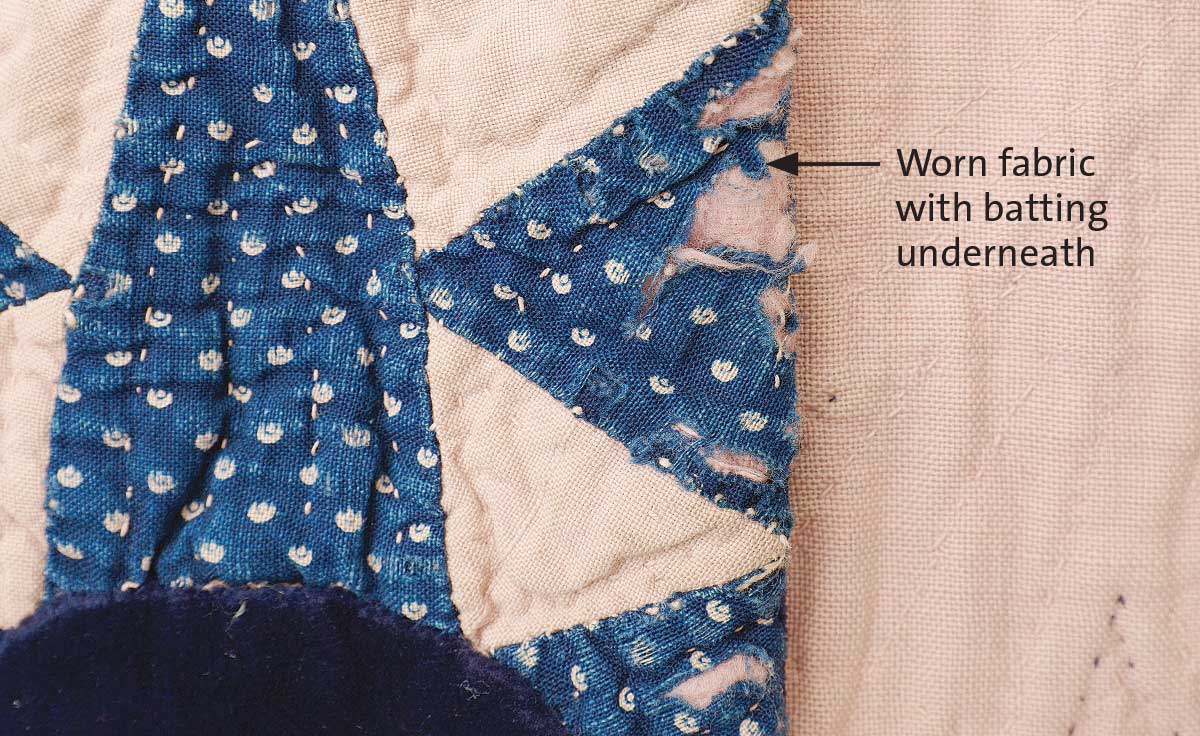 Assess the original 
The antique quilt I repurposed for this jacket is probably close to 100 years old. It was hand-pieced and quilted. Its original three fabrics were a pink print, solid white, and a navy small print. There was some damage to the component materials.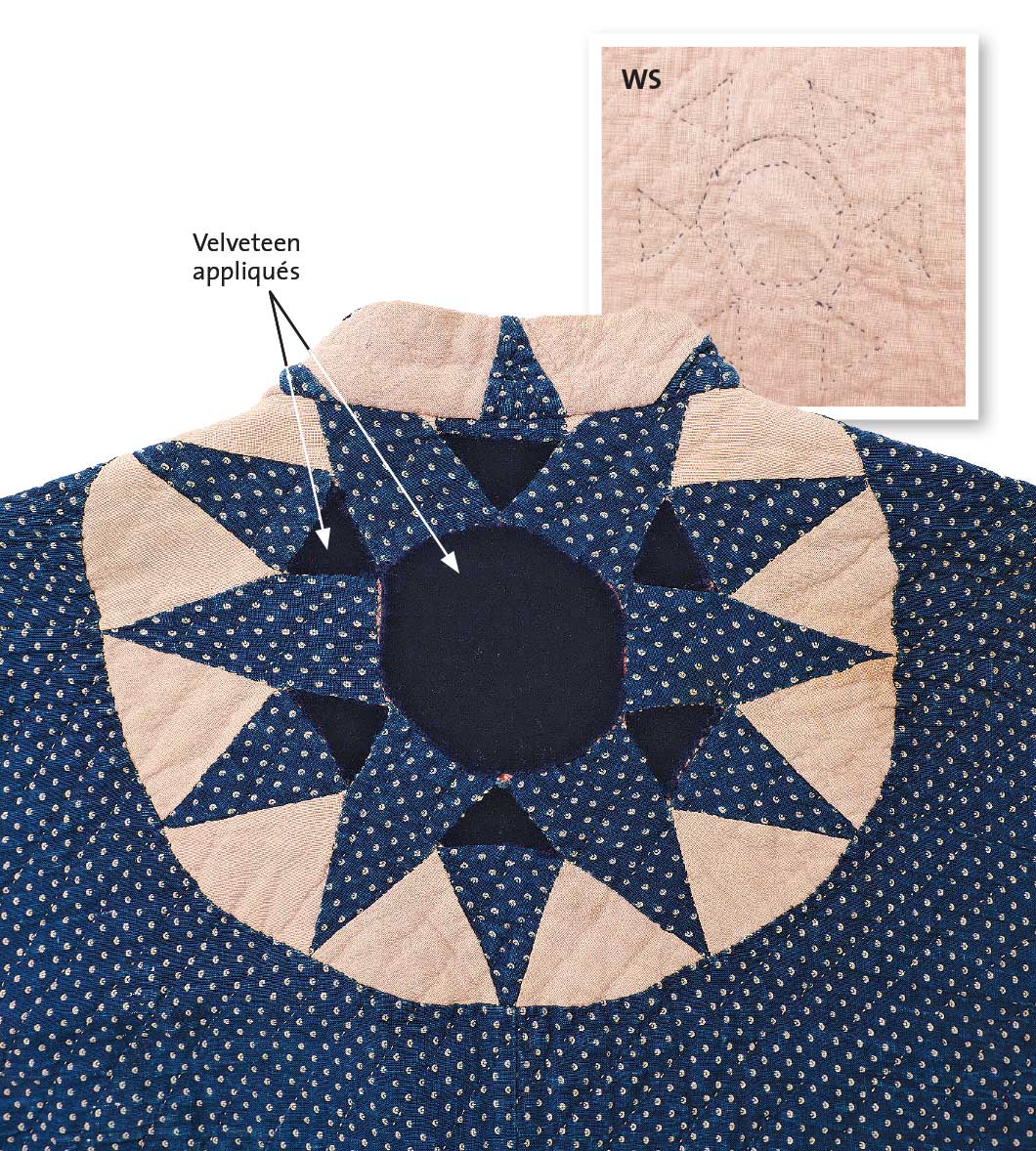 Mend and Repair
The pink print, which was in the center of each star motif, had started to fail and needed to be replaced. I dyed the entire quilt a light, rosy brown and replaced the worn pink fabric pieces with navy velveteen. Velveteen is forgiving for hand sewing. Once the pattern pieces were cut, it was easy to replace the missing or damaged pink fabric with hand-stitched appliqués, leaving the original backing and batting intact.
Assemble the jacket
Choose a simple jacket pattern and fit the parts until perfect. Then experiment with layouts, to determine how best to place the quilt motifs on the garment. It makes a difference whether the quilt elements fall on the center front or on the jacket side seams and where horizontal or vertical stripes land on your body. When you're satisfied with the design, mark the fabric 2 inches outside each pattern's cutting line. The extrawide seam allowances will be available if you need to make minor fit adjustments.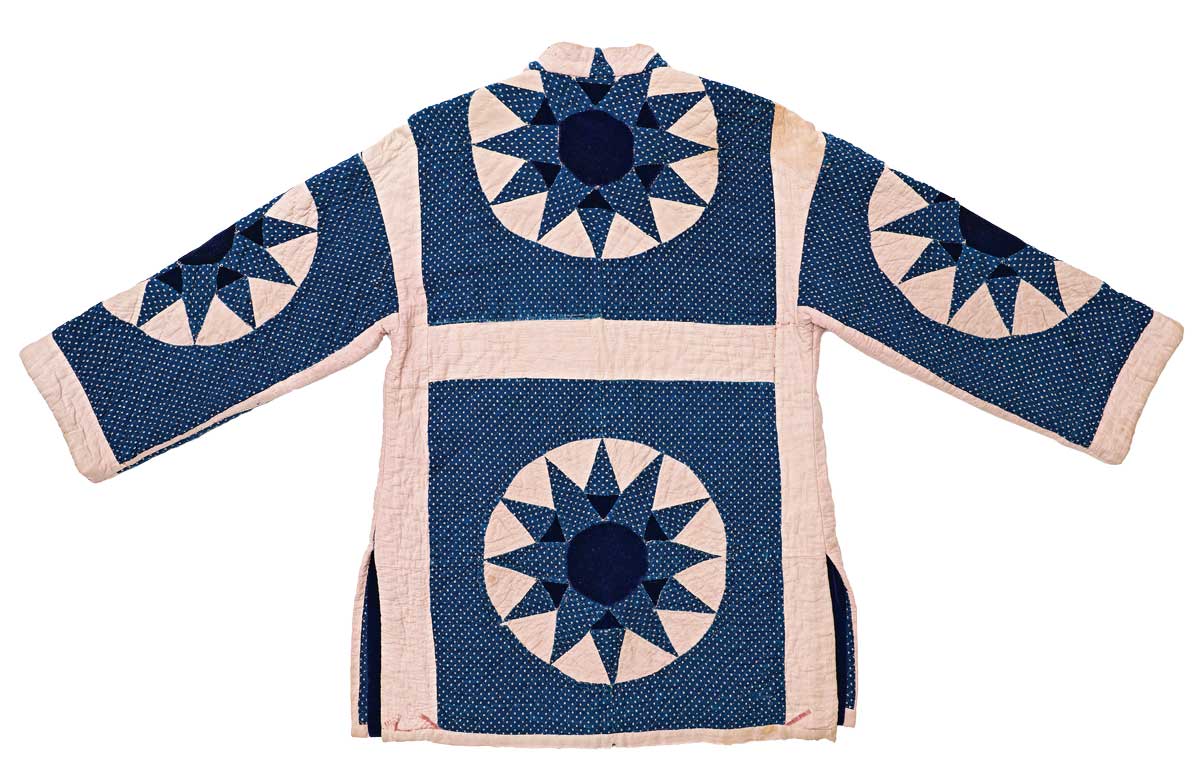 Assemble the jacket
Sew the seams by machine, with right sides together. Then trim the seam allowance on the backing and batting to 1⁄4 inch wide. Finish by turning the untrimmed seam allowances to enclose the backing and batting allowances, then hand-stitch them to the backing inside the jacket.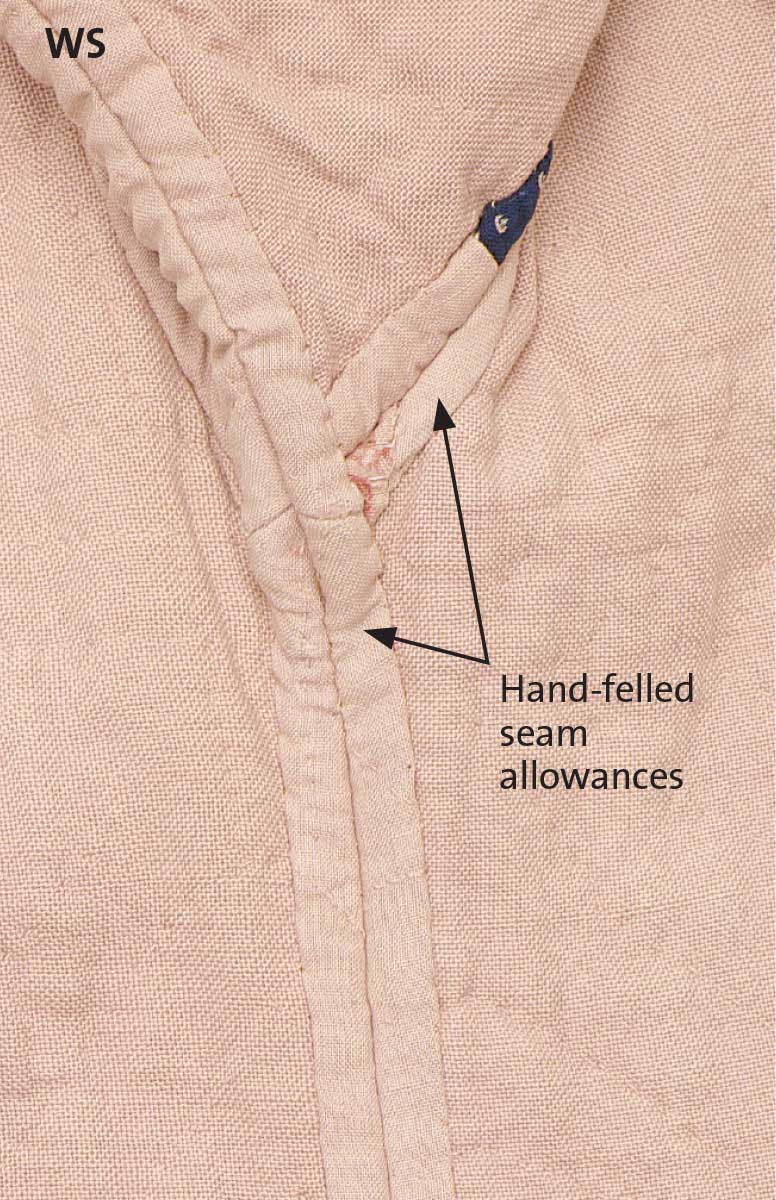 ---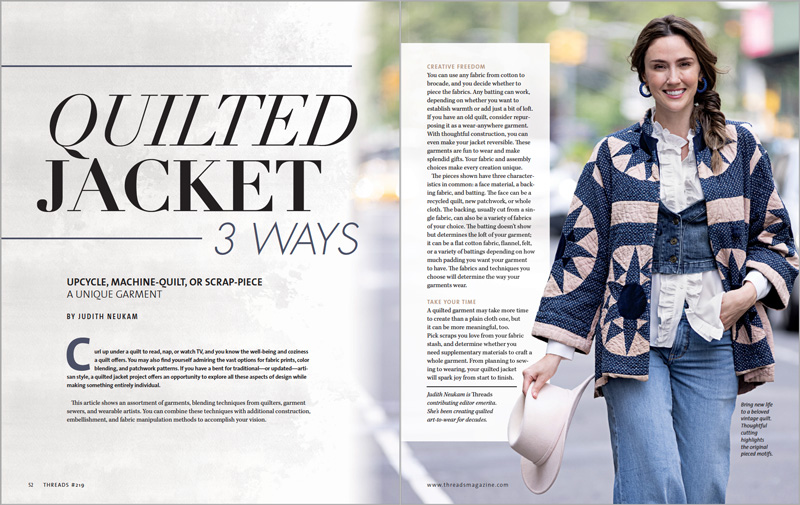 Judith Neukam is Threads contributing editor emerita. She's been creating quilted art-to-wear for decades.
To view the entire article, please click the View PDF button below.
View PDF