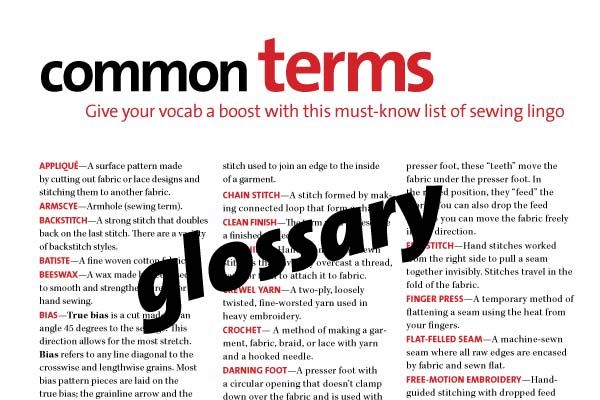 Welcome to the new and improved Sew Stylish dictionary. We've combined our original list of must-know sewing vocab with those fresh off the pages of the latest Sew Stylish (Red-Carpet Ready) to get you "walking the walk" and "talking the talk" of the sewing world even faster. We've even thrown in some words that didn't make it into the issue, so look here for the latest and greatest list of words to lay down. No pop quiz, we promise.
Click here for the original list of common terms from Sew Stylish Premiere Issue: Oh-So-Common Terms
More key words:
Appliqué scissors-Also known as duckbill scissors, one blade is wide for safe trimming around edges.
Basting needle-A sharp, long hand-sewing needle.
Bead elastic-A strong, stretchable cord often used in beading or jewelry making.
Compass rule-Any means of making a radius to form a circle such as a pin on one end of a string and a marking device on the other.
Double-layer layout-A pattern layout intended for two layers of fabric, usually including a fold for cutting half pattern pieces.
Prickstitch-A tiny, almost invisible backstitch.
Raw edge-The unfinished cut edge of fabric.
Serger-Sewing machine that seams, trims, and overcasts raw edges in one step. Also called an "overlock machine."
Single-layer layout-The pattern layout for one layer of fabric. Often used for asymmetrical garments or because pattern pieces are unusual shapes or sizes.
Sizing-A starch-like fabric finish.
Sport yarn-A particular weight of knitting yarn.
Tambour needle-A thin latchhook used for beading, sequins, or decorative chain stitches.
Thread tail-An untrimmed thread end.
Underlap-The lower fabric of two overlapped pieces of fabric.
Waist stay-A stable ribbon sewn inside a dress at the waist, used to support the dress.
Wooly nylon thread-A lofty yarn-like thread that stretches to a fine straight thread when under tension. Polyester versions withstand greater heat.