New Kid on the (Pattern) Block: Go Patterns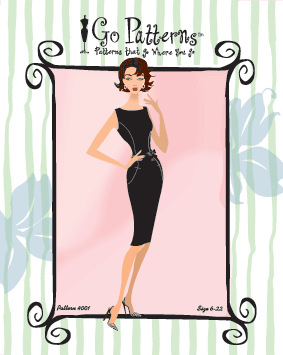 I had the opportunity today to chat by phone with Allison Page and Madeline Rogers, cofounders of Go Patterns. Go Patterns is based in San Rafael, California. Talking with them is a blast. They clearly have known each other for some time, and finish each other's sentences! Except for a few times here, I am not even sure who was talking. Here's what they had to say:
Ann: Can you tell us a little bit about how you came up with the idea for Go Patterns?
Madeline: That's a good story! Allison and I were in a class taught by Susan Khalje. At one point, I mentioned that I was thinking of starting a pattern company. Allison was…
Allison: I turned to her and said, "I've been thinking of starting a pattern company too!" I had wanted to start a pattern company for ten years…
Madeline: And I had no idea!
Ann: So you have known each other for quite some time before Go Patterns and the Susan Khalje class?
Madeline & Allison: Yes, we've known each other for several years.
Ann: Please tell us a little about yourselves.
Allison: I started sewing late, in my 20s. I took pattern making and tailoring classes. I became a professional pattern maker and teacher. I love to make, buy and sew clothes.
Madeline: I started sewing at age 4. I sewed all through college, then I got sidetracked. I became a CPA, then decided that sewing was it for me, my passion. I went to school and learned as much as I could about sewing, pattern making and construction.
Ann: Where did you both go to school?
Madeline & Allison: Apparel Arts. We also took classes in Alameda and around the [San Francisco] area from different teachers.
Allison: I teach at Apparel Arts now. That and pattern making are my day job.
Ann: What's the Go Patterns style philosophy? Who is the "Go Girl"?
Madeline & Allison: Go Patterns are fresh, fashion-forward looks for the young and the young-at-heart seamster. The Go Girl is a busy woman. She has an active social life, she may have a full-time job, kids, and a very full schedule. She needs fresh, modern, wearable looks. She wants looks that are trendy and cute, but have legs and will be wearable over several seasons, not just for a few months. We're going to give the Go Girl basics that fit that need. She also has a lifestyle that takes her out socially. As we add to the collection, we'll intersperse basic/classic looks with high-end runway looks for evening and social occasions.
Madeline: The Go Girl is Internet oriented. We want to make the Go Patterns Web site as exciting and fun as possible for her.
Ann: I bought 4001, your classic LBD pattern. It looks great and I can't wait to dig into it. Can you tell us a little about how 4001 came about?
Madeline: Another great story! We are members of PACC, and around the time of Susan Khalje's class, Threads magazine and PACC announced the Little Black Dress Challenge and we decided to enter it.
Allison: We didn't have much time to develop a pattern. We wanted a LBD that is classic wearable, a little Audrey Hepburn, kind of va-va-voom and retro. So we came up with 4001. And we won the challenge! (Their dress, which was modeled in the runway show by Allison, took the top prize for "Best Classic Interpretation". It was fun in that we made the top from a plain fabric, and the skirt from a different fabric!
Ann: So you developed a pattern, founded a company, and took first prize all in one fell swoop!
Madeline & Allison: That's right!
Ann: How is 4001 different from other princess-line dress patterns out there?
Madeline & Allison: Well, it has a top with princess seams, a waistline seam, and a separate princess-line skirt. It makes fitting much easier. The waistline seam nips you in and you can add a belt. The curve on the bust is deep, and it can be adjusted easily for different cup sizes. We also really like the pocket. It lays flat against the body, but it's a workable pocket so you can really hold things in it. We think it adds a hip twist to the styling.
Ann: Yes, I haven't had a chance to dig into the pattern yet, but it's nice to have pockets in a princess-line dress. That's pretty unusual.
Ann: What other patterns do you have planned for the Go Patterns family?
Madeline & Allison: Our next pattern is a capelet pattern. It will work with the dress, obviously. But what we're excited about is that we've designed it so it will work with this season's coats and voluminous sleeves as well. Next, we'll be coming out with skirts. Pencil skirts especially. We have a blouse planned, and then we'll go from there.
Ann: Have you any favorite renditions of your patterns?
Madeline: Well, of course, the one that won the Threads/PACC LBD contest!
Allison: I've made lots of versions in different fabrics. I really love them all!
Ann: If you were to give the CraftStylish.com readers any advice, be it style or sewing, what would it be?
Allison: Take a risk! Don't be afraid of fashion. Not sure what looks to wear? Go to high-end stores and go snoop shopping to see what works for you. Life is short; clothes are fun! Everyone appreciates it when you take a risk.
Madeline: You know, another goal of ours was to help people try new things. In our instructions, we give tips and techniques that are more in-depth than basic instructions. We want people to not be afraid to stretch themselves and their sewing skills.
Ann: Well, thank you very much for talking with me today. Best of luck to you, and we can't wait to see what other goodies you come out with!
Madeline & Allison: Thank you!