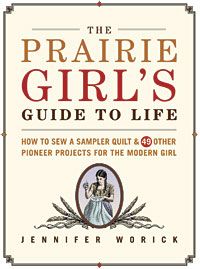 Take the Prairie Girl quiz! In our latest issue of Sew Stylish: Embellishments, on p. 86, we gave you a glimpse of good ol' fashioned pioneer fun in Jennifer Worick's new book, The Prairie Girl's Guide to Life (Taunton Press, November 2007). Be sure to try out the nostalgic and whimsical projects we featured. The prairie-chic embroidered pillowcases and towels make great gifts!
You don't have to have grown up on a farm to be a prairie girl at heart. Take this quiz to find out if the frontier force is strong in you.
The Prairie Girl Quiz
by Jennifer Worick, author of THE PRAIRIE GIRL'S GUIDE TO LIFE
(Taunton Press, November 2007)
1. My hands are:
a. always manicured
b. busy texting with my new iPhone
c. currently petting my cat
d. never idle
2. My idea of fun:
a. throwing out perfectly good leftovers
b. trying on stilettos
c. throwing a humdinger of a party
d. spring cleaning
3. My idea of a perfect Saturday afternoon:
a. shopping marathon at the mall
b. cheering the home team at the big game
c. napping
d. canning tomatoes
4. What name sends me to the moon?
a. Dolce & Gabbana
b. Jack Daniel
c. Duncan Hines
d. Almanzo
5. Your favorite dessert is:
a. nothing-desserts have calories, after all
b. a lavender crème brulée
c. black coffee
d. pie, any kind of pie
6. The movie title that best sums me up:
a. The Devil Wears Prada
b. Women on the Verge of a Nervous Breakdown
c. The 40-Year-Old Virgin
d. A Prairie Home Companion
7. My mode of transportation:
a. tank of an SUV
b. bus or subway
c. my feet
d. pony
8. My dream job:
a. being filthy rich
b. editor-in-chief of a glamagazine
c. personal chef for Martha Stewart
d. horse whisperer
9. My prized possession:
a. pair of lipstick-red Christian Louboutins
b. vintage BMW convertible
c. sterling pony pin I inherited from my grandmother
d. first edition of These Happy, Golden Years
10. My favorite place to spend money:
a. Barneys, New York
b. the track
c. bookstore
d. tackle and feed store
Now it's some time for some simple arithmetic. Give yourself one point for every A response, 2 points for every B, 3 points for every C, and 4 points for every D. Add up your score and see where you rate on the Prairie Girl sliding scale:
10–15: Uh, do you even know where that milk you put in your double tall half-caff latte comes from? You are a city slicker who could get her hands dirty once in a while. Ease into things by hosting a proper tea party. You and your fashionista friends will be converted!
16–25: You are adventurous but like your modern conveniences. Embrace a more rustic life by buying a bouquet of wildflowers or buying a candle that smells like hay. There's plenty of time to plan your own garden or make your own candles.
26–34: You were born to rock the homestead, but in today's hustle and bustle, it's hard to find the time to raise barns, dig root cellars, and smoke meat for the winter. Try some smaller activities when you have a free hour or afternoon: embroider a pillowcase, or write a letter to a childhood friend. Gather some friends together for a knitting circle, and catch up on gossip at the same time. Who said prairie girls can't multitask?
35–40: You never left the farm! You are a prairie girl through and through! Consider sharing your passion and talents with the rest of the world, one barefoot step at a time.