Project Runway Episode 9 — Let the sequins fly!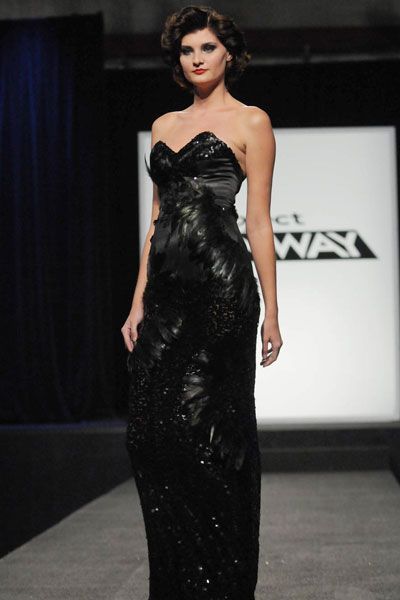 This week's challenge on project runway was to create an "extravagant, stage look" for pop-star Christina Aguilera. Not only did Christina appear as a guest judge, but celebrated designer Bob Mackie, dubbed the "Sultan of Sequins", presented the challenge and advised the designers on how to approach a stage look versus a fashion look. This time, the designers had 2 days, and $300 to buy fabric. Taking a cue from Mackie, the workroom was awash in sequins, sparkly fabric, feathers, fur, and beads.
Carol Hannah, who early on felt out of her element with this challenge, set out to show the judges that she could "stretch it farther". And that she did, walking away the winner of the challenge with a long, black gown in a simple silhouette embellihsed with feathers and sequins. The judges described it as chic, and impressive, with a beautiful combination of textures. I thought her design showed a sophisticated restraint. But, was it right for the stage?
On the other hand, Nicholas confidently stated, "I'm going to blast the industry with my knowledge. You give me some sequins, lace and feathers, and I'll give you a couture garment," but ended up with a garment that the judges liked, but left Tim with a moment of deja vu. Did you think any of the garments were truly couture?
Interestingly, Irina, who is shown multiple times harshly criticizing the other designers, also ended up in the middle of the pack with a short, blue, largely unmemorable sequined garment. She criticized Carol Hannah's fabric choices, calling her mediocre, and described Shirin's design sensibility as "bargain basement".
Gordana had immunity, and thank goodness she did, because even she knew her garment was not up to standards and she easily could have been "aufed". She began with a design that seemed to involve covering the entire garment in feathers, although we never saw that first design. She decided to start over on day 2, ending up instead with a "matronly" looking design based on a beaded fabric that began to fall apart as she cut it. On the runway, Gordana said it was a disaster, and the judges agreed.
While Shirin aimed for 1940's Hollywood glamour with a long black gown of sequined and chiffon fabrics, Tim said it looked like "Gwynieviere meets Vampira" and Heidi called it an "upscale witch halloween dress". Christopher also showed poor taste with his coat-to-bustier-and-hot-pants-look, which everyone had seen before. Bob Mackie declared, "I wouldn't put that on the chorus girl, behind the star". Between the two, I thought Christopher was going home, but, although Nina recognized her talent and her "meticulous hand", it was Shirin that was sent to clean up her space in the workroom.
I was intrigued by Althea's 9 foot long, silver sequined number and her use of both the front and back side of the fabric to create alternating bias stripes, which hugged the body and accentuated curves.
As Nicholas reminded us, there are only 4 challenges left. Who do you think is going to make it to Bryant Park? Who do you think should have been cut this week?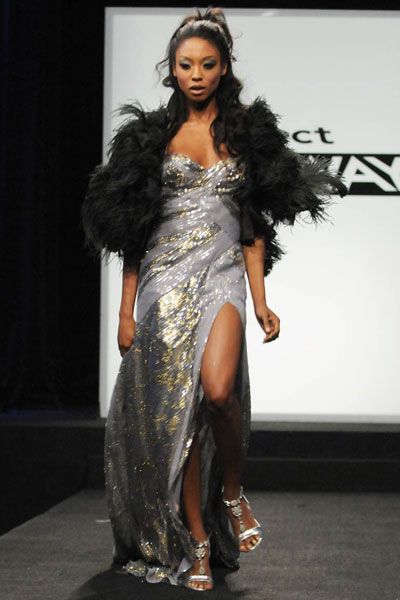 Althea's design was a definite contender with it's alternating bias strips of sequined fabric.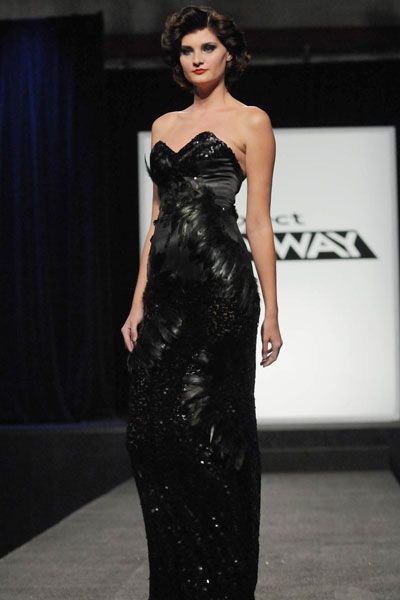 Carol Hannah's winning dress was a glamorous approach to the stage that won the judges over with a sophisticated combination of textures that included feathers, sequins, and fabric.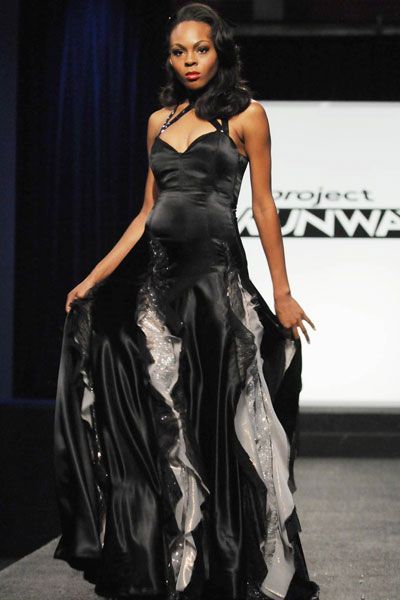 Shirin's losing garment was cricized by the judges as having a glimmer of hope but not a cohesive look. Overall, her lost look got her "aufed".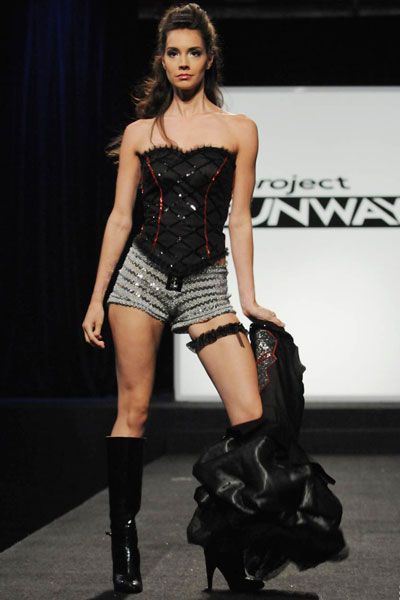 Christopher's corset and hot pants "reveal" design was a poor repetition of a Christina Aguilera look we've seen before.