Project Runway 9: Come As You Are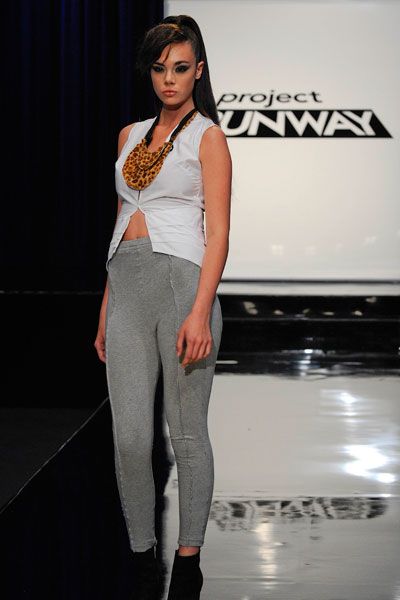 Project Runway Season 9's premiere episode was titled "Come As You Are." They could have subtitled it "But Don't Expect to Stick Around." Five designers were eliminated from the 20 introduced as possible competitors. Four (David Chum, Gunnar Deatherage, Amanda Perna and Serena Da Conceicao) were eliminated after another audition round before the competition even started. Why? "Because we're a little bit mean like that, " Heidi joked about the format twist. What a smart idea from the producers, to inject the first half of the show with elimination tension!
After what has felt like a long, long, wait (Season 8 ended in October 2010) these mini re-auditions served not only to introduce the possible players but to reaquaint viewers with the judges' quirks. I love the balance that comes from Tim Gunn's furrowed-brow concern, Heidi Klum's goofy enthusiasm, Michael Kor's grim acerbity, and Nina Garcia's prickliness. My, Nina doesn't care for being contradicted or interrupted – did you see her expression when Laura Kathleen did both? I think it was smart to return to New York as well, although the first challenge didn't take us to Mood!
About that first challenge…
After a montage of the lucky 16 choosing beds and moving into the Atlas Hotel, everyone settled down to sleep. Not for long! At 5 a.m. Tim's impeccable shoes were striding down the hotel's corridors. He knocked on doors and forced the groggy and disgruntled designers to get out of bed. The challenge was to "Come As You Are." Each designer had to create an outfit from his or her own sleepwear and a single bedsheet.
The runway rundown ….
Sometimes, I think the special celebrity guest strongly sways the decision. For example I think Victoria Beckham contributed hugely to Christian Siriano's win in Season 4 (she happened to be just about his perfect client, and she's turned out to be a worthy designer herself). I didn't think Christina Ricci had much to contribute, however. They could drop the celebrity guest, in my opinion, but keep the designer guests, such as Zac Posen – what do you think? On to the judging:
The best
Bert Keeter's boxer/T-shirt/dyed-sheet dress worked on every level – except styling, Michael Kors pointed out. Bert's checked boxers formed half of the asymmetrical wrapped top, and an obi-esque belt cinched the waist for a nice fit. Bert dyed his bedsheet to be a shade of taupe lighter than his sleeping T-shirt. The tone-on-tone result of using the two fabrics together was sophisticated, but leavened by the boxer print.
Bert's hair and makeup direction, however, gave his model a Farrah Fawcett look which the judges chided him for. Other than that, it was a great turn for a first challenge.
Anya Ayoung-Chee's silk top and dyed-sheet pants were something of a miracle, considering that the pants were the first the former Miss Universe contender (she represented Trinidad and Tobago) had ever made, and made from the first fabric she'd ever dyed herself (something that's been bothering me, though – if you watch Anya's "Home Visit" video, I'm pretty sure she's finishing a pair of pants at the end of the video). The top was silk (and the first silk she'd ever sewn). Maybe part of it is her pageant training, but Anya seems very poised. She didn't fall apart when she had trouble threading the Brother sewing machine. She calmly and wisely chose to make challenging garments because she knew she had to wow the judges – which she did. Anya's the fan favorite by a wide margin at MyLifetime.com.
The winner: Bert! He secured immunity for Episode 2.

Top Three
Bert Keeter: (winner)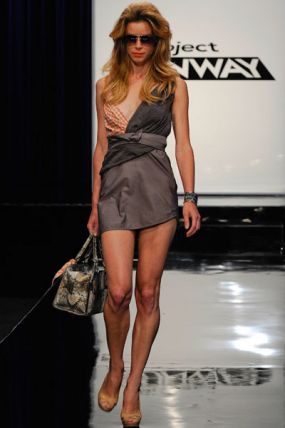 Anya Ayoung-Chee: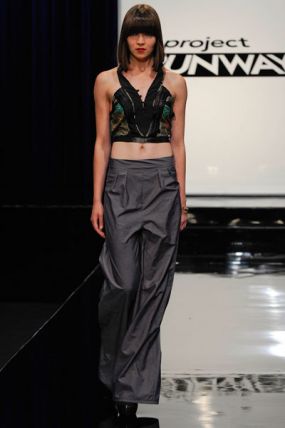 Anthony Ryan Auld:
The worst
Julie Tierney's outfit really didn't make any improvement on her original pajamas. The pants, which she said were modeled after snowpants, were crudely and bulkily tucked at the waist to fit the model. The pants also featured an odd right-front abdominal zipper pocket. I don't think it served design and/or utility.
Joshua Christensen's tank, cropped hoodie, and shorts were ill-fitting, poorly made, and looked cheap. No one would buy them as inexpensive sportswear, let alone consider the pieces to be serious contenders in a design competition. In addition Joshua C. attempted to pass the blame – PR's cardinal sin! "I wish somebody had told me I was going in the wrong direction," he said, a remark which earned him a straightening-out from Michael Kors and from Nina Garcia.
And then there was Rafael Cox. Let's start at the top, with the necklace made from his night headscarf. "What grown-up wants to walk around wearing a a bib?" Heidi asked. "It looks as if she's wearing a 'Flintstone disco pouch'," Michael Kors said.
Then there was the too-tight shirt. If you manage to make your model, as Michael Kors put it, look as if "She went out to eat, ate too much and had to open up her shirt," you are in deep, deep trouble. The pants were "a sweatshirt/legging/jean combo that's just unflattering," Kors also remarked, completing a triple and complete condemnation. Check out the image of Rafael's design – you'll get the unfortunate picture.
It was no surprise that the "fashion-backward" Rafael was sent home, the first dismissal of Season 9.
Bottom Three
Julie Tierney: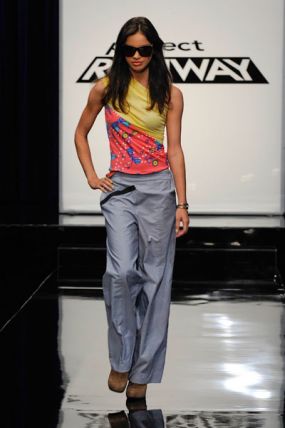 Joshua Christensen: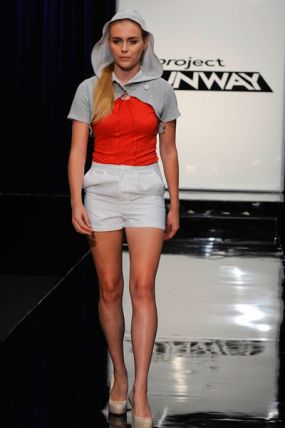 Rafael Cox: (out)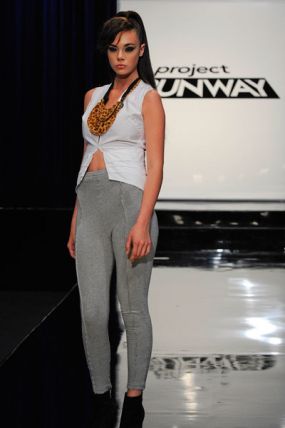 Coming up…
The preview for Episode 2 had drama aplenty! It looks as if we can expect crying jags, team challenge conflict (particularly between Bert and Anthony), a medical emergency for Olivier, and a dire warning from Tim: "In the history of 'Project Runway,' I've never, ever been so worried about people not finishing." Oh, and I'm pretty sure they have to shop for supplies in a pet store.
I think Anya may have had a charmed experience so far. It be interesting to see if she can continue to execute her creativity, or if she will be hampered by her lack of sewing experience. Did you notice that although she pieced most of her runway top, the placket, including the loop and button closures, was cut directly from her sleep shirt?
I'm eager to see what's next from Laura Kathleen and Viktor Luna; they both made well-fitting, quite commercial garments for the first challenge. They just didn't seem to command much attention from the judges. Past seasons have proven that safe designs can take you right up to the finals, however.
What happened, Julie? Tierney showed exciting sample garments at the show's beginning, but she seems fixated on bulky outerwear as inspiration. I would like to see if she can do better.
Joshua Christensen knows he made it to Episode 2 by a thread. Do you think he can really turn it around?
Were you satisfied with the premiere episode for "Project Runway"Season 9, especially after such a long wait?
Season 9 Designers: (*eliminated)
Amanda Perna*
Anthony Ryan Auld
Anya Ayoung-Chee
Becky Ross
Bert Keeter
Bryce Black
Cecilia Motwani
Danielle Everine
David Chum*
Fallene Wells
Gunnar Deatherage*
Joshua Christensen
Joshua McKinley
Julie Tierney
Kimberly Goldson
Laura Kathleen
Olivier Green
Rafael Cox*
Serena da Conceicao*
Viktor Luna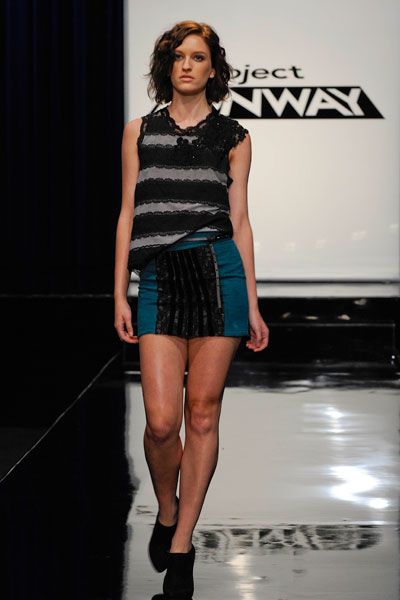 Colorblind designer Anthony Ryan Auld used trim to cover the bright orange strips on his sleep tank top.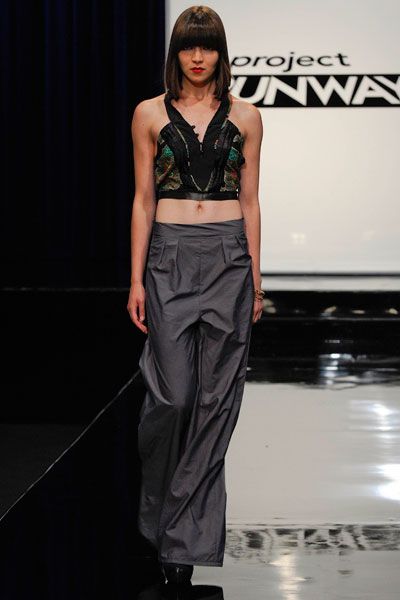 Tim Gunn was doubly impressed with Anya's work when he learned she had been sewing only for four months prior to the competition.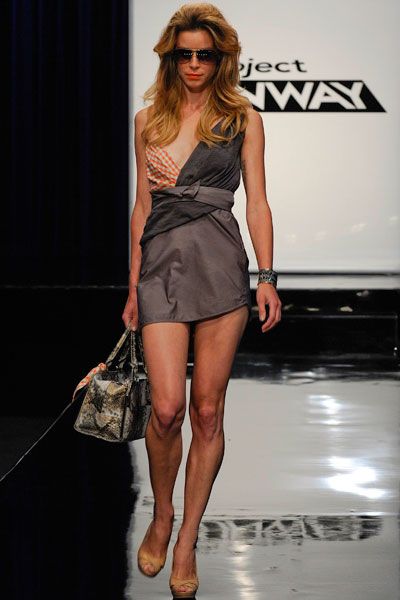 Although not impressed with the styling, the judges loved Bert's design.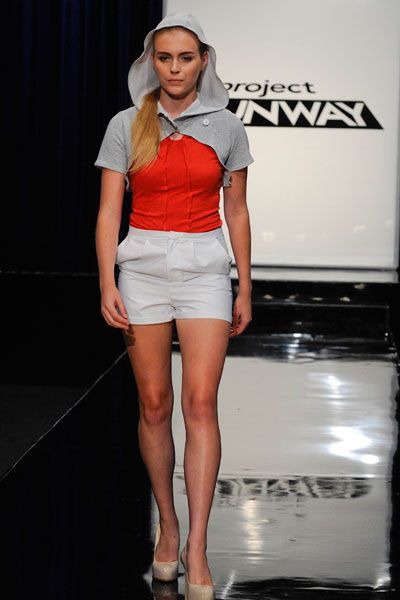 Joshua Christensen's outfit brought shudders from the judges. It was uninspired and the fit was terrible.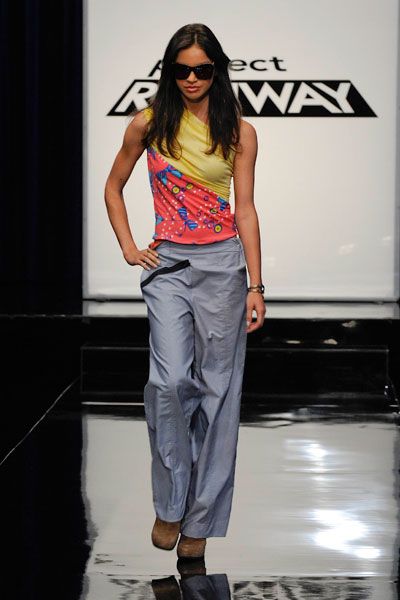 Julie Tierney even said she was embarrassed when her look came down the runway.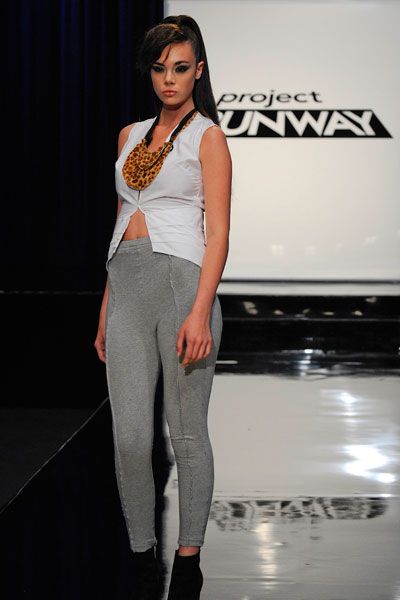 Rafael is sent home with this ill-fitting garment.