Couture Sewing Tools | Video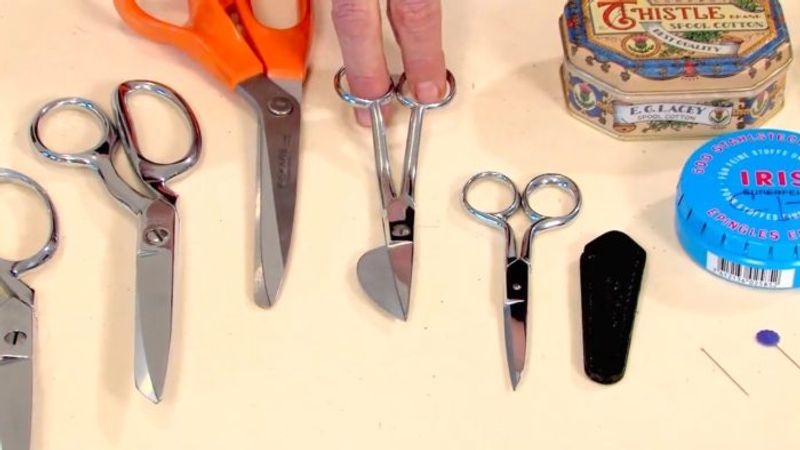 Couture sewing expert Claire B. Shaeffer shares her favorite tools for hand and machine sewing.
Pin bag: This fabric pouch holds pins and needles. It is worn around the neck, and it's a staple item in couture houses.
Hand-sewing needles and threader: Claire keeps a number of sizes and styles for different sewing tasks.
Thimbles: Choose the style you like best. Dressmaker thimbles have a closed top. Tailoring thimbles have an open top, so you push the needle with the side of your finger.
Marking tools: Claire uses chalk and prefers chalk wheels to solid chalk pieces.
Basting thread: Depending on the project, you may use easy-to-break cotton basting thread; cotton embroidery floss, if you can't find basting thread; or silk thread, which is easy to pull from a seam.
Construction thread: Claire recommends 100 percent cotton thread, silk thread, or lightweight cotton-wrapped polyester thread, which is stronger than plain cotton. She rarely uses all-polyester thread on natural fiber fabrics.
Beeswax: This strengthens thread and prevents tangling.
Pins: Superfine pins are best. A good practice is to use only new pins on lightweight, fine fabrics. Once you've used the pins, place then in a different container, and use them for less delicate textiles later. You may want to have a set of extralong flower-head pins for some tasks, including securing layers of thick, open-weave fabric such as bouclé.
Shears: It's helpful to have at least two pairs of 8-inch shears, one with knife-edge blades and the other with serrated blades. Also useful are appliqué scissors and 5-inch tailor's points (small, sharp scissors used for trimming and clipping).
Seam rippers: You hope not to need one, but you'll always find a use for it.
Measuring tools: Keep a measuring tape on hand and, if you like to use one, a seam gauge with a sliding marker.
Magnifying visor: This makes it much easier to sew neat, even, and tiny hand stitches.