Book Giveaway "The Colette Sewing Handbook"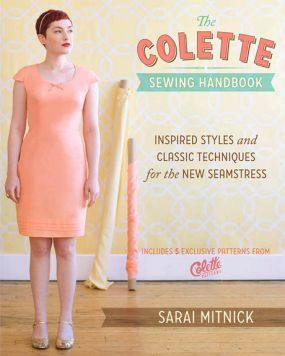 SEW A LOVELY WARDROBE, DEVELOP YOUR SKILLS, AND ENJOY THE RESULTS!
Sewers of all levels will love The Colette Sewing Handbook by Sarai Mitnick (Krause Publications, 2011) and will be able to master the art of pairing fabrics with their designs.
LEARN THE FIVE FUNDAMENTALS!
Be inspired by the styles and classic techniques used throughout the book! Learn to sew beautifully by practicing the five fundamentals: a thoughtful plan, a precise pattern, a fantastic fit, a beautiful fabric, and a fine finish. This book also includes five fabulous patterns such as the Truffle Dress or the Taffy Blouse that you can create using the detailed step-by-step instructions.
LEAVE A COMMENT AND BECOME ELIGIBLE TO WIN!
Simply leave a comment telling us why you would love to have this book, and you will be entered to win it! The deadline for your entry is midnight on March 13, and the winner will be announced during the week of March 18. The winner will be notified via email as well. Good luck!